Don't miss out on 'the best happy hours in town'
August 21, 2020 at 4:23pm
---
No doubt, 2020 has been a rough year, but you could say it has been one of the most innovative times in history, especially in the spirits and beverage industry.
It's the year of the virtual happy hour and, in true Miami style, no one is doing it better than the creators of the South Beach Wine & Food Festival® and students at the Chaplin School of Hospitality & Tourism Management.
It's truly TGIF every Friday night at 7 p.m. for those who tune into SIP with SOBEWFF®. The 20-part virtual, live, mixology and educational series takes participants back to school to learn how to swirl, shake and mix cocktails in a super fun way. Just ask Giovanny Gutierrez, also known to his nearly 58,000 Instagram followers as the man behind @chatchowtv and the host of the weekly series.
"I love what I do and that's why people enjoy it," said Gutierrez, who admits:"I bring a lot of energy and try to bring in a ton of fun."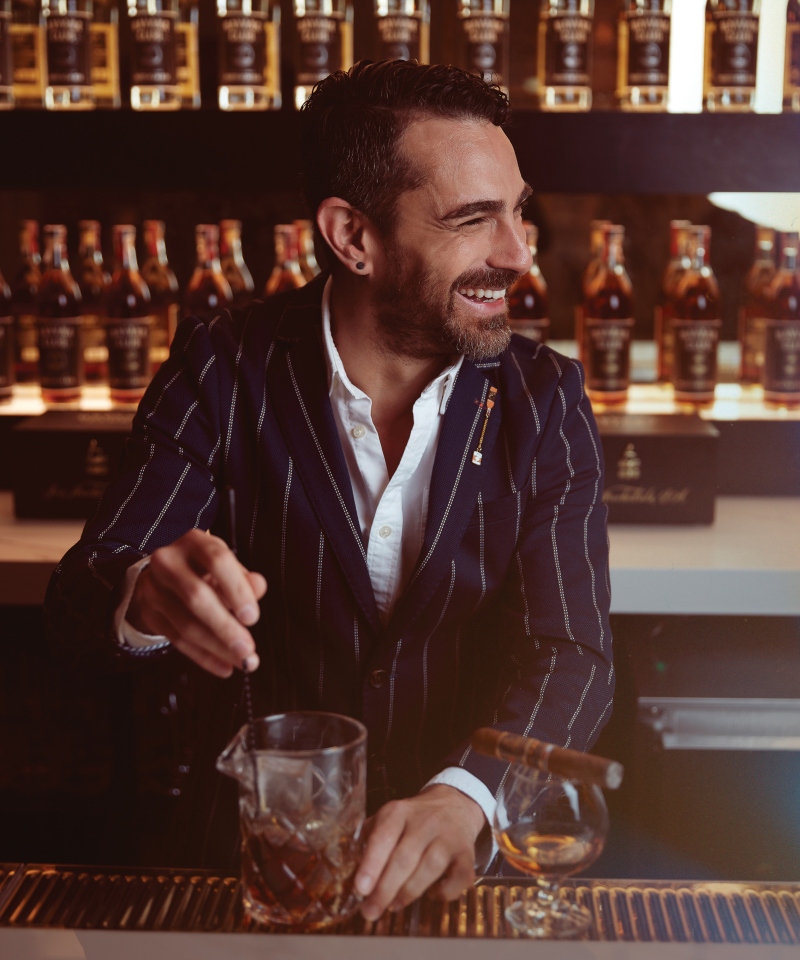 SIP with SOBEWFF® started as a way to celebrate the upcoming 20th anniversary of the Festival. There's a different theme every week. This week's theme is the Dog Days of Summer Cocktails, so part Yappie Hour and Mixology Class. And yes, your four-legged furry friends are invited, too.
The classes are free, but participants can make a donation to benefit the SOBEWFF® & FIU Chaplin School Hospitality Industry Relief Fund, which provides financial support to independently owned and operated restaurants and bars impacted by the COVID-19 pandemic in Miami-Dade, Broward and Palm Beach counties. To date, $61,000 has been raised toward the fund.
Hosting a virtual event can be exhausting. In his six years of hospitality and Rum Ambassador experience, Gutierrez says he's used to hosting events, seminars, guest bartending and posting content daily, but he says he's never hosted 20 events back to back.
"The fun thing with this is actually finding Miami's best bars and restaurants and bringing in these amazing bartenders and curating an awesome cocktail mixology session for consumers as well as FIU students."
From learning about agave, to making Asian-inspired cocktails with KYU in Midtown, to transporting participants to the French Riviera, Gutierrez says the event is about bringing positivity to this world and sharing knowledge.
In fact, virtual happy hours are not only creating more informative consumers but are partly the reason the spirits and beverage industry is seeing sales skyrocket. Just a month after mandatory closures took effect in the United States, a study by Nielsen E-commerce showed online alcohol sales up 243 percent vs. the same period in 2019, as consumers stocked their pantries with their favorite alcoholic beverage.
Even before sales went up, students at the Chaplin School of Hospitality & Tourism Management had been sharing their bartending talents with other students through The Bartenders Guild. The student-run organization is part of the new, Bacardi Center of Excellence at FIU and a stepping stone for students to build on skills they could use in a beverage management career.
"We believe that students should have a space where they can express their passion, curiosity and camaraderie for the art and concepts of mixology, craft cocktails and fine spirits," said Cristina Moguel, MS '19, who is both the founder and the club's faculty advisor. This student run organization meets every Tuesday at 5:30 p.m.  
Before the pandemic, students met in person at the Wine Spectator Restaurant Management Lab at the Chaplin School. Now, students learn about the importance of balance in a great cocktail, how to provide great service and how to be creative via Zoom. This month, in honor of rum month, participants learned to make a Canchánchara and the Hotel Nacional named after Cuba's famous landmark hotel.
"We plan on inspiring many students to help them achieve their greatest potential, starting now, in a fun, interactive and educational way to better prepare them for their future hospitality careers and endeavors," ended Moguel.
For more information about the Bartender's Guild follow them on Instagram @bartendersguild_fiu and for details about SIP with SOBEWFF®, visit sobewff.org for a list of upcoming classes, which Gutierrez calls, "the best the happy hour in town!"