A visit to D.C. marks the start of the semester for many in the university community
January 27, 2020 at 2:00pm
---
More than 85 students have made their way to Washington, D.C., in January to begin a semester-long internship or actively participate in major research conferences or career seminars.
This week alone, three groups are arriving for career seminars: FIU Black Student Union, Student Government Association and a Women in Politics and Policy seminar. 
Earlier this month,  20 engineering students joined FIU faculty at the National Academy of Sciences' Transportation Research Board 99th annual meeting—a conference covering the latest research related to all transportation modes. The students presented their research findings throughout the conference.  
"The Transportation Research Board meeting is the largest transportation and engineering conference. People from every country are in attendance. This is a great opportunity for our students to position themselves as researchers and to explore job opportunities," said Vasant Surti Professor of Civil Engineering Atorod Azizinamini, director of the Accelerated Bridge Construction University Transportation Center. 
As a result, FIU's technology, which uses a robot to detect corrosion in steel strands using magnetic flux leak waves, was on the national stage. The corrosion of steel strands is a major durability issue when it comes to concrete structures in coastal areas.
During his time in Washington, D.C., Azizinamini also met with the Department of Transportation Office of Research and the Federal Highway Administration. Advocacy visits to Congress included to the office of Representative Dan Lipinski (IL) of the Transportation and Infrastructure Committee and also staffers of the Senate Commerce Committee to discuss the future of University Transportation Centers and the importance of transportation infrastructure.
In addition to sessions and workshops, student researchers had the opportunity to network and speak on their advancing technologies with officials and representatives from various transportation organizations at a reception hosted by FIU's Accelerated Bridge Construction University Transportation Center.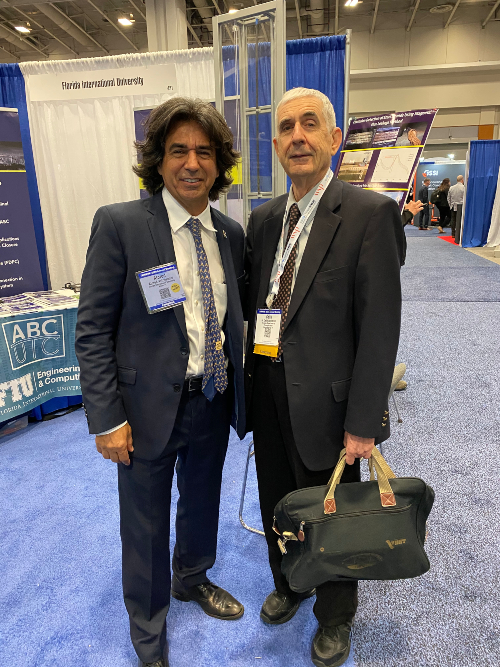 Scholarship for Service students attend CyberCorps job fair
From Jan. 13 -15, 11 College of Engineering and Computing students also attended workshops relating to cybersecurity research and met with agencies to seek employment after graduation.  
The National Science Foundation and Department of Homeland fund the Security Scholarship for Service. The program is designed to recruit and train potential cybersecurity professionals and fulfill the needs of federal, state, local or tribal government. By providing scholarships to students, the Scholarship for Service grants students access to the job fair, such as CyberCorps, and to U.S. government agencies interested in recruiting future employees. Students who qualify for the Security Scholarship for Service must work for a federal, state, local, or tribal government for the length of the scholarship issued after they graduate. This makes job fairs, such as CyberCorps, critical to the students' professional advancement.
Talent Lab spring cohort and fly-in seminars 
The Talent Lab at FIU in DC welcomed the spring cohort of interns beginning their internships on Capitol Hill and throughout the district. The Talent Lab held its exclusive Orientation and Leadership Development Workshop at the Fred W. Smith Library of George Washington in Mount Vernon.
"Being immersed in history and learning about leadership techniques that made George Washington the leader he is has given me confidence to go into my internship with no fear at Land Planning and Design Associates. I also enjoyed speaking to our FIU alumni who were just as lost as I feel when they started their internships," said College of Communication, Architecture +The Arts student Riley Jimenez, who is studying landscape architecture. 
Members of the spring 2020 Talent Lab cohort participated in a leadership series based upon George Washington's strategies for leadership and management. The members also received a tour of the special collections hosted in the library and George Washington's mansion and estate. 
The Talent Lab will host three student fly-in seminars this week. Participants arrive in D.C. starting on Tuesday. 
FIU advocates have also participated in multiple hearings recently, including House Small Business, House Science Space and Technology, Senate Commerce, and House Energy and Commerce. These committee hearings featured discussions on patent diversity, industries of the future, climate solutions and cannabis policy.  
---
FIU in Washington, D.C., is an integrated advocacy approach aimed at increasing FIU's national reputation and federal support for FIU's preeminent and emerging preeminent programs, faculty and students. The FIU in DC team collaborates with academic units to provide learning experiences and support the placement of students and alumni in internships and permanent employment.