Chaplin School students save Super Bowl leftovers
Thousands of people in need are still dining on big game leftovers
While so many of us are still recovering from food or adult-beverage comas or celebrating the Kansas City Chiefs win over the San Francisco 49ers, thousands of food-insecure South Floridians are getting some valuable nutrition this week thanks to Super Bowl LIV tailgate and party food rescued by a professor and his students from the Chaplin School of Hospitality & Tourism Management.
The numbers are staggering:
18,400 pounds of high-quality food saved that would have gone to waste.
14,720 meals served at homeless shelters this week made from rescued food.
Professor John Buschman and about a dozen students, studying either hospitality management or dietetics & nutrition, spent the Monday after Super Bowl saving racks of ribs, chicken, beef sliders, hotdogs, fresh fruits and vegetables, as well as more traditional stadium foods like salsa, hamburger and hotdog buns, boxes of potato chips and cookies served at six, official Super Bowl tailgate parties hosted at Hard Rock Stadium.
"The role of my class is really to see what we can do to make sure that leftover food from large hospitality operations doesn't go into the waste stream, and what is usable for people is going to those people who really need it," said Buschman, whose corporate social responsibility course is a central component of the Chaplin School's unique food sustainability vision to wipe out food waste at mega events, like festivals, corporate events and other large productions.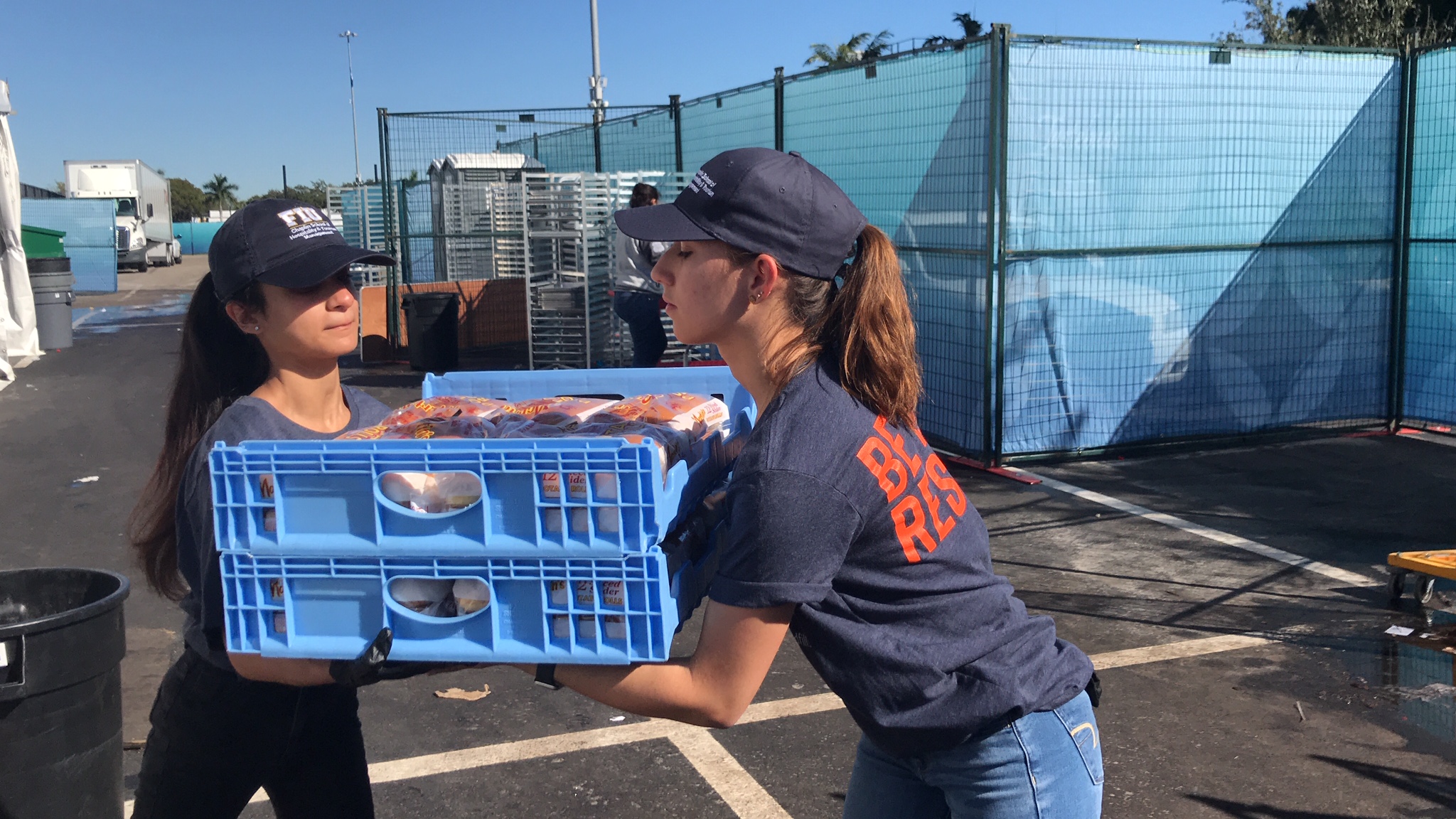 "It's a lot of food going to waste that we're saving —and thinking, 'if we weren't here, this food would all go to waste' just was really shocking. Because we can feed a lot of people with this, so we're really making a difference. And it's really cool to know that," said sophomore Andrea Colon, a dietetics and nutrition major in the Robert Stempel College of Public Health & Social Work.
Safety and speed are key in saving food from becoming waste. Students took foods directly from on-site refrigeration or freezing, wrapped it securely and created "bucket-brigade" assembly lines to load directly onto waiting refrigerated trucks, which transported the donations to local homeless and recovery shelters.
The stadium food-salvage operation was a group effort, involving FIU students in partnership with non-profits, Food Rescue US and FoodEASE, a host of contracted catering operators, including stadium concessionaire Centerplate, and NFL Green, the NFL's sustainability program. Local organizations that welcomed the food donations include Miami Rescue Mission, Broward Outreach Center, Broward Partnership for the Homeless, Lotus House Shelter and Camillus House.
"I think this is pretty amazing because we're saving all this food that would have gone to waste instead, and we're helping to give back to the community at the same time," said Valerie Lavigne, an FIU exchange student from Canada.
Another team of Buschman's students saved 6,400 pounds of high-quality food just the day before the big game at the NFL's annual fundraiser Taste of the NFL at the Diplomat Hotel in Hollywood, in conjunction with non-profits Feeding South Florida and the Community Enhancement Collaboration. Edward Del Portillo was one of them.
"It gives us a chance to actually feed the community...with just extremely amazing gourmet food, which you wouldn't have every other day," he said. "I think there's enough poverty around the entire world and every little bit we can do makes an impact on the community," he added.
Community engagement is what FIU culture is all about. Students got to see who the food went to days after saving the food, when they served over 450 meals at Miami Rescue Mission. That night, residents in recovery and homeless guests got to feast on empanadas leftover from the big game and enjoyed a savory beef stew recipe created from prime cuts of beef and fresh vegetables that the students had themselves rescued.
"The idea with my class is that these students—who will very soon become managers and in some cases owners of hospitality operations—are sensitized to the potential for food waste that's out there and to the need for that leftover nutrition in the community," smiled Buschman as he and his students served those meals to the Miami homeless community that evening.