COVID-19 testing site has performed more than 7,600 tests
The testing center was launched a month ago on the Miami-Dade Fairgrounds
---
A month ago today, FIU partnered with Miami-Dade County, the Florida Department of Health and the Miami-Dade County Fair & Exposition to open a COVID-19 testing site. More than 7,600 South Floridians have been tested.
"We started testing only adults 18 and over who presented symptoms. Then, the county trusted us with testing first responders. Gradually, the criteria for testing expanded," says Dr. Eneida Roldan, CEO of the FIU HealthCare Network, who is in charge of all clinical operations.
Today the drive-thru center will begin testing anyone over 12 years old with or without symptoms of the novel coronavirus. They have also started to re-test individuals who tested positive and are coming out of their 14-day isolation period. To discontinue home isolation, the Centers for Disease Control and Prevention recommends these people must show negative results from at least two consecutive tests collected 24 hours apart.
It takes a village
The operation is a large and synchronized team effort. It operates seven days a week, and as many as 80 people work at the site daily. The team includes Miami-Dade and FIU police officers, county employees, FIU faculty and staff, and FIU medical, nursing and physician assistant students.
"We have individuals from all walks of life eager to help. They are full of energy, and it is inspiring to see how quickly they come together to work as a group," Roldan says.
The testing center, located on the Miami-Dade Fairgrounds, has the capacity for up to 300 tests a day. It's averaging about 280/day. And the operation is so efficient that it is taking half the time they estimated it would take.
Volunteers say the experience has been challenging but rewarding at the same time.
"It has given us the opportunity to serve the community in multiple ways, show Panther Pride, and show the students the role of nursing in the midst of a pandemic," says Dr. Vanessa Gordon, director of clinical education of Graduate Nursing at the Nicole Wertheim College of Nursing and Health Sciences.
Javier Valdez, a second-year medical student at the Herbert Wertheim College of Medicine, says he jumped on the opportunity to volunteer.
"It's for the same reason that I chose to become a doctor, and why I chose FIU," he says. "I saw this a service to the community and the FIU mission that I value." Valdez has already volunteered three times and is scheduled to go back again in a few days.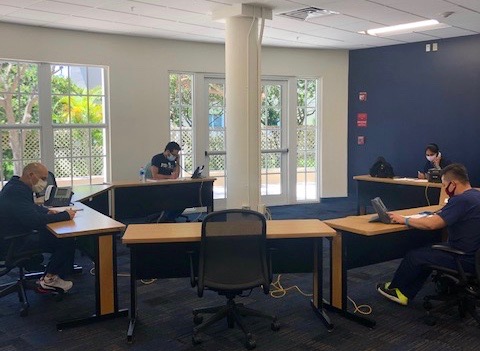 Students do not come into close contact with the people being tested. They are not allowed in the "hot zone" where the swabbing is done. That job is carried out by clinical faculty, staff and alumni. Students are assigned to clerical duties, the call center or the breathing station. The latter is where people who drive up are asked to hold their breaths for 15 seconds. Those who have difficulty doing this are marked for "rushed" testing.
Results for the expedited tests normally take 48 hours. Regular test results take 3-5 days. FIU runs a call center to call back people who test negative—about 300-500 calls a day. A doctor who works for the private testing lab is the one who calls to inform people who test positive.
Testing is by appointment only. Appointments must be made by calling 305-499-8767.