FIU experts discuss McClatchy bankruptcy, impact of news deserts on democracy
Experts in journalism, business and government tackle the issue in a livestreamed conversation
February 18, 2020 at 5:00pm
---
The news that the McClatchy Company—publisher of The Miami Herald and 28 other dailies across the country—had filed for bankruptcy sent a renewed ripple of concern among those who care about journalism and its role in our democracy.
Reporters and editors took to Twitter to express their support for their colleagues. Herald reporter Julie Brown, who broke the Jeffrey Epstein story, called for Americans to subscribe to their local paper as an "investment in their communities" and to "hold people who are in power accountable.''
This week, FIU experts from journalism, business and political science discussed what the McClatchy decision may mean for local news coverage, how the industry is responding to the changing landscape and how so-called "news deserts" across the U.S. may affect political engagement and more.
The FIU Insights conversation, moderated by David Kramer, senior fellow in the Steven J. Green School of International & Public Affairs, was streamed live online via Facebook and YouTube.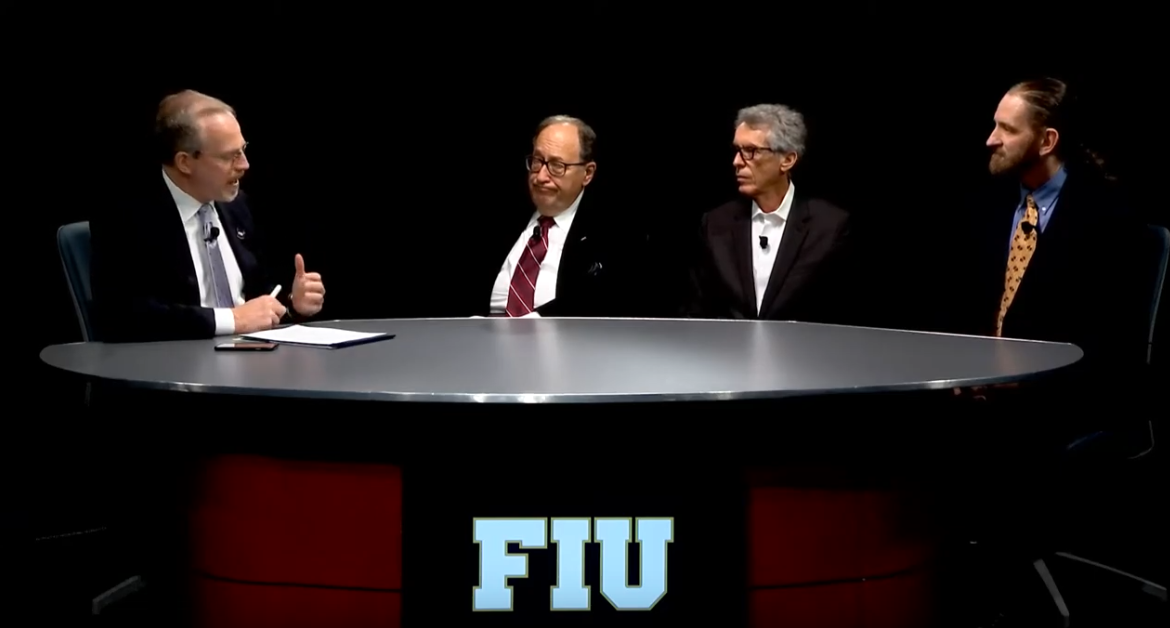 "The quality of journalism and information for the public is weakened every time we see this type of bankruptcy,'' said Mark Scheinbaum, an adjunct professor in the Department of Politics and International Relations and a former news correspondent for United Press International.
"Journalism is a public good, it's not a pair of sneakers,'' added Allan Richards, associate professor in the Department of Journalism + Media in the College of Communication, Architecture + The Arts (CARTA), referring to the recent trend of hedge funds and private equity companies taking over newsrooms.  
"We have 65 million Americans living in an area that either has one or no local media organization. They're not getting the coverage. That loss of information is not productive in terms of participatory democracy.''
In these news deserts, Scheinbaum said, "no one is covering the mayoral races, the county commission races, nothing is covered and people are less motivated to come out and vote.''
It's a downward cycle that can have a "corrosive effect on democracy,'' Richards said. "Without reporters in statehouses and in D.C., who is holding officials accountable?"  
The challenge for media organizations today has been the move to digital content and competition for advertising dollars, said Anthony Miyazaki, chair of the Department of Marketing & Logistics in the College of Business.
"The challenge was put in front of them 15 years ago, some responded quickly and some didn't respond at all,'' he said. "The barriers for entry to digital are much lower. Anyone can go on YouTube and create a channel and provide information. It's not going to be award-winning news but it's something people can consume.''
The shifting media landscape, while challenging, also presents new opportunities, Richards said.
"The hallmark of this digital era has been disruption but the other hallmark is innovation and collaboration,'' he said.
A model that is working is nonprofit journalism "in the public interest" such as the online news site, the Texas Tribune, he added. 
"It started 10 years ago as a startup, and it's a great model of success that has helped diminish the news desert in Texas. One of the reasons they have been successful and people support them is because they are nonprofit and nonpartisan. People are tired of the noise.''
The changing media landscape has also been a good time for student journalists, he said.
"Editors have lost a lot of reporters and there has been an opportunity for student journalists to cover unreported areas,'' he said. "Student journalists are helping local journalism outlets report the news. The students are on fire."