Student team wins first place in national Campus RainWorks Challenge
U.S. Environmental Protection Agency's national competition engages students to design green infrastructure solutions
---
FIU students earned first place out of 50 teams in the U.S. Environmental Protection Agency's eighth annual Campus RainWorks Challenge. The competition encourages students from across the country to submit green infrastructure designs and solutions to help address stormwater pollution.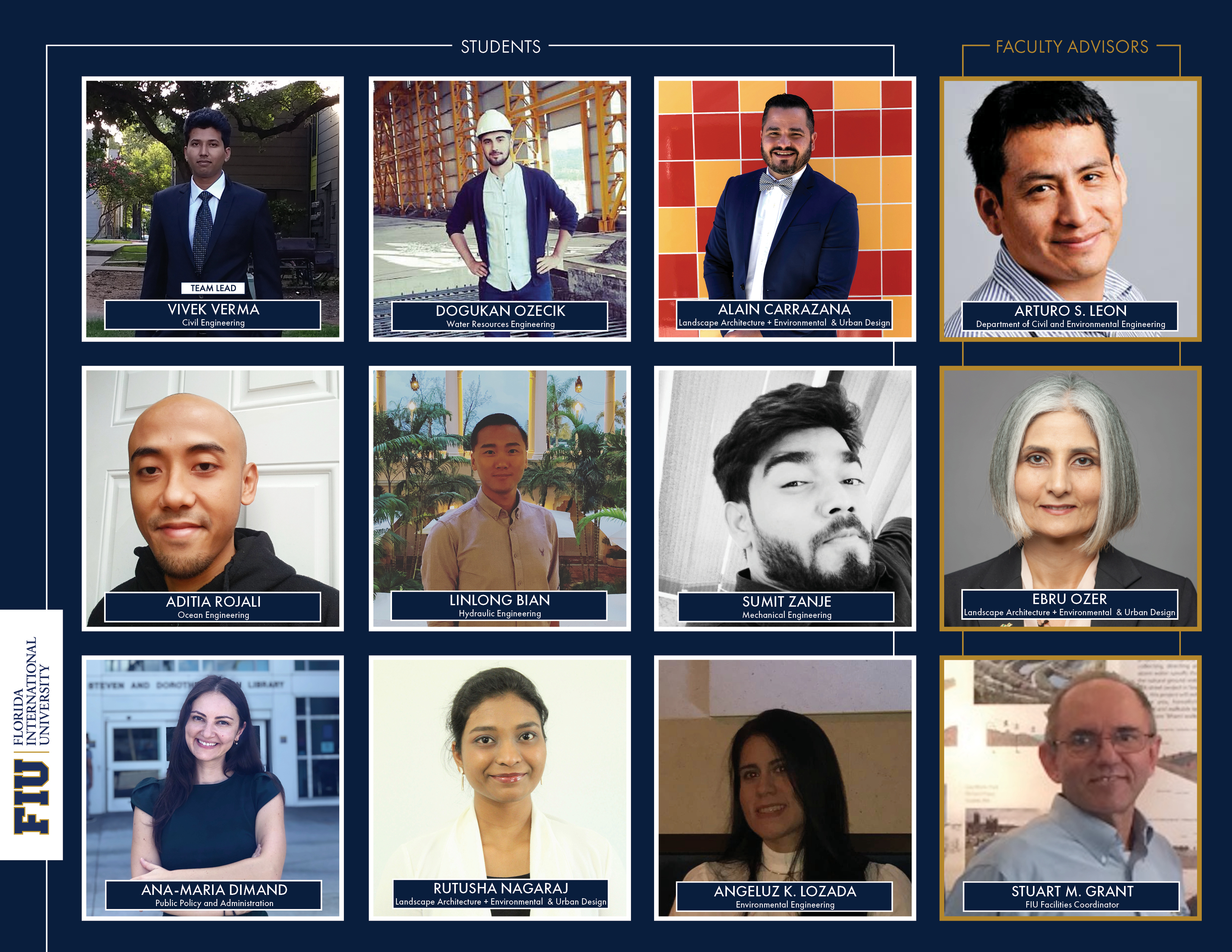 The FIU multi-disciplinary team from the College of Engineering & Computing, the College of Communication, Architecture + The Arts and the Steven J. Green School of International & Public Affairs developed a proposal for FIU's Biscayne Bay Campus (BBC) titled Coastal Eco-Waters: Adapting for a Resilient Campus. The proposal incorporates green infrastructure practices – meant to mimic the natural water cycle – to increase the resiliency of an area that experiences extreme weather events.
"This challenge provided us with a unique opportunity to investigate future environmental problems and brainstorm innovative and sustainable solutions," said Vivek Verma, the student team lead. "We hope that the solutions we developed as a team will have a positive impact on the Biscayne Bay Campus and our region."
The green infrastructure designed by the students includes constructed wetlands to gather stormwater and 13 green roofs with the capacity to collect an estimated 9.2 million gallons of water.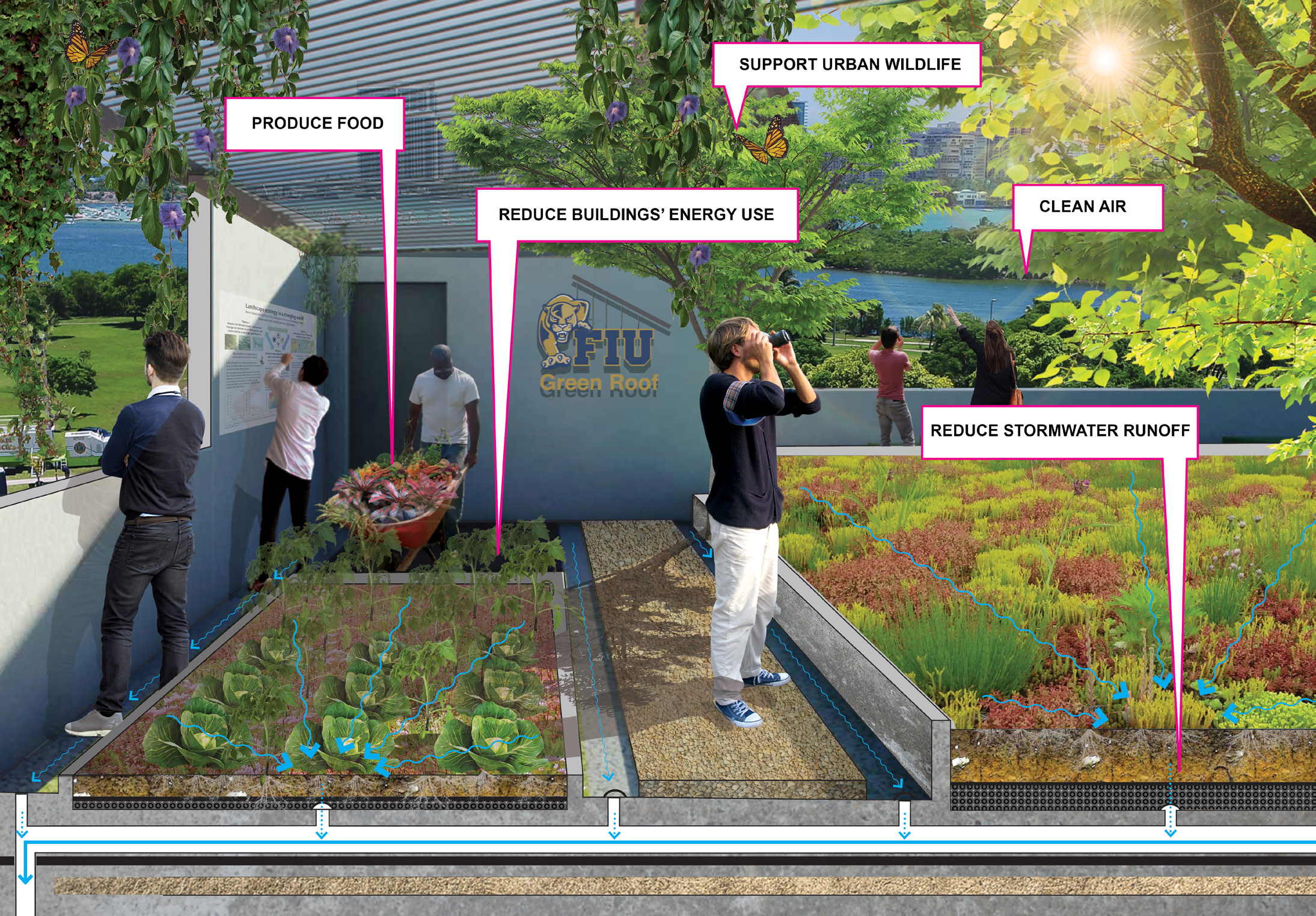 "The severity of stormwater pollution correlates with the significant rainfall amount South Florida receives from May to October," said Ebru Ozer, associate professor in the Department of Landscape Architecture + Environmental and Urban Design, who served as one of the lead faculty advisors. "Our cities are crisscrossed with roads, sidewalks and other paved surfaces, limiting stormwater to pass into ground layers."
Stormwater runoff can carry disease-causing bacteria and viruses, which then drain into water bodies, affecting aquatic habitats and the South Florida community.
"The Swiss-cheese like porous ground and low-lying elevation of the Biscayne Bay Campus makes the stormwater runoff of the campus challenging because the capacity of the existing mangrove channels to carry the runoff to the sea is rapidly decreasing with sea-level rise," said Arturo S. Leon, associate professor in the Department of Civil and Environmental Engineering and lead faculty advisor.
The FIU team will receive a $5,000 student prize and a $5,000 faculty prize. Team members hope to test their ideas and create a demonstration project at FIU's Biscayne Bay Campus.
"FIU's proposal is the best entry we've received in the history of the competition," said Matt King, environmental protection specialist from the EPA. "That is something to be proud of.     
The members of the 2019 team are graduate students Vivek Verma, Linlong Bian, Alain Carrazana, Ana-Maria Dimand, Angeluz Lozada, Dogukan Ozecik, Aditia Rojali, Sumit Zanje and Rutusha Nagaraj.
The master plan design originated in Ozer's Graduate Design 3 Studio course. Those students, who entered the 2018 competition, were William Callahan, Alain Carrazana, Gasndy Damus, Catalina Dugand, Alyssa Garcia, Coral Murray, Rutusha Nagaraj, Niyati Panchal and Pedro Zavala. 

Stuart M. Grant, coordinator of planning for FIU Facilities Management, also served as an advisor for both sets of teams.