Chaplin School to co-host global series to provide industry insights post-pandemic
Top hospitality industry leaders will share business solutions to the greatest economic challenge of our lifetime
---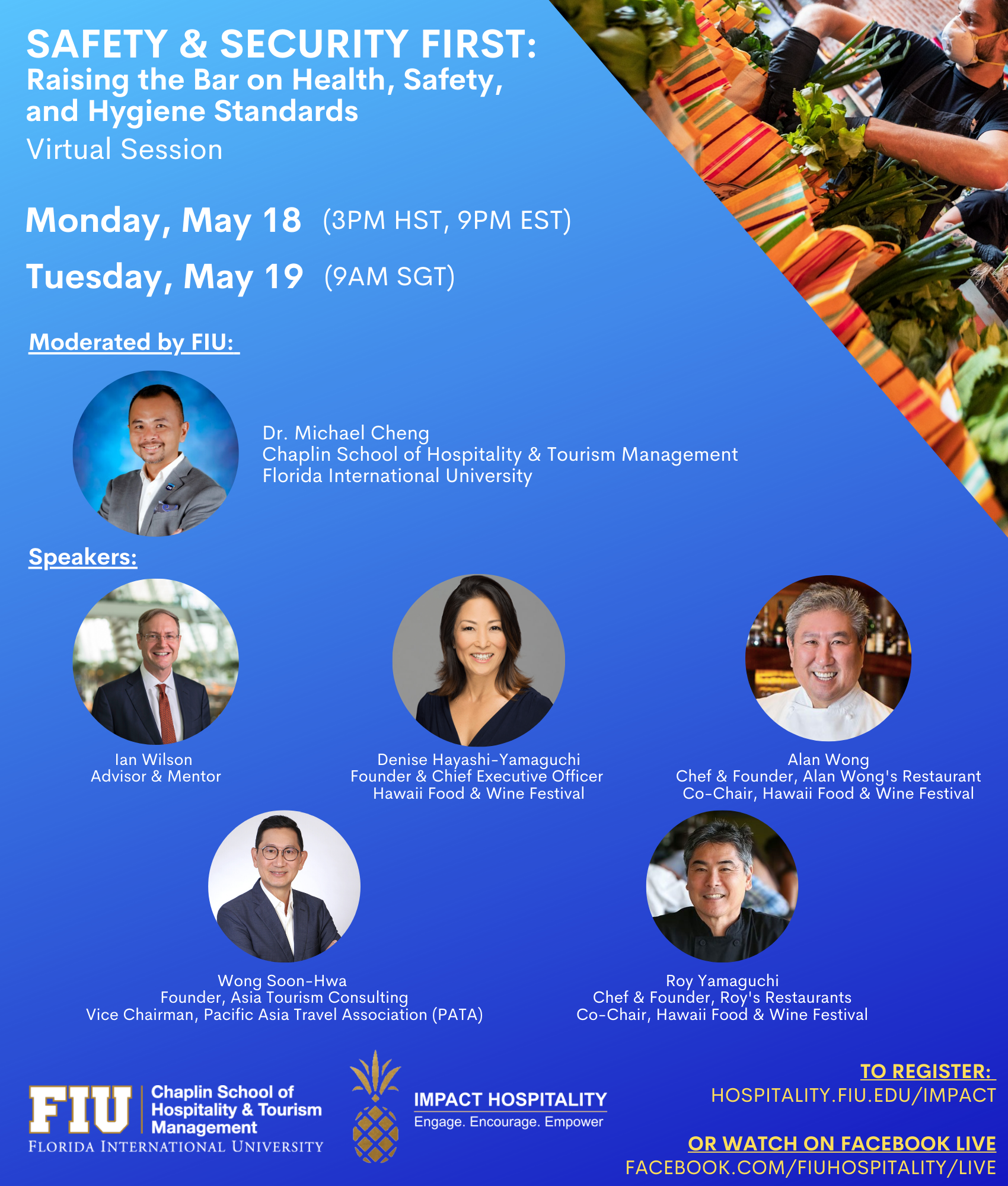 FIU's Chaplin School of Hospitality & Tourism Management and Macrovision Network of Singapore will co-host a series of four global forums to take place live and online with experts in three time zones.
 
The series aims to provide creative and effective solutions to hospitality and tourism professionals around the world as they manage economic and other challenges as a result of the  COVID-19 pandemic. The forums will take place on May 18, May 27, June 1 and June 8 at 3  p.m. EST in Honolulu, 9 p.m. EST in Miami and at 9 a.m. EST the following morning in Singapore.
 
The Global Impact Hospitality series is free and open to the public although participants can opt to make a $10 donation when they register. Advance registration is required.
 
"Never before has the hospitality and tourism industry been faced with a severe global crisis of this scale and depth," said Michael Cheng, dean of the Chaplin School. "While there are signs of containment and a possible vaccine in the works, the global economy will take many more months – possibly into 2021 or even longer – before we see businesses, including hotels and hospitality, and human activity returning to pre-pandemic levels."
 
The 45-minute sessions, held both live and online, will include more than a dozen speakers, including top executives and consultants from hotels, restaurants, and cruise lines along with entrepreneurs from the lifestyle and sustainable tourism sectors. Each participant will share his or her perspective and recommendations for a positive outcome to the current economic crisis.
 
The series will go live on Zoom and Facebook Live Stream via @FIUHospitality. The weekly sessions include:
 
May 18 - Safety & Security First: Raising the Bar on Health, Safety, and Hygiene Standards - This session brings together top executives and tourism consultants from integrated resorts, restaurants and lifestyle and sustainable tourism. The focus will be on ways to keep lifestyle events, experiential & sustainable tourism alive and well in a post-pandemic world. Moderated by Cheng, participants include:
Roy Yamaguchi, chef & founder, Roy's Restaurants

Ian Wilson, advisor, Singapore's tourism & hospitality industry and former SVP, Marina Bay Sands Singapore

Denise Hayashi-Yamaguchi, CEO, Hawaii Food & Wine Festival

Alan Wong, chef & founder, Alan Wong's Restaurant

Wong Soon-Hwa, founder & CEO, Asia Tourism Consulting and vice chairman, PATA
May 27 - Moving Beyond Covid-19: Rewriting Business Plans, Resetting Budgets and Managing Stakeholder's Expectations - This session will focus on looking beyond the current crisis and introduce strategic planning concepts and frameworks for crafting post-pandemic business plans. Moderated by Jinlin Zhao, Chaplin School professor & director of graduate programs, participants include:
Siv Forlie, SVP of revenue optimization & customer strategy, Genting Cruise Lines

Aloha McGuffie, EVP, Ulumau LLC.

Mark McGuffie, president, Ulumau LLC.
June 1 - CRM Focus: Strategies for Competing in a Declining Market and During Recessionary Times - This session will focus on strategies and digital technology to drive profitable growth for independent and mid-size hotels and restaurant chains. Moderated by Mike Hampton, Chaplin School professor, participants include:
Carmen Lam, principal, Crikx and Co Ltd.

Kathleen Cullen, SVP, PHG Consulting
June 8 - Hard Truths About Employee Engagement in a COVID-19 World - This session will help you to rethink and reset your customer service and engagement strategies. It will focus on ways to leverage the value of your employees to create a positive and inspiring brand experience in a post-pandemic world. Moderated by Christine Toguchi, managing director of MacroVision Network Pte Ltd., participants include:
Janelle Barlow, president, Move Minds, Inc. and author of A Complaint is a Gift

Carmen Lam, principal, Crikx and Co Ltd.