Name: Alejandro Solana '16
Hometown: Kendall, Miami-Dade County
Major: Political science
Where are you working now?
I work at Entercom Communications as a producer for 560 The Joe and 790 The Ticket. I'm the executive producer of the Hochman and Crowder show, which airs weekdays 2-6 p.m. on both stations.
How did you get your job?
I've always wanted to be a member of the Miami sports radio community. As a student, I worked at FIU's radio station and The Beacon (currently PantherNow). My friend Anthony Calatayud '15 and I co-hosted Panther Sports Talk Live.
In 2016, Anthony and I applied to 790 The Ticket as promotion assistants and got hired. We were basically not even allowed in the studios. We begged the assistant program director for our shot at running the board. Then when Anthony got a job as a producer at 560 WQAM, he put in a good word for me over there. I got the job. 
I worked nights. I was the guy pushing all the buttons back at the studio during the Miami Dolphins broadcasts. I worked my way up to become a producer on another show, then I applied and interviewed for the Hochman and Crowder when they had an opening.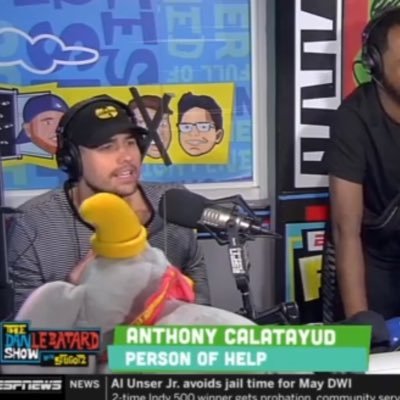 What was your biggest fear going into the job?
My biggest fear was that I'd be a disaster, and I'd screw up the broadcast and get fired. 
The first time you produce a show yourself, it's overwhelming. You're sitting at a board with a million buttons, and all of them do something different. You don't know what's right. You don't know how things sound. But I actually think that's the best way to learn. You figure things out one at a time.
What does a day on the job look like?
It's twenty-four seven. You're always looking at headlines and different sports stories. You're browsing the internet for content.
I wake up and then I'm in constant connection with Hochman and Crowder. By 10:30 a.m., I'm preparing sounds and a show sheet. I'm making montages if there was a good game.
As a producer, you really want to focus on sound. But then during our show, it's just a bunch of foolishness and fun. We're not going to touch on every topic in the sports world. It's like Seinfeld, it's a show about nothing.
How does your job connect back to your coursework?
My track is a little different than most people working in media, since I was a political science major. I really never imagined being a sports radio producer. I just thought I would go to law school.
I would say the best experiences I had at FIU came when I had professors who allowed students to engage in class. I learned how to interact with other individuals and how to frame and voice my opinions in ways that are constructive. And that is important in radio. You never want to come off as demeaning. 

How do you balance your time?
It's hard. When you work in sports, where there's typically so many different events and games going on, it's hard to navigate what you pay attention to and what you don't. But you kind of just do. I personally have decided that I want to pay more attention to local Miami sports. That's kind of my area. I know a lot of people think I'm a homer. But I spend my time paying attention to what is most important to me and my listeners.

What advice do you have for those who are beginning the job search process?
Build up your resume as much as possible in any field. Work as many jobs as possible and try to gain as much experience as you can so you can find out what you don't like.
I worked a lot of jobs out of high school. I had a desk job, and I figured out I didn't want a nine to five. I worked as a waiter, and I knew I didn't want to be in the restaurant industry. Do as many things as you can while you're young. That's the only way you'll find out if what you think you want to do is actually what you want to do.