In this series, recent grads share their journey to landing that first job out of college. After years of studying and working toward a degree, these Panthers' hard work paid off. Now they're paying it forward by letting you know how they did it. 
Name: Cesia Bulnes
Hometown: Born in Honduras, raised in Miami
Degree/major: Bachelor's degree in computer science
Where are you working? Title? Microsoft, program manager (PM)
How did you get your job? I had multiple software engineering internships throughout my undergraduate career. It wasn't until my last internship at Microsoft as a PM intern that I got to experience what a program manager does. As a program manager intern, I got to create and execute features for Microsoft Teams. I received a return offer for full-time employment after my internship ended. 
What was your greatest fear going into your first job and how did you face it or overcome it? A lot of PMs in my team have years of experience. To think that I get to work alongside them and execute features that have equal importance as their own, was a wild concept to me. However, when you dive deep, you realize that everyone is learning from each other and we all bring something to the table. Asking for help when you need it would be my biggest piece of advice.
What surprised you the most about your first job? I think the humility of everyone in my workplace was the nicest surprise. From the beginning, everyone was eager to help me ramp up and made sure I felt welcomed. Also, the fact that everyone always seeks to learn from each other.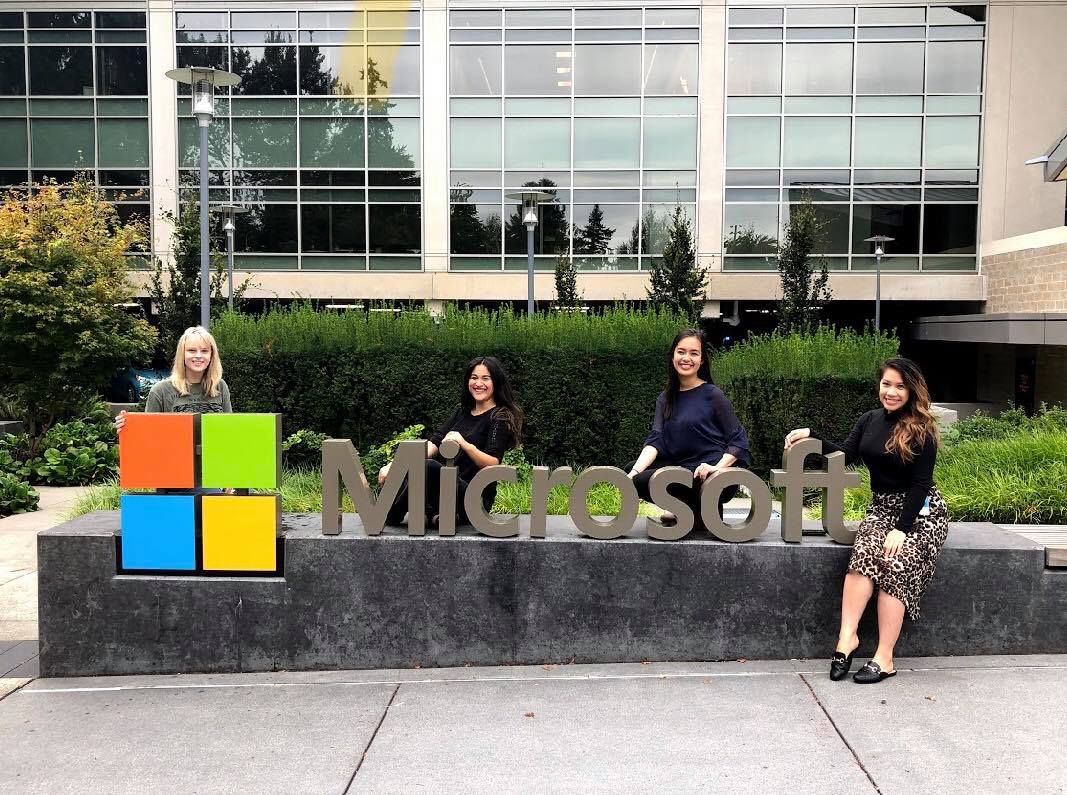 What advice do you have for those beginning the job search process? Definitely try to find internships ahead of time. Study for them and have your friends give you mock interviews for the technical ones. Try different roles if you're wondering what it's like to be an engineer vs a PM. 
What does a day on the job look like? A day on the job consists of many meetings, from design meetings to meeting with the developers. Somedays we create presentations. We also write a lot of technical documents throughout our day. PMs vary by team and product, however, many of us have to code as well. 
How does your job connect back to your coursework? Although my job doesn't heavily rely on what I learned at FIU, the foundations and understanding of computer science make my conversations with engineers extremely smooth. Knowing how the backend and frontend work facilitates the way we plan for our products to be implemented and function! 
How has your transition from school to work? How do you balance your time? I love education and I have made it my mission to keep studying even while working fulltime. I am currently enrolled and pursuing my master's degree in computer science with the University of Illinois at Urbana Champaign. I have a very decked out and tight schedule, but I always manage to pull through every semester simply because I feel like I prepared that discipline when I studied at FIU.
What's been the coolest thing about your job so far? Having my internship project released and written on a blog! I can't wait to release more features as a full-timer! 
---
Cesia Bulnes is a spring 2019 WorldsAhead grad. She was one of nine female engineering and computing students featured in an FIU-produced video highlighting how they are breaking barriers in the field.