Hamilton Scholars to give students ultimate D.C. experience
September 17, 2020 at 1:15pm
---
Eric Feldman contributed to this story.
A new program at the university is preparing students to be global leaders and providing a head start on careers impacting policy in the nation's capital.
This Fall, The Talent Lab at FIU in Washington, D.C. launched the Hamilton Scholars program, an experience that brings students to the nation's capital and offers them opportunities and teachable moments on the everyday work of the government and private organizations.
Those who participate obtain paid internships in the public or private sector, receive personal mentorship and take an Honors College course that covers the fundamentals of U.S. decision making. The program is open to all majors.
The inaugural cohort of Hamilton Scholars includes 10 students from the Steven J. Green School of International and Public Affairs, the College of Business, the Honors College and the College of Engineering and Computing. Their policy interests range from disaster resilience, maternal health disparities and STEM education.
While this semester's program is partially remote due to the coronavirus pandemic, the members of the inaugural cohort are also planning to apply to in-person internships in Washington for the Spring 2021 semester, when it is expected that the second cohort of the program will also be in town.
The program is named in honor of the Executive Director Emeritus of the Graham University Center Ruth Hamilton and her husband Glenn, whose major gift to the Make A Difference DC fund is making possible internship stipends for the participants.
They hope that students can combine their classroom and internship experiences to develop strategies that address society's most critical challenges.
"I want to thank my colleagues and staff members who support Hamilton Scholars through Ignite. It is very important for us to give back to the community. We want FIU students to get out of the classroom experiences so that they will have a competitive advantage in getting job opportunities," Hamilton said.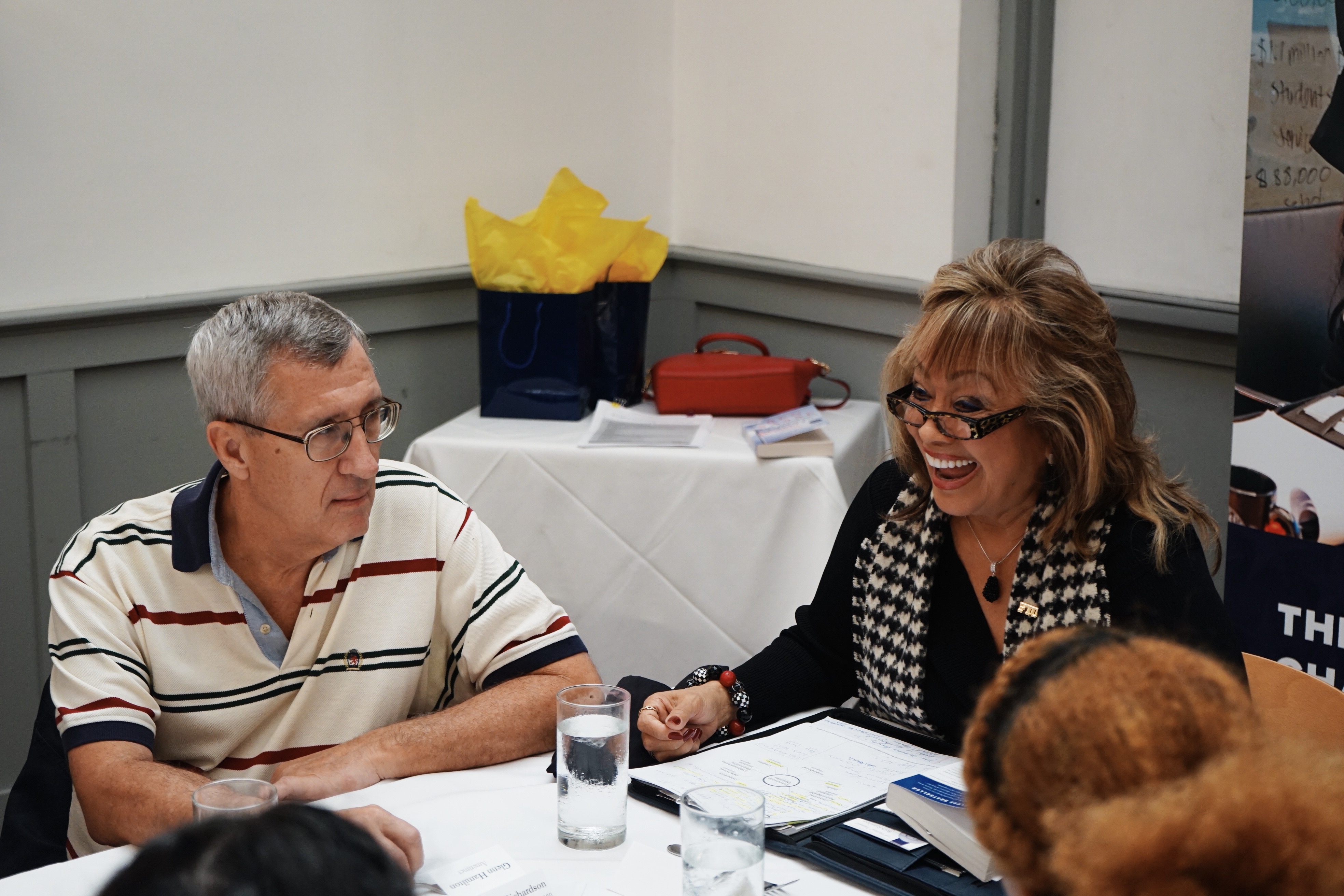 The idea for Hamilton Scholars was conceived a few years ago when Ruth recognized a way FIU could better set up alumni for success. Talented, first-generation students were graduating, she saw, but they weren't receiving as many job offers as they should have.
"When we looked at [why this was happening], it was because they didn't have any experience beyond Miami. So we really wanted students from FIU to get out of Miami. Go to Washington, D.C. and go learn something," Hamilton said.
Certainly, the university already has a presence in Washington with FIU in D.C. In the last academic year alone, the university supported 95 internships and nearly 400 students participated in a fly-in seminar or other in-person experience at FIU in DC. What the Hamilton Scholars program does differently, though, is provide access to policymakers and fully immerse students in the governmental and policy-making infrastructure of D.C.
Each student begins the semester focused on a particular policy challenge, with greater emphasis on FIU's areas of research preeminence. By the time they leave, the scholars will have transformed their ideas into actionable policy concepts and presented them to national leaders.
Their internship sites will also provide a platform for them to build upon their ideas.
"I'm most excited to understand the behind-the-scenes of what it takes to run a congressional office, learning more about policy and how legislation is passed," said Destiny Pearson, a student studying sociology who hopes to make health care more accessible.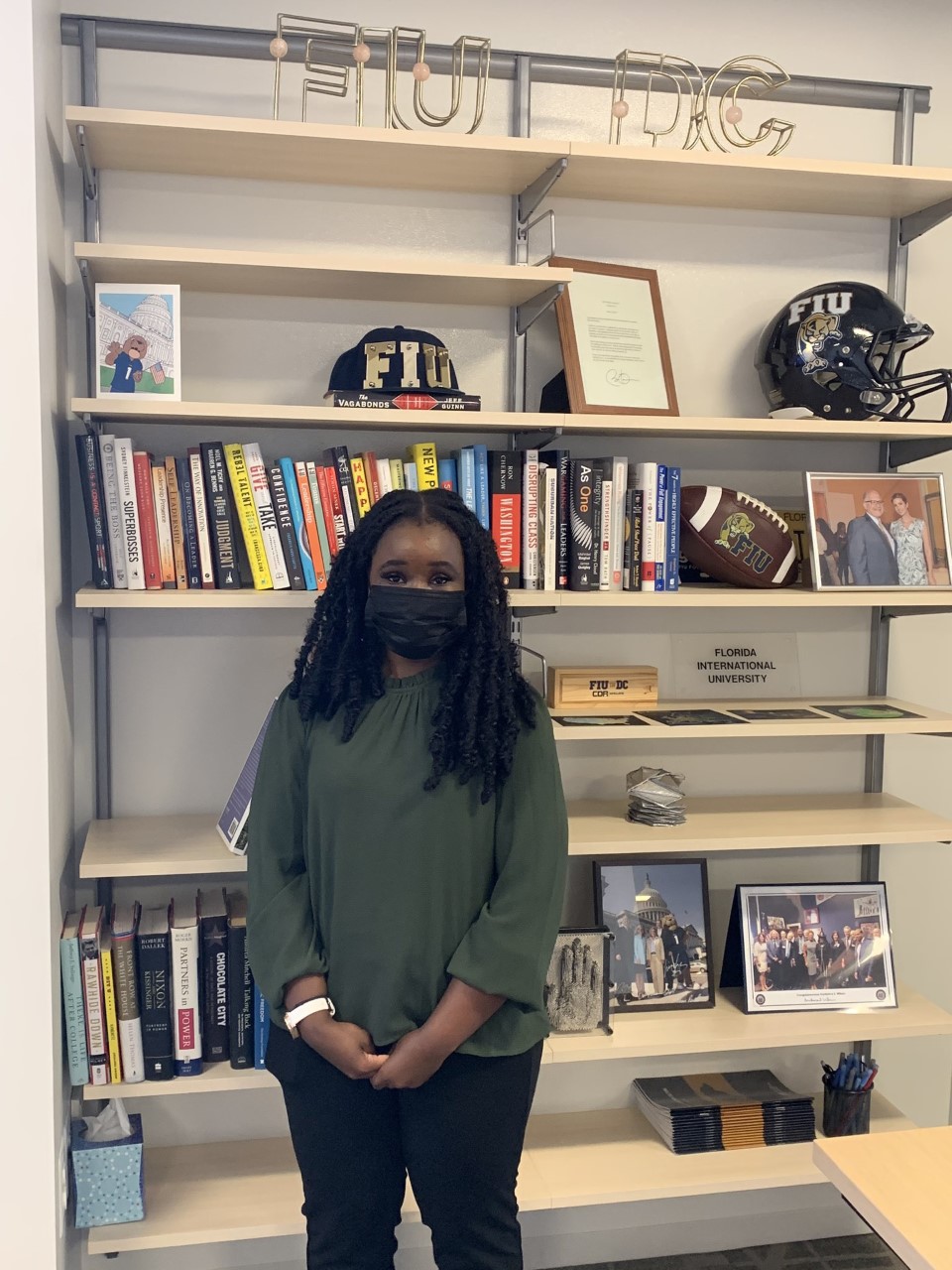 Guest instructors of the Honors College course, led by Anthony Rionda, director of Governmental Relations & Advocacy, will vary week to week between FIU faculty and staff, alumni and others, depending on whose expertise matches the subject matter of that lecture.
Although this semester may have limited in-person experiences, students like Tatiana Arevalo are finding a silver lining.
"This past summer, I did an internship and found it even better to network over Zoom," says Arevalo, who is interning virtually with the Congressional Hispanic Caucus Institute this fall. "If you're walking with someone to get coffee, you spend so much time getting there and physically moving that you lose a lot of the time that you had to talk about actual content."
Vice President of Governmental Relations Michelle Palacio sees Hamilton Scholars becoming vital contributors to the long-term national dialogue.
"These students will prove that our challenges need FIU's top talent. They will be well-positioned both in the federal government and the corporate sector to help impact society. We are very thankful to Ruth and Glenn for helping launch their careers in Washington," Palacio said.
The Hamilton Scholars are just one new aspect of student life at FIU in DC. This Fall, 40 students are interning in Congress, federal agencies like USAID, EPA, Treasury and NASA and other D.C.-based partners like the Partnership for Public Service. Four academic courses in the Green School, College of Law and Honors College are being supported with adjunct faculty or guest lecturers.
Later this semester, FIU in DC will launch an online module to help all students interested in D.C. opportunities. And the Talent Lab Impact Series continues with programs available online.
Inaugural cohort of Hamilton Scholars
Daniel Sixto—Steven J. Green School of International & Public Affairs (Honors College); national security
Destiny Pearson—Steven J. Green School of International & Public Affairs (Honors College); Black maternal health
Tatiana Arevalo—Steven J. Green School of International & Public Affairs and College of Arts, Sciences and Education( Honors College); Health disparities
Tiffany Marshall—Steven J. Green School of International & Public Affairs; Cybersecurity
Karen Fisboin—Steven J. Green School of International & Public Affairs and College of Communication, Architecture and the Arts (Honors College); Hurricanes and other extreme events
Ericka Gonzalez—College of Business (Honors College); Microfinance
Gabriella Lasso—Steven J. Green School of International & Public Affairs (Honors College); International disaster resilience
Gabriela Ponce—College of Business; Representation in STEM
Sheyanne Myrie—College of Engineering and Computing; Representation in STEM
Noah Churyk—Steven J. Green School of International & Public Affairs (Honors College); Latin America
---
FIU in Washington, D.C., is an integrated advocacy approach aimed at increasing FIU's national reputation and federal support for FIU's preeminent and emerging preeminent programs, faculty and students. The FIU in DC team collaborates with academic units to provide learning experiences and support the placement of students and alumni in internships and permanent employment.