FIU's first-ever virtual commencement will be held on Friday, May 8. To celebrate the event as the community-bonding, milestone-marking ceremony it is meant to be, Panthers are getting creative.
To make commencement stand out, university administrators collaborated with special event managers.
"I think the main thing that everyone wanted was to make sure students felt special and recognized," says special events manager Melanie Rodriguez '19.
Last week, FIU announced how the virtual ceremonies will proceed. Students will receive a link to one of nine commencement ceremonies at 10 a.m. on Friday. The pre-recorded video will comprise a performance of the alma mater, remarks from President Mark B. Rosenberg and a 10-second slide honoring each student. All Spring 2020 graduates will also be welcomed back for an in-person ceremony once it is safe to gather. 
But the university wanted to do more.
"We didn't want students to feel that we are just going to put on a virtual commencement and that's it," Rodriguez said.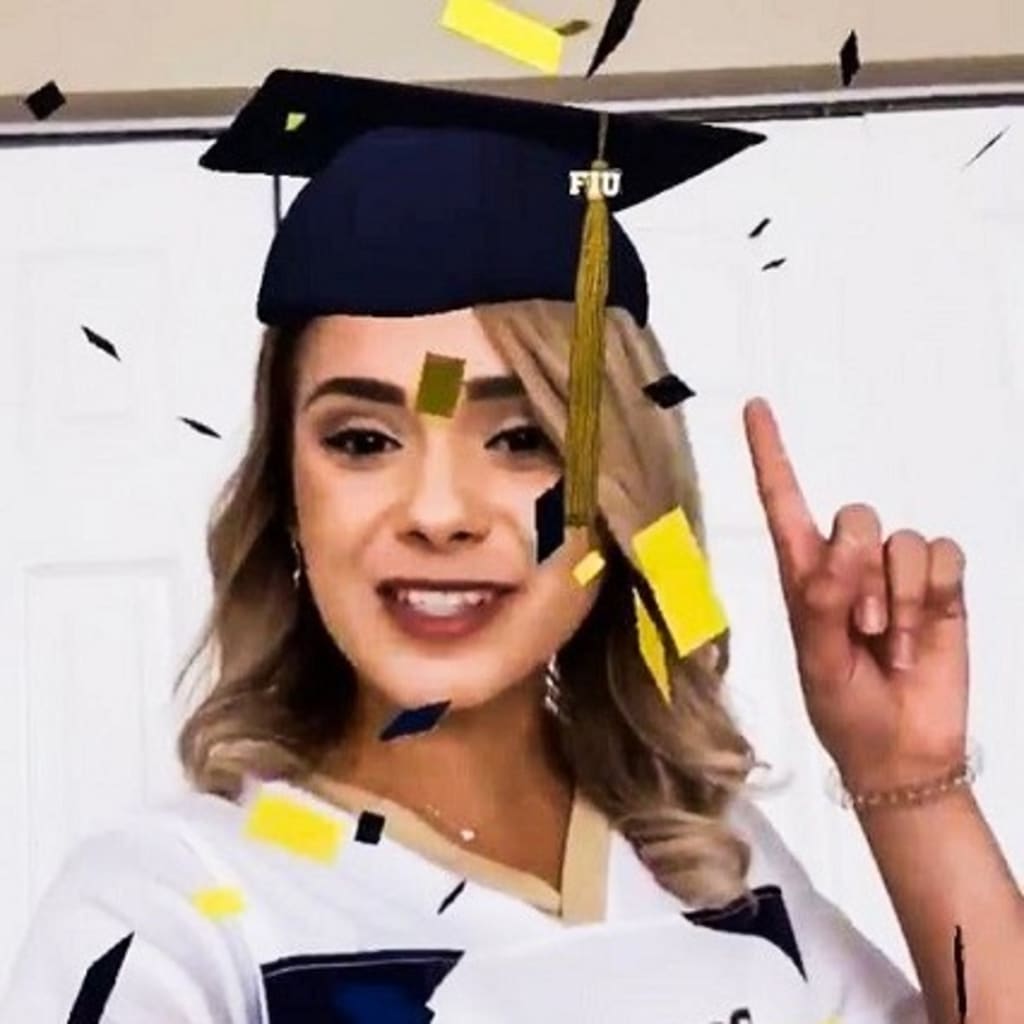 And so FIU is currently promoting content to help students celebrate virtually. FIU-themed Zoom backgrounds are available for grads who would like to stream the ceremony with a group. An Instagram giveaway contest and a cap and gown filter have spread Panther Pride on social media. Downloadable yards signs have been made so students can show their FIU spirit to their neighborhoods.
FIU's digital artists have even introduced a slew of commencement-related items into Animal Crossing, a popular video game among students. So far, graduate regalia, black caps, Roary masks and palm trees are available. FIU is planning a miniature commencement ceremony within the game for this week.
At home, students are adding their own personal touches to commencement.
Soon-to-be nursing alumna Anabelle Petisco held a ceremony at home, complete with her family playing the audience and her brother, an FIU alumnus, portraying President Mark B. Rosenberg.

"My family and I were brainstorming on things we can do here at home to make it fun and celebrate as if the actual day were normal as planned," Petisco said.
Inspired by Petisco, FIU has released masks of President Rosenberg and Roary in PDF forms so that more Panthers can hold their own ceremonies. So far, those links have more than 750 downloads.
"It kind of felt like I was actually there. It was funny," Petisco said.
Grads are seeing how best they can replicate the whole commencement experience.
"I cared about walking [at commencement], but more so for my parents. I just wanted to take pictures," said graduating senior Krystal Ward with a laugh.
And so she made a photoshoot happen. Ward grabbed her cap and gown, put on makeup and stepped into her backyard with her cell phone.
I went throught a lot these 3 1/2 years but one thing was for sure, I was gonna get my degree by any means necessary ✨👩🏾‍🎓 #TeacherBae

Thank you @FIU 💙💛 #PantherForever#FIUAlumnapic.twitter.com/Aty7msUnE6

— scotch bonnet ✨ (@_krysTOOlivee) April 27, 2020
"My parents were surprised. My mom was cooking and my dad was inside. They were like, 'Who took these?' I said it was my timer, on my phone," Ward said.
Ward, an elementary education major, is looking forward to showing her cap and gown to students at Dr. Carlos J. Finlay Elementary. As an intern there, she would constantly be bombarded with questions about life as a college student by her first-graders.
"I was like, 'OK, these kids want to go to college.' If that wasn't their thought, they wouldn't have asked me any questions. So I want to show them that it's possible. Sometimes it's hard, but you can get through it," Ward said.
Ward is working with her cooperating teacher at the school to meet with the class on Zoom.
"At first, I was just going to let myself stay bummed out about [commencement going online]. But then I was like, 'It's not going to change. So you might as well make the best out of it. You still graduated. You still finished.' And even though I can't walk at commencement now, I can still celebrate now," Ward said.
Check out FIU's commencement website for more information.