How to effectively manage a team during a pandemic while everyone works from home
In an effort to facilitate social distancing during the COVID-19 pandemic, many employers are moving to remote work. In addition to the logistical challenges that come with a working-from-home arrangement, managers and those in leadership positions have to find ways to promote a healthy workplace, remotely.
FIU experts Valentina Bruk-Lee and Nathan Hiller provided FIU News with insights on how leaders can be effective — even when telecommuting.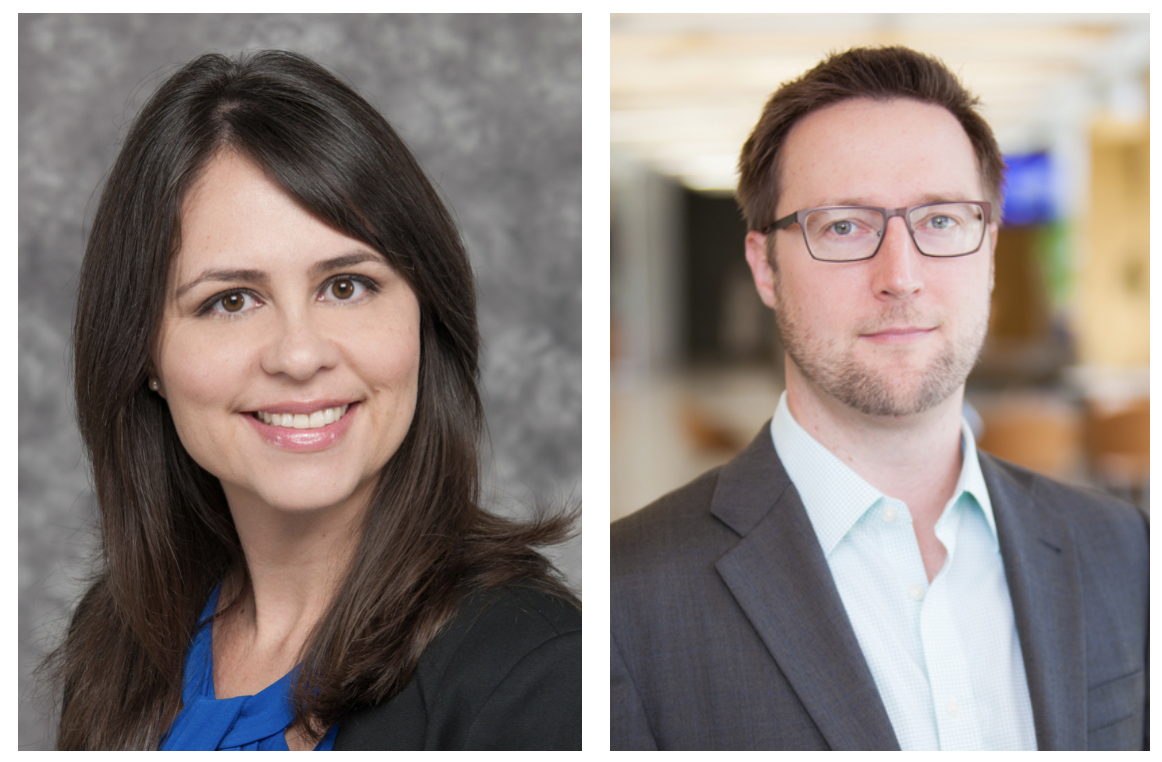 Bruk-Lee and Hiller
How can a leader promote high levels of performance and at the same time show concern for his/her staff at this uniquely challenging time?
BRUK-LEE: Driving high performance and expressing concern for your team should not be mutually exclusive, particularly during hard times. In fact, effective leaders are those who are able to motivate employees to perform their best while continuing to foster healthy workplace cultures. These are leaders who are responsive to their team's needs, understand and fulfill their role in facilitating their team's work and leverage their team's strengths. In doing so, they promote work cultures that are engaging, where people feel valued and can be productive. Leading in this way means you recognize the importance of your employee's well-being and its impact on their ability to perform at their best.
HILLER: It is critical that leaders demonstrate empathy. We can't expect people to be able to think well and execute complex work tasks if they're in a heightened state of anxiety about their family's safety and if they are worried about their company going bankrupt or have watched their family-members lose their jobs.

Our goal is to all get through this and to try to help the organization survive – it should absolutely not be about maximizing productivity. It's more about getting done what has to be done and recognizing that none of us will be at the top of our game when it comes to work.

The tools and technology we have available to us (e.g. Zoom) can be very helpful in ensuring that we are able to better communicate with employees (as opposed to just via email) and to read some of those non-verbal cues. You may not pick up on someone being anxious via email, but it is easier to detect if you can both hear them and see them.


How does a leader not appear disconnected from the anxiety and stress their employees may be feeling?
BRUK-LEE: Recognizing that employee health and well-being and work-family balance are pillars of a healthy workplace is central to connecting genuinely with your employees. Leaders who do so, are more easily able to communicate authentically with their teams at stressful times and their messages are met with confidence and trust.
Clear, truthful and frequent communication is core to great leadership, particularly at times of ambiguity. Start by checking in with your team, ask to understand the obstacles they are facing and offer to work with them to find solutions. The stress many employees face at this time may be due to procedural or structural elements that can be easily addressed if caught early. Be ready to leverage organizational resources, such as employee assistance programs, if the stress is having significant impact on your employee's personal and work life.
Remember that stressors will evolve as the situation changes and good leadership requires you to understand what your team is facing.
HILLER: Many people are in a heightened state of worry – and this can really make it difficult to do your job. You can't concentrate. You aren't very productive. And to some extent this is okay for a while — we're still coming to grips with this situation and it will continue to change. This is about not only human safety, but economic survival. The single best thing a leader to can do in situations like this is to show empathy. You don't have to have the answers or the wisdom.
Stop.
Ask.
Listen.
Try to understand.
Acknowledge.


Is it feasible to implement a flex schedule? Is it productive?
BRUK-LEE: Leveraging flexible work schedules at times like these can certainly be beneficial as we respond to challenges that are affecting every aspect of daily life. Not only are employees tasked with working remotely, but for those with children at home, they are also being asked to parent and homeschool. Local school districts are planning to resume classes after Spring Break, offering students and families the chance to check out the necessary equipment to start remote learning efforts. While this is something we are very much familiar with in higher education, the challenges of remote learning are largely new to most school-aged children, their teachers and working parents.
Leaders should assess the feasibility of flexible work arrangements and other accommodations that can help manage the increased demands on work and family life. When implemented effectively, these types of arrangements have the potential to improve employee attitudes, reduced work-family issues and increase performance. 
HILLER: For many white-collar workers, whose jobs are less likely to be at immediate risk than others, flex schedules and remote work are possible. However, for some jobs and in some industries – this just isn't possible if the nature of your work requires that you be present at specific hours. A golf course groundskeeper. A nurse. A kitchen worker in a take-out restaurant. These often don't have moment-by-moment flexibility of being able to complete work tasks throughout the day from home as home-demands permit.


Considering we may be in the situation of working remotely for a while, is this sustainable?
HILLER: The answer is that we'll find out. For some people/job/organizations – they may find that in fact, specific jobs are absolutely possible to be done remotely, even if the organization thought they couldn't be done remotely. We will also adapt what we do and how we do it. And new shifts or technology might be developed to enhance remote work now as well.
My guess, early in this whole situation, is that five years from now, we'll look at this event/time-frame as a watershed moment that changes the trajectory for online/remote work. Some jobs may never return to the physical office, though most will. There is a definite downside to having all/most of your workforce working remotely, as several companies in the past five to 10 years have realized. At the same time, for many jobs and in many industries, remote work just isn't feasible in the short-term or long-term. How do you prepare a meal remotely? Provide childcare remotely?


As the situation prolongs, some leaders (and employees) may start to question if their work actually matters at this time, what's your advice?
HILLER: It matters inasmuch as we need to get basic things done and help our organization survive and try to be productive. And work can also provide a sense of normalcy — a way to keep oneself from ruminating and consuming too much news. But the health of many individuals is already and will be further jeopardized. Unemployment is already showing signs of skyrocketing. This is really what we should be focused on and organizations and leaders need to find ways to get as much done as possible, while recognizing that in fact, we are actually in a significant crisis that requires our collective action and attention.


---
Bruk-Lee is associate professor of industrial/organizational psychology in the College of Arts, Sciences & Education. Her research focuses on interpersonal conflict in organizations, employee satisfaction, occupational health and well-being, employee selection. Bruk-Lee has consulted with both private and public sector organizations in the areas of employee selection, job analysis, performance measurement, and competency modeling. 
Hiller is associate professor in the College of Business and academic director of the FIU Center for Leadership. His academic work focuses on leadership, from the psychology of senior executives to the shared enactment of leadership by work teams. Hiller teaches in and oversees all leadership development programs at the Center for leadership – working with leaders across industries and levels to develop and refine their skills and behaviors.
Telecommuting and the coronavirus: what you need to know
Associate Professor of Global Leadership and Management at FIU's College of Business Ravi Gajendran says not even businesses and employees who are accustomed to remote work are exempt from the uncertainty of the COVID-19 pandemic in the workplace. He says the key to success is having proactive communication from both sides.
Read more on BizNews.