High-quality data and health informatics are increasingly central to addressing complex women's health issues
January 8, 2021 at 11:28am
---
High-quality data and health informatics are increasingly central to addressing complex women's health issues. Business professors Min Chen and Cynthia LeRouge recently shared several high impact examples with members of Think Tank for Women in Business & Technology.
The international group hosted a panel discussion—"Women's Health: What Technologies Should We Invest In?" held virtually in December—not only to address existing medical challenges, but also the need to increase women's presence in the technology sector.
Where is technology delivering health results?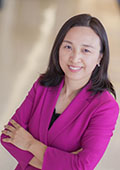 Chen, associate professor of information systems and business analytics, explained that maintaining and sharing electronic health records can help match pregnant women with the treatment they need, allowing for fewer unnecessary C-sections in low-risk deliveries.
"Analytics can be used to monitor outcomes and update patients to different risk levels," said Chen. "When hospitals share electronic health records with outside providers, there is an overall decrease in the probability of maternal complications and babies going to the neonatal intensive care unit."
Technology is also being used to collect and track patient-generated data.
"We are creating new tools and leveraging existing ones that empower patients and health systems," said LeRouge.
"These include technologies that increase information awareness, facilitate individual and population patient assessment and tracking, support self-management, and deploy innovative forms of telemedicine to help patients," added LeRouge, director of the Master of Science in Health Informatics and Analytics program.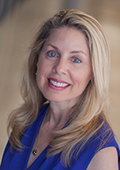 In the case of perinatal anxiety—a common condition, but one where many women may not seek or sustain care due to societal stigmas—telemedicine can offer a support system. One option may be connecting with chatbots at times when the expectant mother feels anxious and alone. 
Other technologies, like electronic reported patient outcomes (ePROs) can support health systems receive evidence-based patient generated health data, which facilitate patient-provider communication, track patient progress, and build databases of feedback from patients on the outcomes of interventions.
Think Tank for Women in Business & Technology was established by noted entrepreneur Somi Arian in an effort to expand the role of women in leadership positions in tech innovation and artificial intelligence.