International educators turn to FIU for global learning expertise
November 30, 2020 at 9:30am
---
A decade ago, FIU implemented Global Learning for Global Citizenship, the centerpiece of internationalized undergraduate education.
This initiative involves every undergraduate in collaborative efforts to analyze and address complex issues that transcend borders. More than 145,000 students have benefited from taking global learning designated courses, and more than 850 faculty and staff have participated in hands-on, interdisciplinary workshops that have enabled them to develop courses, activities and assessments that address graduation-level global learning outcomes – global awareness, global perspective, and global engagement.
Due to the success of Global Learning for Global Citizenship, international educators around the world now turn to FIU for its global learning scholarship and practice. On Nov.16, FIU Global and the Office of Global Learning Initiatives partnered to host FIU's inaugural global learning forum: Designing & Implementing Global Learning/ Internationalization at Home.
Almost 50 participants, including faculty, senior international officers, administrators of study abroad and language programs, a career coach and advisor, and others signed on to the full day virtual meeting to learn from FIU administrators and faculty, and exchange ideas with peers. While most participants were from institutions in the United States and Canada, others represented universities and colleges in the United Arab Emirates, Egypt, China, Belgium, Ireland and Spain.
Topics on the forum agenda included the fundamentals of global learning; how to create buy-in from administrators, faculty and students for global learning; how to train faculty and staff who wish to infuse global learning into the curriculum; and, best practices in deploying global learning via Collaborative Online International Learning (COIL). FIU faculty and administrators, including Provost Emeritus Douglas Wartzok, served as panelists to describe how the initiative evolved at FIU, resources necessary to institute university-wide global learning, and the varied approaches to facilitating global learning for students.
"Internationalization at home has a significant role in building the Internationalization Framework at the Higher Colleges of Technology (HCT)," said Marko Savic, senior manager of international relations at HCT, an FIU partner institution in the United Arab Emirates.
The forum "provided me with numerous ideas about how to facilitate students' global experiences regardless of the COVID crisis," Savic said.
In addition to engaging discussions with administrators and faculty who regularly use global learning practices in their courses, all forum participants received a complimentary copy of "Making Global Learning Universal – Promoting Inclusion and Success for All Students," co-authored by FIU scholars Hilary Landorf, Stephanie Doscher and  Jaffus Hardrick and co-published by NAFSA and Stylus. The book not only describes FIU's journey in internationalizing the curriculum and co-curriculum, but serves as a replicable guide for institutions throughout the world.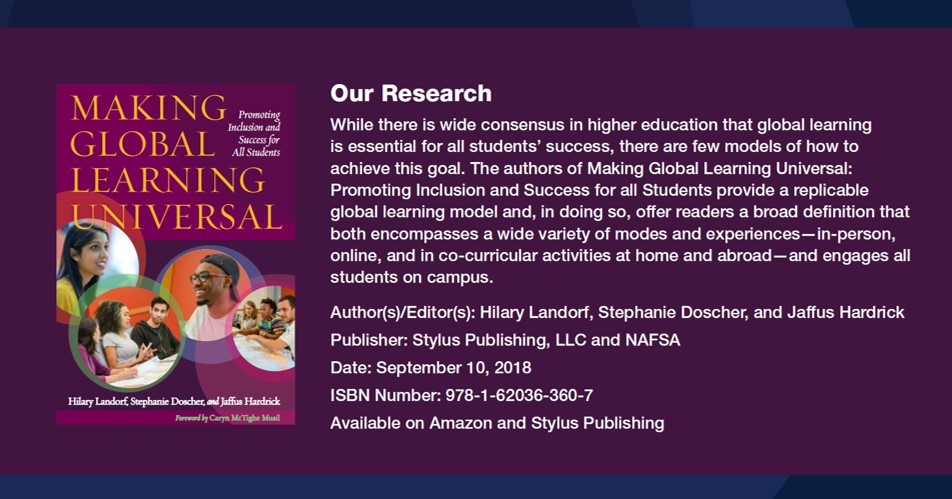 Dawn Whitehead—vice president of the Office of Global Citizenship for Campus, Community, and Careers at the Association of American College and Universities (AAC&U)—moderated the forum's opening session on the fundamentals of global learning.
Whitehead joined FIU's event "because it shows the power in the exchange of ideas at the institutional level. FIU has put in time, energy, and resources to develop robust global learning initiatives, and now FIU is sharing this information in the spirit of global cooperation, not competition. It is a true model of global learning."