Middle school students tap into tomorrow's future cities
Art, engineering and collaboration were present at the South Florida Future City Competition.
February 11, 2020 at 11:10am
---
"What we hope to take away from today is to win!" said Marcos Santa-Cruz, a middle school student from St. Hugh Catholic School. His takeaway came true as his team took first place at South Florida's Future City Competition, which was hosted by FIU's College of Engineering & Computing.
Future City is a nationwide competition where middle school students imagine, research, design and build cities of the future that solve a sustainability issue.
With the theme of "Clean Water: Tap into Tomorrow," eight middle school teams from Miami-Dade and Broward counties designed a virtual city, wrote a 1,500-word essay and built a scale model from recycled materials showing how their future city's resilient system can potentially maintain and provide a reliable supply of clean drinking water to its residents.
From scriptwriting to painting, art and engineering blended and inspired creativity in the innovators of tomorrow.
The eight teams shared their design and favorite moments with FIU News:
St. Hugh Catholic School's Svinopsa (1st place winner)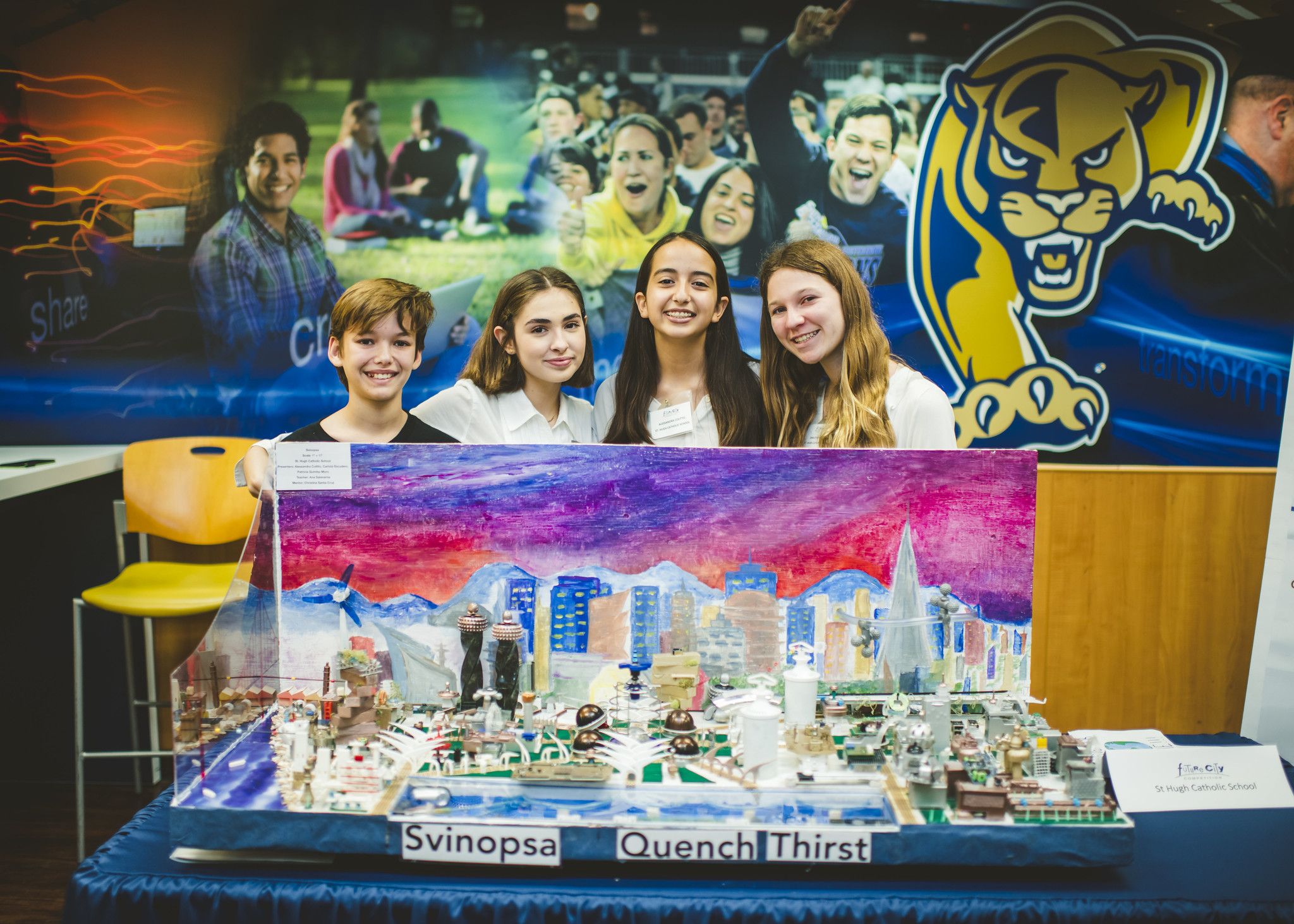 Svinopsa, meaning quench thirst in Greek, was once San Francisco. With drought being the main problem, the team created two water systems—a Graphene Nanoport System (GNS) and a Self-Sufficient Water Recycling System (SSWRS). The GNS system works by taking water from the bay and putting it through a layer of graphene or carbon, removing salt and debris. Then, the water goes through cleaning to remove bacteria and viruses.
The students used unique materials to build their city, from floss sticks to represent their magnetic levitating train station to Jenga sticks for buildings.
"There's not a lot of women in the field of engineering. It's cool to have the opportunity to be here and be a key player in this project as a woman myself," said Patricia Quimby-Moro who was happy to represent girls in STEM at the competition. 
Key Point Christian Academy's Apollo City (2nd place winner)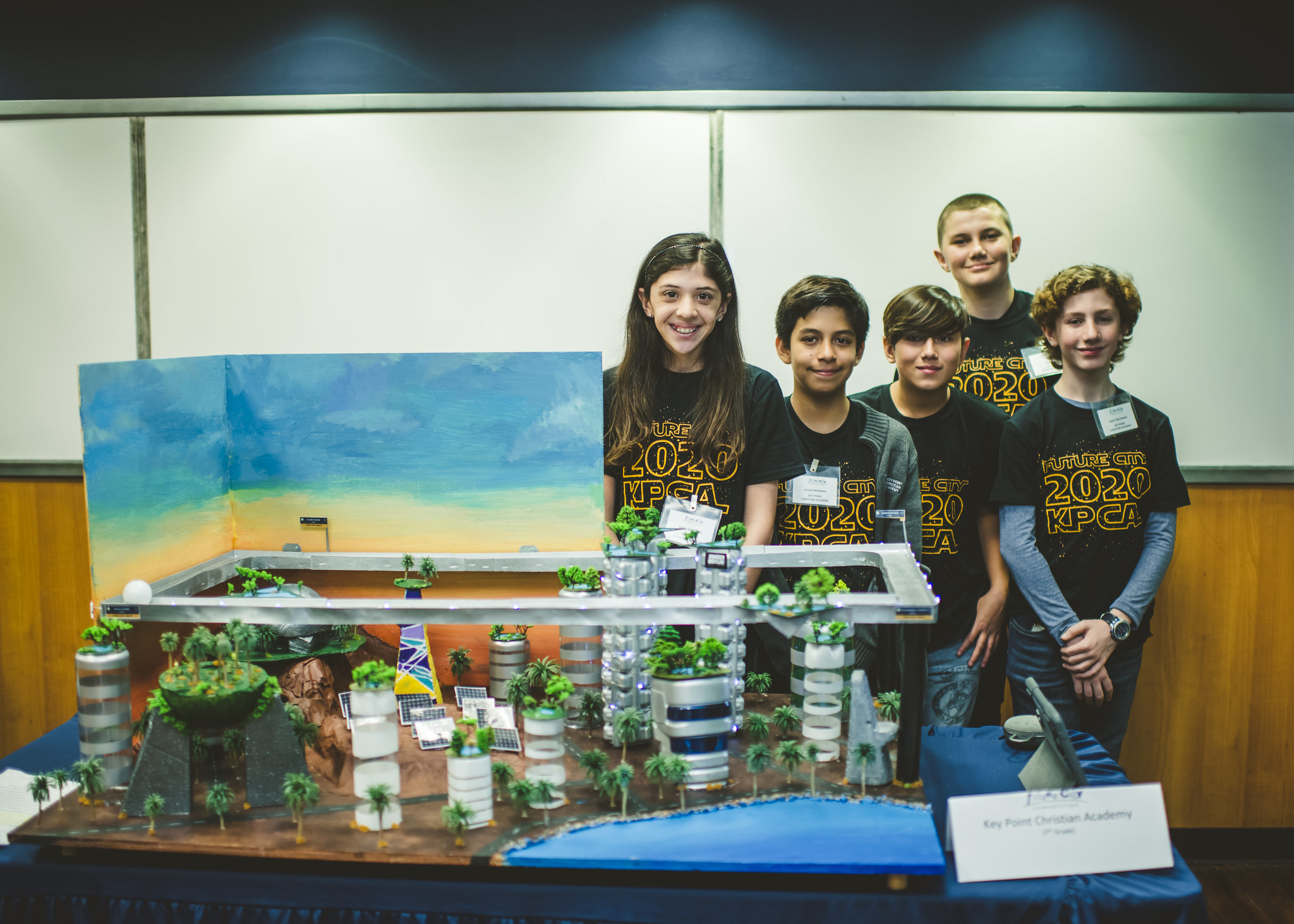 Apollo City, based in Arizona, neighbors the Colorado River. The students designed an osmosis system to keep the water clean for its residents. They also incorporated green spaces on top of each building, generating tourism and leisure space for workers, and a metro mover that can transport people to the four main districts of the city.
Pop culture was present in Apollo City, with a 90s museum and a fictional paper sales company from a popular American television series.
"Everybody had something to contribute," said Noah Miranda. "Sofia and a few classmates helped paint the background, London cut the wood, Isaac and I bought water bottles to use for the scale model."
Doral Academy Preparatory School's Tlaloc (3rd place winner)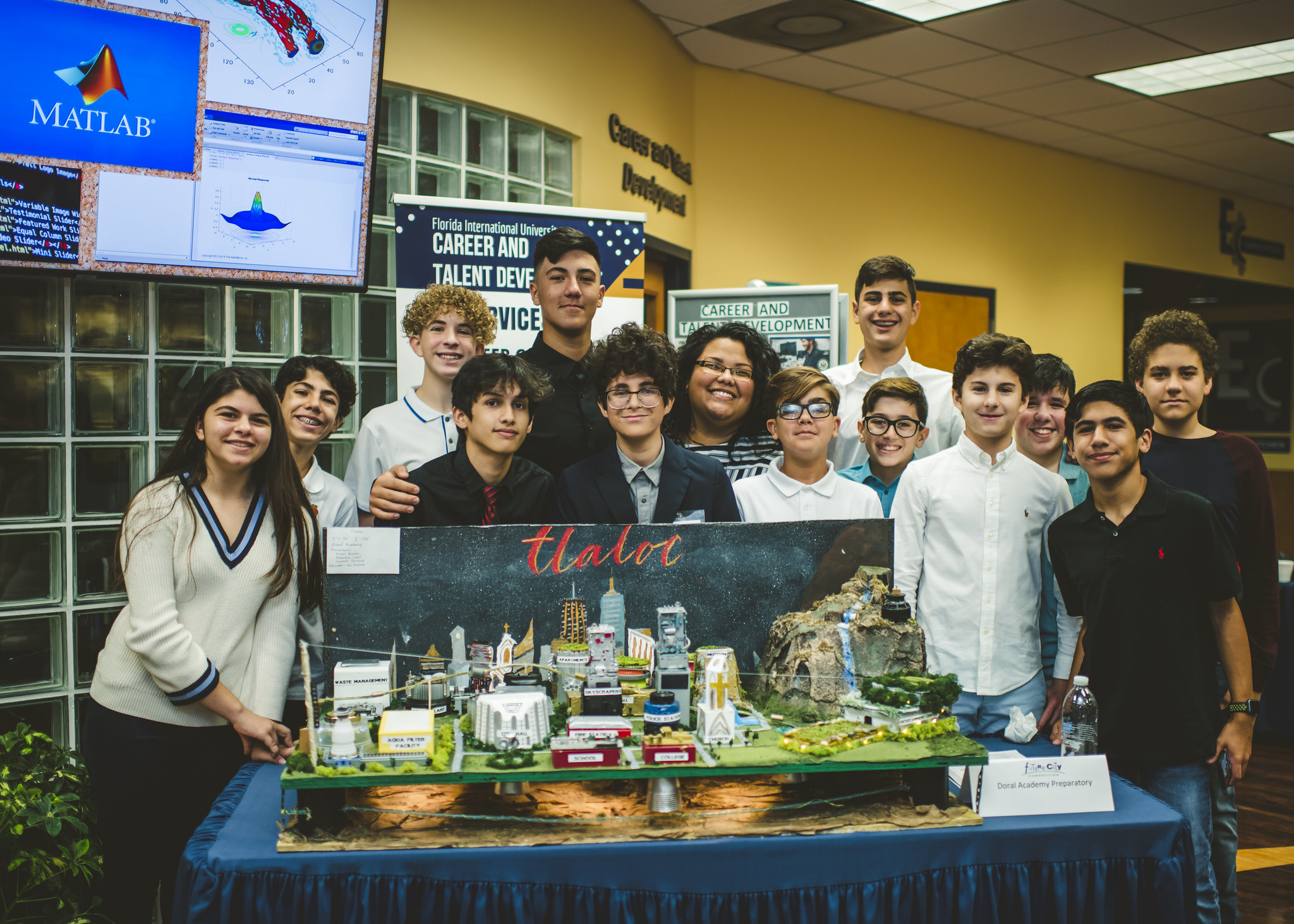 Formerly Mexico City, Tlaloc, meaning God of Water, has a water system located underground with a graphene tube and wire, transporting water and electricity at the same time to a water facility. The team's proposal included adding vitamins, nutrients, minerals and bacteriophages – a virus that latches onto harmful bacteria found in water and eliminating it.
When asked what they learned from the Future City Competition, Victor Alonso said: "We learned what cooperation means. In the beginning, we were throwing ideas out and seeing what sticks. We learned we could separate into smaller groups to accomplish specific tasks."
Lazaro Collera added: "At first we couldn't stand each other and now we're best friends. Hard work makes you closer."
St. John Neumann Catholic School's Ma Wai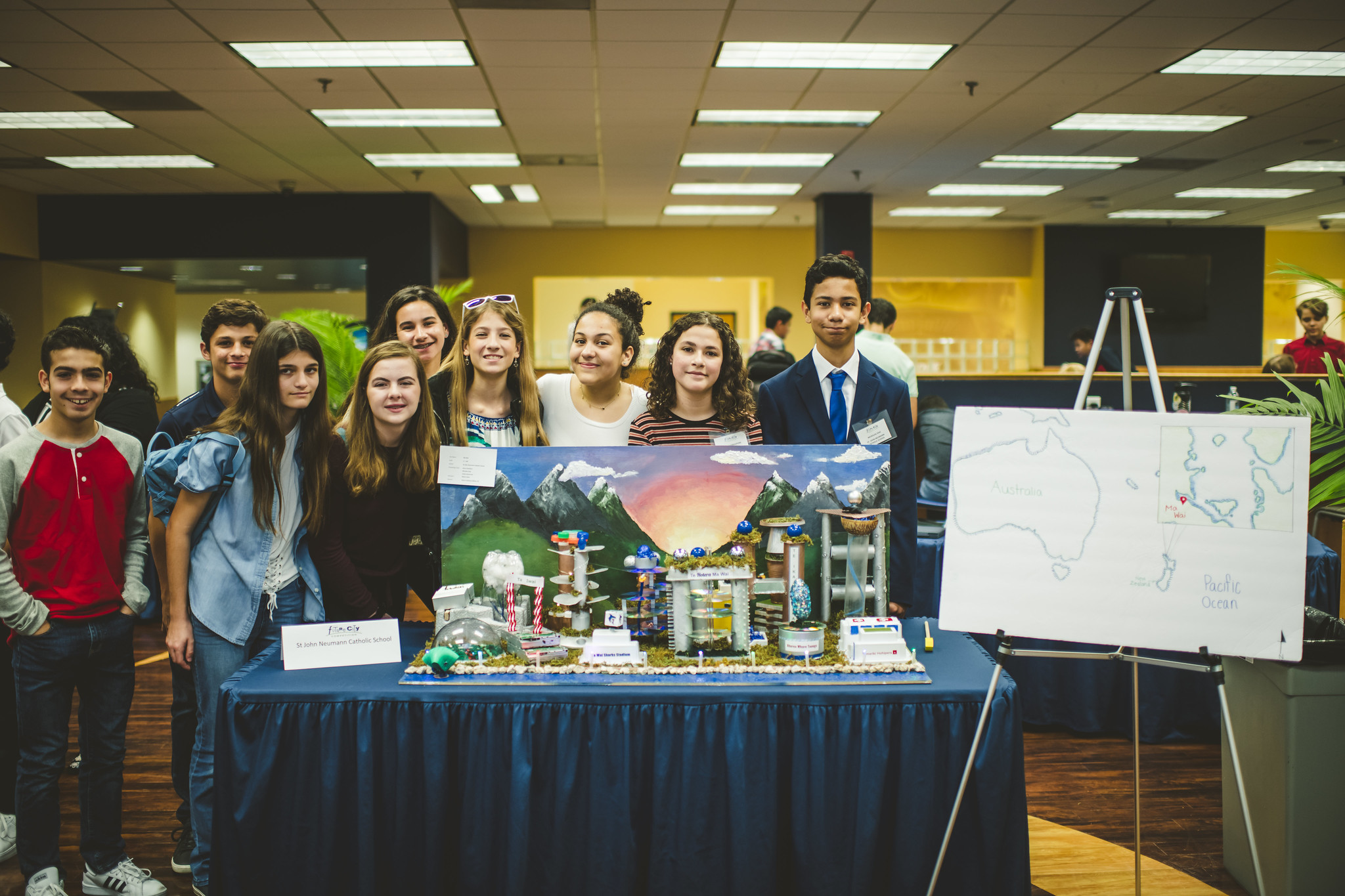 Ma Wai, meaning clean water, is a future city in New Zealand. Ma Wai's main water system is a precipitation production tower, where gray water is purified and evaporated. It condenses into clouds, then precipitates. The water is distributed among hydroelectricity, an emergency storage and distribution center used for consumption.
Team members said the competition helped them in their daily lives.
Students are tasked with putting together a script in the event that they make it to top three and need to present. There's a component of acting where they pretend to be, for instance, the mayor of the city or a resident sharing their experience.
"I'm in theater, and at times, I'd find difficulty in memorizing lines. [Practicing for] Future City has helped me in memorizing," said Imani Jannarone.
Makayla Gomez, the student who wrote the team's script for the presentation, added, "I have taken the time to respect what engineers do. It's a lot of planning, using that thought process and being detailed-oriented."
Avant Garde Academy Broward's Forest Valley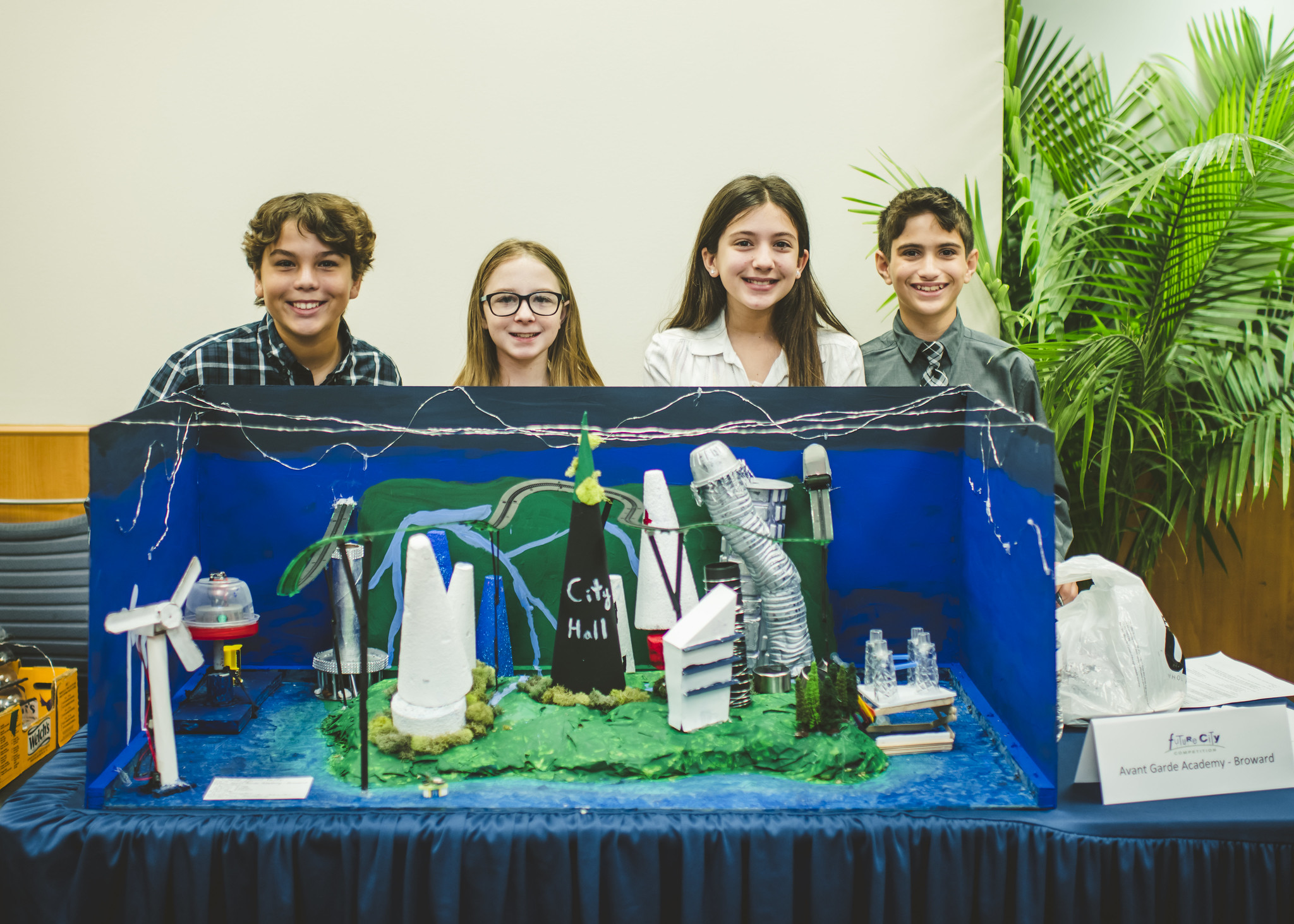 The team from Avant Garde Academy Broward included a tsunami warning system in their future city located in Japan. The system spins and lights up, alerting the population of an incoming tsunami to take the necessary precautions.
The students incorporated their passions into the development of the project. Jason Silla wants to be a scriptwriter and wrote the script for the presentation. Melina Rivaroli dreams of being an architect. Designing buildings for the project was the first step toward her dreams. Jorga Edington would like to be a painter. She took on the role of painting the scale model.
Key Point Christian Academy's Neo City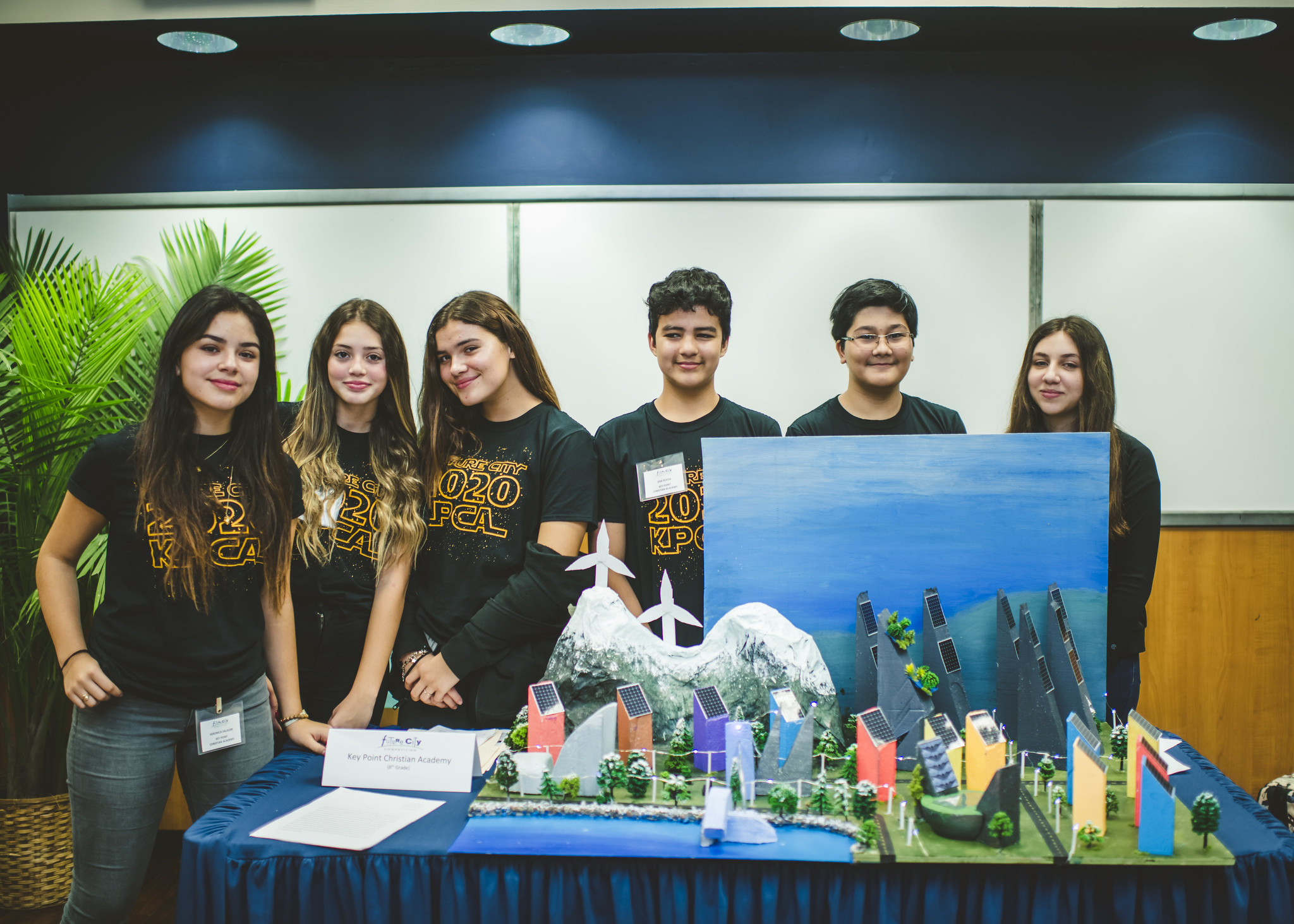 The colorful city of Neo City is located in a future Canada. The self-powered city is operated by three energy sources – hydroelectricity, wind energy and solar panels. The buildings, which have solar panels installed at the top level, face the rising sun. With this setup, the city receives solar energy for the first half of the day. The other half of the day, it uses stored energy.
"We see the future as people of diverse backgrounds uniting and having fun. This is why we chose neon colors," said Martin Rueda.
Bob Graham Education Center's Eastriver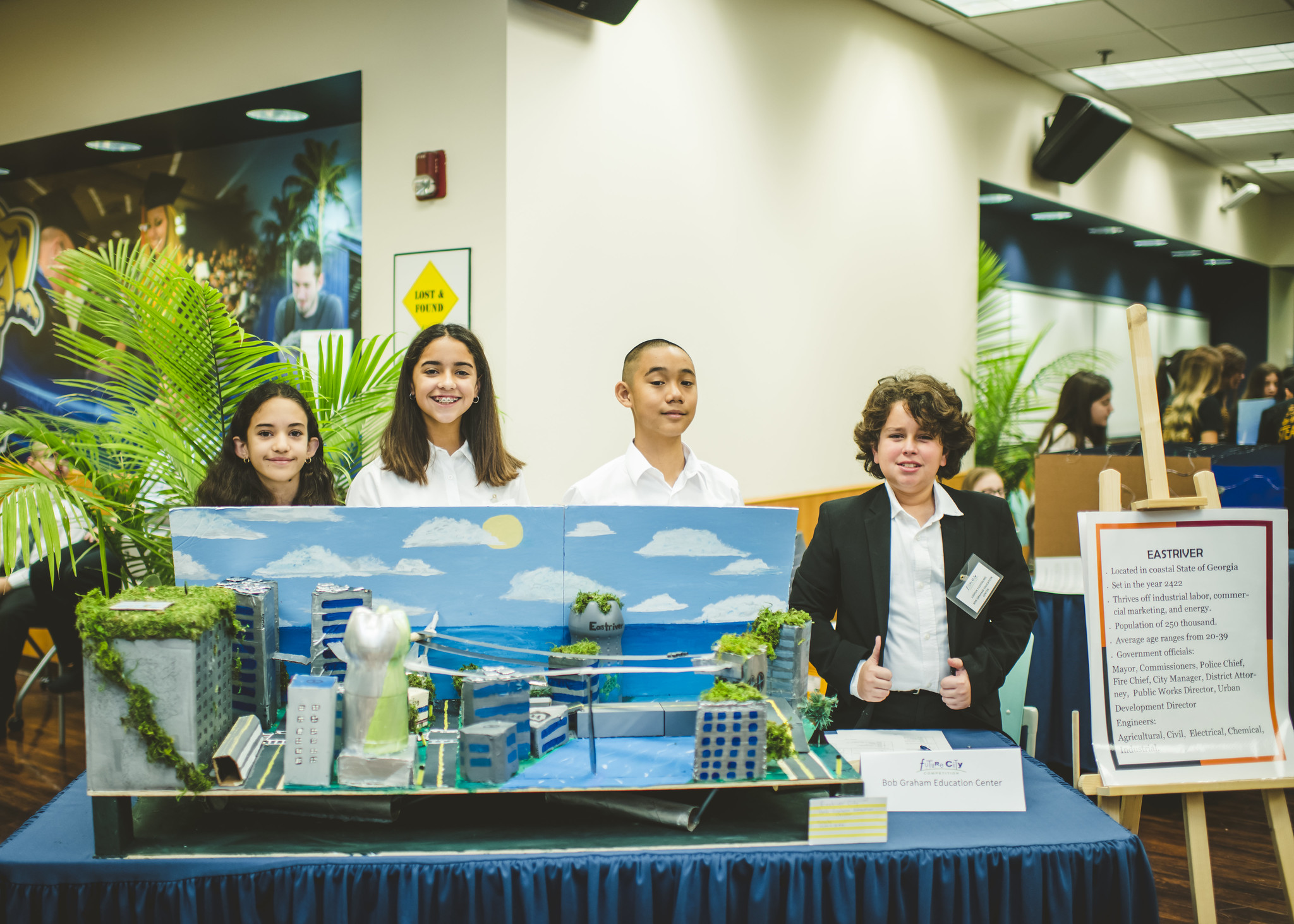 Becoming one of the most prosperous cities in North America, Eastriver's water system has a series of nets, holding back microplastics, small fragments of plastic found in the ocean. Water is then taken to a water plant where is it purified by evaporation or iodine.
"There's a sense of accomplishment here," said Joshua Easterling. "We put our writing, design and presentation skills to the test."
Everglades K-8 Center's Atlantys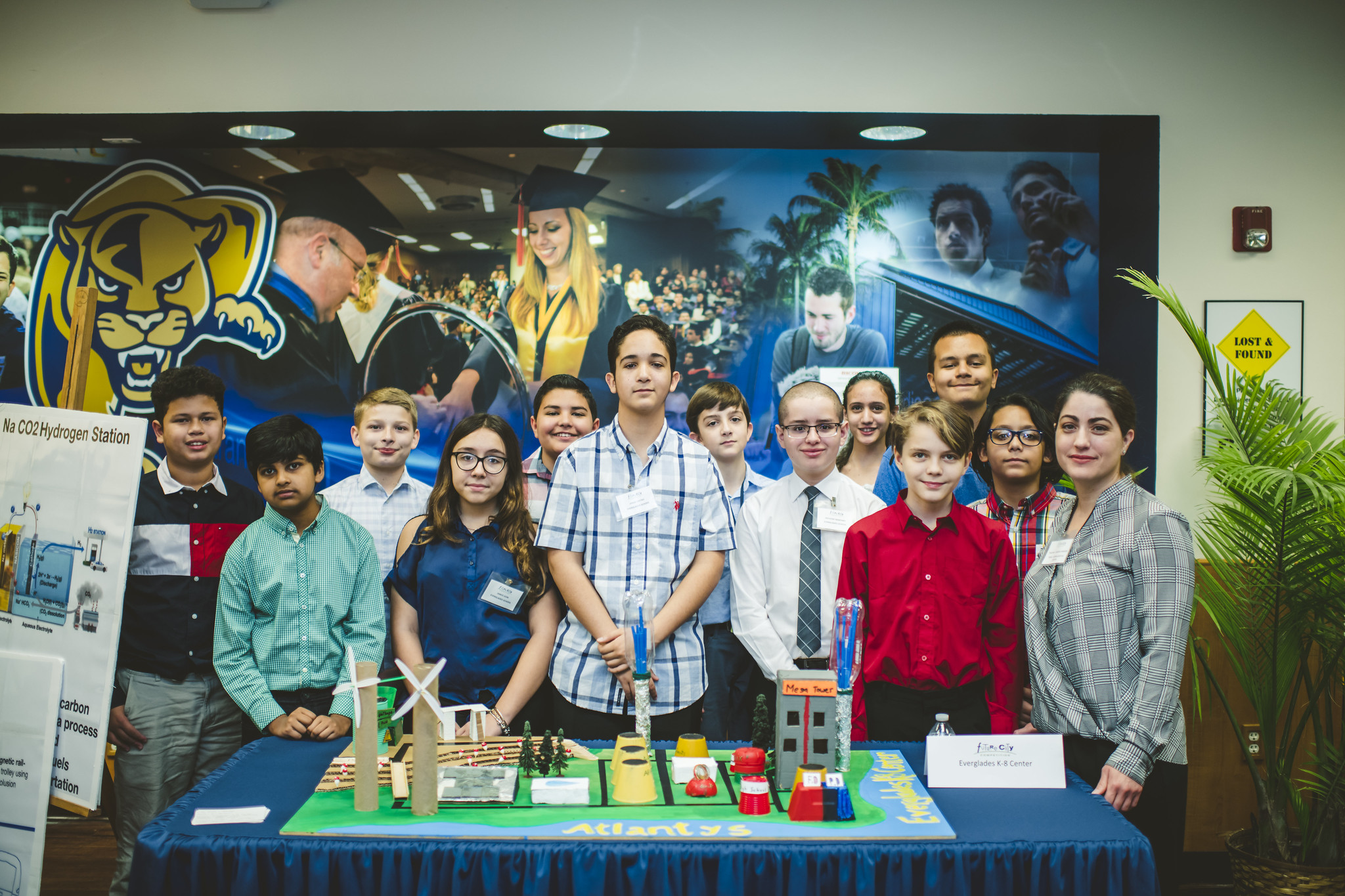 The eco-friendly city, Atlantys, doesn't have a lot of mines or factories. Wind turbines and a solar plant provide energy for the city. One of the team members, Jorge Castro, said he'd consider engineering as a profession, seeing how his grandpa and uncle were engineers. 
Osama Mohammed, associate dean of research for the college and distinguished university professor, has organized the event at the college for the last 17 years.
"We want to develop future engineers and attract them to the field through this competition," he said.
St. Hugh Catholic School, the winner of the South Florida Future City Competition, will receive an all-expense-paid trip to represent their region at the finals in Washington, D.C., taking place from Feb. 15-19.
Future City is one of the nation's leading engineering education programs. In 2017, it was recognized as the Most Innovative Hands-On Program by the US2020 STEM Mentoring Awards.