New digital platform to house stories from the pandemic
---
In the age of coronavirus, time runs differently, social gatherings are restricted and zoom meetings are the new normal.
People from all over the world are experiencing these changes and some are documenting their experiences.
"Time is relative, and to first responders, I'd bet time's speed increased
As hours of life turned to thousands deceased
Minutes must feel like seconds, when exhausted fingers are moving to save expended lives."
Finance major Yoana Lorenzo penned these words as part of her submission to Stories in the time of Corona, a new digital platform that will house stories from the South Florida community about life during coronavirus.
Others are submitting lists with visuals depicting how their daily routines have changed.
"Google calendar alerts me scheduled meetings converted to Zoom," said Julio Capó Jr., deputy director of the Wolfsonian Public Humanities Lab (WPHL) and associate professor in the Department of History. "Working from home means mealtime is when I'm hungry – or when I convince myself I'm hungry."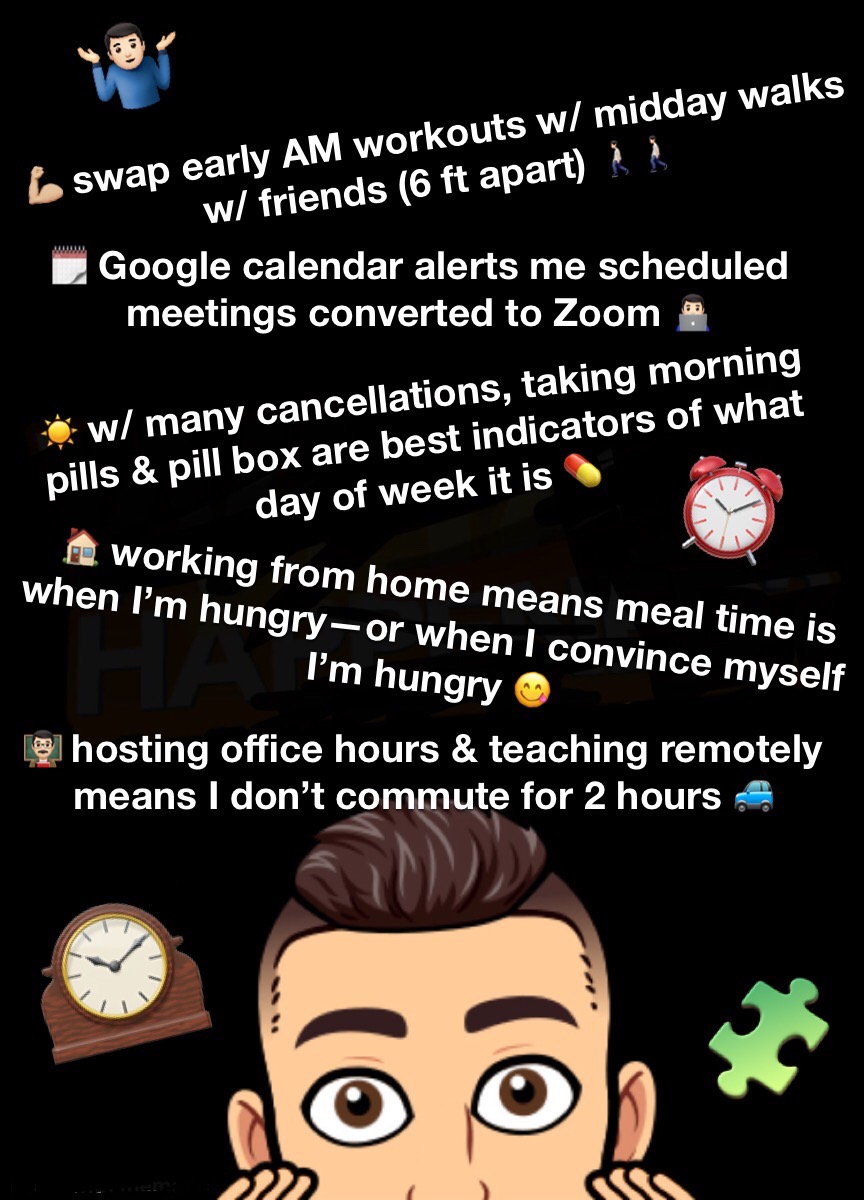 The Wolfsonian Public Humanities Lab (WPHL), an emerging preeminent program – in conversation with two collaborators, the Miami Beach Urban Studios (MBUS) and The Humanities Edge – created the platform. 
"The idea was simply inspired by the immediate realization that this virus would change our lives in the now and in the later in untold ways," said Rebecca Friedman, director of the Wolfsonian Public Humanities Lab and associate professor of history, "We wished to capture this moment to better understand ourselves and share insights with one another."
At the moment, there are five themes participants can choose from: time, food, community, productivity and sociability. Each theme displays a part of our reality that has been put to the test or altered in some way, Friedman explains.
Questions within these themes include topics like social isolation/distancing, working from home and various other personal experiences that can be addressed by participants in their submission.
These themes will be changed and adapted to reflect the changing circumstances, during the coronavirus pandemic, about every month or so.
A couple of weeks since its inception, Stories in the Time of Corona has received 40 plus replies, including poems, videos, memes and narratives.
Members of the FIU community and beyond are encouraged to submit their stories - whether that is written, visual, or audio to WPHL's digital submission form. The stories will be placed online through the program's website and will be made accessible to all.
The team at WPHL is also working on other digital projects related to this pandemic and experimenting with different software to create digital exhibitions and creatively display these stories.
 "The job of the Wolfsonian Public Humanities Lab is to serve as FIU's overarching humanities hub to help students, faculty, staff and the wider Miami and South Florida communities understand their lives and the lives of each other through the lens of humanistic thought, analysis, critique and creativity," said Friedman. "[Our] vision is that Stories in the Time of Corona will become a textual, visual archive available to the wider community to better understand this time through creative expression."