Young Alumni Network helps students, recent grads with wellness, professional development and financial literacy
September 9, 2020 at 10:11am
---
On August 15, the FIU Alumni Association and Young Alumni Network (YAN) hosted the 2020 Growth Conference, designed to equip students and recent graduates with tools to succeed in the workplace after graduation.
"GrowthCon" brought together prominent alumni and other industry leaders on Zoom to help attendees identify goals and strategize their paths to personal growth in the areas of wellness, financial literacy and professional development.
GrowthCon was YAN's first large-scale, virtual event, and nearly 200 students and alumni participated. It is a revival of a personal development conference the Alumni Association previously hosted in person for alumni. Video recordings of each session are available on the FIU Alumni YouTube account and are listed below.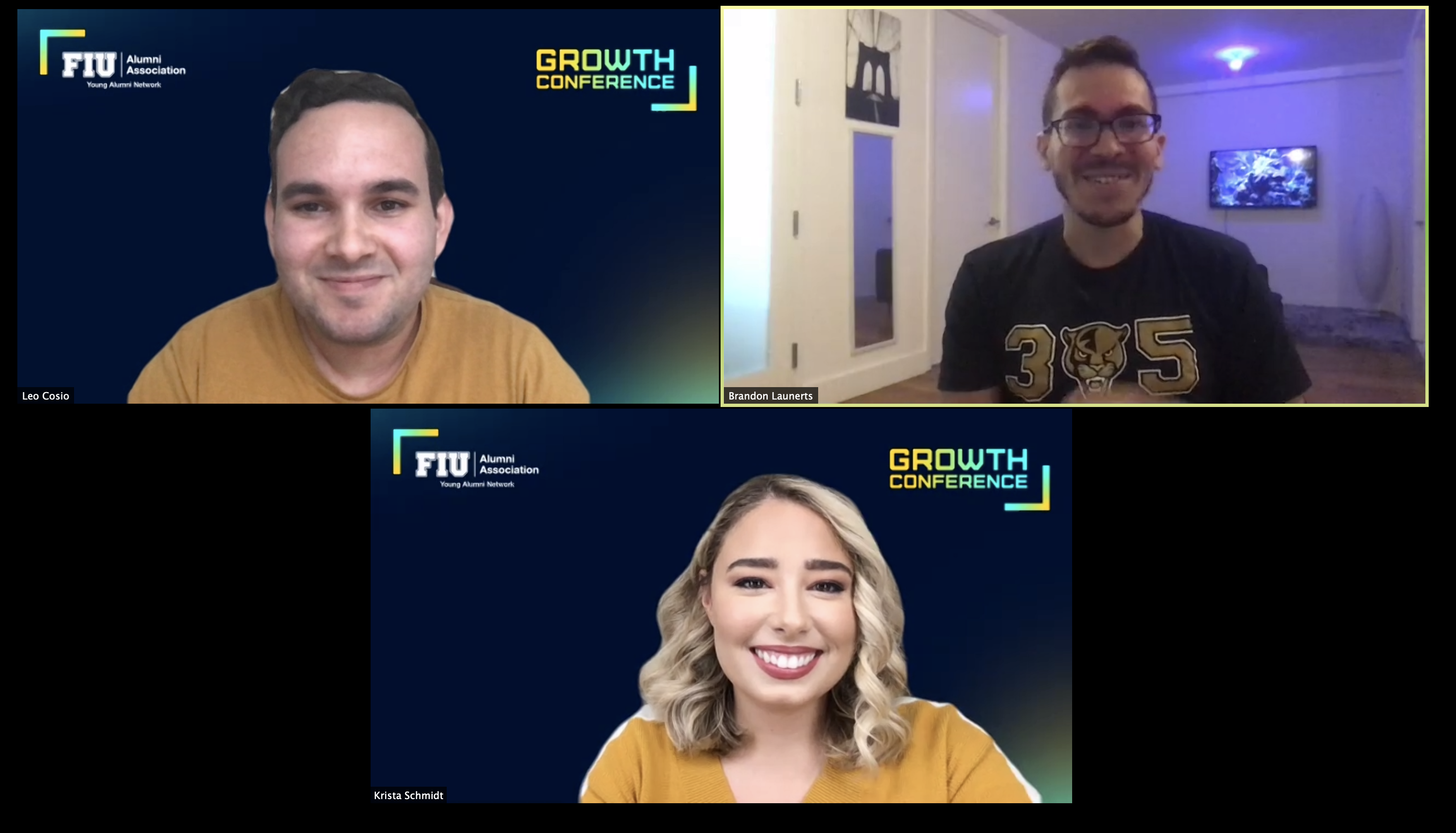 Over the past year, former Student Government Association presidents Krista Schmidt '18 and Leo Cosio '18, along with a group of young alumni dedicated to their alma mater, have worked to establish YAN, the newest and largest of the FIU Alumni Association's Panther Networks.
The network is a re-imagining of its predecessor, the former Young Alumni Council. Its launch was among the goals of FIU Alumni Association President Mike Hernandez '04, MPA '11 and the association's board of directors to increase alumni participation at FIU, which is one of the metrics measured by U.S. News & World Report to rank universities.
"The Alumni Association isn't something that you refer to once in a while. Once you graduate, you have a lifelong relationship with the association," Hernandez said.
The YAN team's goal is to help alumni ranging from recent graduates to the age of 35 stay connected to FIU by offering events, workshops and other content tailored to the specific needs of this audience – all of which is now virtual, in light of the COVID-19 pandemic. 
Though they hadn't initially envisioned their programming would be delivered fully online, they're proud of what their team has accomplished in the virtual realm so far – including GrowthCon, a virtual discussion with alumni who are Florida state legislators, a "Slay and Squat" workout session with alumna Maria Roman '16, an upcoming webinar on the path to law school featuring FIU Law alumni and current students, and a series of interactive chats on Instagram Live featuring alumni working in various industries called "Ask A Young Alum."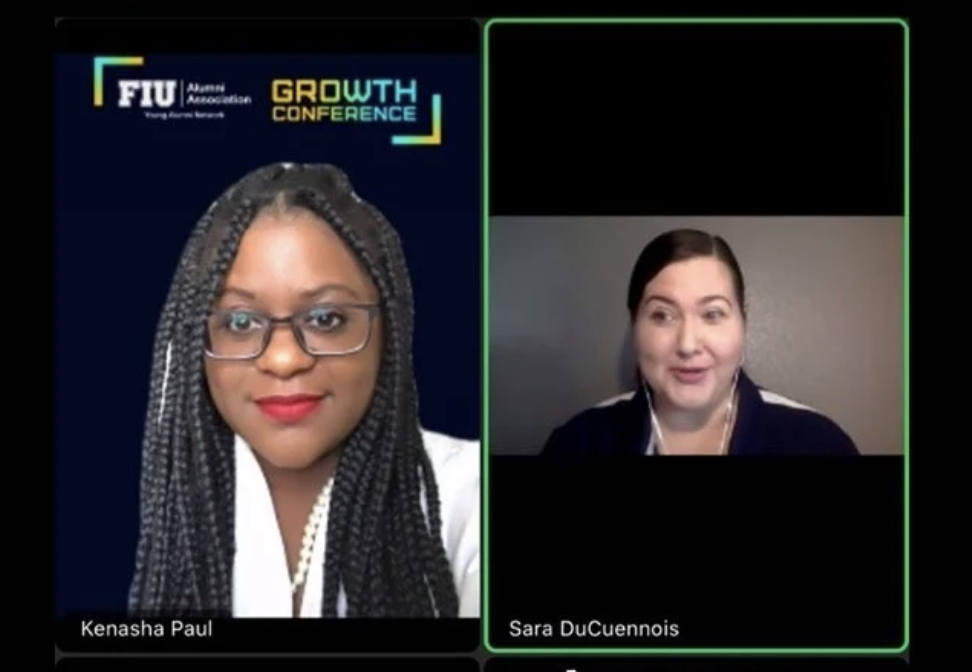 "Where others felt limited by engaging an audience virtually, we saw the opportunity to set a new standard," said Cosio. "GrowthCon brought together FIU alumni who are top leaders in their respective industries and our participants got to listen to them from the comfort of their home."
Schmidt says YAN is about more than just attending events – it's an opportunity to continue your personal and professional growth while continuing to build your relationship with FIU and fellow Panthers.
"When I think back at my time at FIU, I think of all the experiences I had that helped me grow into the person I am today. Being involved with the Young Alumni Network gives you that same opportunity, but at another level of connectivity," Schmidt said. "Through these events, you get to stay in touch with old friends, make new, long-lasting relationships, and learn how you can potentially give back to the Panther community. Our Young Alumni Network events are built with you in mind." 
All alumni 35 and younger may participate in the events and activities hosted by the Young Alumni Network – just as all alumni automatically gain access to the programming and perks offered by the Alumni Association upon graduation. Alumni who are interested in receiving information about future events, Panther Perks and other initiatives need only update their contact information with the Alumni Association.
To learn more about FIU's other regional, affinity and special interest Panther Networks, visit FIUalumni.com/networking.
Watch the sessions from this year's GrowthCon:
Keynote
Brandon Launerts '16, producer, CBS News
Networking for Beginners
Brian Goldmeier, founder and president, BYG Strategies, Inc.
Saif Ishoof, vice president for Engagement, FIU
How to Make Social Media Work for You
Paola Iuspa-Abbott '00 , president, Top of Mind PR
Courtney Moberley, digital marketing leader and junior account executive, Top of Mind PR
The Value of Finding a Mentor
Kenasha Paul '10, president and CEO, Black Professionals Network
Sara DuCuennois, assistant vice president for Alumni Relations, FIU
Debt as a Double-Edged Sword
Horacio Aguirre '13, investment specialist, J.P. Morgan's Private Bank 
Budgeting: Securing the Bag
Pablo Martinez '11, investment associate, ESJ Capital Partners 
Plan for the Future: Balancing YOLO and Saving for a Rainy Day
Francisco Mantilla '07, financial advisor, Edward Jones
Emotional Intelligence: What It Is and How to Use It
Dr. Shanequa Fleming, founder and CEO of Culture Accelerators, Inc.
What Now? Life After Graduation
Nance Guilmartin, Westinghouse Broadcasting Executive, FIU Center for Leadership Fellow
Stress Management: Identifying and Managing the Problem
Zoe Torres, founder and creative director of ZAG Creates