It's the most wonderful time of year for Miami art lovers! 
While Art Basel may have been canceled due to COVID-19, many museums, galleries and organizations, including FIU, are celebrating Miami Art Week—Nov. 30 through Dec. 6— virtually and with outdoor exhibitions.
Here's how you can take in some much-needed FIU art during Miami Art Week: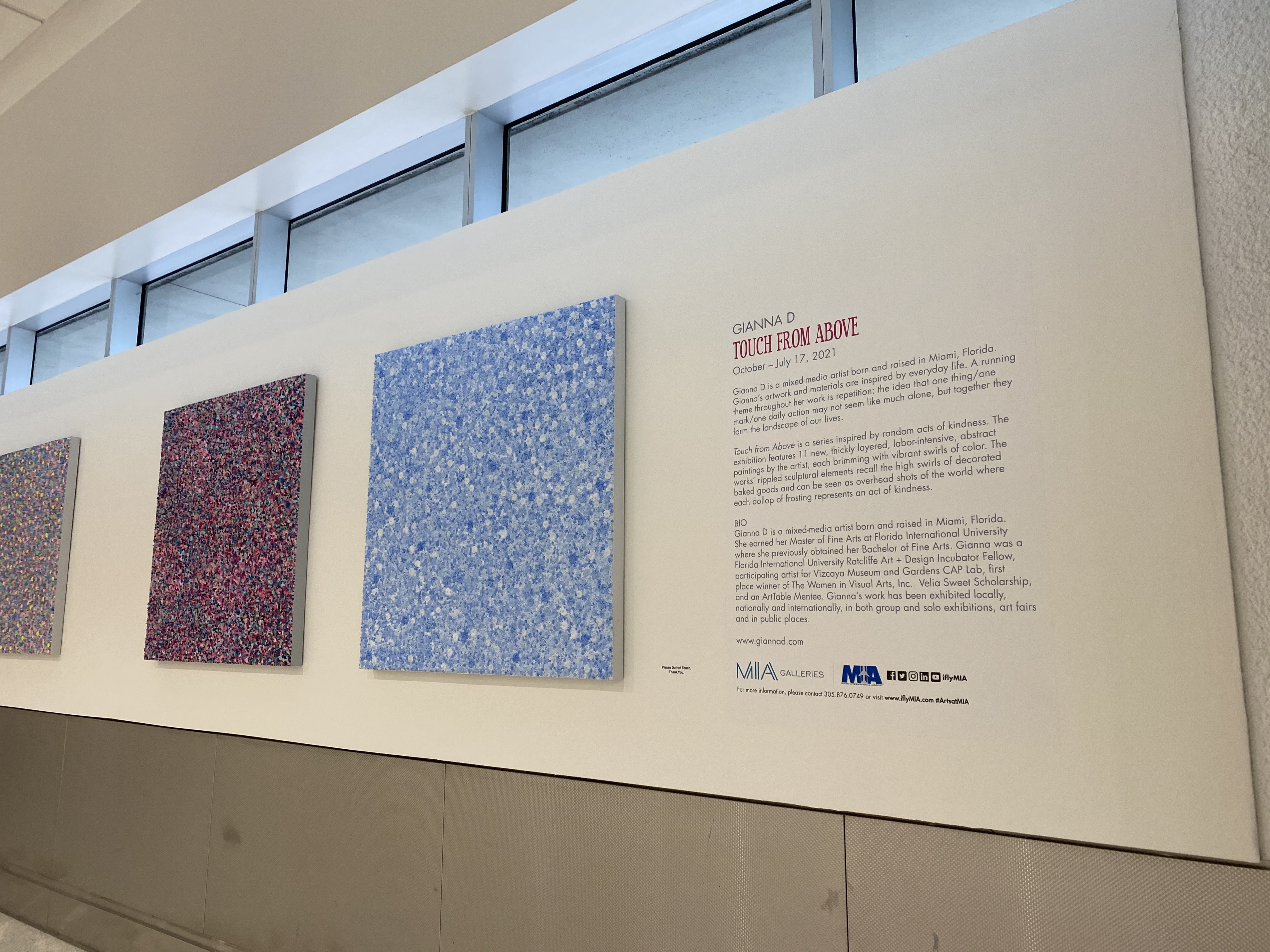 On display near gate D31 at Miami International Airport, alumna Gianna DiBartolomeo's BFA '07, MFA '19 exhibit, "Touch from Above," is a series inspired by random acts of kindness.
The new exhibition features 11 thickly layered, labor-intensive, abstract paintings, each brimming with vibrant swirls of color.
The works' rippled sculptural elements resemble swirls of decorated baked goods as if they were overhead shots of the world, where each dollop of frosting represents an act of kindness.
DiBartolomeo's work is on display at MIA Galleries through July 2021.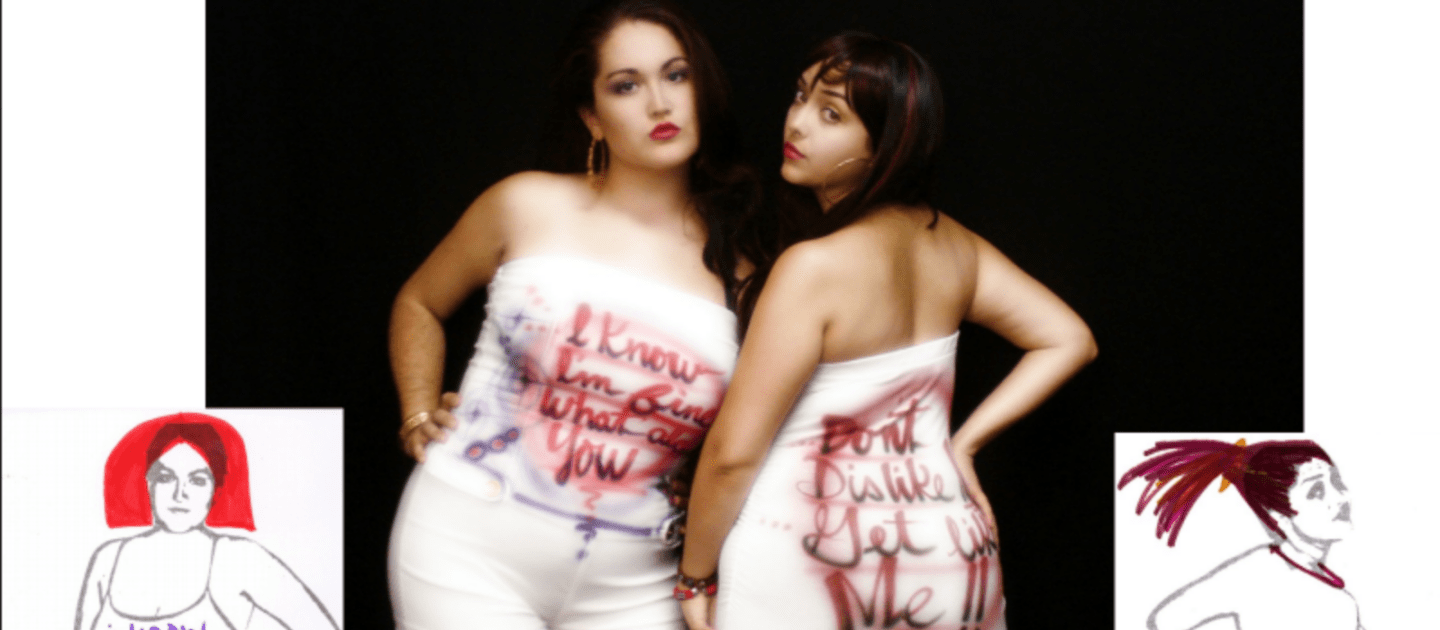 Alumnae Jessica Gispert '07 and Crystal Pearl Molinary '06 are featured in the virtual exhibition, "Marking Time: Art in the Age of Mass Incarceration" at the Museum of Modern Art (MoMA) PSI in Queens, New York.
"Marking Time" explores the work of artists within U.S. prisons and the centrality of incarceration to contemporary art and culture; it features artists concerned with state repression, erasure and imprisonment.
The exhibition is on display until April 2021.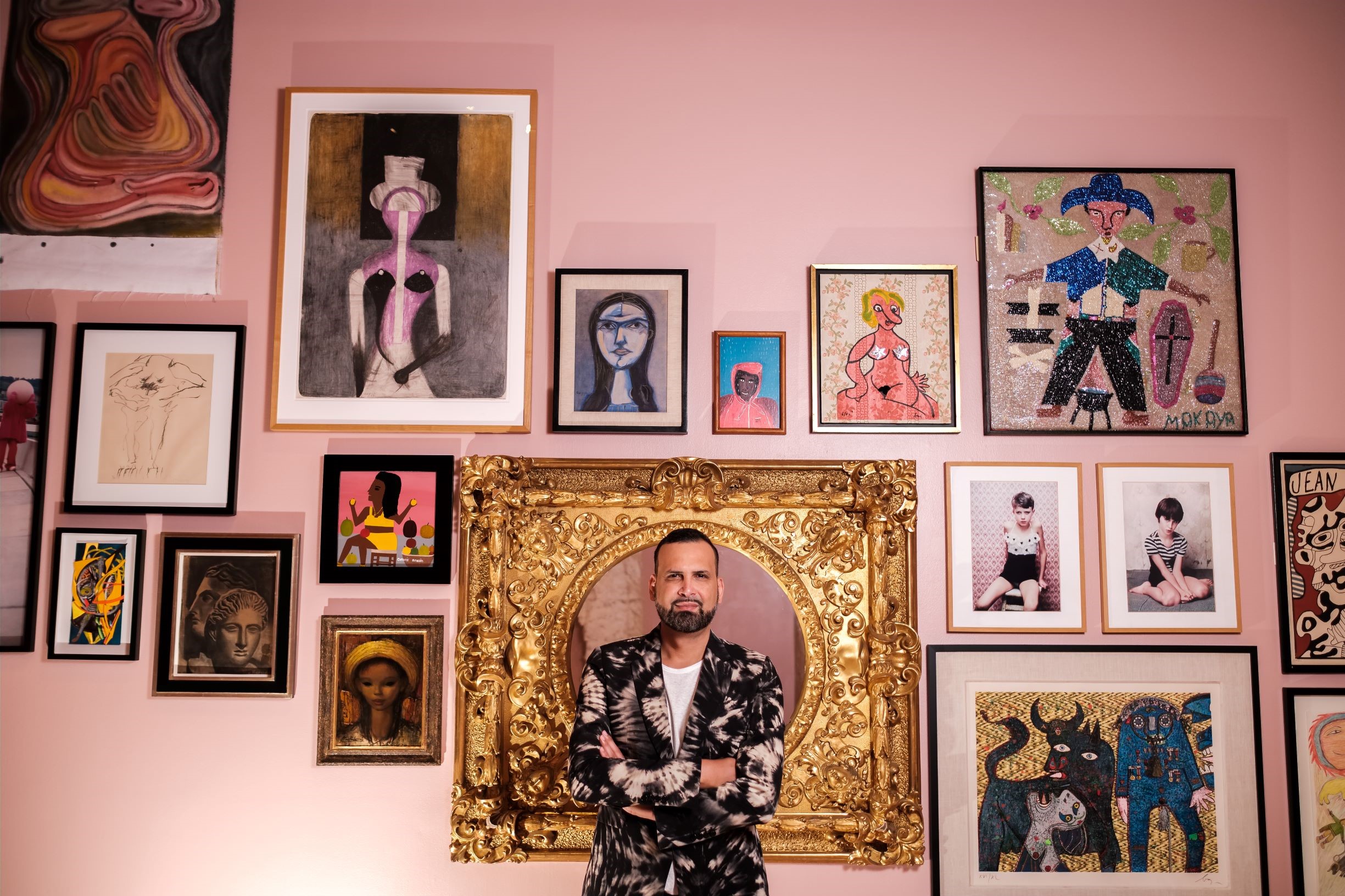 Alumnus Pepe Mar MFA '12 has created an installation drawn from the Frost Art Museum's collection titled "Tesoro: Pepe Mar's Love Letter to the Frost"
Mar envisions the museum's permanent collection of art from Africa, the Americas, Asia, Australia and Europe, as special treasures and presents them as gifts to the public.
The exhibit will be on view for two years.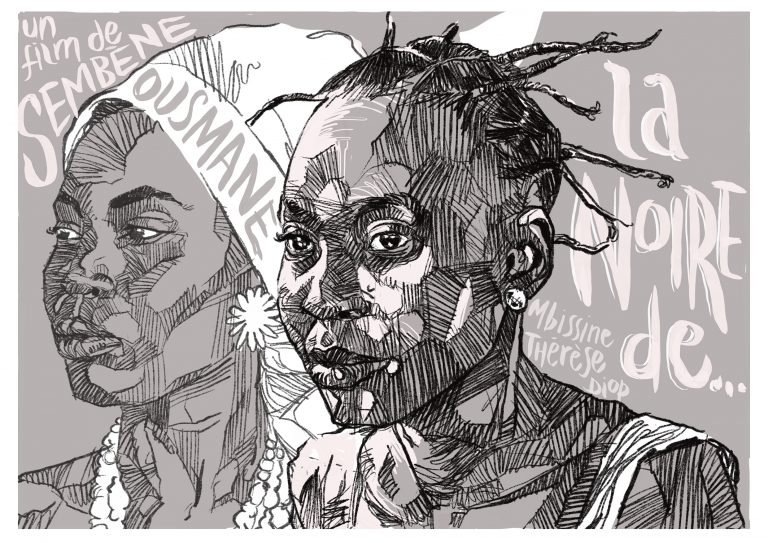 PRIZM Art Fair, founded and directed by alumnus Mikhaile Soloman M. Arch '11, returns this year for its eighth edition with a virtual exhibition titled "Noir, Noir: Meditations on African Cinema and Its Influence on Visual Art;" it is curated and organized by William Cordova and Solomon.
"Noir, Noir" revisits and contemplates the layered rendering of complex communal histories through the lens of African Diaspora filmmakers, both past and present, seeking a deeper understanding of global African identity through an evaluation of its intersections with contemporary visual art.
PRIZM Art Fair 2020 will be available for online viewing through Dec. 21, by way of the PRIZM website and Artsy.net.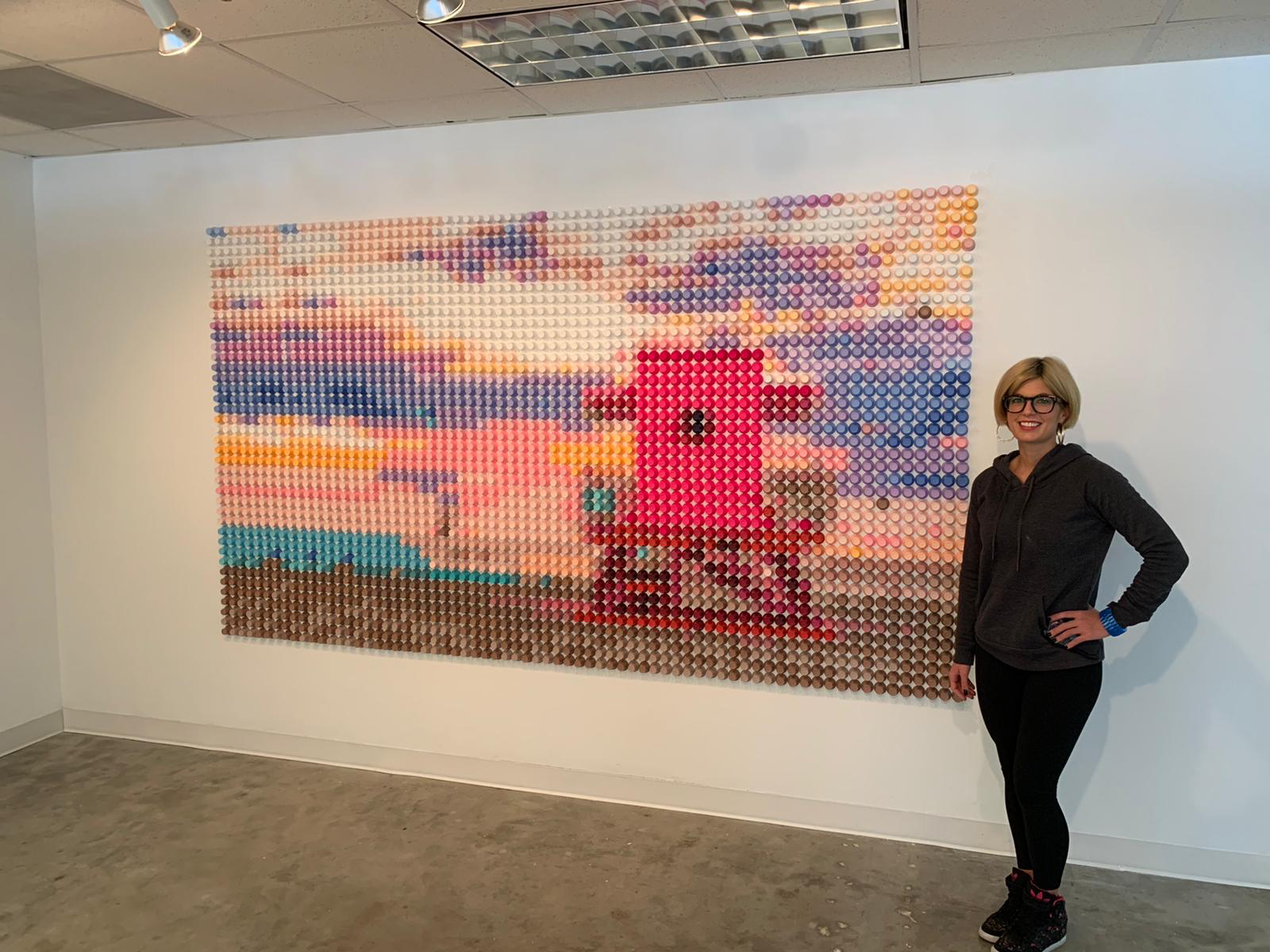 FIU Online commissioned alumna Gianna DiBartolomeo BFA '07, MFA '19 for "Beautifully Miami" artwork.
Housed in the College of Communication, Architecture + The Art's (CARTA) Miami Beach Urban Studios (MBUS), DiBartolomeo's piece features 2,800 individual cafecito cups to create a pixel art installation that celebrates FIU, online learning and the beauty and diversity of the local Miami community.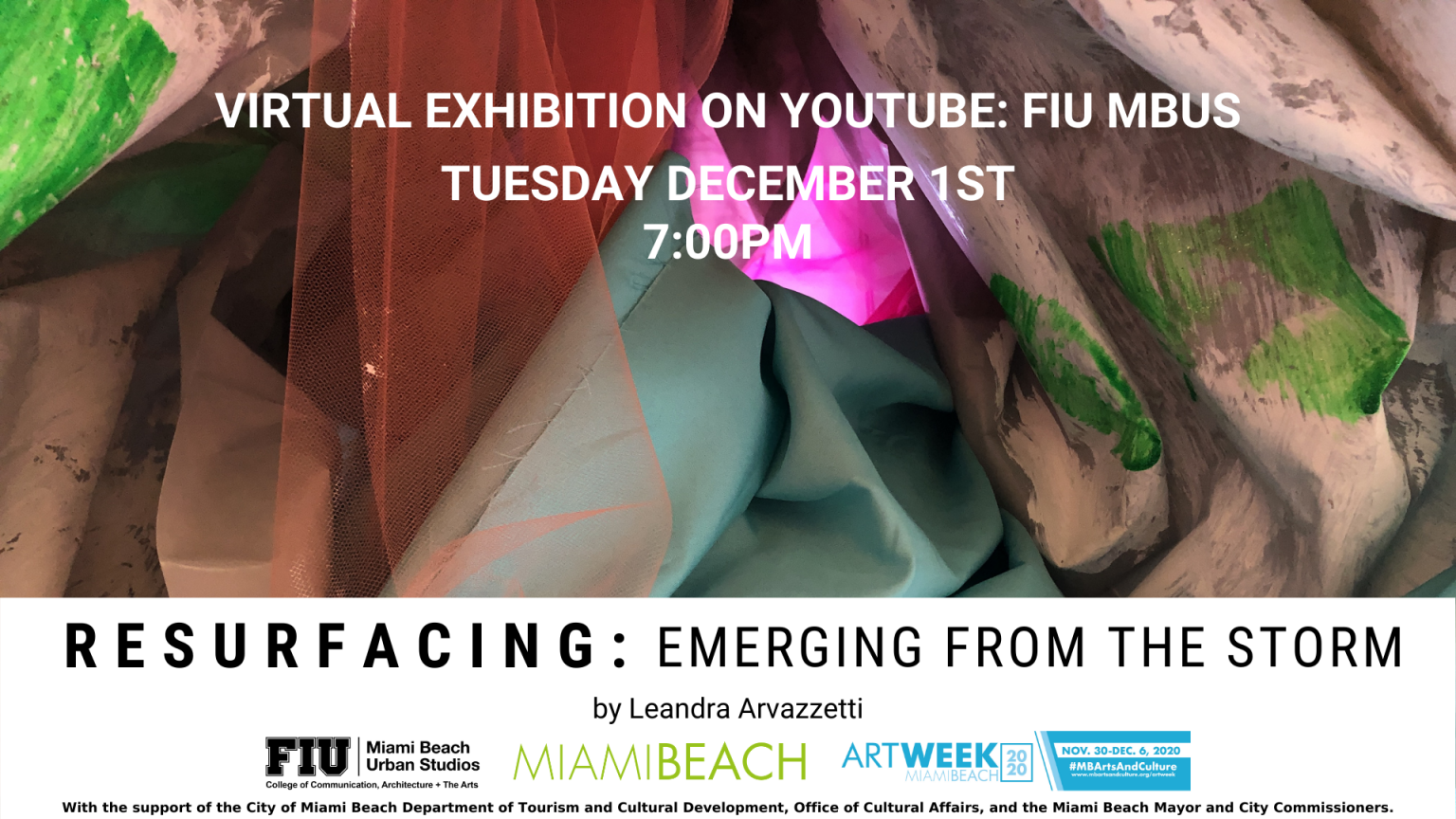 Alumna Leandra Arvazzetti MFA '15 hosts her virtual exhibition "Resurfacing: Emerging from the Storm" at CARTA's MBUS virtual gallery. 
Arvazzetti's practice explores the physical manifestation of the ephemeral through fiber-based sculpture and installation. Her materials reference identity through topics of industry, labor, family and cultural heritage.  
"Resurfacing" premiered on Dec. 1 and is on display through Dec. 30.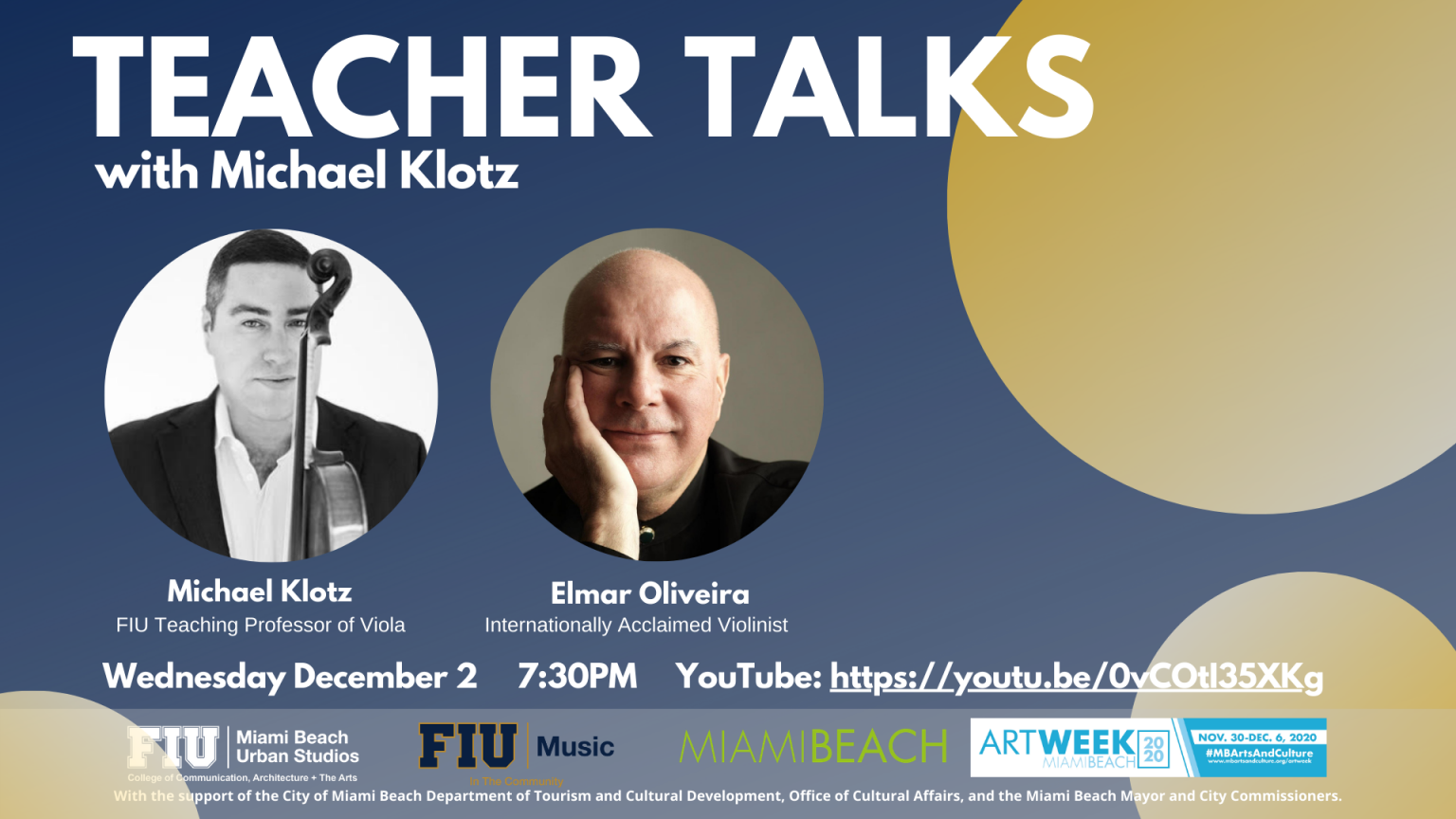 FIU School of Music faculty member Michael Klotz kicks off his interview series "Teacher Talks" with Elmar Oliveira, an internationally acclaimed violinist, prolific recording artist and Distinguished Artist in Residence at Lynn University's Conservatory of Music. 
"Teacher Talks" premieres Dec.2 at 7:30 p.m.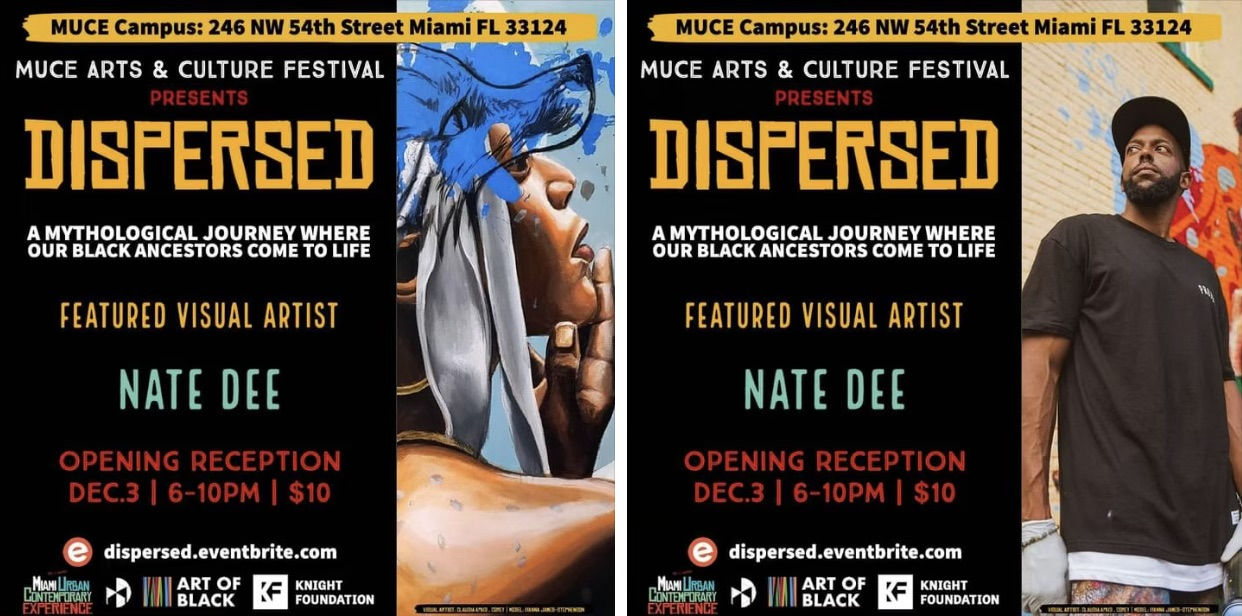 Alumnus Nathan Delinois "Nate Dee" will be featured in DISPERSED, an art exhibition that celebrates Black excellence and resilience and invites art lovers to dive into a mythological journey to the center of the universe where Black Gods (Orishas), mermaids and the ancestors await their return.
The opening reception for DISPERSED takes place on Dec.3 at 6 p.m.
Tickets for DISPERSED are $10.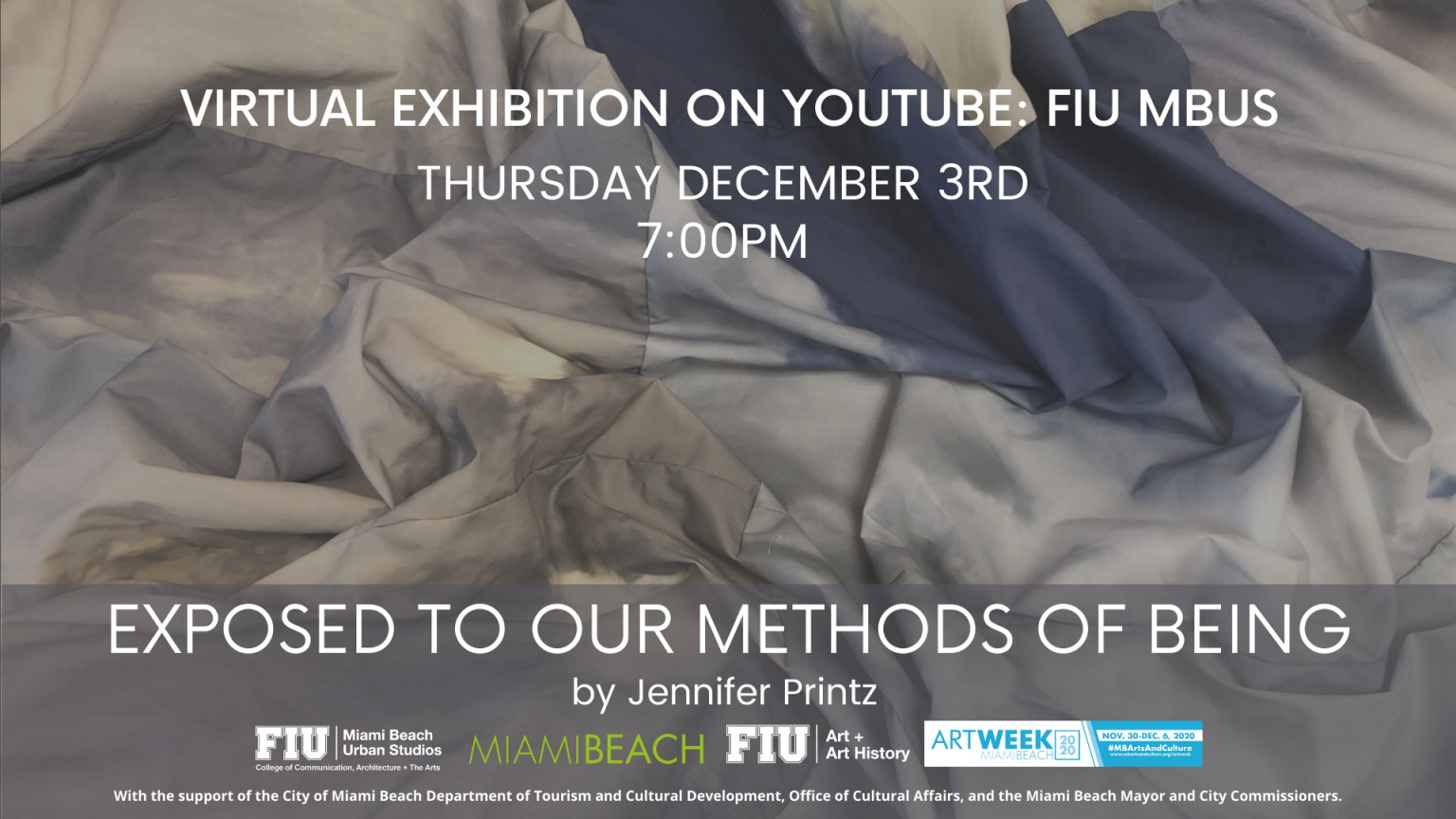 Faculty member from the Department of Art + Art History Jennifer Printz hosts her virtual exhibition "Exposed to our Methods of Being" at CARTA's MBUS virtual gallery.
Printz uses both photography and drawing as different means to observe her world and unifies them together to make poetic works that reflect the unseen structures of the universe. 
Printz's exhibition will premiere on Dec. 3 at 7 p.m.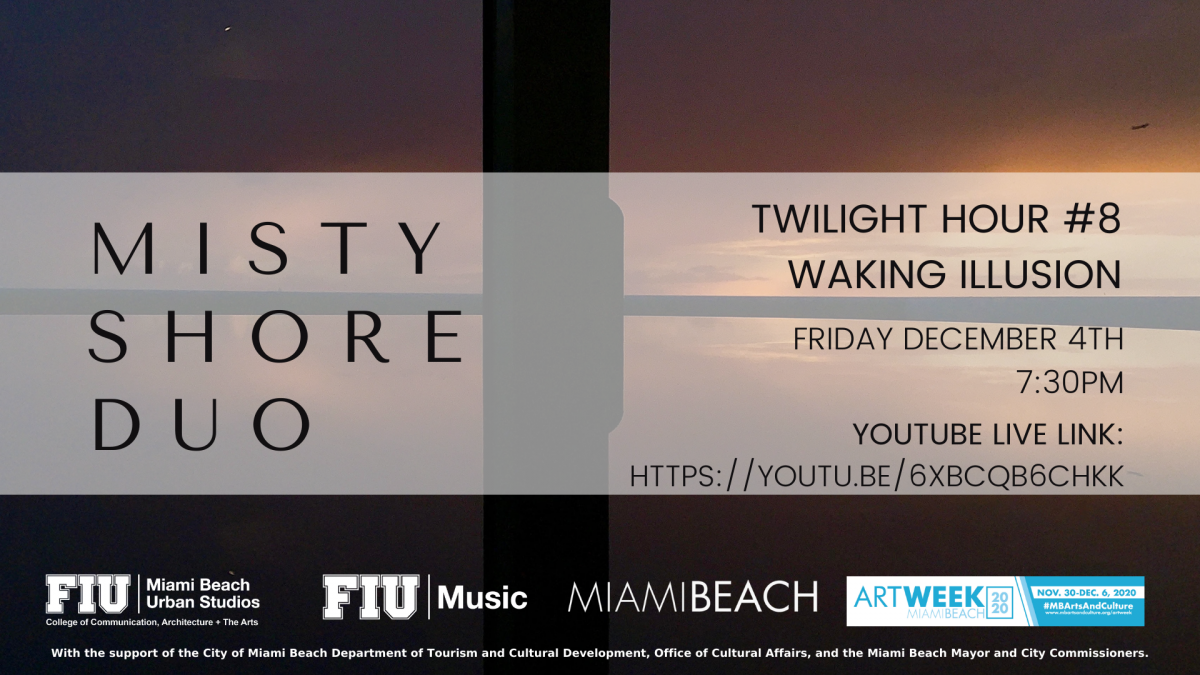 The Misty Shore Duo—comprised of husband and wife team Jacob Sudol, a composer and FIU School of Music (SOM) associate professor, and Chen-Hui Jen, pianist and SOM adjunct professor—is hosting a free virtual concert titled "Twilight Hour #8: Waking Illusion."
"Twilight Hour #8" premieres on Dec. 4 at 7:30 p.m.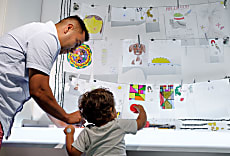 FIU's three museums – Frost Art Museum FIU, the Jewish Museum of Florida FIU and The Wolfsonian FIU – are hosting a virtual exhibit via Zoom where guests will work virtually with the museums to craft their own collection pieces inspired by the theme "traditions."
In this edition of "3 x 3 x 3", participants will use colorful craft paper and pipe cleaners to create a flipbook.
"3 x 3 x 3" takes place on Dec. 5, from 1 to 2 p.m.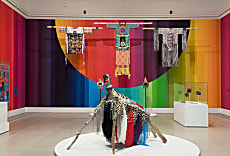 Join 2019 MacArthur "Genius" grant recipient Jeffrey Gibson for a virtual art lecture at the Patricia & Philip Frost Art Museum's 17th annual Breakfast in the Park via Zoom or Facebook Live.
Breakfast in the Park has been an Art Basel Miami Beach staple since 2004; the Frost Art Museum welcomes visitors to enjoy a lecture by a noted sculptor and guided tours of the Frost's exhibitions and Sculpture Park.  
Breakfast in the Park will go live on Dec. 6 at 11 a.m.
Can't get enough of Miami Art Week? Click here for a list of other virtual events and online exhibitions taking place around Miami this week.