PPE initiative gets another boost from CARTA donors— and students benefit, too
---
The Knight Foundation and the Philip E. and Carole R. Ratcliffe Foundation have each pledged gifts to the College of Communication, Architecture + The Arts to further advance the personal protective equipment (PPE) initiative for frontline workers.
CARTA and the Miami Beach Urban Studios (MBUS) have been at the forefront of the PPE initiative since late March when FIU partnered with Baptist Health South Florida to 3D-print 1,000 reusable face shields for health care workers. Thanks to the support from the Knight Foundation, the Ratcliffe Foundation, a stock gift transfer commitment from an anonymous donor and additional gifts from various donors, CARTA and MBUS have been able to purchase 13 additional 3D printers, to date, to expand the initiative.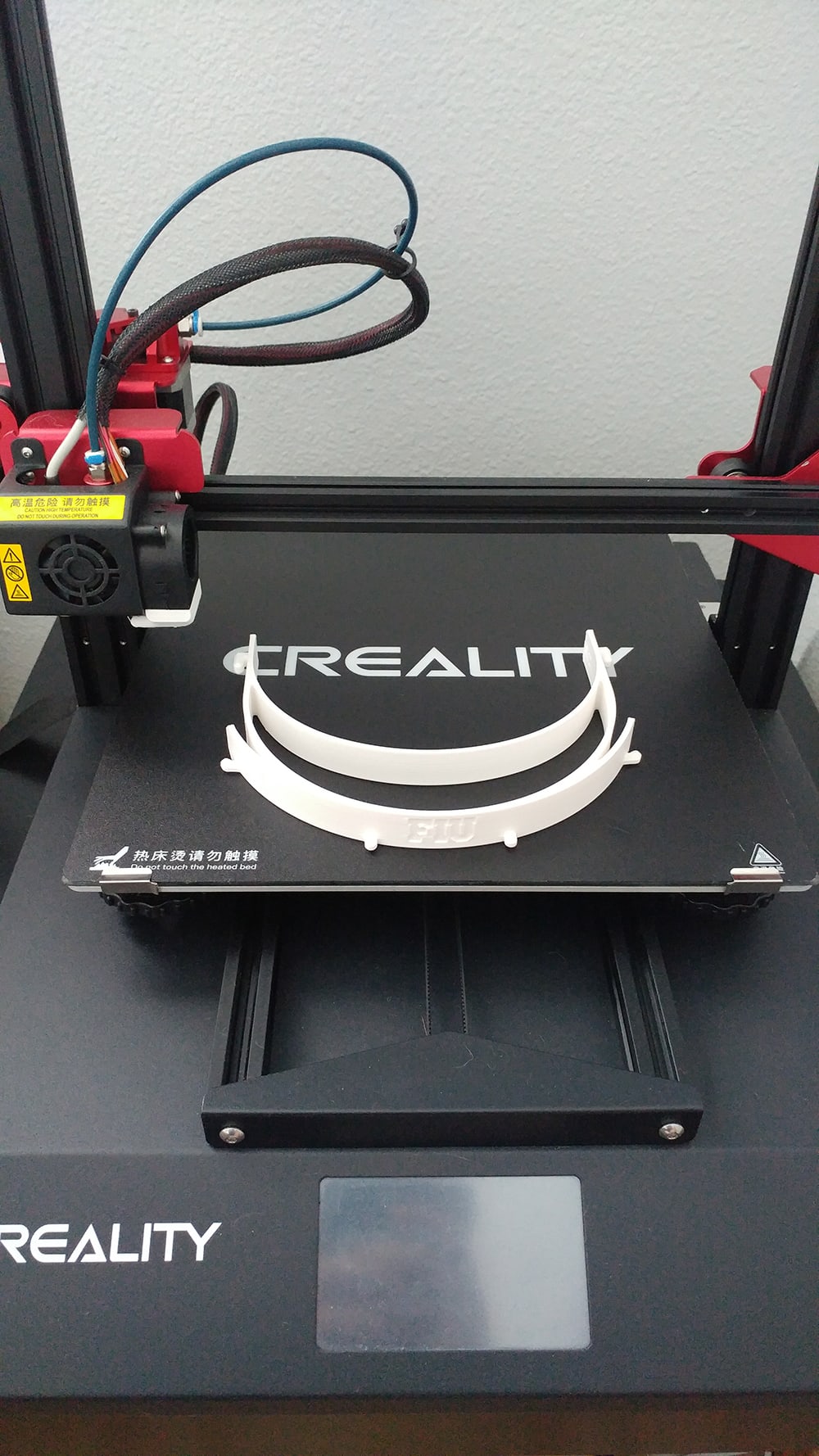 John Stuart, associate dean for Cultural and Community Engagement and executive director of Miami Beach Urban Studios, said the additional 3D-printers will help FIU produce more than 100 face shields per day.
The College of Communication, Architecture + The Arts along with the College of Engineering & Computing, FIU Embraceand the College of Arts, Sciences & Education have been able to address requests for 5,024 face shields for Baptist Health South Florida, City of Miami Fire Rescue, Miami Dade Fire Rescue, Citrus Health, Miami Jewish Services and CRD Maguire field hospitals as well as for FIU first responders and health care facilities aiding people with disabilities identified through FIU Embrace.
The face shields for the City of Miami and Miami-Dade fire and rescue departments were made possible through a gift from FIU President's Council member Angela Martinez and FIU alumnus Raul Chavez '80.
"The initiative has really shown how 3D-printing technologies can be used in an emergency to create supplies where they are lacking," Stuart says. "When the private industry was no longer able to create the PPE needed, we were able to step in and help out."
FIU's PPE initiative hasn't only served to help our community and frontline workers, it has also been a tremendous learning opportunity for the students who are involved in the face shield production.
Architecture student and student technician at MBUS, Brett Serfozo says the experience has helped him grow as a person, student and designer.
"As architecture students, we design for real-world scenarios but we're not always able to see our projects through from the initial design to the final build," says Serfozo. "With this project, however, I was able to see the whole process from the design to the manufacturing, the real-world application and the final feedback. This allowed me to really understand projects from an end-user perspective and get a glimpse into what project conception to reality is really like."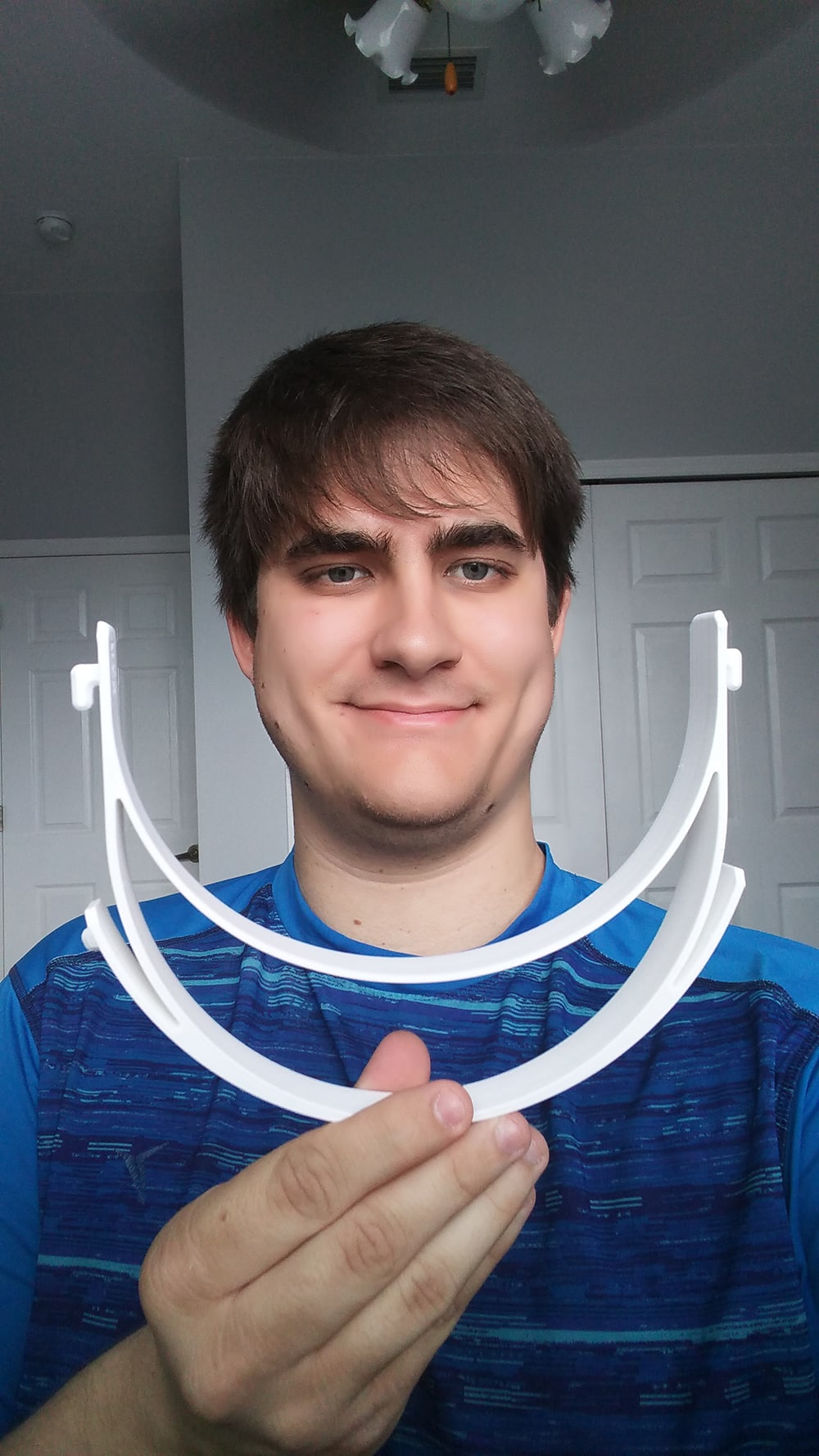 Serfozo also claims that his time working at MBUS has been instrumental to his architecture education.
"I've gained experience working with real clients on real projects and got to see first-hand where designs succeed or fail," says Serfozo. "My time at MBUS has given me much-needed experience that I can apply to my future career."
Since MBUS is currently closed to students due to the pandemic, Stuart and his colleagues are testing ways to still print student designs. One possibility is that students will be able to email their instructors their projects and have them printed at MBUS. The printed models will then be mailed directly or available at safely distanced "touchless" delivery points for students to pick up.
"The idea that we can take a 3D model that was emailed to us and 3D-print it to see how effective it is in reality, is a great step in the prototyping process," adds Stuart.
The support from the CARTA donors will allow MBUS to take on more projects like the PPE initiative and allow more students to see their designs come to life.