Four years ago, 49 individuals—the majority young, LGBTQ, Hispanics and/or Black—lost their lives during a mass shooting at Pulse Nightclub in Orlando.
This past week, the university community came together at FIU's 5th Annual Pulse Nightclub Vigil to honor the victims and heal from the collective trauma caused by this hate crime.
"Until the day that individuals are no longer discriminated for their sexual identity, gender identity, and or the color of their skin, I encourage you to continue to choose love over hate, peace over violence, and kindness over indifference," said Elizabeth Bejar, senior vice president for Academic and Student Affairs.
MJ and Fred Wright, the parents of Jerry Wright, were among the guest speakers of the virtual event. Jerry Wright '12 was one of the 49 Pulse victims and an FIU alumnus. He graduated from FIU with a bachelor's from the hospitality management program in 2012.
Jerry's hopes, his future, his life, and that of 48 others came to an end on June 12, 2016.
"We have to be the voices that they no longer have. We have to be their legacy. We have to bring light and love and kindness to erase the dark, evil, hate that took them from us," said MJ Wright. 
Alongside his wife, Fred Wright urged the virtual audience to help "make this world a better place with more love and compassion, more willingness to help, to embrace the humanity we all share with less intolerance, divisions and hate." 
During the emotional vigil, Counseling & Psychological Services, Healthy Living Program, and the Women's Center offered tips on healing and promoting kindness while maintaining social distancing. 
"We can take this tragedy and turn it into acts of love and kindness that we spread far and wide from here," said Erica Friedman, associate director, LGBTQA Initiatives.
5 ways to show love, kindness and support
Create Pride inspired masks for yourselves and others
Donate non-perishables and other essentials to your local LGBTQA+ organizations
Drop off a meal to loved ones from your favorite LGBTQA+ friendly restaurant or bar
Educate yourself on what it means to be an ally/accomplice
Post positive LGBTQA+ news and stories on social media
Click here for additional details on how you to promote love and kindness.
To watch the Pulse Nightclub Vigil in its entirety, click here.
To learn more about LGBTQ advocacy programs and resources available at FIU, reach out to LGBTQA Initiatives.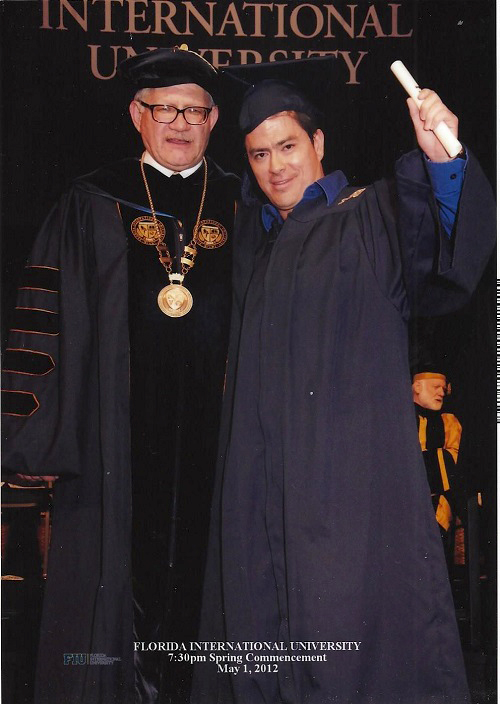 FIU alum, Jerry Wright lost his life during the Pulse Nightclub mass shooting.