There is a lot that FIU students can accomplish while earning their degrees remotely. In fact, several of them just became officers in the U.S. Army.
On May 8, 18 recent university graduates who received military leadership training at FIU were inducted into the Army as lieutenants.
This event, known as a commissioning ceremony, normally occurs every year in the elegant Graham Center Ballrooms. Senior Army leaders visit campus and watch graduates from Reserve Officers' Training Corps (ROTC) at FIU swear oaths upon the Constitution. Due to the coronavirus pandemic, this year's ceremony was held on Zoom.
"When I first found out that FIU was transitioning to remote learning, I assumed the worst, that potentially commissioning and graduation would be in some way virtual or just not happen at all. So I had my moment of grief those few weeks. But I've come to accept it for what it is," Monique Moussa '20 said before commissioning and commencement, which were held on the same day.
The virtual ceremony marked the beginning of a new journey for Moussa and her peers. In the coming years, some of them may travel thousands of miles from home to serve overseas. Others might fight on the front lines of COVID-19. Uncertainty abounds. But in the program they come from, uncertainty and discomfort are no strangers. In fact, they are embraced deliberately in order to mold leaders.
A curriculum unlike any other
It's 5:30 a.m. on March 10. Before the dawn breaks against Green Library, 40 students are crushing gravel beneath their sneakers as they grind out pushups under the faint glow of distant stadium lights.
"Hooah!" they yell, and run off into the darkness of Tamiami Park for a two-mile run. Soon, the men and women flood the squat racks and basketball courts of the Recreation Center for more training. They shower, grab their Army ranger handbooks and rendezvous for morning military science classes. Then it's off to their afternoon courses—biology, history, English, engineering, whatever the major—before it's time to set their alarms once again.
This is the sweat-breaking, discipline-instilling routine of ROTC students during non-pandemic times. Each and every student that participates is en route to becoming a lieutenant in the Army while earning the academic degree of his or her choice.
Over the last two decades, ROTC at FIU has grown tremendously. Only two students graduated to become officers in 1998. Today, nearly 100 lieutenants are commissioned every year, firmly planting the university as home to one of the largest and most diverse programs in the U.S.
The Panther Task Force
During a normal semester at FIU, a staff of 15 active duty officers and five civilians lead the students through a rough average of 20 hours of activities per week. The schedule comprises physical training, classroom learning, leadership labs and field exercises.
In the classroom, students learn the fundamentals of Army leadership and soldiering. They begin by studying global military history (How are armies structured?), then move on to more specific topics, like land navigation (How do you read a paper map?).
"We'll talk about ethics," says director Lieutenant Colonel Heath Papkov. "Is it wrong to tell on your friend when you know they are violating an ethical code? Now that you know it, are you wrong for not telling?"
ROTC instructors have been deployed all over the world, and encourage the students to ask about anything, including their personal experiences in combat. Army ROTC has 274 programs across the United States with 125,000 students enrolled.
"There was a lot of mentorship being done that wasn't part of the curriculum," remembers Colonel Jesse Abreu '98, FIU's highest-ranking alumnus in the army, of his days on campus. "It was really these instructors taking the initiative to tell us, 'Hey, this is really how it's going to be when you go out there.'"
This prior knowledge is essential for students. At some point in their ROTC journey, they will be asked if they would like to sign a contract with the Army. This provides funds towards education in exchange for a multiple-year commitment to service.
It is best to know what you are getting into, advised Christian Ramsay '18, who made a one-day trip from Fort Bragg to Miami in January just to speak with students.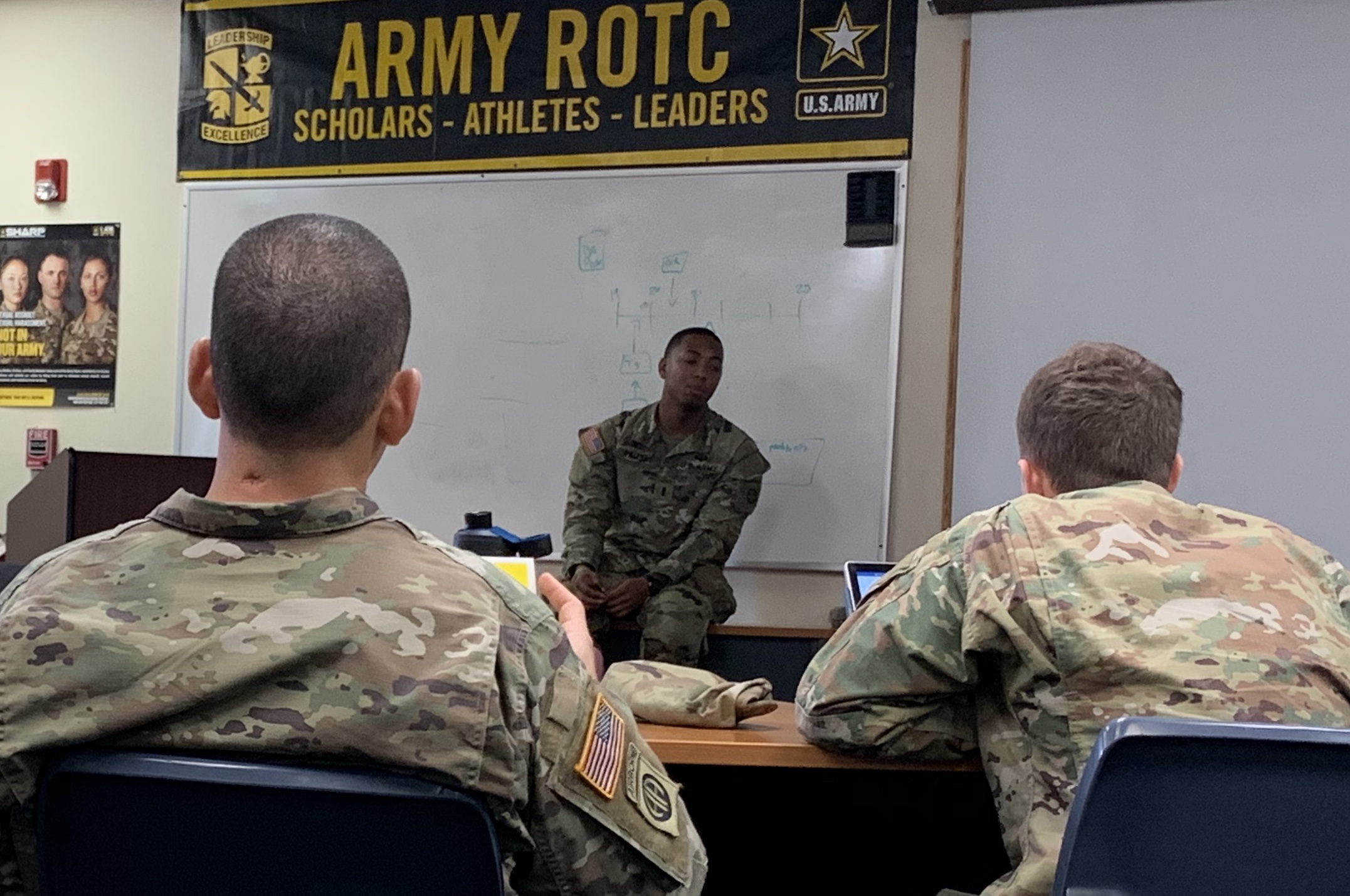 "There's two ways you learn in the army. It's repetition and blunt force trauma. To minimize the blunt force trauma from your senior leaders, getting that advice and that mentorship now will help, right? Because you'll avoid making all these miscellaneous mistakes that you can make and you are expected to make. If you can go in there kind of minimizing those, they'll say, 'This guy or girl is hot business.'" Ramsay said.
Not all students enter ROTC for the same reasons. Some are fulfilling the legacy of a family member who dedicated themself to military service. Others are looking for a secure career. But they all share one thing in common. Once they are in the program, their drives change. They invest individual sacrifices and get something else in return.
"When you really want to know how someone is deep down inside, you put them in the crappiest conditions and what is inside is going to come out," said junior mechanical engineering student Cristian Yaques. "So far, it's been nothing but the best… I call these people my closest friends," 
It is amazing what you can gain when you give something up.