Student creates Barnes & Noble's newest statement mural
The artist behind the paintbrush shares insight into the process of bringing the large-scale creation to life and the meaning behind the piece.
August 14, 2020 at 12:20pm
---
Osvaldo "Ozzy" Samper '20, a graduate of the art education program, is the creator of the new Miami-inspired wall mural at MMC's Barnes & Noble. After one month of planning and another of execution, he put the finishing touches on his piece in July. The mural features detailed elements synonymous with the FIU experience.
"The process was definitely a journey," says Samper, who has been drawing since the age of 6. "It came with its challenges but there was so much for me to learn. It took months of planning and getting advice and even making big mistakes to make this happen."
From dawn to dusk, there are notable appearances by a Florida panther in a mangrove forest, an FIU football player clutching the ball while pushing away an alligator, the patron saint of Cuba and a cafetera for coffee-making, and even the mural itself inside of the mural. Samper says the last segment of the mural represents the future of Miami with a highway wrapping around the city's skyscrapers, an ode to the infamous "Miami traffic."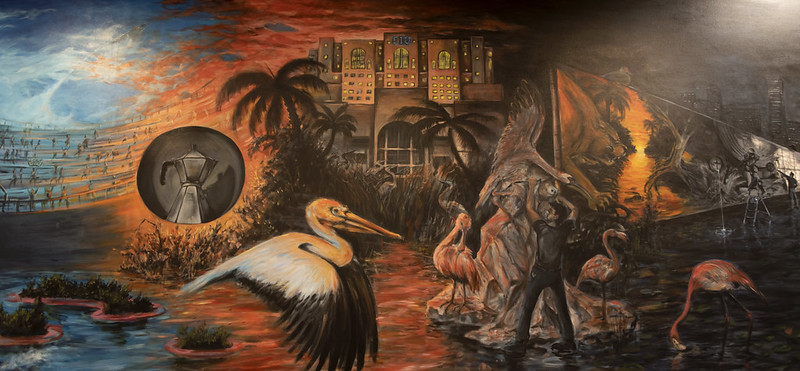 Samper says bringing the mural to life taught him just as much about himself as it did about his craft. He credited the commission for shedding light on his unflexed ability to navigate unexpected problems – an ability that he did not previously recognize within himself. 
A challenge to the project's completion was Samper's setting the canvas to the wall incorrectly. He says that, in his haste, he did not prepare the wall for plastering as he should have and used the wrong adhesive to affix the canvas. As a result, Samper needed to hire a company to complete the installation properly. 
"Putting up the canvas incorrectly was a big blow to the self esteem," Samper says. "I underestimated the process and didn't spend enough time to make sure it was done correctly. After that challenge, I learned you just have to respect the process to get it done right."
The mural opportunity was presented by art department chair, professor David Chang, through a partnership with Barnes & Noble and Business Services at FIU. Chang was the first person Samper went to for advice on correcting his canvas installation mistake. 
"Professor Chang told me about bigger mistakes he made in art to try to encourage me," Samper says. "He said mistakes happen to the best of us. I felt like the mistake was the end of the world at the time but professor Chang showed me that you learn how to fix your errors and you grow from them."
The pair met early into Samper's journey at the university and have kept in close contact. Chang has guided Samper on his artistic pursuits and with the direction of his future career. Samper took every one of the professor's classes and says, with his help, he was able to secure small commissions and connect to great artistic opportunities.
Based on his potential, Chang extended the mural opportunity to Samper.
"Students are the most important reason why we exist as professors," Chang says. "Ozzy was a highly talented, motivated and diligent student who can sometimes be described as an overachiever. I enjoyed mentoring him and witnessing his growth as an artist. It is a unique privilege for a professor."
As a recent graduate of the art education program, Samper now spends much of his time refining his skills to be better able to teach his craft to others. He currently teaches art to children at The Art Shack with hopes of becoming a high school art teacher. His long term goal, though, is to be a university art professor – perhaps to impact students' lives the way mentors, like Chang, have impacted his.
The mural is one of Business Services' latest initiatives to revamp campus hotspots in dining and recreation. Recently, other additions have been implemented – namely welcoming new restaurant chains to campus, expanding existing dining spots and adapting services to be CDC-compliant in the wake of the current pandemic. 
"We are proud to unveil the mural which we consider to be a reflection of collaboration on many fronts," said Kenia Junco, director of retail operations at Business Services. "As a long-standing partner of FIU, Barnes & Noble is committed and open to new ways to celebrate our students and their achievements. This mural, and the future artistic iterations of this space, serve as a symbol of this commitment."
---
View Samper's work on Instagram, @Blakfish. Connect with art department chair, David Chang, at changd@fiu.edu.