On-campus employment allows students to learn new skills, make industry connections and gain hands-on employment experience prior to graduation.
Annually, the top 20 nominated student employees are recognized and awarded for their commitment to hard work and advancing the university's vision.
Sheila Denis Villalba—a summa cum laude high school graduate, psychology major and registered behavioral technician—was recognized as FIU's Student Employee of the Year. 
Born in Cuba and immigrating to the United States at the age of 13, Denis Villalba's journey was not always as linear as it appears. When she arrived, she didn't speak English. 
During her initial years living in the United States, Denis Villalba found making friends within her newfound school community challenging and had a hard time understanding the mechanics of an entirely new culture. 
She never let an obstacle become a roadblock, though. She graduated high school with a 4.2 GPA and was inspired to co-found an association to address a transitional gap that she experienced after migrating. Denis Villalba, along with a few friends, founded a New Students Association at their high school to help students who were in the position they once were in. 
"The club was to help new students feel more comfortable in their new environment and to talk them through their nervousness," Denis Villalba says. "I was there when I first came to the U.S., so I wanted to give them the help I thought I needed."
After her high school graduation, Denis Villalba applied to only one university: FIU. She said that she knew she wanted to stay in Miami.
Upon her acceptance to the university in 2017, she began studying biology but felt like it wasn't the right fit. She thought back to her time in high school when she listened to her friends' concerns and counseled them through their problems. She realized that psychology was the path that she wanted to pursue. In 2019, she became a Certified Registered Behavioral Technician, while still pursuing her undergraduate degree. 
Denis Villalba will graduate this summer.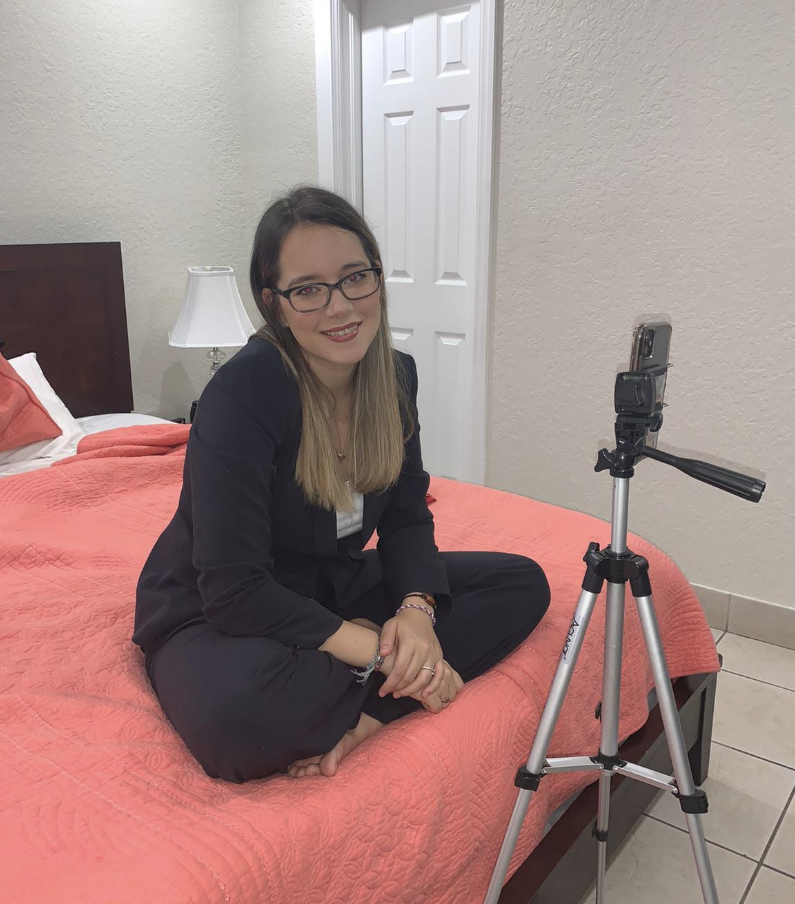 Denis Villalba during this year's virtual Student Employee of the Year awarding ceremony.
 Denis Villalba shares with FIU News about her on-campus job position, work culture and plans for the future. 
What drew you to your current job?
For this job, my manager was looking for a bilingual student with an understanding of Cuban/Latin American music collections. I love music and I speak Spanish better than I do English, so I thought it was a good fit.
I also wanted a job on campus so that I could have the freedom to leave class and be at work in 15 minutes.
What does your job entail and how have your tasks been affected by COVID-19?

We digitize 78 RPM discs and LP discs of Latin American music collections. Now that I'm working around something I like, I like seeing many artists' names I recognize. Currently we are working on a discography for one of our donors that needs to be transcribed and translated in written format. 
Now that we are working remotely, I can't see the physical documents but I'm still able to continue with my work. I talk to my supervisor every week on the phone to stay updated. It's easier to be working next to each other so it is a little more complicated, but, it's working really well so far. 
What do you think makes you good at your job?

I'm always available and open to complete any tasks my supervisor gives me. I'm always wanting to learn more. Whatever challenge or task my supervisor wants to have done, I am willing. Sometimes I talk with the donors directly or even get involved in grant writing, which is a big job to me since I am sometimes shy.
As humans we have to grow, we cannot stay in the same place. I wanted a job that I can earn more than money in. I wanted to gain knowledge, too. 
How is your relationship with your manager?

My manager, Veronica, is very passionate about what she does and I like that. She is supportive and always tries to make everyone feel good. She's flexible with my schedule and wants me to grow. She pushes me to apply for scholarships and different opportunities when I doubt myself. I wouldn't have been recognized for the award without her.
Why is it important for the university to acknowledge hard work?

When you get recognized, it feels good to see that someone appreciates what you're doing, your hard work and how far you have come. 
What is your advice to prospective student employees?

Work at FIU because you can work and learn in the same place. Your job will respect your hours and understand that you are a student. Follow your passion and try to find the degree that you're happy to pursue early on, it will save you so much time. 
Denis Villalba hopes to continue her education at FIU after earning her undergraduate degree. The master's program in behavioral analysis is at the top of her list.  
---
Students interested in gaining on-campus employment are encouraged to visit careers.fiu.edu for a listing of available employment opportunities.