Tracking marine animals—dead and alive—is crucial to conservation
---
Restoring the ocean's biodiversity relies on tracking live animals — and, yes, also dead ones.
Demian Chapman, an FIU marine scientist in the Institute of Environment, knows this may seem like the "dark side." But, it's a very important, often overlooked part of conservation. To protect and preserve living shark populations across the globe, Chapman relies on a wide array of technology to track and monitor the shark fin trade.
Chapman joined Capitol Hill Oceans Week to share his research on the secretive fin trade. He participated in the panel Innovative Approaches for Restoration and Monitoring, which focused on how modern tools and technologies are impacting how researchers conduct their work to advance biodiversity.
He was joined by Frank Muller-Karger from the University of South Florida, Jennifer Caselle from the University of California Santa Barbara, James Barry from the Monterey Bay Aquarium Research Institute and Julie Cattiau from Google AI. Reps. Jimmy Panetta of California and Brian Mast of Florida opened the discussion, which was moderated by Josie Quintrell, executive director of the Integrated Ocean Observing System Association.
Since 2014, Chapman has led a collaborative team based in the United States and Hong Kong to monitor the fin trade and determine whether international regulations and laws are working to reduce biodiversity loss. To date, they have sampled 15,000 shark fins from markets in Hong Kong and China. Using DNA analysis, the team has been able to determine which species are most common in the trade. Most recently, the team conducted the first study tracing the origins of shark fins back to the location where the sharks were first caught.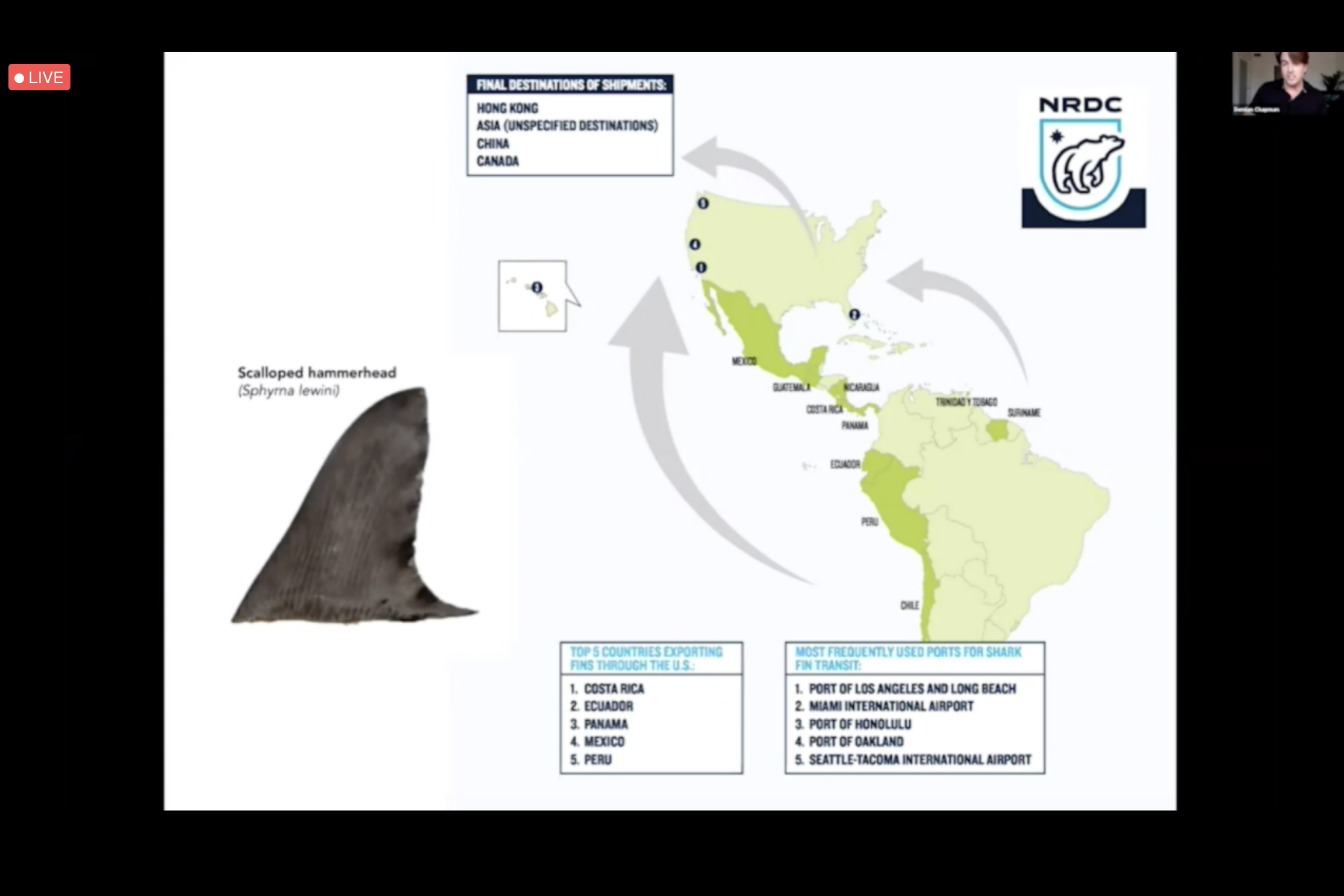 "This has particular relevance for the U.S., because a lot of fins come through U.S. ports on their way to Hong Kong," Chapman said. "We play a role in trade, even though we aren't eating shark fin soup, and our border control personnel are in need of tools to help them detect possible illegal trade."
Chapman's actually helping develop these tools.
With funding from the Paul G. Allen Family Foundation, Chapman helped develop a mobile DNA testing lab to be used in airports and shipping ports to help customs officials identify protected shark species. 
Chapman points out that this technology can be widely used to protect other marine wildlife also threatened by illegal, unreported and unregulated fishing. In fact, the mobile DNA tests were also used by Hong Kong authorities to stop the illegal shipment of European eels. Chapman is also the lead researcher for Global FinPrint, an international effort also supported by the Paul G. Allen Family Foundation to survey the world's reef shark and ray populations.
Capitol Hill Oceans Week is an annual event hosted by the National Marine Sanctuary Foundation. It brings together marine scientists, conservationists, wildlife experts, climate scientists, fishing industry leaders and others to advocate for improved conservation and management. Due to the pandemic, this year's event was not held in Washington, D.C., but virtually — allowing more people from across the U.S. and around the globe to attend. 
FIU has been ranked No. 9 in the world for positive impact on life below water by The Times Higher Education Impact Rankings. The university ranked third in the United States and is the only institution in Florida to make the list.