Two alumnae behind federal celebration of suffrage centennial
August 26, 2020 at 8:30am
---
By Eric Feldman
Tonight, buildings across the country including Washington, D.C.'s Kennedy Center, the Las Vegas sign and One World Trade Center in New York City will light up purple and gold in honor of Women's Equality Day, observed annually on Aug. 26.
Exactly 100 years ago, the 19th Amendment to the U.S. Constitution was adopted, providing women's universal right to vote. At the center of the official, federal celebration of this anniversary are two FIU alumnae, Stephanie Marsellos and Gabriela Hernandez of the Women's Suffrage Centennial Commission.

Three years ago, Congress created the Commission, with every female member of the Senate acting as a co-sponsor, in order to "ensure a suitable observance of the centennial" of women's suffrage by coordinating events, exhibits and projects planned by governmental, nonprofit and private organizations. Out of a staff of six women, two are recent FIU graduates, Marsellos serving as the communications and program specialist and Hernandez serving as program coordinator.
U.S. Transportation Sec. Elaine Chao on #OurStory100 in @UnionStationDC_ "This mosaic, marking the historic centennial of the #19thAmendment, commemorates the courageous women who fought to expand our liberties and the generations of women who built America." @SecElaineChaopic.twitter.com/wrNb6FOhSy

— Women's Suffrage Centennial Commission (@WomensVote100) August 24, 2020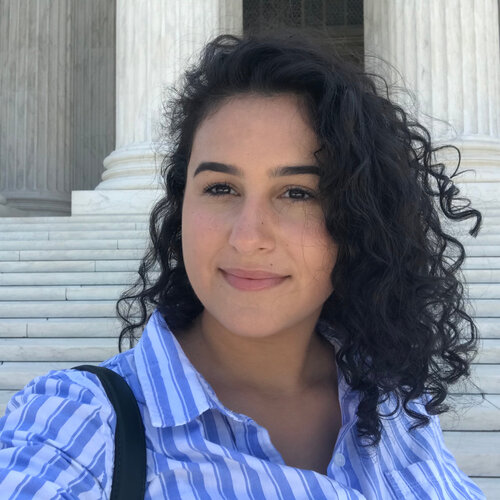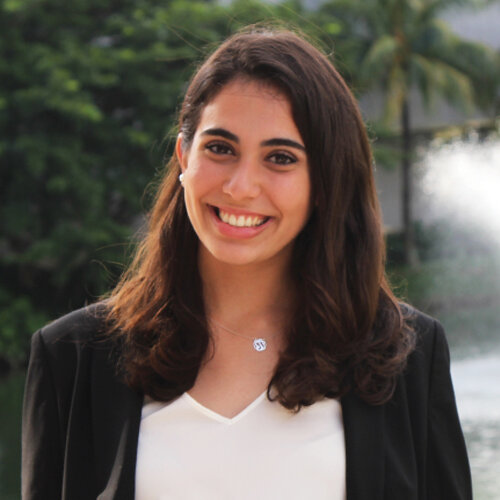 Both alumnae describe the experience as "once-in-a-lifetime" and beyond anything they imagined they would be doing within a year of graduating from FIU. This week alone, the pair was at the White House working Melania Trump's opening of a children's centennial art exhibit and at Union Station, one of Washington, D.C.'s central transit hubs, to unveil a 1,000-square-foot mosaic of Black suffragist and civil rights leader Ida B. Wells.

"The commission has worked so hard to be inclusive and diverse, not only in who we hire but in the stories that we tell," said Hernandez. In addition to a focus on suffragists of color, Hernandez personally worked on translation of commission events and documents so that the celebration is available in English and Spanish, a nod to her own Cuban-American heritage.
Through August 26, we join @womensvote100's #ForwardIntoLight campaign, lighting the building in purple and gold in honor of the historic suffrage slogan "Forward through the Darkness, Forward into Light."

📸 Antonio Xavier pic.twitter.com/LeBFrLwPvF

— The Kennedy Center (@kencen) August 21, 2020
Marsellos and Hernandez both were Washington, D.C.-based interns affiliated with FIU in Washington, D.C.'s Talent Lab program immediately prior to landing their full-time roles with the commission. Marsellos was working as a communications intern with the federal Bureau of Land Management through the HACU National Internship Program and Hernandez as a congressional affairs intern with nonprofit advocacy group Pay Our Interns. Marsellos learned about the commission through her internship supervisor, and in turn spread the word once another position opened a few months later, providing Hernandez an opportunity to apply.
"I'm a huge advocate for women's rights and empowerment. Ever since I was young, I didn't want being a woman or girl to hold me back from anything," said Marsellos. "I'm honored and thrilled to be part and alive for this moment, but to also be part of the actual planning and to have a say in the execution of the centennial of women's right to vote."
In addition to the six-woman staff, the commission is governed by 14 women appointed by elected officials and federal agencies, including U.S. Deputy Archivist Debra Steidel Wall, Small Business Administration administrator Jovita Carranza, and Kay Cole James, president of the Heritage Foundation, where FIU alumnae currently run the Young Leaders and Latin America programs.
Like everyone else in 2020, the commission had to adapt their plans in light of the COVID-19 pandemic, with many of the planned in-person events going virtual. Yet, with the new format, the commission was able to reach a wider audience while preserving recordings of the year's celebrations for generations to come.
Panthers eager to join the celebration can visit the Women's Vote Centennial site to learn more, follow #FowardIntoLight on social media to see the landmarks across the country in purple and gold this week, and look forward to FIU's own House to House: Women, Politics, and Place exhibit at the Frost Art Museum, opening Sept. 26.
---
FIU in Washington, D.C., is an integrated advocacy approach aimed at increasing FIU's national reputation and federal support for FIU's preeminent and emerging preeminent programs, faculty and students. The FIU in DC team collaborates with academic units to provide learning experiences and support the placement of students and alumni in internships and permanent employment.