Virtual celebrations: Necessity is the mother of invention
Virtual celebrations are all the rage during the COVID-19 pandemic.
---
Technology has not only created the oportunity for distance learning and remote working, but continues to connect humans for many more occasions during the COVID-19 pandemic.
From birthday parties to ceremonies celebrating accomplishments, Panthers are making the most of hard times.
The party must go on.
Erica Corsano, head of content and communications for Patricia & Phillip Frost Art Museum and the Jewish Museum of Florida-FIU, recently attended her first virtual birthday party. 
"We all showered and put on outfits and did our hair and makeup as if we were going to a real party," says Corsano. "We had people tuned in from Switzerland and the Netherlands, Spain and New York, even California."
The party's hostess hired a top Miami bartender who held a virtual cocktail mixing lesson for online attendees. Other guest appearances were a monkey that performed from its trainer's home, a flame swallower who juggled fire, an up-and-coming local rapper, a crooner singer and a card magician. 
Virtual attendees were encouraged to tip performers via Venmo, sealing the deal of the entire digital experience. 
Post-party, the hostess mailed rolls of toilet paper – a hot commodity during this pandemic – to the guests who won party games, in place of a traditional gift bag.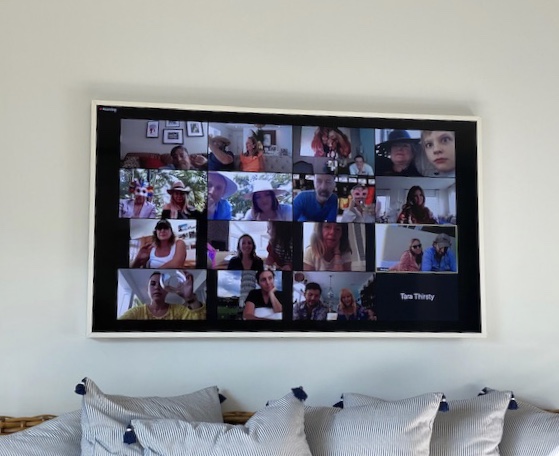 For FIU, virtual celebrations don't stop at birthday parties.
For the first time in FIU's history, the university will be hosting an online commencement ceremony for this semester's graduates. 
The digital event will take place on May 8 and offer graduates the opportunity to personalize their digital experience. Graduates can submit a photo, 10-second video message, along with a brief written message, which will be viewable by friends and family through a unique link. Visit this page to learn more about FIU's newest commencement endeavor.
This year's Miami Beach Pride Parade was postponed, but the FIU LGBTQA Initiative did not let that stop the celebration. 
Students, faculty and staff of the initiative – who annually account for 200-plus participants in the parade – teamed up with Professor Jay Sandhouse to create a Pride video featuring students sharing what Pride means to the FIU Community.
Departments at FIU have been engaging in virtual 'hangout sessions' in an effort to replicate in-person connections. 
FIU's Office of Global Learning Initiatives hosts weekly Global Learning hangouts via Zoom; students can have an open and safe space to chat, get connected and feel supported. 
Florencia Dominguez, program coordinator at the department, says interaction is key. The weekly sessions are open to all FIU students to spend some time together "face-to-face" and be distracted. 
Special guest speakers also join in to share co-curricular opportunities available to students. Visit Global Learning's calendar of events for more information or to join the next session. 
Maintaining relationships with co-workers.
Prior to the university's transition to remote work, David Drucker, a writer for FIU News and FIU Magazine, would read his colleague's horoscopes to them every day. This small act of compassion and connection allowed Drucker to form personal relationships with co-workers while bonding over a common interest.
Drucker's horoscope reading ritual did not go away with the implementation of social distancing. Drucker now hosts horoscope reading sessions via Zoom.
"Back in the office it was a break from our day," says Drucker. "It's usually 6 to 7 co-workers, and it's a chance to connect and hear a little bit about how they're doing. If the [Zoom] call is able to inject 5 minutes of happiness into their day then it's important."
Drucker adds he feels strongly that if we stop celebrating momentus occassions, it says that "our accomplishments are no longer important and that will break our morale."
Student organizations also make it work.
FIU's student-run and faculty-led strategic communications agency BOLD similarly hosted its weekly group meetings with more than 60 members via Zoom conferencing. The organization's then-president, Sabrina Chi, echoes the importance of the virtual transition.
"We didn't want our members to feel like it was the end of the BOLD community. We continued our scheduled meetings on Zoom so everyone could get the full experience while being safe. It showed us that we are all in the same boat together."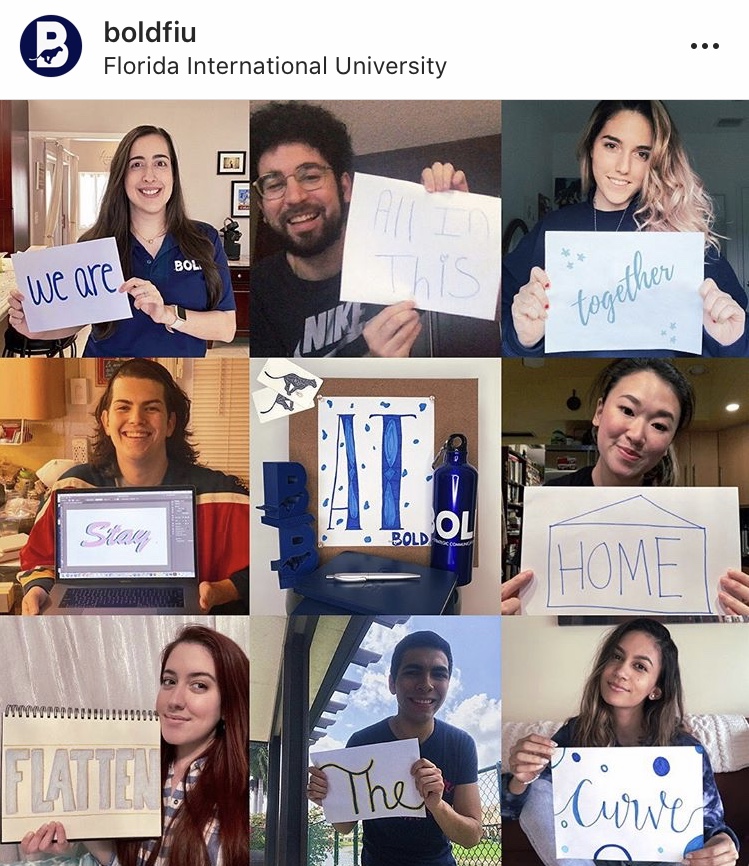 Natalie Reymundo, sister of the Phi Mu sorority at FIU, says that the organization transitioned to hosting virtual chapter meetings this semester to comply with social distancing guidelines.
The transition took some getting used to but eventually went smoothly, allowing her to meet with her sorority sisters at the same day and time she usually would.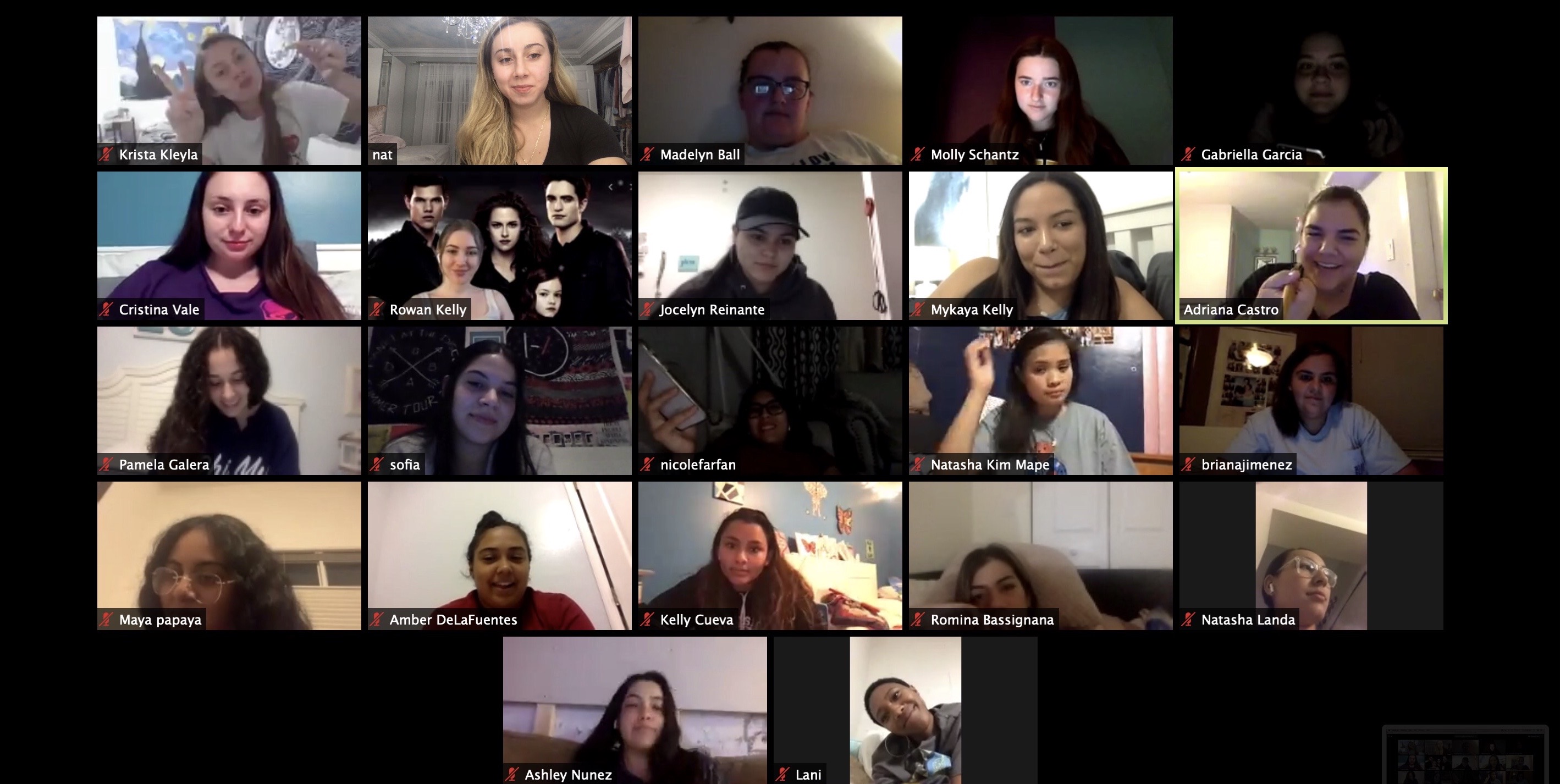 Acknowledging each other is what is truly important. 
Anniversaries, job promotions, engagement parties, gender reveals, college acceptances – big wins, small wins, all wins – should be celebrated, despite conditions of social distancing.
Here are a few quick ways to stay connected and celebrate virtually with others:
If your friend just got a promotion, send a congratulatory

e-card

.

If it's someone's birthday, host a

web-conference

party.

Want to spend time with family members? Organize a

Netflix Party

.
For those Panthers who are having trouble coping, Counseling & Psychological Services (CAPS) is currently operating remotely. 
If you would like to schedule an appointment, please call: 305-348-2277, and leave a message for a call back. Scheduled appointments will be held over the phone or by videoconference (through a HIPAA-compliant platform). If you are in need of immediate services, please call the 24-hour hotline: 305-348-2277 (CAPS), to speak with a licensed clinician.
Panthers can also stay tuned to FIU's Healthy Living Program's Instagram account, @fiuhlp, for virtual guided meditation and informational sessions.