Virtual fly-in and badge connects students to global policymakers, employers
---
As the Supreme Court held oral arguments via teleconference for the first time in history, FIU in Washington, D.C. was also making history with the university's first virtual fly-in seminar and micro-credential focused on global policy issues and careers.

Last week, 45 FIU students and recent graduates participated in "Washington & the World," a virtual fly-in seminar. Over the course of three days and eight 90-minute Zoom sessions, now available for public viewing on the FIU in DC YouTube page, students were exposed to how policy decisions made in the capital—ranging from trade, international development and diplomacy—have global impact.

Participants in the program are working toward FIU's first D.C. Advocacy, Communications and Careers Digital Badge, part of the university's new micro-credential initiative.

"I love the fact that I can hear from D.C.-based professionals on the organizations they work for, and their personal professional trajectories," said College of Business student Erika Gonzalez. "Adaptability was an incredibly resonating theme of this fly-in. COVID-19 has forced us all to adapt to change fairly quickly, and it is eye-opening to see how corporations are adjusting to this new era of office life."

Building on the success of the university's ongoing DC Fly-In series, which engages students in learning and advocacy in some of FIU's key research areas including water quality and defense technology, the virtual version was one example of the FIU in DC team's efforts to keep students networking and developing professionally safe at home while the university operates remotely.
The fast-moving schedule kicked off with discussions on corporate advocacy with government affairs representatives from Dell Technologies and BMW; a panel on the evolution of think tank communications, which included regular FIU in DC collaborator Paul Franz of the CSIS iDeas Lab; and a session on diplomacy, featuring two FIU alumni – one working at a US Embassy abroad and one working at the Australian Embassy in Washington, moderated by FIU's State Department Diplomat-in-Residence Rebecca Kimbrell.

"I love what Paul Franz said about using his knowledge of storytelling and framing a narrative," said College of Arts, Sciences, & Education student Rose Lopez. "I operate with the same notion that anything worth communicating should be an interesting story to tell and to hear."
Several students had previously participated in in-person DC Fly-Ins, positioning them to compare and contrast the virtual experience.
"Although this time around it was virtual, the experience was nothing short of the in-person experience," said School of International & Public Affairs student Tiffany Marshall. The Fly-In included links to experience the city of Washington, D.C. virtually, including virtual tours of Smithsonian Institution, the White House, as well as a virtual go-go concert, providing exposure to the city's signature style of music.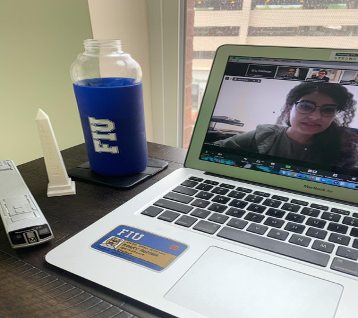 The curator of one of the city's famed museums, the International Spy Museum, Vince Houghton, was a panelist along with Noemi Pizzaro-Hyman of the Defense Intelligence Agency for a session titled "Intelligence in a Changing Global Landscape" moderated by Brian Fonseca, director of FIU's Jack D. Gordon Institute for Public Policy.
Panelists discussed how careers in the intelligence community have changed over the past decades, including that it is now more common for one professional to work at multiple agencies within the U.S. intelligence community during their career.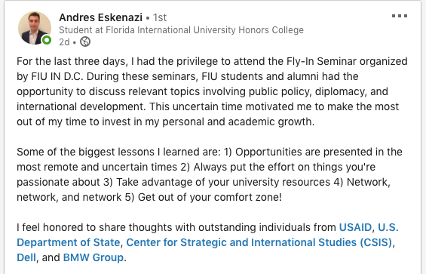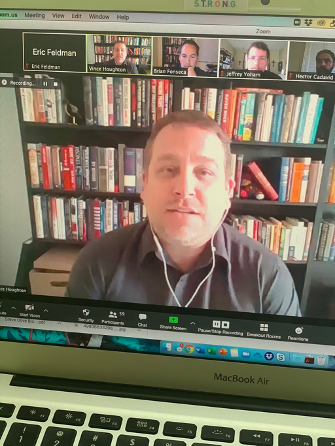 Each session included practical career advice, useful to the 17 graduating seniors who participated as part of their career search process as well as for the four freshmen for whom this Fly-In represented their very first FIU experience; participants were encouraged to spread the knowledge gained by sharing career tips on their LinkedIn pages.
"This being my first year of college, it is difficult for me to choose the skills I want to develop and the information that I learned today gave me an insight of what I want to do in my future," said School of International & Public Affairs student Victoria Espinoza Maldonado.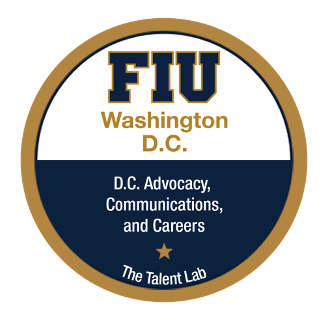 FIU in DC will continue virtual programming throughout the year, including the Talent Lab Summer Impact Series starting this Friday. The first two guests from this series act as the director of Leadership Programs at George Washington's Mount Vernon and the director of the Office of Civil Rights at the U.S. Department of Commerce.
Visit the Talent Lab's webiste and follow FIU in DC on Facebook, Twitter and Instagram to learn more.
---
FIU in Washington, D.C., is an integrated advocacy approach aimed at increasing FIU's national reputation and federal support for FIU's preeminent and emerging preeminent programs, faculty and students. The FIU in DC team collaborates with academic units to provide learning experiences and support the placement of students and alumni in internships and permanent employment.