Virtual reality project offers 21st-century skills to first-year experience students
March 26, 2020 at 10:00am
---
FIU's First-Year Experience course, designed to teach students life skills and prepare them for professional success, is providing learners with a new collaboration opportunity in virtual reality. 
COMMUNITY is a virtual reality-based experience produced in collaboration with the College of Communication, Architecture + The Arts, the College of Engineering & Computing and FIU's Academic and Career Success. Currently, it's being developed as a voluntary part of the First-Year Experience curriculum for all incoming students in an effort to promote the four "C's": communication, collaboration, critical thinking and creativity.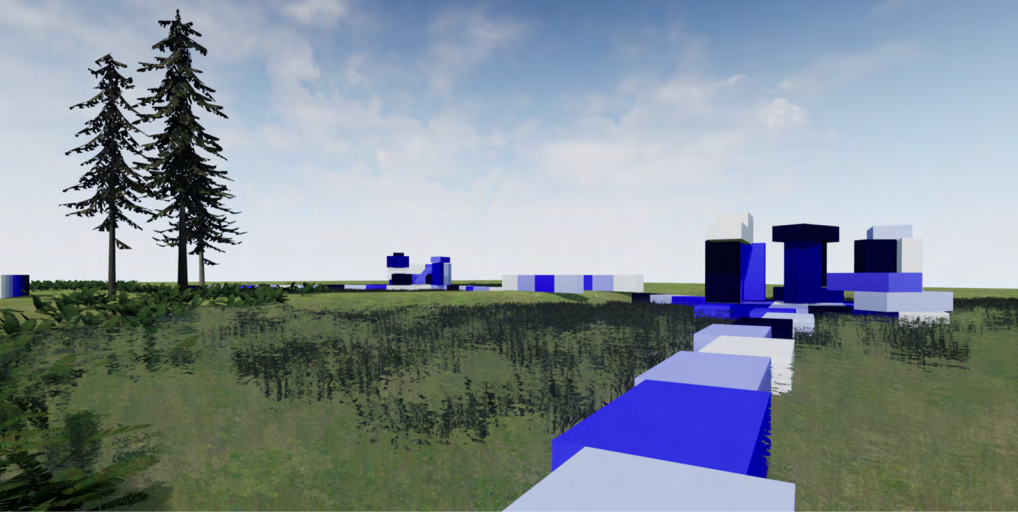 Imagine being just minutes away from becoming completely submerged underwater and the only way to overcome it is to build shelters to rise above the water. This is the virtual simulation COMMUNITY participants will face.  
COMMUNITY takes place under 18" of water. Using virtual reality headsets and wearable backpacks, provided by HP, first-year experience students will tap into the COMMUNITY landscape and work in groups of two to four to build paths, structures and shelters out of colored blocks to rise above the water within a limited amount of time. Each block, when moved, plays a musical note, so students have the option of creating music with the build of their shelters.
COMMUNITY was originally produced in FIU's Miami Beach Urban Studios in partnership with HP and EDUCAUSE as part of the Campus of the Future initiative.
FIU was chosen, among 11 other higher education institutions, to participate in HP and EDUCAUSE's Campus of the Future. The project investigated ways in which colleges and universities use augmented reality, virtual reality and 3D printing technologies to benefit teaching, learning and research.
"FIU's First-Year Experience course was a natural fit for the use of these new XR technologies," said Matias Matias, senior manager for worldwide business development at HP and Juan del Cerro, HP public sector client executive for the state of Florida. "This project will help reinvent learning experiences in higher education and better prepare students for the future."
As part of the project, HP donated a virtual reality headset to FIU's CARTA Innovation Lab, housed in Miami Beach Urban Studios, for students to use.
"Originally I left the headset out for anyone to use," said John Stuart, associate dean for cultural and community engagement and executive director of Miami Beach Urban Studios. "Some people thought it was a bad idea because the headset could get lost or damaged but what actually ended up happening is a student success project was made on it."
Architecture students began uploading their own personal projects onto the headset, which is how the initial prototype of COMMUNITY was first formed. Architecture alumnus Kevin Veres '19, worked alongside Stuart to create the virtual landscape.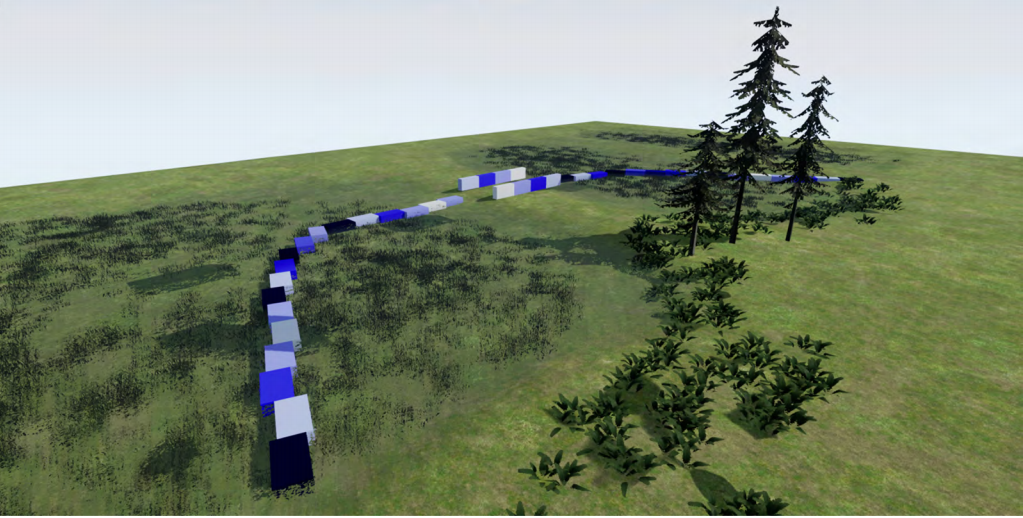 "The design was all about getting a group of people to work together, share resources and put forth the greatest unified effort," Veres says.
Knowing that COMMUNITY could have a significant impact on student success, Jennifer Gebelein, director of academic initiatives, came on board and worked closely with Stuart throughout the project to implement COMMUNITY into the First-Year Experience program.
"My team and I are always looking for ways to further engage students," Gebelein says. "COMMUNITY gives incoming students in the First-Year Experience course an interesting opportunity to really develop 21st-century skills and incorporate them into their knowledge base going forward."
COMMUNITY allows students to perform specific tasks in an engaging and collaborative format that they wouldn't otherwise be able to perform. Students are literally immersed in the course content and work with their peers to complete a common goal in a completely simulated environment.
"It's really a new kind of learning objective," says Jeffrey Pomerantz, senior researcher at EDUCAUSE and principal investigator for the Campus of the Future initiative. "Most VR learning tools are used for practices like surgery or firefighter training which might be too expensive or dangerous to get in the real world. COMMUNITY, on the other hand, is a brand new learning experience that provides hands-on, concrete collaboration that students couldn't get any other way."
In spring 2019, Steve Luis, executive director for technology at FIU's College of Engineering & Computing and technical director of FIU's I-CAVE, was immediately attracted to the unique opportunity for First-Year Experience students and helped transform COMMUNITY into a multi-user experience. Until that point, COMMUNITY only allowed for one user at a time.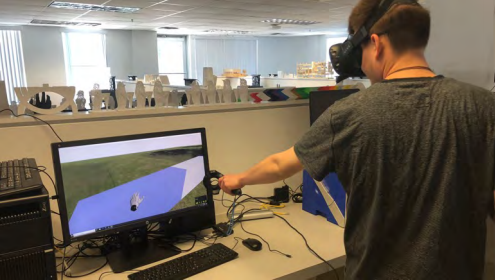 Through I-CAVE, an open virtual reality lab providing opportunities to develop virtual reality experiences, Luis recruited staff members and undergraduate students Edward Gonzalez and Haczar Criollo from theSchool of Computing and Information Sciences (SCIS) to help lead the efforts and create a new multi-user code.
HP and EDUCAUSE also donated four more headsets and four VR backpacks to FIU, giving Luis an existing framework, like a skeleton, to build the platform.
Luis and the team had a tight deadline to make the multi-user system a reality. Within 30 days, the team built 3D environments and programmed visuals.
"Think of this like designing a ride for an amusement park," Luis says. "You have people test the ride for user experience and reliability before it's open to the public. In this case, we're seeing if the system is functional and if we are delivering the learning goals we established."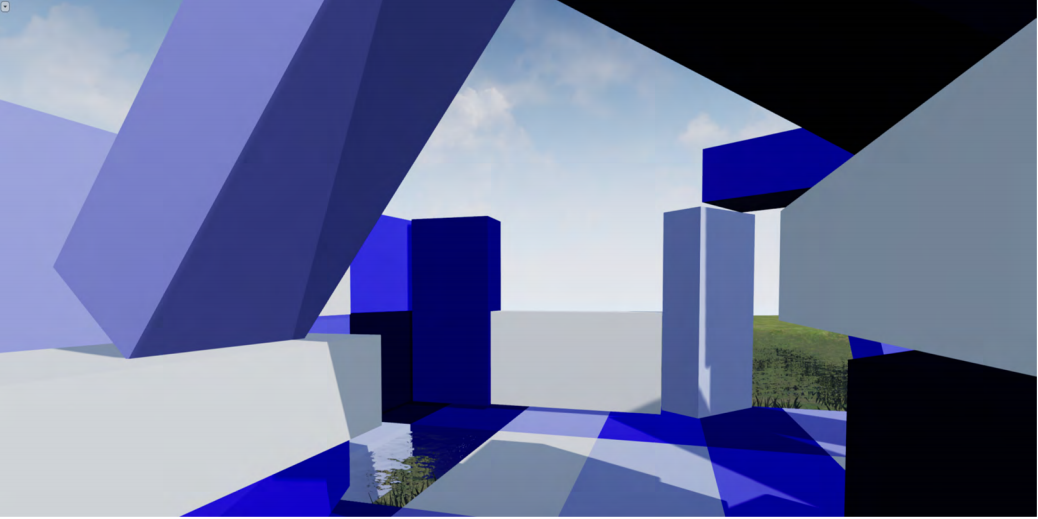 One of the team's main concerns is ensuring there isn't a long training time once students put on the equipment.
"We want students to put on the headset and backpack and for it to feel instantly intuitive," he adds. 
Testing of the new multi-user system is set to begin in April for a summer 2020 rollout for the First-Year Experience program.
Additional reporting by Diana Hernandez-Alende