What's in a place? What's in a story? Meet those at FIU working to preserve local Black history and create a better future
Students and faculty take stock of yesterday and today in Miami's neighborhoods
A professor acts on his beliefs
Iqbal Akhtar thought living his faith should translate into buying a home in a community where he could do the most good. So he and wife Jafreen Jaffery started to look around. At the time the pair resided in a rental apartment on Miami's famed Brickell Avenue, known for fancy condos and high-end lifestyles. Every day, the couple—he a professor of religious studies and political science in the Steven J. Green School of International & Public Affairs, she then-working for the Children's Trust and now a researcher with a nonprofit public health organization—saw around them a bewildering contrast: shops and restaurants catering to the well-to-do and, just a few blocks away, the kind of poverty that puts the city of Miami among the 10 poorest in the country.
The New Orleans native made the decision to purchase a house in the Brownsville neighborhood, six miles northwest of downtown. An area in transition—his place was built in 2015—Brownsville experienced a heyday in the 1950s and '60s as a thriving center for middle-class Black professionals. Martin Luther King Jr. and Muhammed Ali stayed in its historic Hampton House motel when they visited South Florida because other places of lodging wouldn't accept Black guests.
As segregation laws came down in the late 1960s, many residents felt free to move out of Brownsville into other parts of town, and urban blight began to set in. More than a decade later, in 1980, the neighborhood would suffer destruction as part of citywide unrest that saw three days of rioting in the wake of a black man's killing by police. In what sounds alarmingly like a headline from 2020, four white officers beat handcuffed insurance agent Arthur McDuffie after he ran a red light on his motorcycle.
Today, Akhtar remembers the break-in that marked the early days of his living in the area. Away at the time, he and Jaffery returned to learn that neighbors saw the crime in progress and quickly called police. That broke the ice with folks on their street, and a bond began to develop. Soon after, the couple took a day to plant grass and flowers in front of their home, an activity that attracted the interest of others, some of whom asked for seeds. The experience moved Akhtar to seek a small grant to refurbish a nearby neglected park and establish a community garden within its fenced walls. The bureaucratic permitting process proved a hassle, but eventually students and staff from the Wertheim College of Medicine and the Stempel College of Public Health & Social Work provided health screenings and information as part of the grand opening. Akhtar went on to hold children's book giveaways and other events there regularly until the pandemic hit.
"There's a tradition in the Muslim faith that says that you should always leave a place better than you found it," Akhtar explains. "If we're going to say that we care for people, then we have to live a life in which we really try to serve."
Students seek out storytellers
In the fall of 2020, students in an Honors College course took to sifting through history by engaging with current and former residents of Brownsville. As part of their studies on social movements in the United States, they reached out to folks who could speak directly not only about the civil rights era through which they had lived but, on an even more personal level, about the thriving, tight-knit community in which they once resided.
In the wake of the current national push for social justice, the 2.3 square miles of Brownsville became the lens through which the young people reflected upon recent Black American history.
Zion Sealy is a junior marketing major from Trinidad and Tobago. Although he identifies as a man of color, Sealy says he has a very different perspective than that of a Black man in the United States. "My understanding of the Black experience was just what I read online," he says.
"Coming into this interview, I had an expectation of this is going to be a story of struggle," he says. "The reality was far different. The emphasis was hope. The emphasis was perseverance. The emphasis was getting an education, no matter what."
Sealy's lesson came compliments of 70-year-old Milton Vickers, who today serves as the director of human services for Miami-Dade County and still lives in Brownsville. The pair's recorded Zoom discussion—which veered from segregation and integration to the election of Barack Obama and the Black Lives Matter movement—will be archived at Hampton House, now a thriving cultural arts and community center, along with a written account prepared by Sealy. (The files of all 25 students will be used by the Dade Heritage Trust to seek historic designation for the area.)
International student Kristina Miletic, a sophomore finance major from Serbia, arrived in Miami in 2018 to attend FIU. She welcomed and was excited by the diversity around her—something not found in her native land—and only slowly became aware of racial tensions.
Like Sealy, she found an uplifting story—the kind shared by families of every culture—when she spoke with Ernestine Williams and two of her daughters, Rojean and Roniece. The matriarch, who still lives in Brownsville, talked about moving there from Michigian with her husband in 1950 and starting a successful dry cleaning and tailoring shop. The sisters spoke of school and their teachers.
The first-person accounts and the women's willingness to share memories moved Miletic.
"I didn't believe that someone was going to talk about their life to me," she says, fearful at first that her queries would seem intrusive. "I was kind of scared. Will they answer my questions?" she worried, all for naught. "They were so open to tell their life story. I was so happy to talk to them. It was an honor."
Connecting people of different backgrounds served one of Professor Shed Boren's goals for the class, which "was to have the students realize the power of conversation and storytelling about individual lives."
Such interaction, the professor of social work says, sows the seeds of transformation. "Change starts with empathy," he explains, "and this is only possible by listening."
A leader weighs in
Valerie Patterson is director of FIU's African and African Diaspora Studies Program and a professor of policy and management within the Steven J. Green School of International & Public Affairs. Born in the 1950s, she grew up in the Coconut Grove neighborhood and remembers attending segregated elementary and junior high schools. Like those who spoke about their lives in Brownsville, Patterson recalls the joys of childhood and the extended "village" of teachers and others who promoted excellence every day.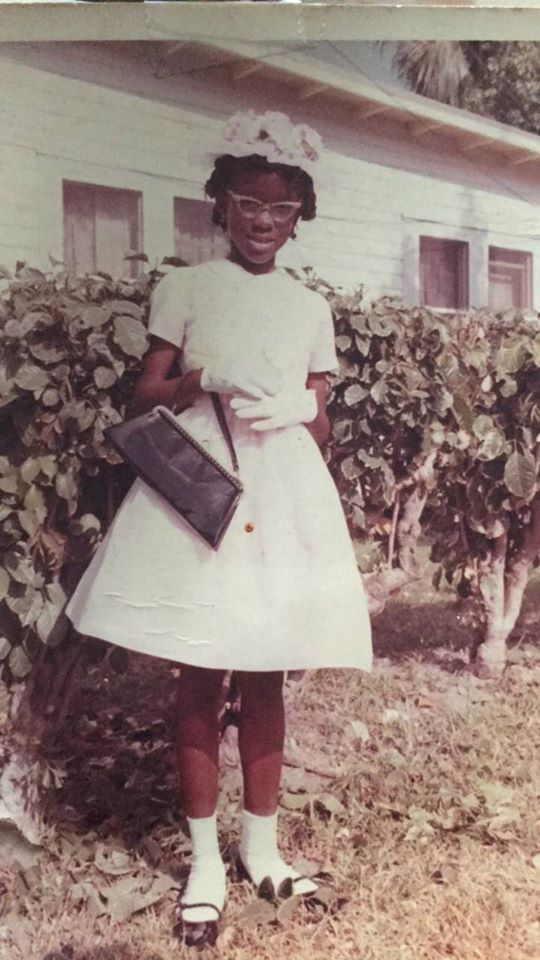 "That community support was very present," says the three-time FIU alumna ('81, MHSA '85, Ph.D. '95). "It's no wonder that so many of us ended up in successful careers," she adds, citing her best friend—also a university professor—and other former classmates who went on to accomplish great things.
The story forms part of the one that Patterson told when President Mark B. Rosenberg first called upon her this past summer to help the university determine how to effect change in support of social justice. He asked that she and the two others whom he tasked with the job—El pagnier Hudson, senior vice president for human resources and vice provost for the subsequently created Division of Diversity, Equity and Inclusion, and Delrish Moss, a captain with the FIU police department—share their personal histories as a way of connecting across a wide spectrum.
"When we were given our charge by President Rosenberg, he asked us to engage the university community and even the external community in a very intentional way," Patterson explains. "When he brought the three us of together for the first time, he asked us to talk about our experiences, our history of growing up in Miami. From there, each meeting that we had with university stakeholders, whether they were students, whether they were deans, whether they were faculty, other administrators, we started with our experience growing up in Miami and what this [social justice] work meant to us. This created a robust conversation because people were very interested in hearing those stories."
Patterson, who notes that personal anecdotes of local life resonate even in—or, perhaps, especially in—a city filled with transplants, listened in on the Honors College class presentations. "I loved hearing the students discuss their conversations," she says. "I really enjoy having conversation about Miami, hearing the histories of different families, the whole notion of multigenerational interaction.    
"This history is important as are the opportunities for reflecting on past experiences, especially to identify useful lessons that can be connected to current circumstances." 
That same understanding drives Akhtar, the professor who lives in Brownsville and whose next project will have him collecting oral histories around a mosque with connections to Malcolm X and Muhammad Ali in the nearby Liberty City neighborhood. The endeavor further promotes his conviction that all stories must be valued.
"We have to be able to respect each other's history, each other's perspective, and to be civil and to have dialogue about what that means," he says. "To hear stories and histories that have been neglected is to show how diverse and remarkable this country is."