After a year of pandemic learning, FIU physician assistant students earn their white coats
Every incoming physician assistant student looks forward to the White Coat Ceremony when the aspiring PAs receive their first white coats, symbolically marking the beginning of their training. But students in the Herbert Wertheim College of Medicine's PA class of 2022 began their academic journey remotely in the fall of 2020, they waited almost an extra year for their official "coating." So Friday's ceremony took on a special meaning.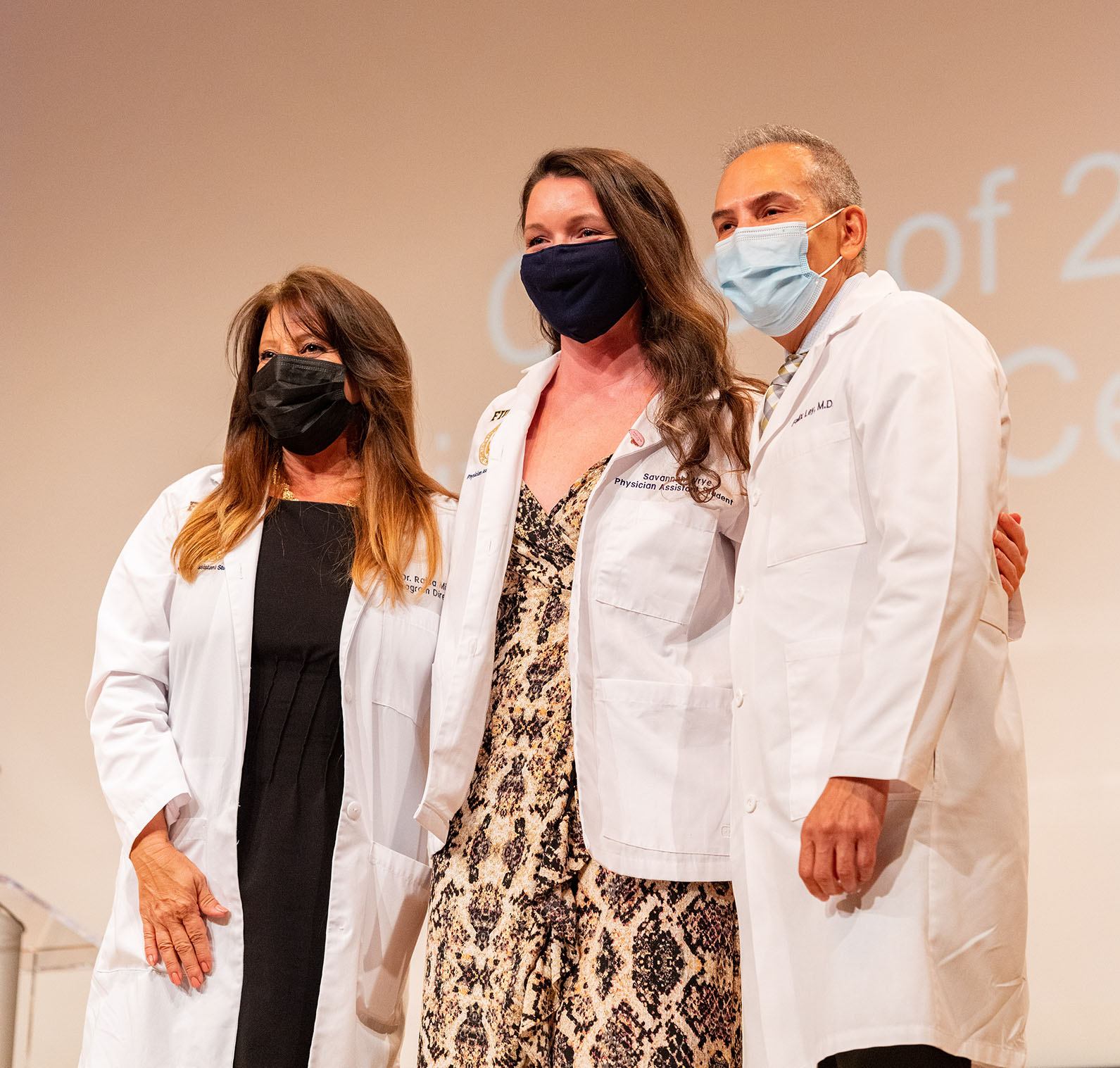 "We were supposed to have White Coat so long ago, that now it's a bigger celebration," said Savannah Wrye, one of the 46 students in the Master of Physician Assistant Studies class. "It feels like more of a reward after going through so much in the past year and persevering through all the pandemic."

Like students everywhere, the PA students had to make adjustments. They attended virtual class their first semester and later transitioned into hybrid learning, with groups of students taking turns attending class in person.

"PA school is hard, but when you throw in a pandemic into the mix, it complicates things a little more," Wrye said.

The members of the class of 2022 didn't finally get to meet one another in person until the Fall 2021 semester. Classmates knew each other's faces and names only in a virtual space. So it was a nice change to finally interact face-to-face and get a sense of everyone's personalities, Wrye said.

Despite the tough start, Wrye said her cohort has learned to be flexible and resilient—qualities that will serve them well in the professional world. "This has taught us to deal with the curveballs and the challenges that we'll face as PAs," she said. "If we can get through these challenges, it's only going to help us in the future and make us stronger."

Dr. Raisa Miller, program director for the PA school, agrees. Miller said she has been impressed with the students' ability to adapt to the challenging circumstances brought on by the pandemic. "The class of 2022 has demonstrated a remarkable capacity for resilience. We are so proud of these students. They have truly earned their white coats."