Alumnus' Lien Library makes property information easily accessible
The business alumnus won the top prize at the Endeavor Pitch Competition, co-sponsored by Microsoft for Startups and The Miami Herald and designed to spotlight and support Florida-based Black entrepreneurs.
December 17, 2021 at 11:23am
---
By Karen-Janine Cohe
Growing up in Haiti, Macdeur Alabre '19, MBA '21 — known to most as "Mac" — was pretty sure he would be a doctor. After all, law or medicine were family traditions. But he caught the entrepreneurial bug after a 2016 move to South Florida. In short order, he earned a degree from FIU Business.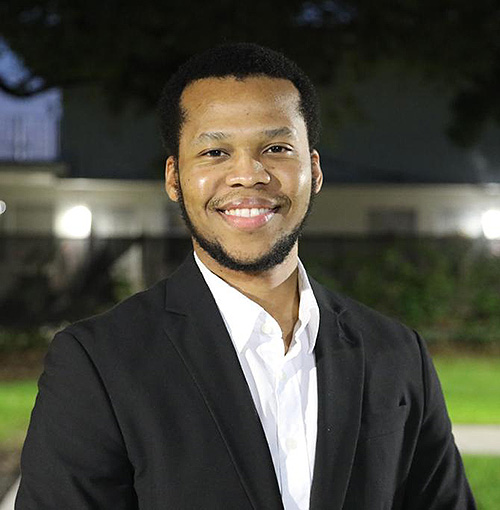 Those choices paid off when, in early November, Alabre and his Lien Library co-founders Rohansen Joseph, Eduardo Mejia and Sondley Northecide walked away with a $25,000 prize in the Endeavor Pitch Competition, designed to spotlight and support Florida-based Black entrepreneurs, which was co-sponsored by Microsoft for Startups and The Miami Herald.

Lien Library is a software platform that connects with municipalities' computer systems to quickly source property lien information, saving searchers time and money. Local governments might use the software to find, manage and analyze lien data; other potential clients include title companies, real estate professionals and investors.

Alabre, 27, a recent FIU MBA graduate who is now a Ph.D. candidate in organizational psychology at FIU, came up with the Lien Library idea while working as a financial analyst at the City of North Miami. There, he witnessed the difficulty of lien searches. At the same time, he was brainstorming project ideas for his international business class at FIU Business.

Lightning struck.

"Every lien has to be recorded with the county," Alabre explained. That includes government-placed liens – think your neighbor's permitless fence — or liens placed by unpaid creditors. "The reason for any person to know that a lien exists is to fix the issue."

Lien Library recently launched a pilot program with the City of Miami Gardens. The business model is to freely license software to municipalities. Lien Library adds its fee to what the city usually charges a title company for a lien search.
The company has six employees and will use the Endeavor award to hire two more software developers, in order to build, refine and scale the algorithms that search for liens while increasing the ability to scan paper documents – still used by some towns and cities.

Alabre, who recently served as vice-chair of the development of the FIU Young Alumni Network, said he wants other young minority students to understand and take advantage of what the university has to offer. It's more than academics, he said; it includes encountering people from all backgrounds and cultures.
"It's much more than going to class. The system helps you be a better professional and human being," he added. "Ask yourself: what can you offer back to the community that has received you."