College of Medicine welcomes its largest-ever class at White Coat Ceremony
135 incoming medical students received their first white coats.
August 2, 2021 at 10:00am
---
Sometimes life gives you a sign.
It is not lost on Mary DesRosiers, future M.D., that her initials are M.D. So are her brother's, Michael DesRosiers, who is already an M.D. He graduated from the Herbert Wertheim College of Medicine (HWCOM) in 2019. Today, he returned to FIU to watch his little sister receive her first white coat at the annual White Coat Ceremony.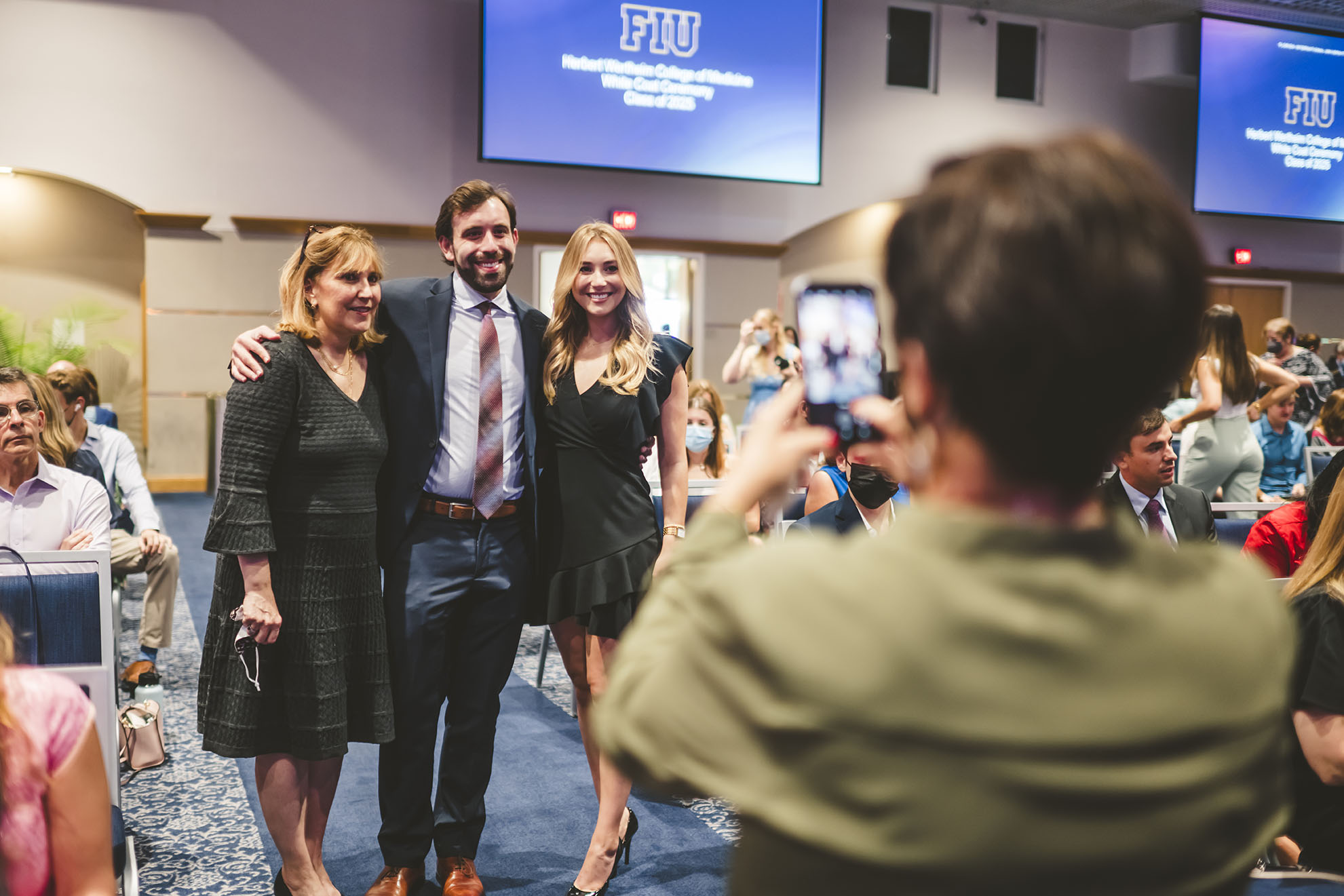 "You are not given a white coat. You have earned it through many years of hard work," HWCOM Dean Dr. Robert Sackstein told the audience of incoming medical students and their families.
The Class of 2025 is HWCOM's largest class ever—135 students chosen from a record 7,400 applications. To accommodate all students and their families while following pandemic spacing guidelines, they had to hold two ceremonies this year.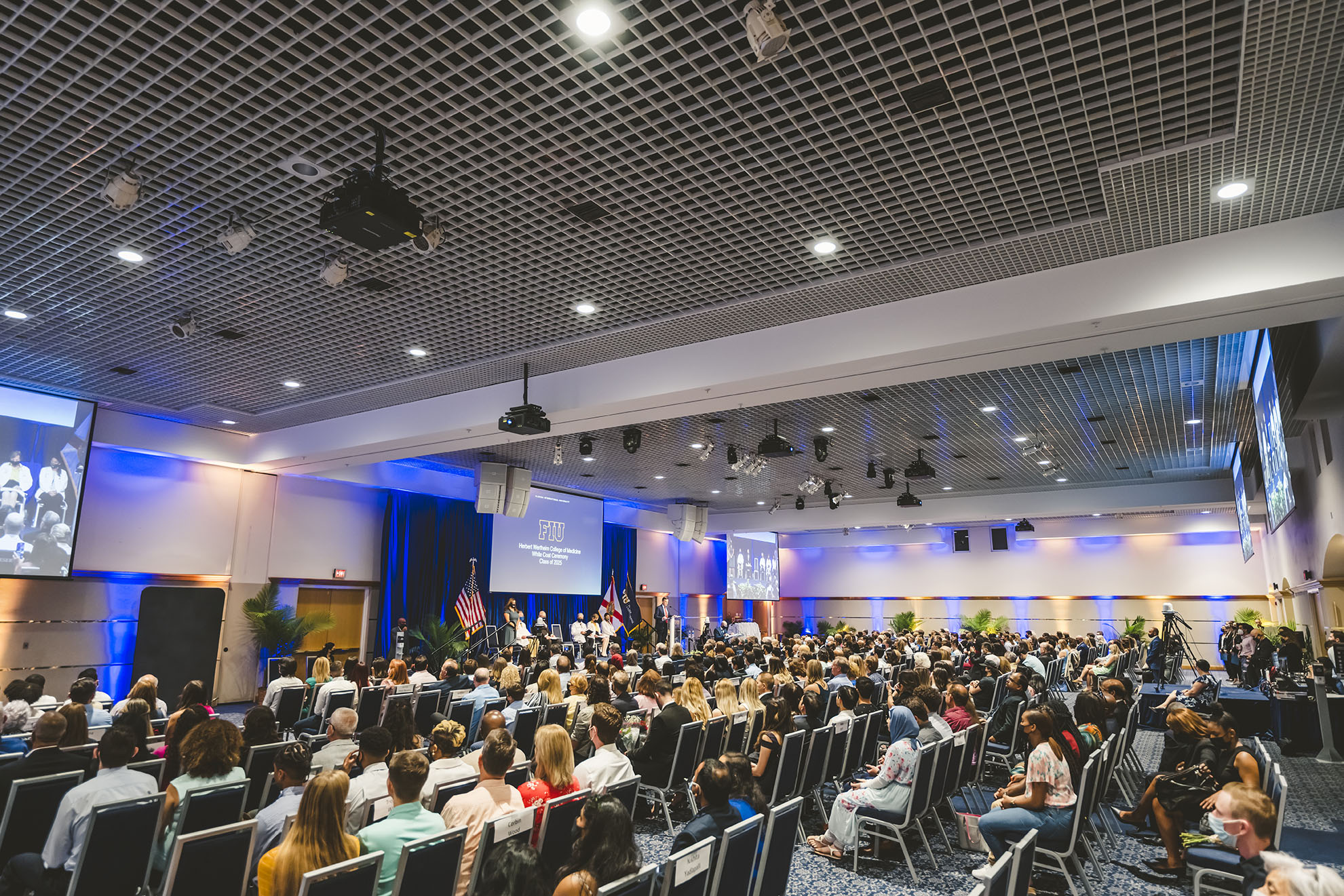 When FIU President Mark B. Rosenberg addressed the new students, he noted that they reflect "the diversity that is our world." Indeed. The U.S. News & World Report ranks HWCOM as the No. 3 most diverse medical school in the nation. And the new class reinforces the college's commitment to diversity.  
The new students represent 19 countries—93 percent of them are bilingual. A fifth of the class is first-generation—students who are the first in their family to graduate from college. In addition, nearly half of the students are minorities underrepresented in medicine—Hispanic/Latino and African American/Black. And women comprise 64 percent of the class, continuing a nationwide trend of female medical school matriculants outnumbering males.  
"This is so exciting," said Natalie Mesa, one of nine FIU pre-med students who were guaranteed admission to HWCOM through the Early Assurance Program (EAP). "I envisioned this moment since I was a little girl."
Ronscardy Mondesir has shared the same vision since he left his native Haiti in 2013. He credits FIU and HWCOM for making his dream of studying medicine a reality. Mondesir received a scholarship that will pay his full tuition for the next four years. "I am just so thankful," he said. "Med school can get quite expensive. And knowing that people who believe in my journey support me, it means the world."
The new class heard from a handful of speakers, including Miami-Dade Mayor Daniela Levine Cava, who is married to a physician. She encouraged the future doctors to "be the North Star for our community as we face challenges." The keynote speaker, Vice Dean Dr. Juan Cendan, also reminded the students that "the white coat is a privilege and a responsibility."
This idea was reinforced at the end of the ceremony when students recited the Physician's Oath, a modern version of the Oath of Hippocrates.
"I do solemnly swear by that which I hold most sacred; that I will be loyal to the profession of medicine and just and generous to all…." 
They will repeat this oath at their graduation ceremony four years from now.