There are health care heroes, and then there are health care superheroes. Dr. Jennifer Thompson is both.
Thompson, an FIU alumna and third-year pediatrics resident at Nicklaus Children's Hospital, is also known as Dr. Spider-Man.
It started off as a joke in medical school. It was close to Halloween, and Thompson donned a Spider-Man costume for a class project. Her classmates and her professor at the Herbert Wertheim College of Medicine (HWCOM) loved it. Spidey leaped into action again during her medical school pediatrics rotation. Thompson and her alter ego were asked to help kids with IBD, inflammatory bowel disease, learn about their condition.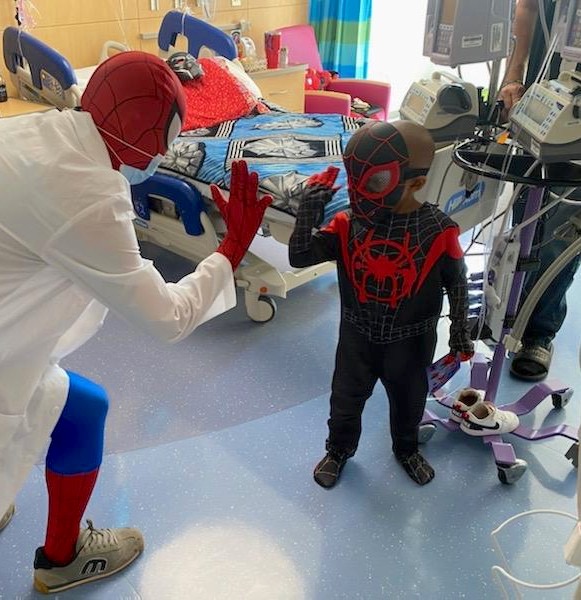 Now, she regularly dresses up and visits children on the chemotherapy floor and the PICU (pediatric intensive care unit) to cheer them up during her time off.
"The little ones, 3 to 5 years old, they believe it's the real Spider-Man. When I come in, they're like star-struck. They get really excited and have a huge smile on their face," Thompson said, trailing off with a laugh. 
At first, Thompson's costume prevented her from seeing those smiling faces. It definitely did not have spider-vision.
"It was pressing against my eyes. It hurt, and I could hardly see out of it at all," she said.
But thanks to donations from family and supporters, she was able to buy a new see-thru costume. She even had leftover money to purchase gifts for the kids—stuffed Spider-Man toys, pillowcases, and coloring books.
Thompson has been described by her colleagues, supervisors, patients and families as "very humanistic," "an exemplary individual," and "simply amazing." In March, a Miami television station featured her story.
The College of Medicine just awarded Thompson the 2021 HWCOM Resident/Fellow Clinical Teaching Award. Students and faculty submit nominations for the award. It is given to a resident or fellow who excels in clinical teaching, is a role model as a physician and educator, is available to students, and cultivates lifelong learning. Thompson's name came up repeatedly with comments like "Dr. Thompson is engaging, helpful, has a passion for adolescent medicine, and she went above and beyond to help me learn."
Dr. Suzanne Minor, HWCOM assistant dean for faculty development, was Thompson's preceptor during her four years of medical school.
"It's such a pleasure to see her maturing as a clinician by embracing her inner superhero. I'm excited that she will be teaching our students more next year at Nicklaus Children's Hospital as an adolescent medicine fellow," said Minor.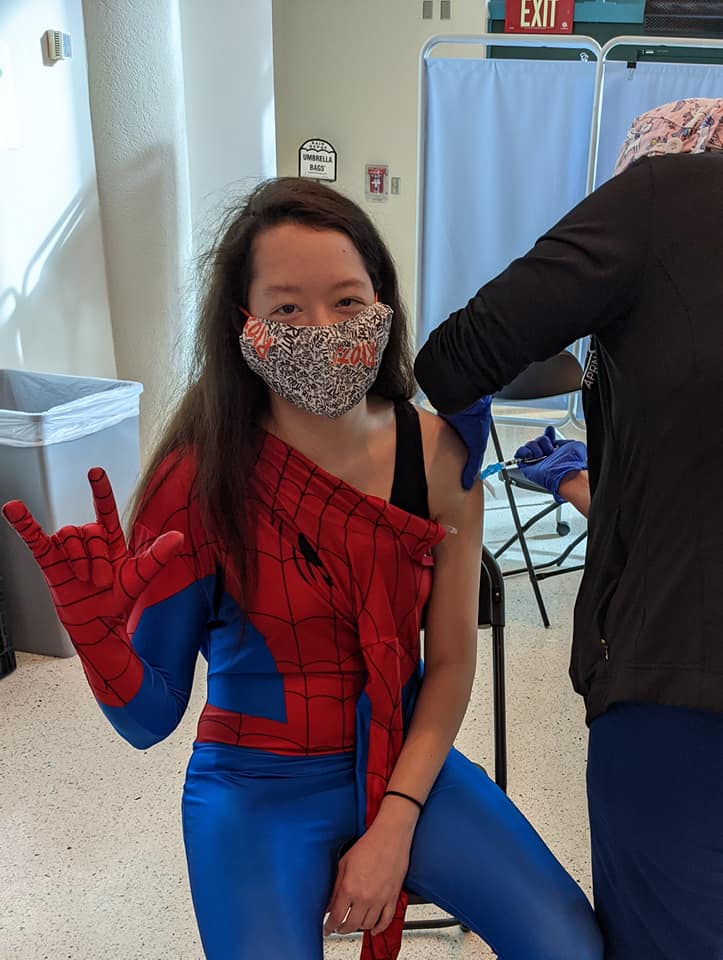 Why Spider-Man? He's her favorite superhero. When she was a kid, one of her brothers took her to see the original movie, and she thought Spidey looked "really cool." And she can relate to him. Thompson likes that he's really just a kid who wants to help people but can be clumsy and sometimes lacks confidence.
"I feel like that sometimes," she said. "I still feel like I'm a kid. And every time someone calls me doctor, it's like imposter syndrome. I have to remind myself, yes, that's what I am." 
Spider-Man's aunt, May Parker, said it: "I believe there's a hero in all of us."
To her young patients, Thompson is a superhero with the power to comfort, to heal. She just wears a white coat instead of a cape.