Everything you need to know for the first football game day
A fan's guide to tickets, parking, tailgating, entering the stadium and more.
The day is finally here. This Thursday at 7 p.m., the first FIU football game of the season kicks off, and on-campus fun awaits fans of all ages. Here is what fans should know as they get ready for the big event.
Tickets
Students get in free to all FIU football games and athletic events by presenting their FIU OneCards at stadium entrances (listed in section below). 
New for 2021, all students are eligible to receive one free guest ticket per home game, and can purchase up to four additional guest tickets for $10 each. A valid FIU One Card is required. Student guest tickets can be secured on game day at the University Credit Union Box Office, located in the west side Fieldhouse of FIU Stadium.
A limited number of season tickets are available on FIUsports.com, starting at $125 for sideline tickets and $50 for general admission. Individuals tickets for the LIU contest are on sale as well.
FIU is extending two free general admission season tickets to staff, faculty and retirees this season in appreciation of their ongoing support and dedication to the university. The tickets are considered a taxable fringe benefit to employees.
To claim the tickets:
Log into the ticketing account set up for you at FIUTickets.com.
Use your FIU email address as the username
Enter the temporary Password: 2021FIUStaff! (manually type the password)
Once logged in to your ticketing account, you will see a notice on your dashboard asking you to accept or decline the two free season tickets. You may also change your password for future transactions.
Upon accepting the offer, the two tickets will be added to your account. They will be reflected in your account within seven business days. Tax withholdings will reflect on the next payroll cycle.
All tickets are now digital
All tickets for FIU Athletics home contests are available to print at home or transfer to your Apple/Android wallet. Your digital tickets will be located in your account and will be available for you before the game. Visit FIUTickets.com to sign into your account. Once signed in, click on the Purchased Tickets tab and download your game ticket.
Parking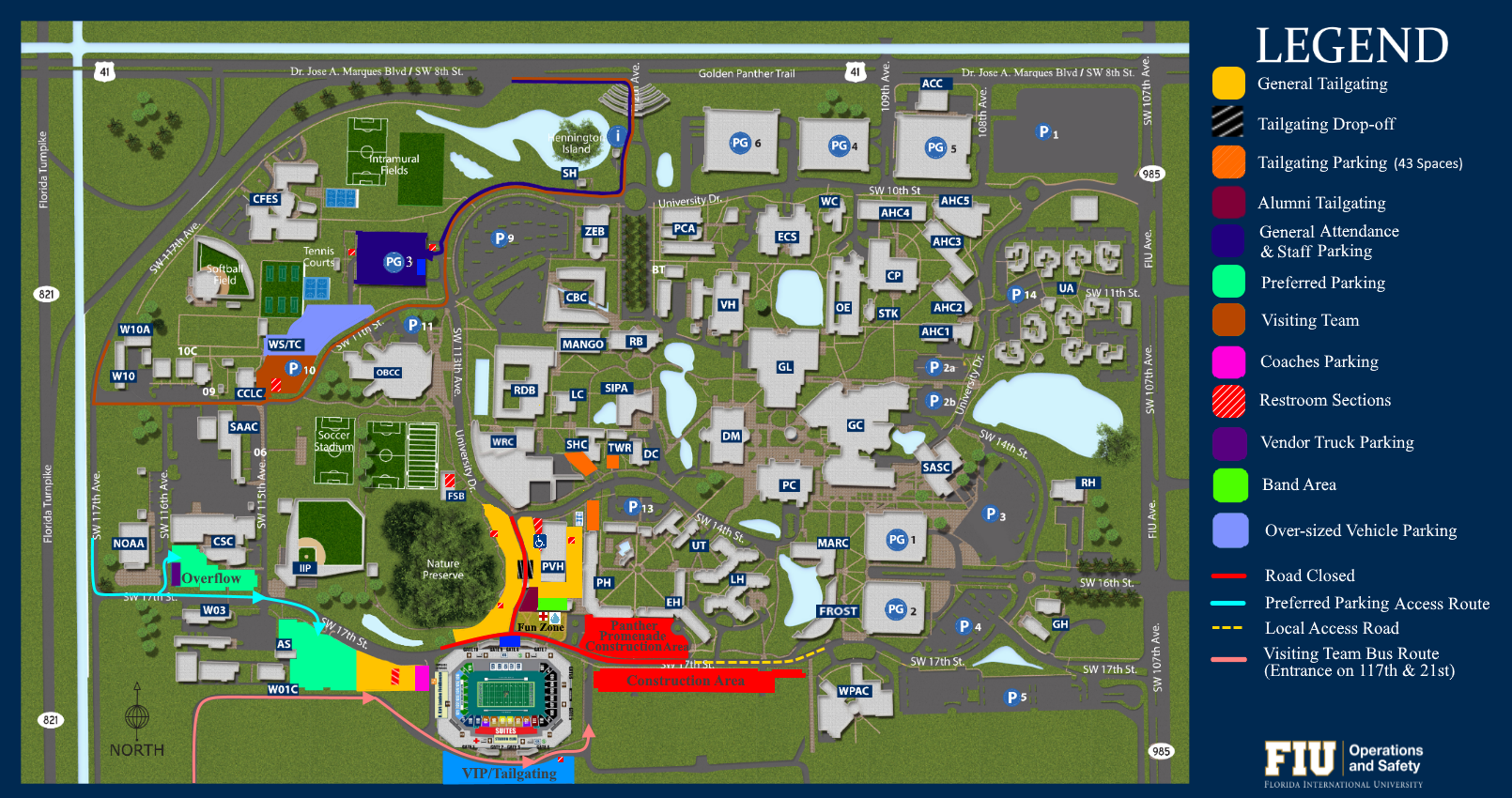 General parking will be available at PG3 Panther Garage. Please use the entrance on Southwest 117th Avenue and 17th Street to access Lot 7. One vehicle per party will be allowed in all of the tailgating lots. 
Preferred parking will be located in Lot 7 (west of stadium). The cost is $20 on game day, or $15 if pre-purchased. Season passes are available for $60.00.
Parking for persons with disabilities is available in lot south of stadium.
Transportation
Continuous transportation will be available from 109 Towers, Identity Miami and 4th Street Commons to the Rec Center (located east of Lot 6) from 2 p.m. – 11 p.m.
A shuttle will run from PG3 and its vicinity to the stadium beginning at 5 p.m. The shuttle will deliver fans back to the garage for an hour after the game.
Use Freebee on demand door to door transportation to get to the game. Hours of operation will be extended to 11 p.m. For a free ride, simply download the "Ride Freebee" app from the Apple App store or the Google Play store, request a ride and jump onboard! For more information, please visit parking.fiu.edu/freebee.
Tailgating and game day activities
In annual Panther football tradition, parking lots will open up to the community for tailgating before kickoff. Areas will open at 2 p.m. and reservations are free in non-preferred lots.
Students are being given room to tailgate by Panther Hall. Greek Life has a designated zone between Panther Hall and Parkview Hall.
Non-students are invited to tailgate by Parkview and in Lot 7, west of the stadium. 
For the Parkview tailgating areas, drop off and pick up will be allowed.
For the safety of those in the tailgating area, people bringing tents will be required to follow the university's tent anchoring instuctions.
To reserve a spot, check out FIU Operations and Safety's webite. Tailgaters can reserve tents, chairs and tables and have them preset in advance at their tailgating location. 
A catering menu from Panthere Catering from Chartwells is available. It includes tastes from The Little Havana, Little Italy and Taste of the South. Catering can be pre-ordered, picked up or delivered to your tailgate area for a worry-free tailgating experience.
Alumni Association Pregame Picnics
The FIU Alumni Association is excited to invite fans to Pregame Picnics, where Panthers can enjoy food and drinks, collect FIU swag and hang out before every home game from 4:30 p.m. - 6:30 p.m. Each picnic features an exclusive menu selection, front row seats to the Panther Walk and a special performance by the FIU Marching Band. 
The picnics take place in Parkview Hall - Multipurpose Room 100. Individual tickets are on sale for $10, and a season pass is available for $50.  Children ages 12 and under are free. Check out the Alumni Association's website for more information.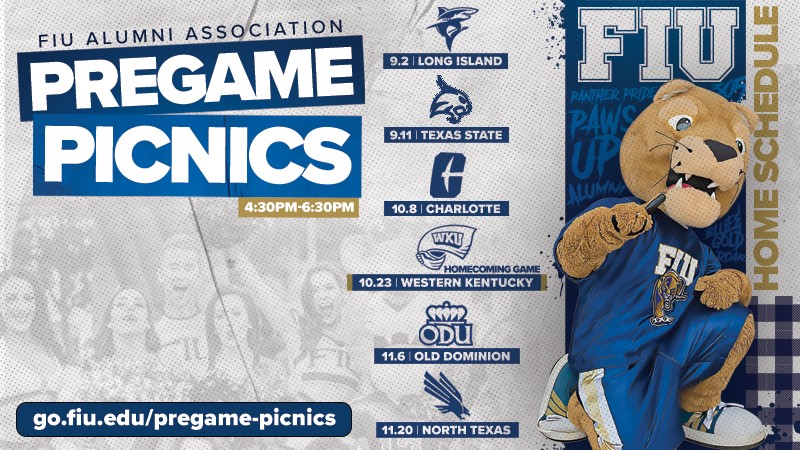 Freshman Frenzy
First and second year students will have the opportunity to form the tunnel on the field for the football team to run through as they take the field for the first home game of the season.
For those interested in the free experience, please fill out this form. Students are asked to wear their Panther Convocation t-shirts and check in at Gate 5 with their FIU OneCard at 5:30 p.m. on game day.
Pantherland Interactive Fun Zone
Fun for all ages, the Pantherland Interactive Fun Zone features interactive stations in Parkview Plaza, located across the street on the north side of FIU Stadium. Featured interactive stations include: Super Bowl Fun Zone, QB Blitz, Face To Face Rock Climb and more. Pantherland Fun Zone is free to all fans and is open 3 hours and 30 minutes before kickoff. 
Football traditions
Paws Up
When the football team scores, a big play is made or you pose for a photo, make sure you stick those paws up! And post your favorite highlights from the game with the hashtag #PawsUp and #PawsUpFIU.
Panther Walk
A few hours before kickoff, fans gather around the Parkview Plaza streets to give the football team a hearty greeting on game day. Roary, the FIU Marching Band and the Panther Spirit Squads lead the procession as the Panthers make their way into the stadium.
Butch Davis and the Panthers will enter the stadium at 4:45 p.m. It is best to arrive 30 minutes early to get the best spot for the walk.
Clear bag policy
Each ticket holder, including children, may carry one approved clear bag, such as a one-gallon clear plastic storage bag (Ziplock bag or similar), plus a small purse about the size of a hand. Non-approved bags include back packs, purses, fanny packs and mesh bags.
For more information on what you can bring, click here.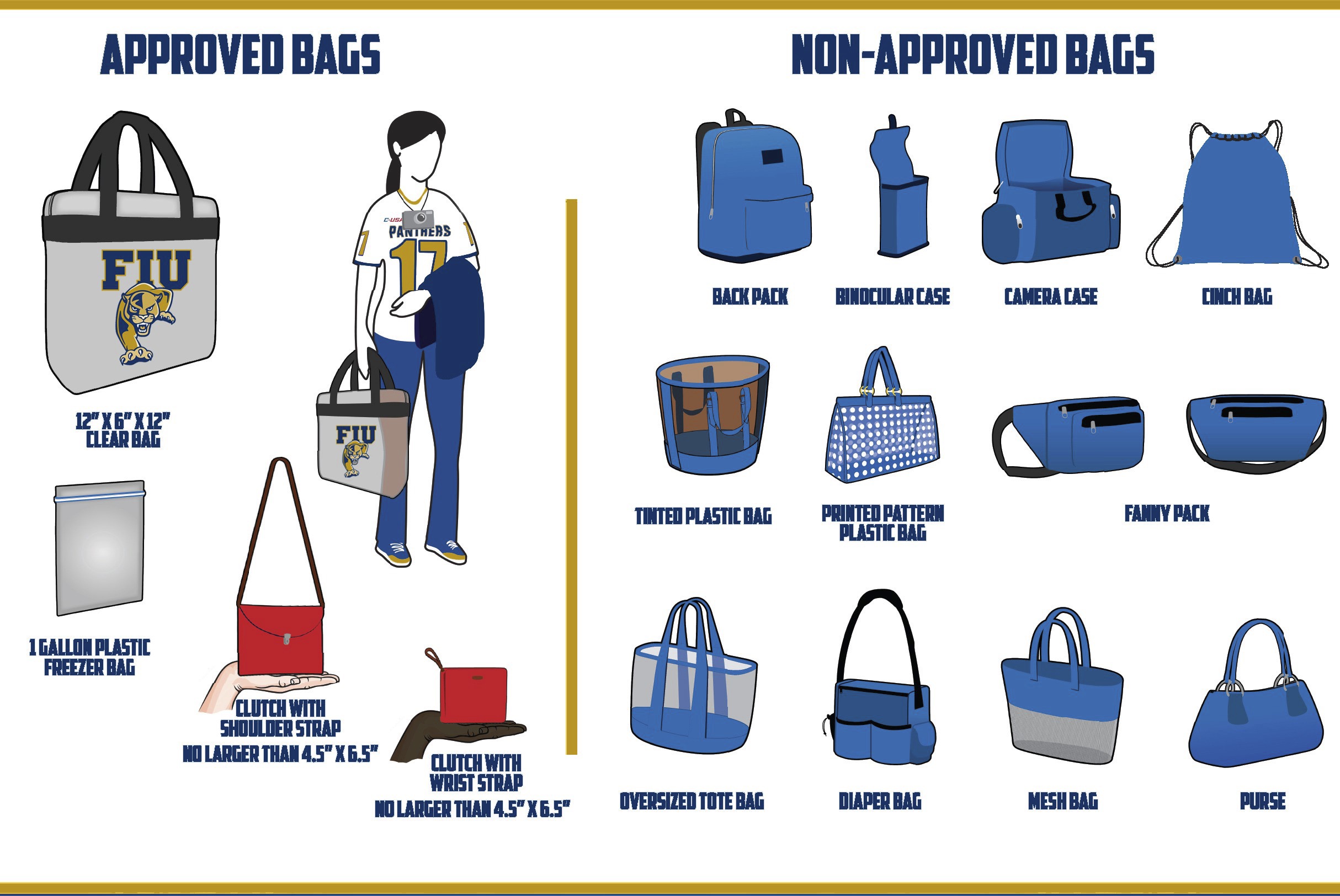 Entering FIU Stadium
Panther fans can save time on game day by knowing their entry gate. Gates will open 60 minutes prior to kickoff.
All students must enter the stadium at Gates 7 and 8 and present their FIU OneCard for admission. Event staff will direct students to Gates 9 and 10 if lines build.
Those with general admission tickets can gain entry through Gate 4. Season ticket holders can enter at Gate 4 and Gate 9. VIPs and fans seeking access to FIU Suites are welcomed at Gate 3. Gate 2 is closed.
For FIU Player Guests, recruits and FHSAA Coaches Pass, enter through Gate 1. The visiting team's player guests can access the stadium through Gate 10. Media members can pick up their credentials and gain entry at Gate 11.

University COVID policy
At FIU, we strive to help our Panther family stay safe and healthy. Now, as the Delta variant continues to impact our community, we must unite and take necessary steps to prevent further spread.
That is why, in accordance with Centers for Disease Control and Prevention (CDC) guidelines, we strongly advise all students, faculty, staff, visitors and vendors to wear a face covering at all times while indoors at any FIU facility, regardless of your vaccination status.
This includes the restrooms, suites and indoor facilities of our football stadium.
Streaming
Can't make it to the game? The season opener can be streamed on ESPN3, where "Voice of the Panthers" AJ Ricketts will have the call with former NFL linebacker Cameron Lynch. Patrick Murray and Corey Brooks can be heard on the Panthers' new radio home, Univision's WQBA 1140 AM.
Staying connected with the Panthers
This year marks the 20th season of FIU football. Fans of the team can stay up-to-date with the latest news and highlights by following the team on Twitter (@FIUFootball) and Instagram (@fiu.football), and checking out FIUsports.com.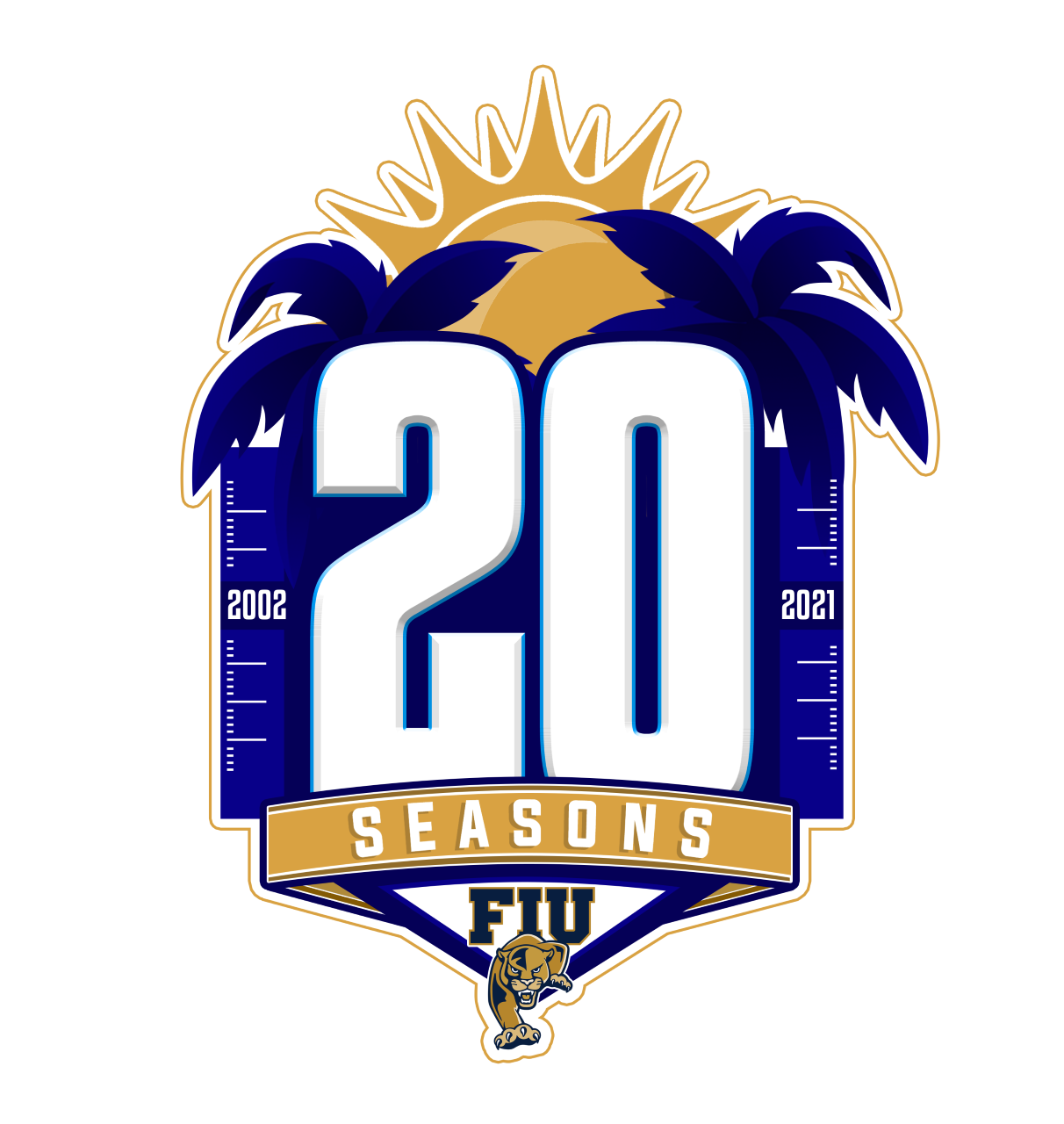 Game day gear
Panther fans can rep their Panther Pride by stopping by Barnes & Noble at FIU. Fans are encouraged to rep their best blue and gold outfits.