Fellowship valued up to $96K will support alumna's quest to work in international development
A study abroad trip to Cambodia inspired this alumna to pursue international development and help her qualify for a two-year graduate fellowship.
Pierina Anton Lopez became one of the 2021 fellows and FIU's first recipient of the USAID Donald M. Payne International Development Graduate Fellowship Program. This prestigious fellowship provides young individuals up to $96,000 in benefits over two years towards a pathway to the USAID Foreign Service to work on some of the most pressing global challenges of our times.
While an international relations major and Honors College student at FIU, Anton Lopez used her coursework and experiences to prepare her for a career in international development and education.
The now FIU alumna first discovered her desire to pursue this field while on a three-week study abroad trip to Cambodia through the Honors College.
In addition to learning about the historical relations between the United States and Southeast Asia, students developed a service-learning project to help expand access to educational opportunities in Cambodia. Anton Lopez designed a curriculum for teaching English to aspiring teachers based off common grammar challenges between English and Khmer phonetics. She and her group also raised around $800 to hand out over 100 backpacks filled with school supplies to students in a learning center with few necessities.
"Seeing first-hand the positive impact I could have, along with the gratitude of the students I was teaching at Provincial Teacher Training College, really cemented my interest in working in education for international development," Anton Lopez said. "I got a taste of that through my study abroad."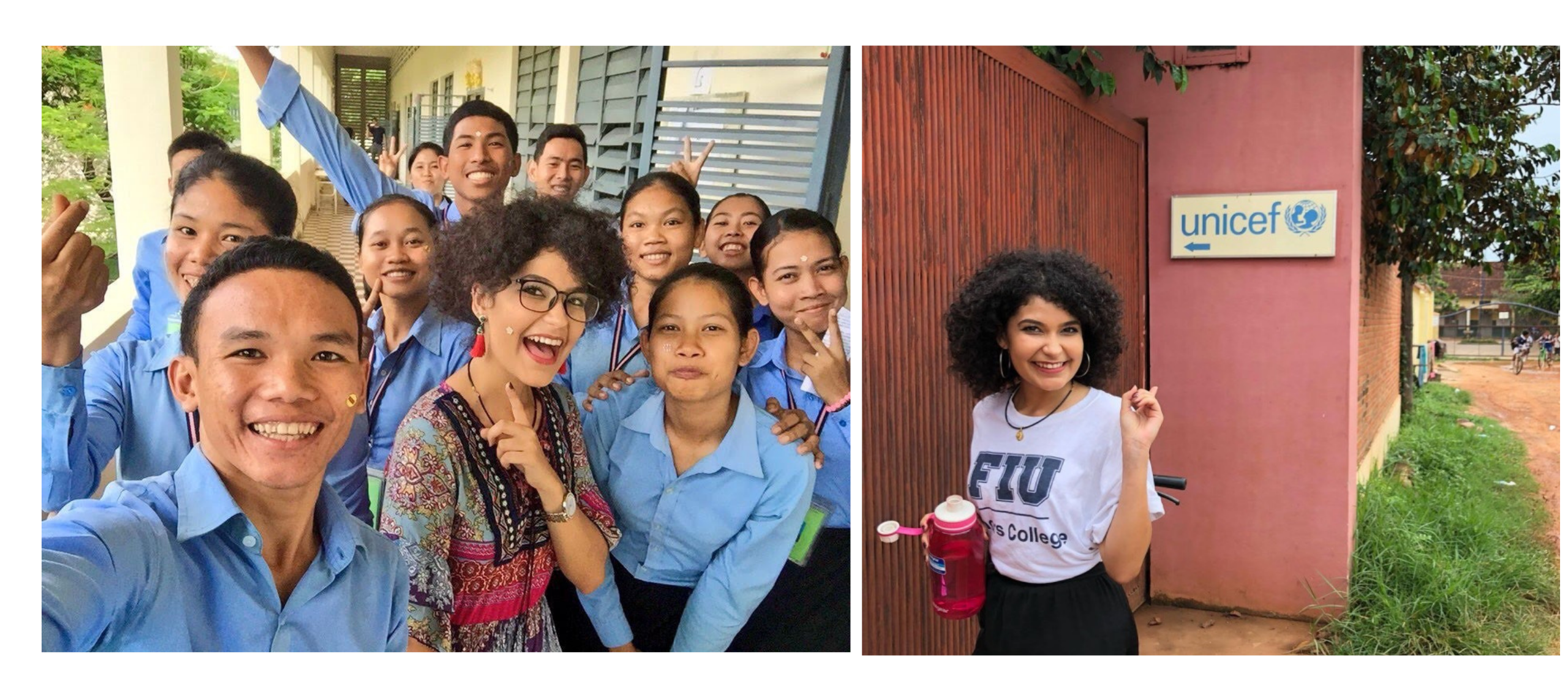 Throughout her FIU career, Anton Lopez was involved in many organizations and opportunities that helped expand her passion, such as becoming a Model UN member, interning with the International Rescue Committee and co-founding a free online tutoring service for students in need during the COVID pandemic.
Courses like Diplomacy Lab, taught by Honors College Professor Brian Fonseca, helped Anton Lopez explore real-world challenges in diplomacy and international relations. She conducted research on how the United States can utilize bi-national education centers in Latin America to help foster better relations between the U.S. and Latin American countries. Students had the opportunity to meet both in-person and over the phone with a variety of public service officials, including the former President of Costa Rica (now an FIU professor) Luis Guillermo Solís, and get their insight. Students also shared their final projects with State Department officials through a virtual presentation and provided actionable recommendations that supported their topic.
Ultimately, the Payne Fellowship will help Anton Lopez achieve her goal of becoming an education officer and work in areas promoting resilience and contributing to peacebuilding processes.
"I'm excited to develop the expertise needed to ensure that youth are not only safe and protected in complex emergencies, but also have the tools and opportunities to positively contribute to development goals." 
Upon graduating, Anton Lopez will become a U.S. foreign service officer with the USAID, working directly with the governments and people of the countries USAID serves to develop and carry out these programs. As an FSO, Anton Lopez will complete tours both abroad as well as domestically in Washington, D.C.
Anton Lopez plans on pursuing a graduate degree in international development with concentrations in international education and humanitarian emergencies. So far, she has been accepted into American University's School of International Service for their master's in international development program and Georgetown University's Walsh School of Foreign Service for their masters of global human development program, and is still waiting to hear back from the George Washington University's Elliott School of International Affairs.
A daughter of Venezuelan immigrants and first in her family to graduate from university in the U.S., Anton Lopez takes pride in being a Payne Fellow.
"As the first Payne Fellow from FIU, I hope other Panthers are inspired to apply for prestigious fellowships and pursue careers with USAID or the Department of State. It has been because of the people I've met at FIU like my mentors who have guided me, the internship experiences that I've done, and the support from the Honors College to do my study abroad that made this possible."