FIU Bacardi Center of Excellence announces Mission New Normal: Bar Project 2021
Nine-week program and competition tasks students with creating a blueprint for the hospitality industry
January 28, 2021 at 8:00am
---
The Bacardi Center of Excellence, a partnership between the Chaplin School of Hospitality & Tourism Management and Bacardi USA, has launched its latest initiative, Mission New Normal: Bar Project 2021.
 
The nine-week program, a combination of online content and live virtual sessions includes a competition and combines academia with industry expertise. The challenge: create a blueprint to redesign the hospitality experience to fit the current pandemic reality. The program kicks off on Feb. 3 and ends with the selection of an Innovation Challenge Competition winner, who will have the chance to bring their idea to life at an exclusive, pop-up activation at the nation's premier food and beverage event, the Food Network & Cooking Channel South Beach Wine & Food Festival presented by Capital One (SOBEWFF®).
 
Culinary experts, enterprising restaurateurs, top mixologists, and hospitality innovators including Andrew Zimmern, James Kent, Akino West, Jamila Ross and Leo Robitshek, will lead workshops designed to inspire innovation and solutions among some of FIU's most talented students.
 
The Bar Project 2021 is an opportunity for students to gain hands-on experience, tackling real industry challenges under the guidance of seasoned experts.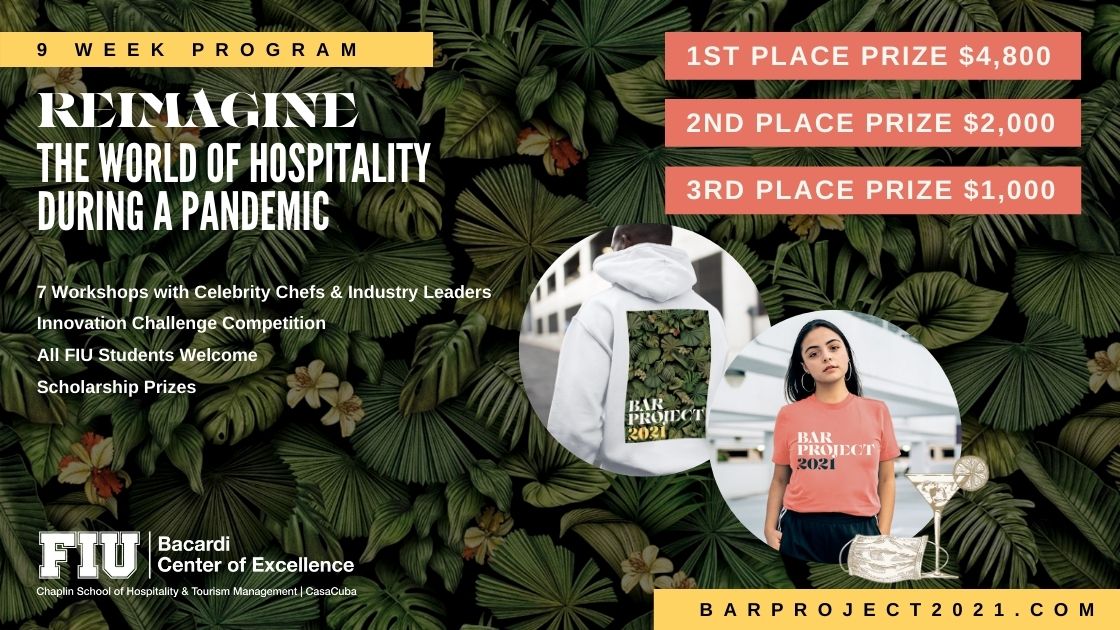 FIU students will complete a series of interactive workshops led by an industry mentor. Every course is tailored to topics pertinent to the world of food, beverage, and hospitality, including sustainability, design thinking, diversity and inclusion, guest experience, data and analytics, marketing and social impact.
 
Students will be challenged to think critically about industry obstacles introduced by the COVID-19 crisis and to create sustainable and innovative solutions, building upon concepts like contactless delivery, mobile ordering, unique outdoor dining infrastructures and alternative payment solutions.
 
"The goal is to inspire students to think creatively about new hospitality experiences that revolve around evolving health and safety regulations, and add value to the bar, restaurant, and hotel industries in a post-pandemic world," said Brian Connors, FIU Bacardi Center of Excellence director. "This tactical challenge is an opportunity for students to play a significant role in shaping the future of the hospitality industry and their community."
 
At the conclusion of the program, the students will use what they learned in a five-day competition, where teams of four students will present innovative business concepts to a panel of industry judges.
 
The judges will select the top three winning teams who best showcase the hospitality industry's "new normal." The winning teams will receive scholarships in the amounts of $4,800, $2,000 and $1,000. In addition to scholarships, the winning team will have a chance to see their concept implemented in FIU's tent at the South Beach Wine & Food Festival®.

The Bacardi Center of Excellence was launched in 2020, following a $5 million gift from Bacardi USA to create a new and unique educational program tailored for the spirits industry.

Students from any bachelor's, master's, or doctoral program at FIU can apply at FIU's Bar Project 2021.