FIU establishes Panther Partnership with Big Brothers Big Sisters to provide mentoring, scholarships
The university has teamed up with Big Brothers Big Sisters of Miami to assist local, college-bound students by providing mentoring support and 20 scholarships.
December 9, 2021 at 3:20pm
---
By Fabio Lopez
FIU has developed the Panther Partnership mentorship and scholarship program with Big Brothers Big Sisters of Miami (BBBSM).

The program will launch with 20 university-bound 10th, 11th, and 12th graders, "Littles," who will each be awarded a Florida Prepaid scholarship to FIU. Each Little will be paired with an FIU mentor, or "Big," who will provide exposure to a variety of career pathways through monthly visits on campus.

During December, FIU will select 20 faculty and staff to serve as mentors, who also will have specific internship and community engagement opportunities through BBBSM in the areas of academic enrichment, career pathways, digital literacy, health and wellness, and music and the arts.

The program, led by FIU's Diversity Equity, and Inclusion division in collaboration with the Student Access and Success' Education Effect, emphasizes student retention as a key focus for both FIU and BBBSM as the goal is to not only open a path for Littles into higher education but to also ensure their success and graduation from an institution such as FIU.

"This partnership is critical in our effort to ensure that FIU remains accessible to all eligible students in our community," said President Mark B. Rosenberg. "As we strive to increase our research and academic standing nationally, we are focused on remaining true to our roots and our mission which are firmly planted in our community."

Gale Nelson, president, and CEO of BBBSM, explained the partnership's goal is to have a generational impact via education and career readiness. He also highlighted how the location of the program keeps students within South Florida, allowing them to give back to their family and community.

"Our goal is educational success. We want our Littles to graduate and finish in four years. We want them to see the opportunities that are in South Florida. They can stay in South Florida and have meaningful employment and take care of their families," Nelson said.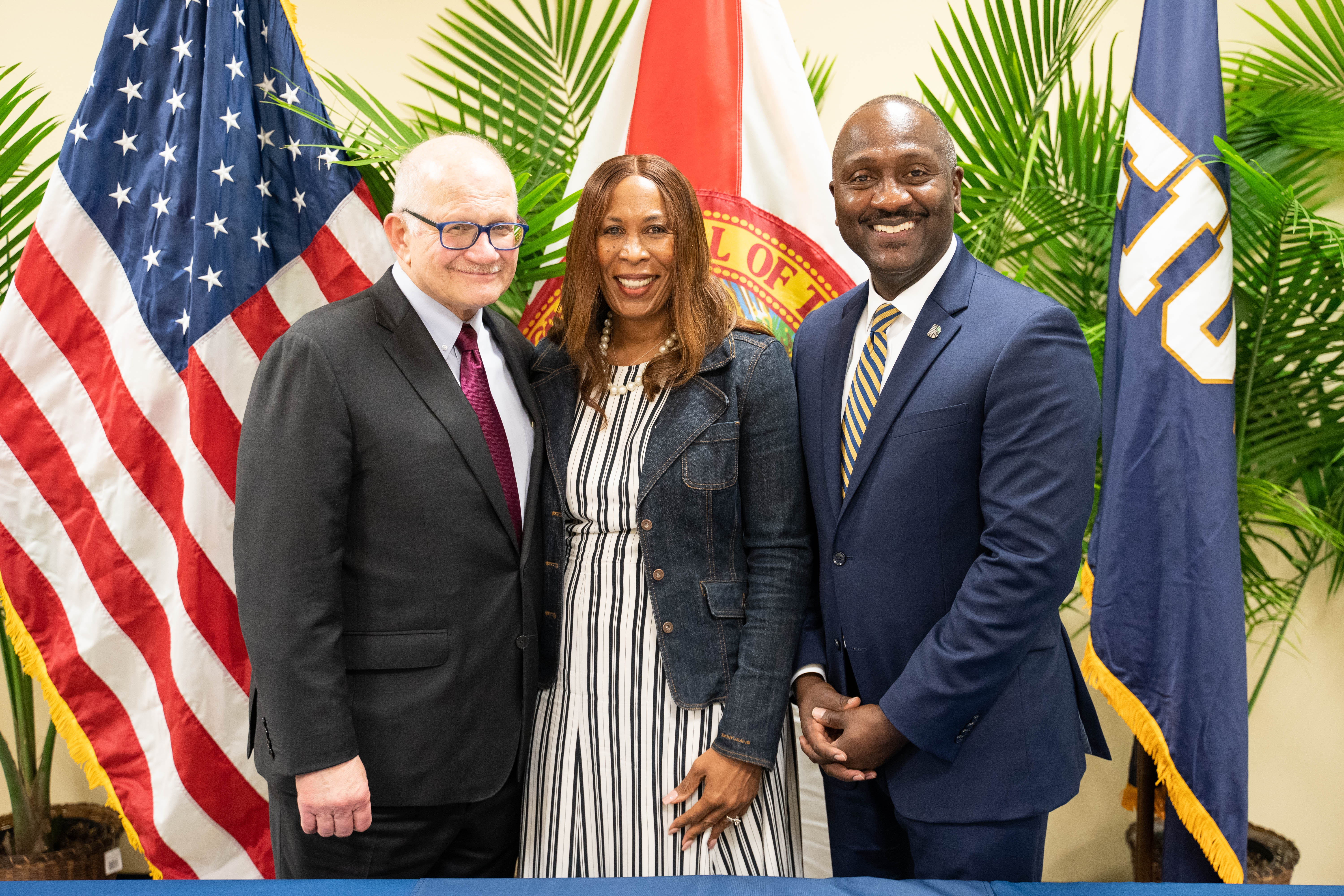 Asim Pleas, director of Education Effect at the Office of Student Access and Success, will serve as the program's liaison. Pleas' role is primarily focused on recruiting and identifying the Bigs that are best suited to take a part in the initiative. Pleas and the BBBSM team plan to onboard the Bigs during December and have them matched to Littles as soon as possible, in preparation for the start of the program in January – which is also National Mentoring Month.  
"We know there are many barriers students face when coming from marginalized communities, but when given opportunity, we also see them accomplishing amazing things. Whether it be academic achievements while in school, or with starting a career, we want to highlight those accomplishments," Pleas said. 
BBBSM has a long history in South Florida, dating its origins back to 1958. Its ultimate goal is to empower Littles to achieve success in their personal and academic lives via a one-to-one community-based mentoring model. The organization is rooted and grounded in social justice with an emphasis in building mutual trust and respect for Miami's youth. 
Information sessions for faculty and staff who are interested in becoming mentors (Bigs) will take place on Tuesday, Dec. 14, at 2 p.m. and Wednesday, Dec. 15, at 10 a.m, both at SASC 251.
Interested faculty and staff may register at go.fiu.edu/BBBS, even if they cannot attend either information session. For questions, contact Asim Pleas at apleas@fiu.edu.