Medical student discusses research on women's vulnerability to COVID-19 on Academic Minute
---
On Tuesday, March 9, Academic Minute ran a segment featuring FIU medical student and researcher Chitra Gotluru.
Gotluru and Allison Roach, fourth-year medical students at the Herbert Wertheim College of Medicine, reviewed more than 100 studies and the Global Health 50/50 database and found that women who have just given birth or are menopausal are at a higher risk of dying from COVID-19.
Click here to listen on Academic Minute: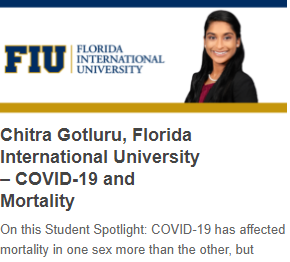 Produced by WAMC Northeast Public Radio, Academic Minute airs on 70 stations around the United States and Canada and features researchers from colleges and universities around the world discussing their work. Segments also are shared through Inside Higher Ed. 
Chitra Gotluru is a 4th-year medical student at the Herbert Wertheim College of Medicine. She serves as president of the Obstetrics and Gynecology Interest Group.