FIU offers vaccines to most vulnerable population served by college of medicine program
There are generally two kinds of people—those who look and those who do not look at the needle during vaccination. Maria Romero is one of the latter. 
Romero looked away as the needle entered her arm, depositing a second dose of the Moderna COVID-19 vaccine. She is one of many elderly NeighborhoodHELP members vaccinated at FIU after Miami-Dade County Mayor Daniella Levine Cava and the Florida Department of Health allocated 2,000 vaccines to the university.  
The 73-year-old's daughter captured the moment on a cellphone. This was an important event for the entire family. The risk for severe illness and death from COVID-19 increases with age. Risk is also higher in poor minority communities.
"We'd been desperately looking to get her vaccinated," said her daughter, Yamil. "She was on several waiting lists. So, when we got a call from NeighborhoodHELP, we were ecstatic."
NeighborhoodHELP is short for the Green Family Foundation Neighborhood Health Education Learning Program. The program addresses the social determinants of health—conditions in the environments where people are born, live, learn and work that affect health outcomes. It is at the core of the Herbert Wertheim College of Medicine's (HWCOM) community service mission. Program members receive health care and other services from HWCOM faculty, outreach workers and students. 
"The households we serve are in communities that contain the most vulnerable, at-risk populations," said HWCOM Dean Dr. Robert Sackstein. "When we saw the opportunity to vaccinate our NeighborhoodHELP household members as part of the FIU vaccine effort, we jumped on it."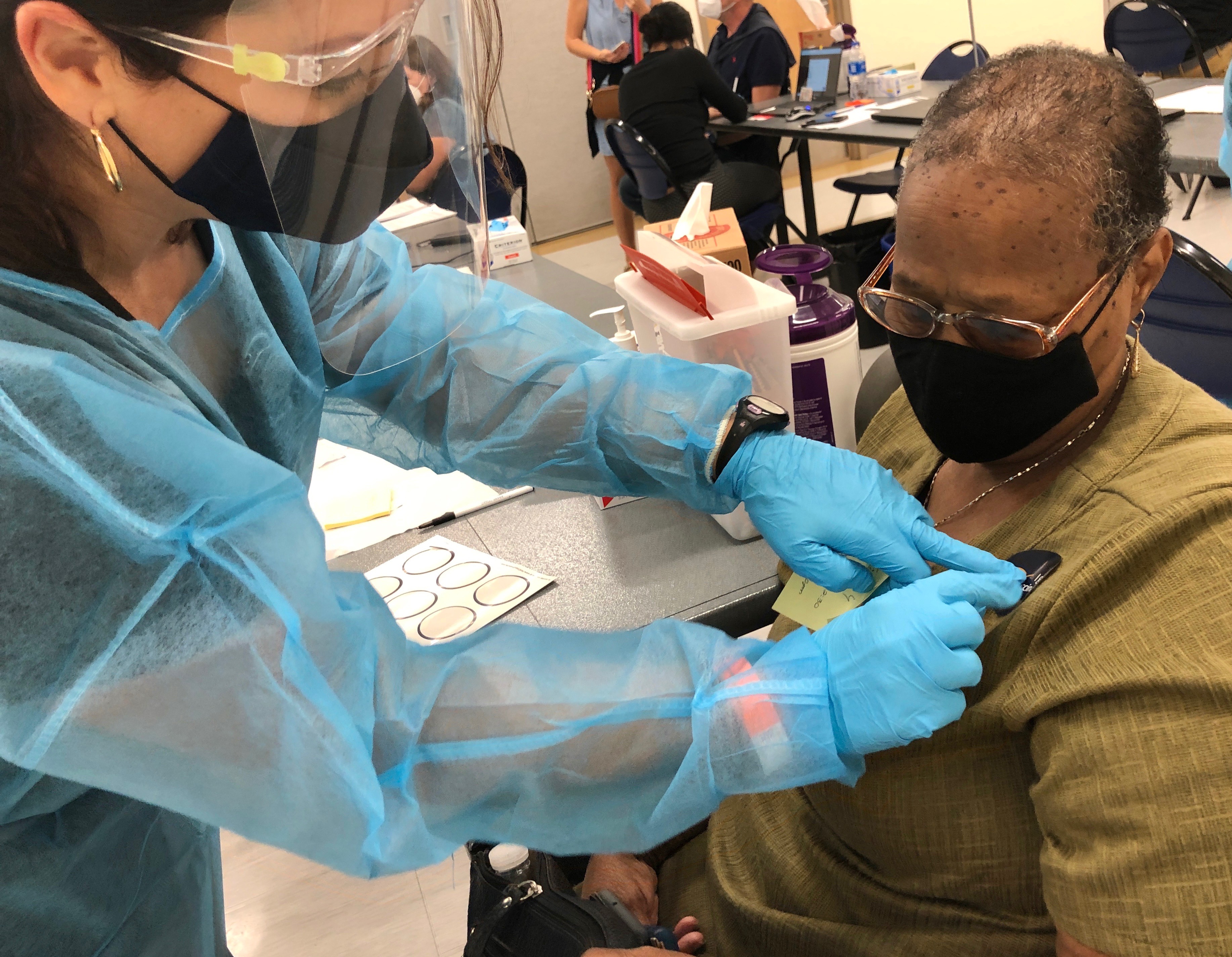 Marie Pericles, 71, also got vaccinated at FIU. The Miami Gardens resident wants to make sure she doesn't get COVID-19 again. She and her husband each spent more than a week in the hospital last year battling the novel coronavirus.
"This is extra protection, so I don't have to worry," Pericles said. "But I'm still going to wear a mask and wash my hands and all that."
However, not all of the NeighborhoodHELP household members who were offered the vaccine wanted it.
"There is still apprehension and concern, particularly in the Black community," said Dr. Cheryl Holder, the college of medicine's interim associate dean for diversity, equity, inclusivity, and community initiatives. Holder is working with churches in South Florida's Black communities to hold Zoom and Facebook Live informational sessions about COVID-19 and the vaccines.
Dr. Fred Anderson, medical director for HWCOM's Mobile Health Centers, feels the best way to counter vaccine reluctance is to give his patients as much information as possible so they can make an informed decision. He and HWCOM medical students participate in community forums to answer questions and allay fears about vaccination.
"Many people are hesitant. They feel the vaccines were rushed," Anderson said. "We tell them that despite reports of some severe reactions, millions of people have been safely vaccinated. And we encourage them to get vaccinated."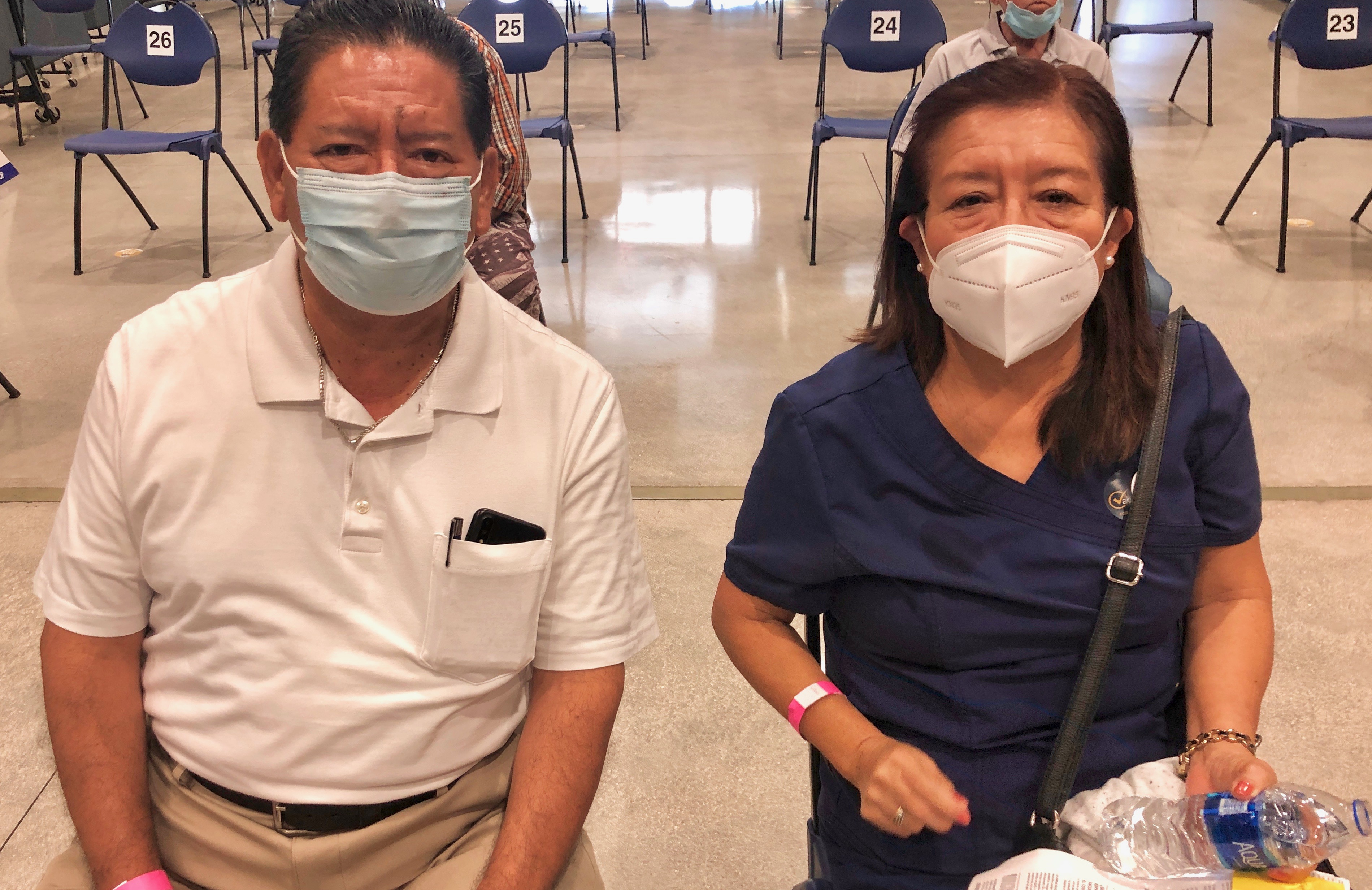 Tomasa Ayasta said she knows people who are afraid "because of what they see on television." But she and husband Juan Cerron, both 67, said they were "happy and relieved to get vaccinated thanks to NeighborhoodHELP."
As part of HWCOM's holistic COVID-19 response, NeighborhoodHELP teams provide tutoring services for school-age members, deliver groceries for households with food insecurity, and distribute masks and COVID-19 prevention flyers. They also provide blood pressure measuring devices for patients with hypertension. Diabetics receive glucometers so they can monitor their own blood sugar. And patients at risk for respiratory complications get their own pulse oximeter to test blood oxygen. Low oxygen levels can be an early sign of infection. Out of more than 2,000 NeighborhoodHELP members, only one is known to have died from the novel coronavirus.
The pandemic has curtailed in-person visits from the NeighborhoodHELP team. Instead, medical students and doctors hold regular telemedicine calls with their household members.
"Even when I was in the hospital [with COVID], they called me on the phone," Pericles said. She still talks to her doctor and Mike, her assigned medical student, once a week. "I reserve Wednesdays for that. Between 11 and 12, that's my time." Pericles said she'll miss Mike [Valente], who is graduating in April. But she's looking forward to meeting the next medical student assigned to her household.
"Our medical student engagement with the households we serve continues from one graduating class to the next, and nothing can be more important in this pandemic than the consistency of attention and the continuity of care and services," Sackstein said.