FIU partners with Dream in Green to mentor STEM-focused high school students
---
FIU's School of Architecture (SOA) teamed up with Dream in Green for the third year to mentor high school students participating in the Dream in Green Design & Build Competition – a contest that has students designing concepts to lead in the response to climate change.
Dream in Green is a nonprofit organization that works with schools, households, local governments and businesses to reduce their global footprint. Through partnerships with community members, Dream in Green develops, implements and oversees educational programs workshops that promote environmentally sustainable behaviors among all age groups, with a particular emphasis on K-12 students. 
This year, Dream in Green had Design & Build Competition participants look at how designing for buildings along the coast differs from designing inner-city structures because of sea-level rise. And the current SOA student mentors were all too happy to lend their expertise in the matter to the high school teams. 
"This is familiar territory for our students," says Landscape Architecture + Environmental and Urban Design (LAEUD) Department Chair Roberto Rovira. "LAEUD students are trained to think creatively and find sustainable solutions that are sensitive to the environment and community. Together, with student mentors from FIU Architecture, they helped frame the design challenge and guided the high school teams through an exciting learning opportunity of great relevance to our vulnerable South Florida region. We love collaborating with Dream in Green and seeing how our FIU School of Architecture student mentors can work with talented high school students to develop innovative coastal adaptation design solutions."
This year's Design & Build Competition had seven participating high schools, 11 teams and 14 FIU student mentors.
FIU student mentors were each matched with the different high school teams and took the concept they have learned in their own design studios to guide the students as they crafted 3D models, conducted an area study and put together a final presentation to display at the Design & Build Competition virtual event.
"Our mission is to empower individuals, especially youth, to lead in their response to climate change and other environmental challenges facing South Florida," says Barbara Martinez-Guerrero, executive director of Dream in Green. "By partnering with LAEUD specifically, it gives us the ability to impart knowledge and spark interest in a challenge that we're going to have to face – what is Miami and South Florida going to look like, physically, due to sea-level rise? Dream in Green allows us to engage high school students and get them all ready thinking about careers that can potentially solve these types of questions."
Rovira served as a final judge, along with a panel of other design professionals, to help decide the three winning teams.
The first-place design came from the Coral Reef Senior High School team.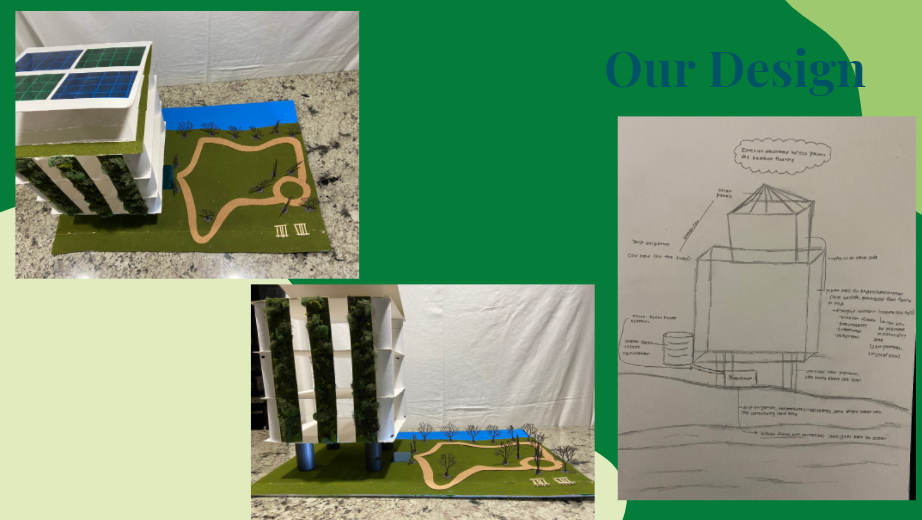 "The winning team was not only able to design a structure that includes adaptations to physical threats like sea-level rise, but they also took into account the socio-economic threats by designing for those communities most at risk to climate change," Martinez-Guerrero says. "These students exemplify the environmental stewards Dream in Green is aiming to shape to help solve local environmental problems through education that is relevant and pressing to our community.
"This collaboration and design competition is really about giving students the opportunity to take their learning beyond the classroom – and what better way to do that than to connect with FIU which is leading specifically in this field," Martinez-Guerrero adds.
The Design & Build Competition virtual event took place on Feb. 27 via Zoom.