How will we live together in the future? Architecture faculty, students present innovative ideas at 2021 Venice Biennale
Architecture professors and dozens of students will exhibit their work at one of the most prestigious international architecture events in the world
---
Every two years the architecture world takes over Italy for La Biennale Architettura (Venice Biennale), one of the most prestigious international architecture events in the world with origins dating back to the late 1800s. Thousands of architects, designers and educators flood the streets of Venice sharing their designs and ideas on the built environment with the public. And this year, three FIU architecture professors and dozens of students will exhibit their work on this grand architecture stage.  
The 2021 Venice Biennale architecture exhibition examines how we will all live together, curated by architect and scholar Hashim Sarkis. And considering all the trials and tribulations of the past year—from COVID-19 lockdowns to worldwide social unrest—the theme is especially relevant. It is a question that FIU's award-winning and nationally-ranked School of Architecture (SoA) consistently explores in its work. 
Associate professor Elisa Silva has been studying the topic since 2018 when she, along with her practice in Venezuela, Enlace Arquitectura, started the project Integration in Process Caracas, which set out to bring awareness to underserved barrios in Caracas, Venezuela and integrate them into the rest of the city. 
Many of the barrios in Caracas, despite being home to more than half of the urban population, are not recognized as part of the overall city. La Palomera, for example, is a small residential settlement in Caracas that has existed for almost 90 years but has no road signs indicating its address.  
As part of the project, Silva and her team created an exhibition Ciudad Completa (The Complete City): La Palomera, recognition and celebration, where artists, journalists, designers and educators all came together to question the stigmas associated with the barrios and highlight their value through gardens, walks, art, events and celebrations.  
Being featured in this year's Biennale is one aspect of Silva's Ciudad Completa exhibition. 
In the barrios, residents have a deep understanding of plants, specifically what each species is used for – whether they have medicinal qualities, are good for cooking or are used to repel insects, animals and bad smells. This knowledge is becoming increasingly scarce, so Silva and her team created a mapping of the gardens in La Palomera and produced an ethnobotanical dictionary, detailing the stories and origins of 260 species of plants.   
To bring this dictionary to life, Silva created a trail-like view of La Palomera and its various gardens where all 260 species of plants can be found. The model was cut at FIU's Miami Beach Urban Studios (MBUS) with the help of about a dozen architecture students.  
"This whole project was always about integrating a city that is not integrated, and it is a case study for Caracas, but it could be any city worldwide," Silva said. "We have very fragmented cities all over the world that have inequality embedded in the territory and this project is very much about paths and avenues for living together in a healthier way that allows people to grow their minds while also growing their city maps."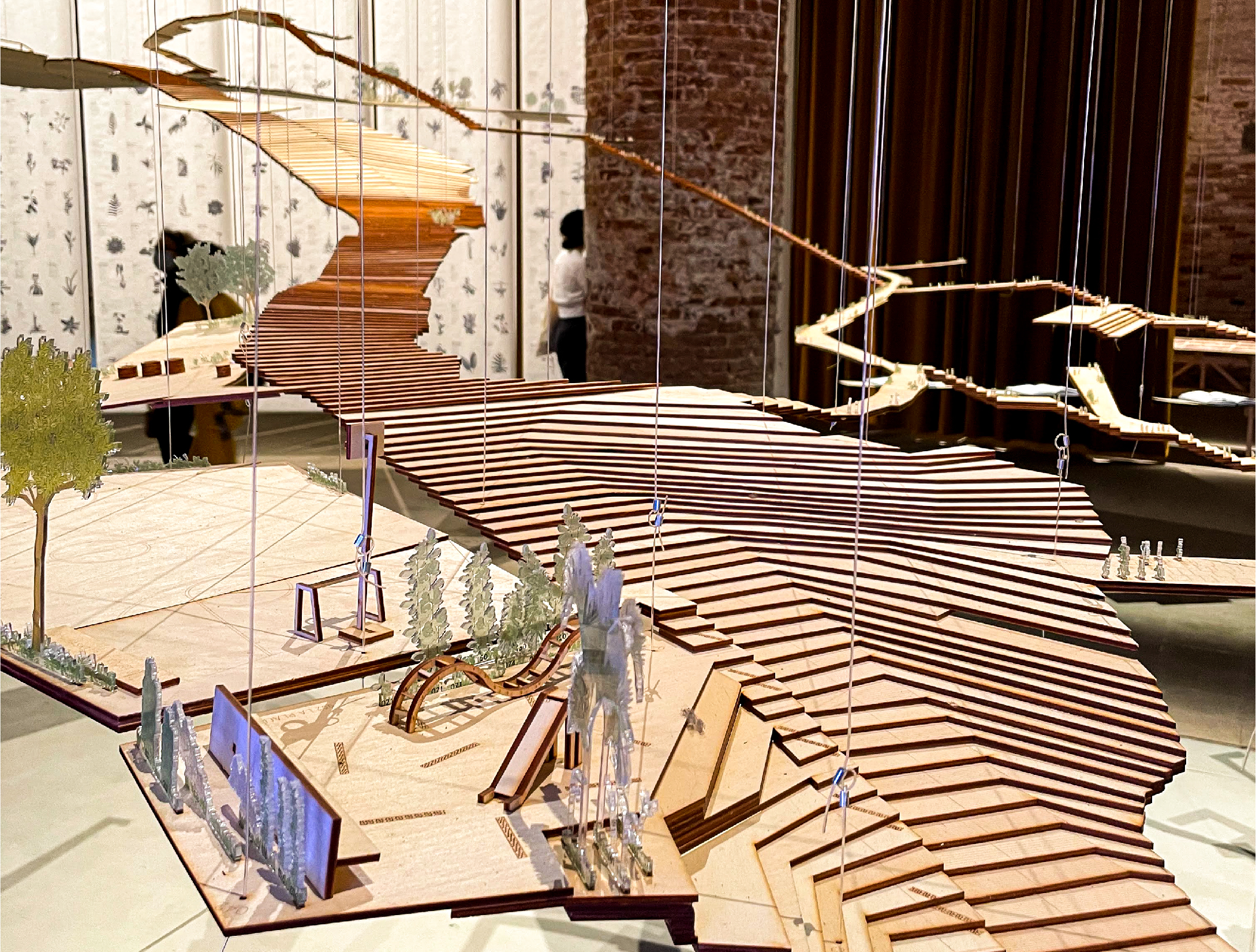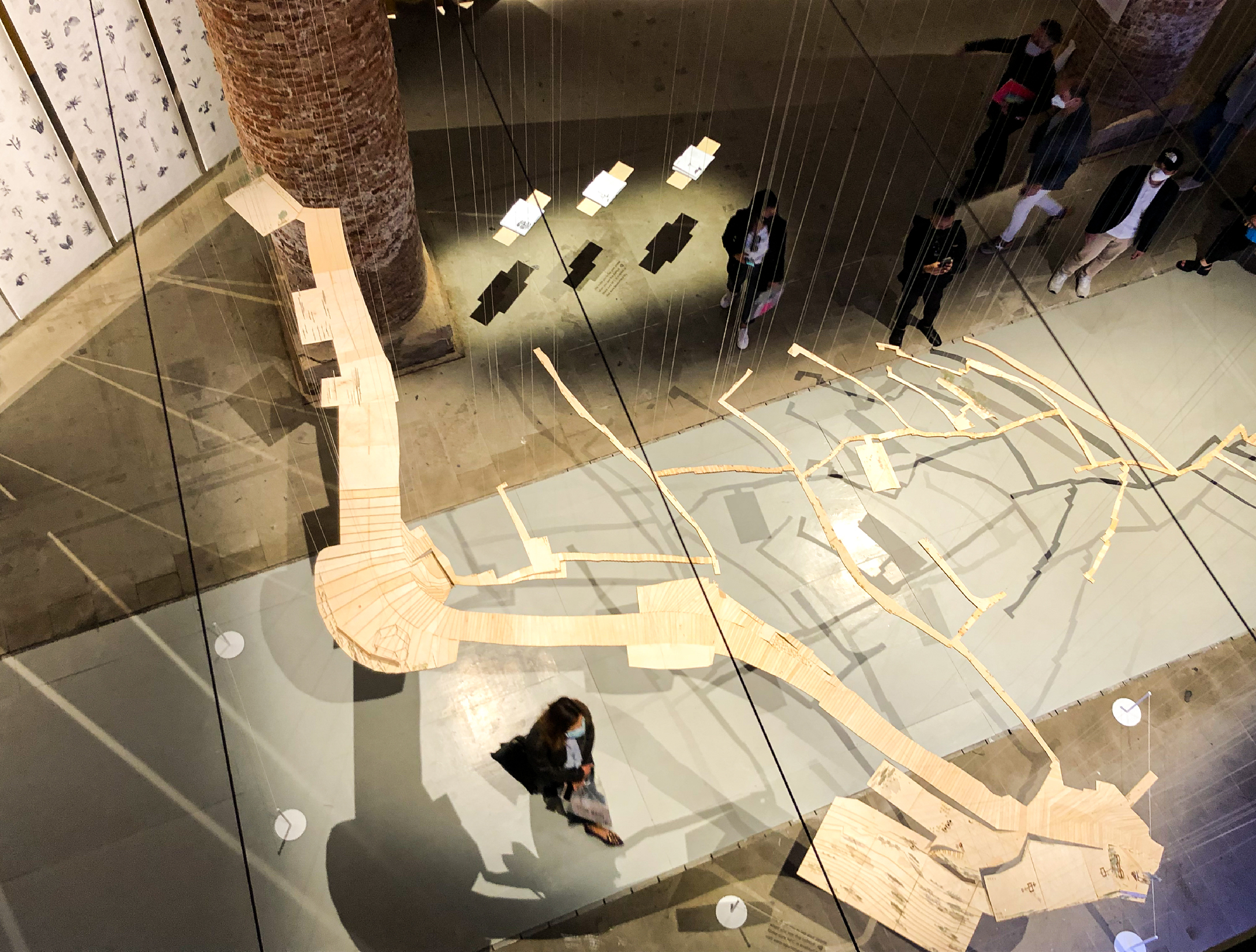 Eric Goldemberg, associate professor for the Department of Architecture, is exhibiting his work along with his students' work at four Venice Biennale architecture exhibitions, which will all take place at the Italian Pavilion. 
Goldemberg's work studies how we will all live together starting at the microorganic level and challenges the traditional bounds of architecture to explore the world beyond the built environment.  
One of his installations, Borboletta—designed with his professional practice MONAD Studio and wife Veronica Zalcberg and in collaboration with Alessandro Melis, curator of the Italian Pavilion—studies the integration between microbiology, biodiversity and architecture through a series of projections and a 3D model that was also printed at MBUS.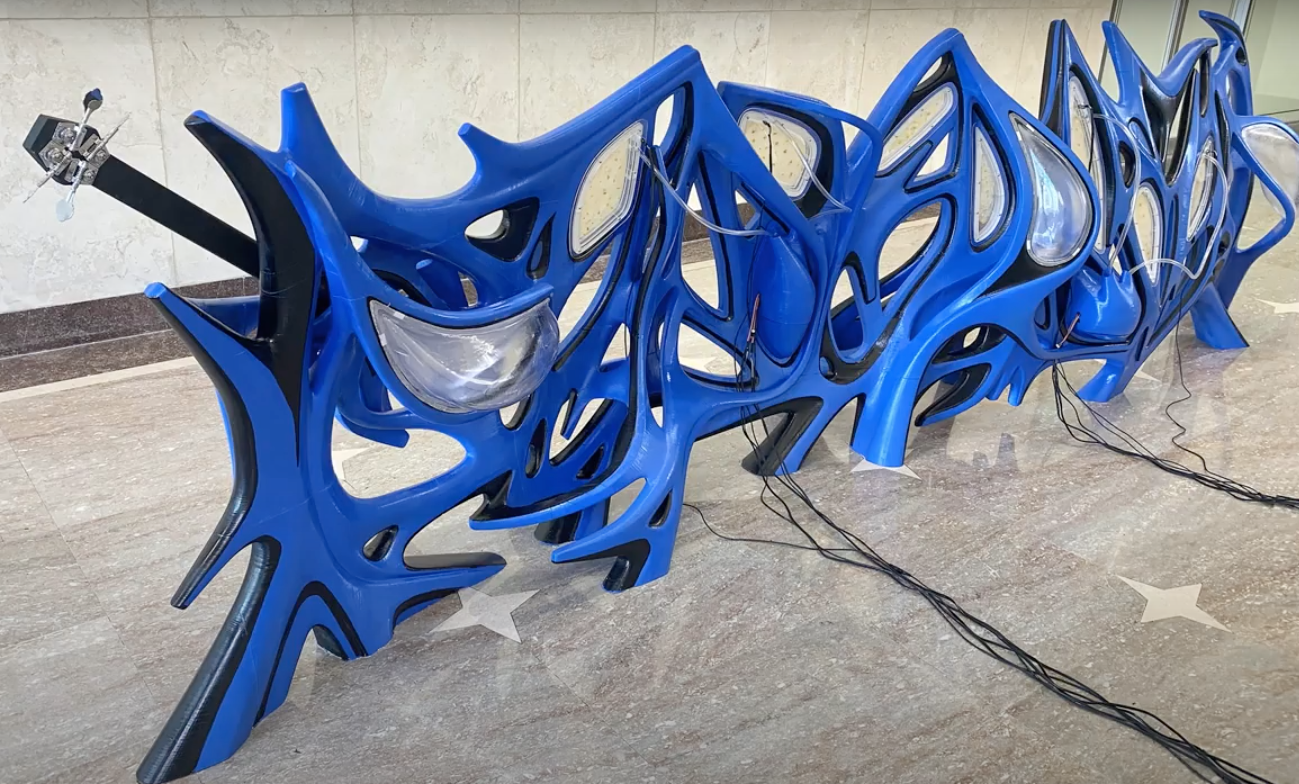 The model, currently located at MBUS, consists of four integrating entities that represent the essential ingredients of a future resilient ecosystem: a variable scaffolding structure that allows interaction with the human body; the sensorial environment represented by the sonic integration of a 3D-printed guitar; and the Arduino feedback systems, the self-sufficient habitat oriented to the proliferation of biodiversity (multi-layered windows); and the climate responsivity of the system, through the expansion and contraction of an acellular mass of creeping gelatinous protoplasm containing nuclei (slime mold). 
"Architecture is not just for people," Goldemberg said. "It is for all sorts of organisms. Because without them, we cannot achieve the balance needed to sustain ourselves. We are beginning to celebrate and explore architecture that cultivates other forms of life." 
This same aspect of preserving biodiversity bleeds into the work he and 12 of his graduate architecture students are displaying at City X Venice - an exhibition that aims to "investigate and identify dynamics of change and engagement with nature." 
Goldemberg and his students designed and 3D-printed artificial coral reefs to help repopulate the earth's oceans with thriving coral reefs, which in turn protect cities from sea-level rise, storm surge and other threats.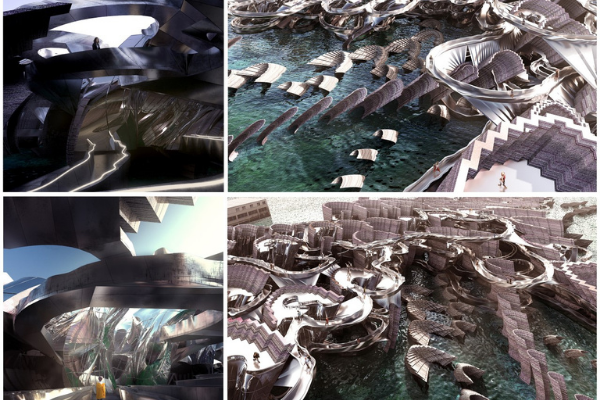 Goldemberg's exhibition, FEEDBACK – It's About Time! - which he is curating himself - will also feature the work of two more FIU Architecture faculty members, Neil Leach and Biayna Bogosian. The exhibition explores the notion of rhythm in architecture and is on display both virtually and in person starting Aug. 3, 2021.   
Thomas Spiegelhalter, professor for sustainable and resilient architecture at FIU, explores Sarkis' theme through the planning and implementation of a carbon-neutral future. 
Climate change is one of the defining issues of our time, with scientists and researchers, like Spiegelhalter, working non-stop to help us get a better handle on the situation. 
His research program, Climate Resilient Urban Nexus Choices (CRUNCH), sponsored by the European Union, Horizon 2020 and the National Science Foundation (NSF), explores carbon-positive sea-level rise and heatwave adaptation scenarios due to climate change in Miami Beach and the City of South Miami. 
The exhibition, Carbon-Positive Buildings, Green-Blue Infrastructure Scenarios 2018-2100, displays three years of CRUNCH research and design studio work, from the Miami team and more than 100 students, on boards, animations, videos and two beta Integrated Decision Support Systems application for citizens and professionals.   
CRUNCH's Carbon-Positive Buildings, Green-Blue Infrastructure Scenarios 2018-2100 is currently on display at The Miami Center for Architecture & Design (AIA Miami) and will show at the Italian Pavilion at the Venice Biennale beginning September 2021 along with an international expert panel on Synthetic Biology for Carbon-Positive Architecture with Autodesk Life Science microbiologists and geneticists on Living Systems.
All projects will be published by FrancoAngeli, Milano, Italy, and Routledge and the U.S.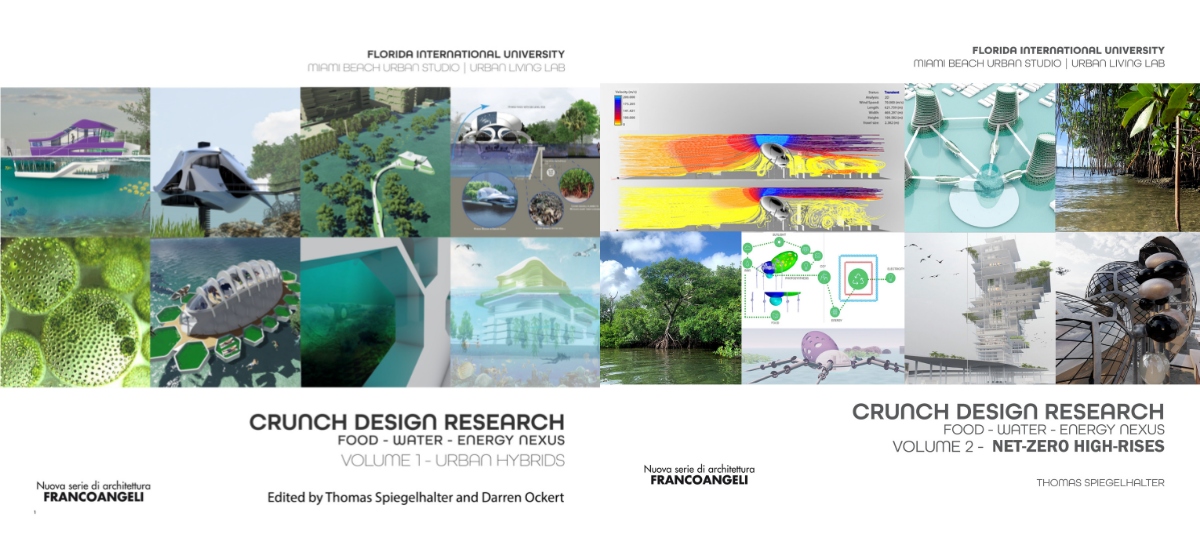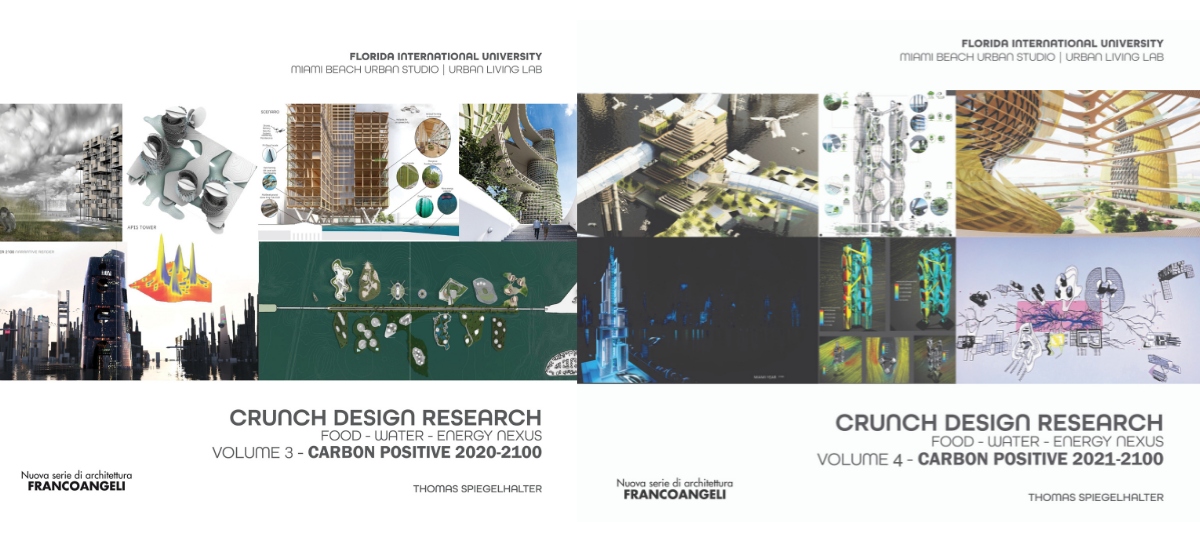 The FIU School of Architecture's invitation to the Venice Biennale comes on the heels of the school ranking No. 2 in Florida and No. 17 nationwide in architecture among public universities by the 2021 QS World Rankings. In 2019, the Department of Architecture and the Department of Landscape Architecture + Environmental and Urban Design were also listed among the top 20 in DesignIntelligence's "Most Hired from Architecture Schools" category.   
La Biennale Architettura runs from May 22 to November 21, 2021, and is available for viewing online and in person.  
Learn more about the Venice Biennale's 17th International Architecture Exhibition or FIU's School of Architecture.  
The curators of City X Venice also chose Goldemberg and his professional studio's Lucid – EXO Grand Piano design to display at the exhibition.