While many enjoyed the holiday weekend by sleeping a few extra hours, 134 FIU students chose to give back by participating in Saturday's annual MLK Day of Service.
Recognized as a national day of service, the program honors Martin Luther King Jr.'s teachings by bringing volunteers together to learn about our community's social issues and find ways to create solutions.
"When students have the chance to make that connection, they become changemakers and truly live the value of responsibility that FIU entrusts in all Panthers," said Amanda McDole, assistant director for the Center for Leadership and Service, and lead organizer of the MLK Day of Service.
This year's MLK Day of Service featured a dual-modality, thereby opening up a door of new opportunities for everyone. The new format permitted FIU students to come to campus for in-person projects, but also gave students the option to complete service projects remotely.
Led by Panther Community Action Board student facilitators, a small group of students completed beautification projects around the wetlands sections at the Modesto Maidique campus, while others created masks, and organized food donations in the Graham Center to benefit Lotus House.
Keeping everyone's health a priority, students participating in on-campus projects were required to complete the P3 app before entering campus, wear masks for the entirety of the event, and follow all CDC guidelines.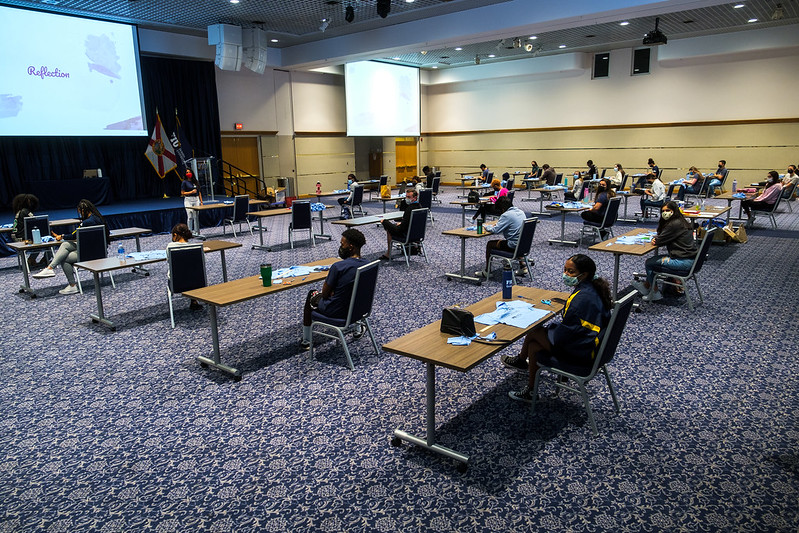 Meanwhile, virtual program options included assisting the Humane Society of Greater Miami by creating dog toys, and supporting the financial literacy efforts of the Junior Achievement of Miami.
As a first-generation student and a proud child of immigrants, Janelle Acevedo a senior studying Anthropology with undergraduate certificates in Public Policy and Women & Gender Studies, understands the importance of learning financial literacy. Like many, she admits struggling with her finances during her first year of college.
"The MLK Day of Service gave me a chance to give back to those who are not typically given access to financial literacy within our own South Florida community and help build a bridge between formal and non-formal education for our youth," said Acevedo, director for the Panther Community Action Board and returning volunteer.
The MLK Day of Service is part of the annual MLK commemorative celebration held each year at FIU. Learn more here. 
Take a look at the event's complete photo alubum here.