My first internship at one of the largest wine and food festivals in the world
FIU Hospitality student recognizes her leadership potential at the South Beach Wine & Food Festival®
December 20, 2021 at 12:00pm
---
By Celina Neville
As a shy college freshman, not too sure what to do with a future hospitality degree, a large-scale event was never something I would picture falling in love with. Turns out, the largest wine and food festival in the nation, where I got my first internship, changed all of that.
My experience at The South Beach Wine & Food Festival® started with being a volunteer in 2018. I was a little shy at first, so I chose event support/back of house positions at the Goya Foods Grand Tasting Village® (the largest event out in the sand of South Beach). After experiencing these events for the first time and the networking opportunities that I was able to gain, I immediately knew I'd want to do it again...and again...and again. As someone unsure of what I wanted to do with my hospitality degree, the Festival essentially broke it down for me. As a volunteer, you get to see and experience several different facets of the industry, ranging from culinary to event logistics. The opportunity to see a mega-event unfold right before your eyes will certainly motivate you.
My second year in 2019 at the Festival changed slightly. I was recommended by one of my favorite professors, Chef John Noble Masi, for a culinary lead position at Best of the Best, one of the more upscale and prestigious events held at the Fontainebleau Hotel. Lead positions at SOBEWFF® entail more responsibility and give volunteers the chance to showcase their leadership skills to event managers and other industry professionals. The position consisted of three days working alongside some of the most notable chefs in the nation and some really talented event professionals with whom I've built great relationships with.
This position helped me recognize the potential I have as a leader. I truly believe SOBEWFF® 2019 brought me out of my comfort zone and pushed me toward a newer sense of self-confidence. After volunteering for a long weekend, I was soon informed that I had been nominated for the Lee Brian Schrager Excellence in Leadership Award by Chef Masi and Maria Garrido, the event manager of Best of the Best. Being nominated for this award was a confirmation of the leadership qualities that I never even dreamed of having.
Fast forward a few months later, I applied to be a recruitment coordinator for the SOBEWFF® Volunteer Program. After a few interviews, I landed the internship position, and I was as happy as can be. I felt as though I had achieved expert SOBEWFF® status. Being a coordinator allows me to work the Festival from a different perspective. Instead of volunteering, I am giving other students the same opportunities I had to help put on the event. Being a coordinator consists of interacting with hundreds of people that are interested in working the Festival. Speaking with new people every day about something I'm passionate about is an incredible feeling, and the fact that it is my job makes it even better.
Aside from placing volunteers in their events, I get to work alongside an unstoppable team of coordinators. I think working in such a tight-knit environment has been my favorite part of the job. Not only are my teammates great coworkers, but they are also now lifelong friends with whom I get to share my passion. As coordinators, we countdown the days to Festival week, where we're essentially on-call because there are so many events taking place.
A few months before the event takes place, we are all assigned events that we are responsible for. My events are the "satellites," which are smaller events scattered around Miami. I consider myself lucky as I was able to become the coordinator for Best of the Best. Our responsibilities week-of include finalizing meal and t-shirt counts for volunteers, confirming positions, meeting with event managers, walk-throughs, and of course, team bonding.
Being a part of such a grand event has been a once-in-a-lifetime experience for me. Ever since I began volunteering (and recruiting), I have certainly countdown the days to Festival week each year. Of course, with the pandemic, it looked a little different in 2021, as the week of SOBEWFF's 20th Anniversary® was pushed back to May 20-23, 2021 and COVID-19 safety protocols were put into place. Despite the obstacles we faced this past year, operating such a large event in a pandemic, I was extremely excited to see how it unraveled into the spectacular event it is known to be.
 1,200 FIU students help run the Festival

The Chaplin School of Hospitality and Tourism Management prides itself on its partnership with The South Beach Wine & Food Festival® (SOBEWFF). The cool thing about SOBEWFF® that catches the attention of [literally] thousands of students at FIU, is that we can participate and help operate the Festival. The program gives students a great chance to build their resumes and develop professional skills that they can't get anywhere else.
No matter your background, there are several positions that you can sign up for, including culinary, front and back of the house, and lead positions. While anyone can volunteer, FIU students are offered the special opportunity to receive a scholarship based on an hourly rate. In other words, FIU "volunteers" are paid to work. Aside from earning a scholarship, volunteers are able to gain hands-on industry experience while being immersed in a star-studded, week-long event on the beach. Being able to work alongside Guy Fieri or Rachel Ray certainly is a job to brag about.
The volunteer program is still accepting applications. SOBEWFF takes place Feb. 24-27, 2022 and COVID-19 protocols must be followed to participate. Sign up using this link and meet with one of our recruitment coordinators to volunteer at the largest wine and food festival in the nation!
---
Email: volunteers@sobewff.org
Sign up to volunteer: https://sobewff.setmore.com/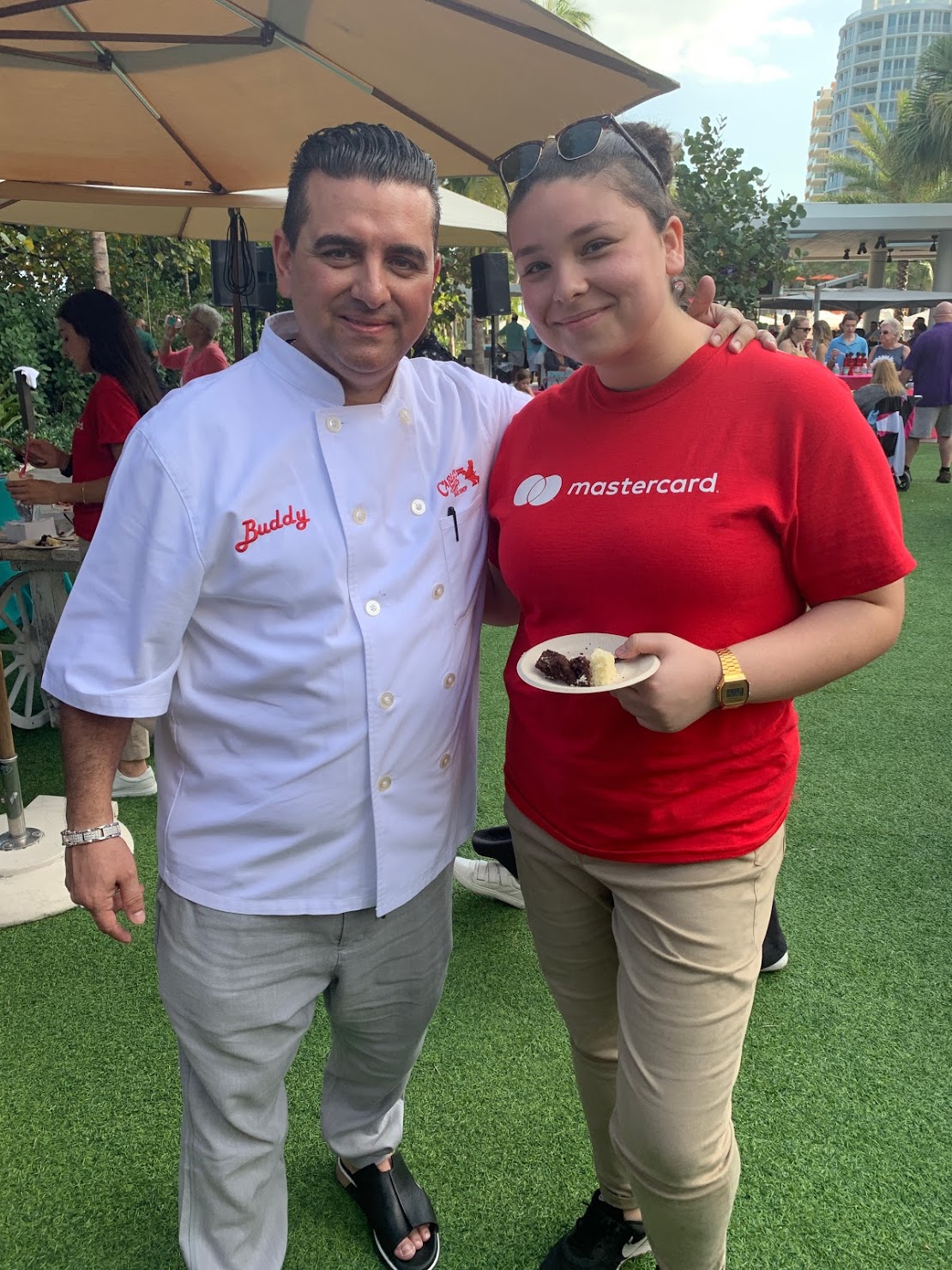 Celina and "Cake Boss" Buddy Valastro in 2019.
Celina Neville interacts with hundreds of people as a SOBEWFF® Recruitment Coordinator.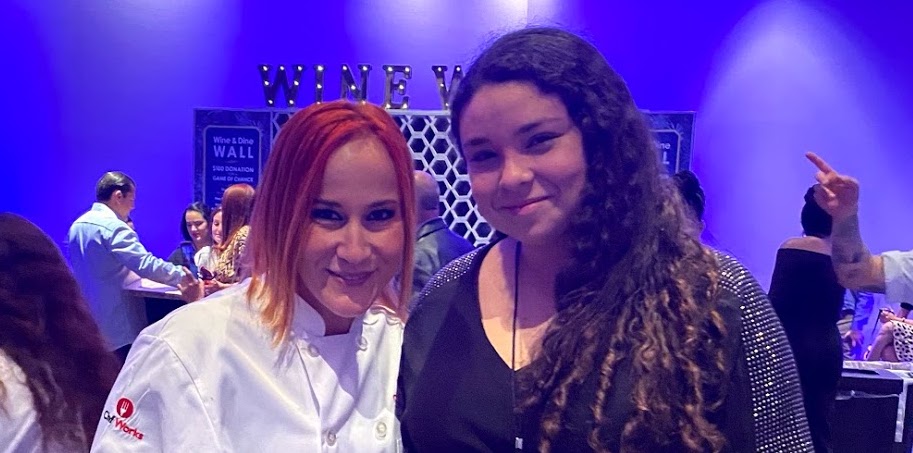 Celina with local, South Florida Chef Adrianne Calvo.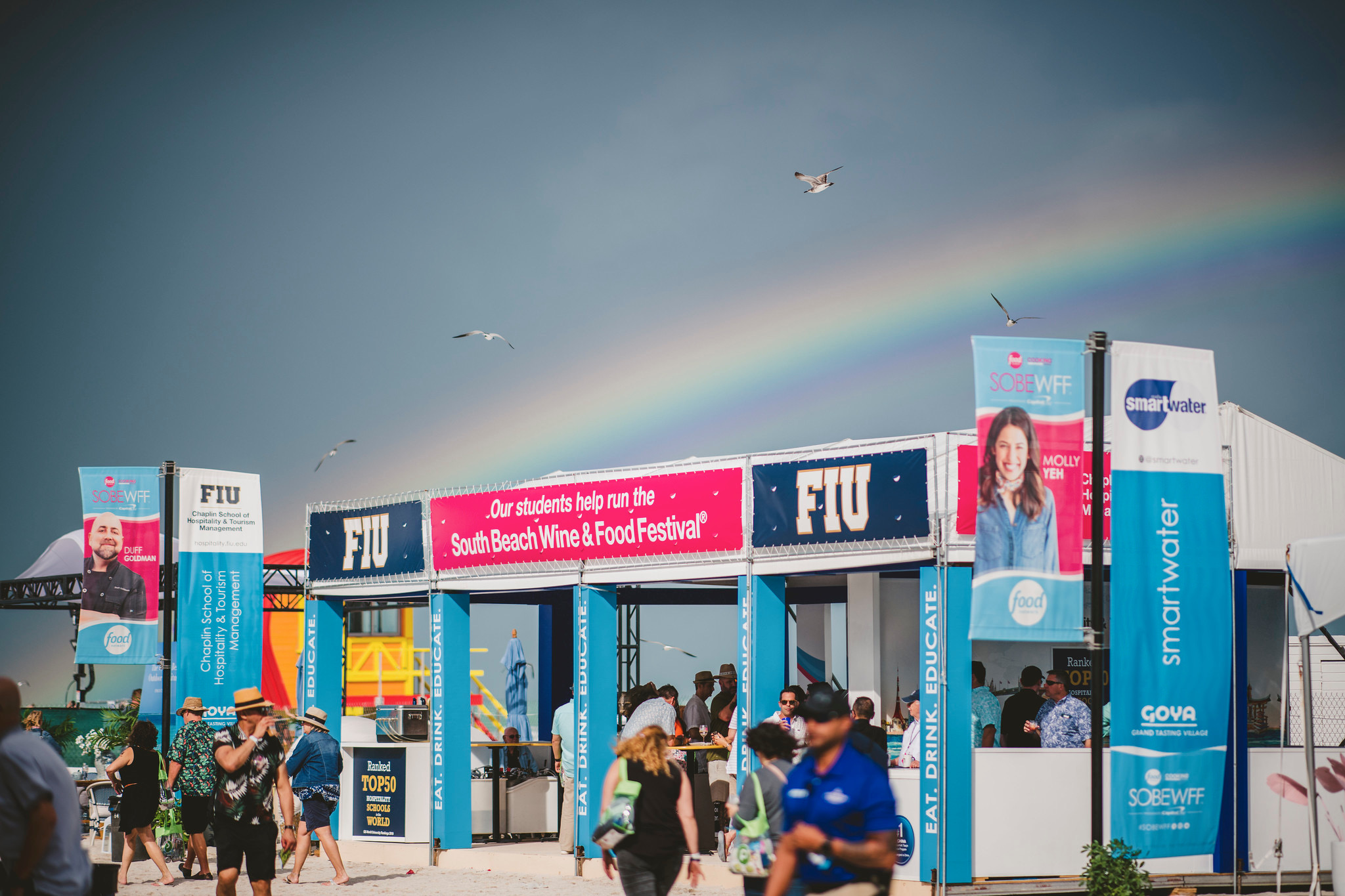 1,200 FIU students help run the world's largest gourmet wine and food festival every year, the Food Network & Cooking Channel South Beach Wine & Food Festival presented by Capital One.