NeighborhoodHELP: Caring for vulnerable communities during the pandemic
FIU's NeighborhoodHELP mitigates challenges faced by underserved communities due to COVID-19.
The COVID-19 pandemic has had a dramatic impact not only on our health but also on our day-to-day lives. And minority populations—like those served by FIU's Green Family Foundation Neighborhood Health Education Learning Program (NeighborhoodHELP)—have been disproportionately affected.
A report just published in the Journal of Health Care for the Poor and Underserved details the pandemic's impact on more than 850 underserved NeighborhoodHELP households in Miami-Dade County and how the FIU Herbert Wertheim College of Medicine intervened to mitigate the impact.
"The virus has been described as a great equalizer because it indiscriminately affects everyone regardless of race, creed or socioeconomic status," said Dr. Nana Garba, the study's lead author. "However, minority communities have undoubtedly felt the brunt."
Garba, assistant professor in the Division of Family and Community Medicine, supervises student household visits for NeighborhoodHELP.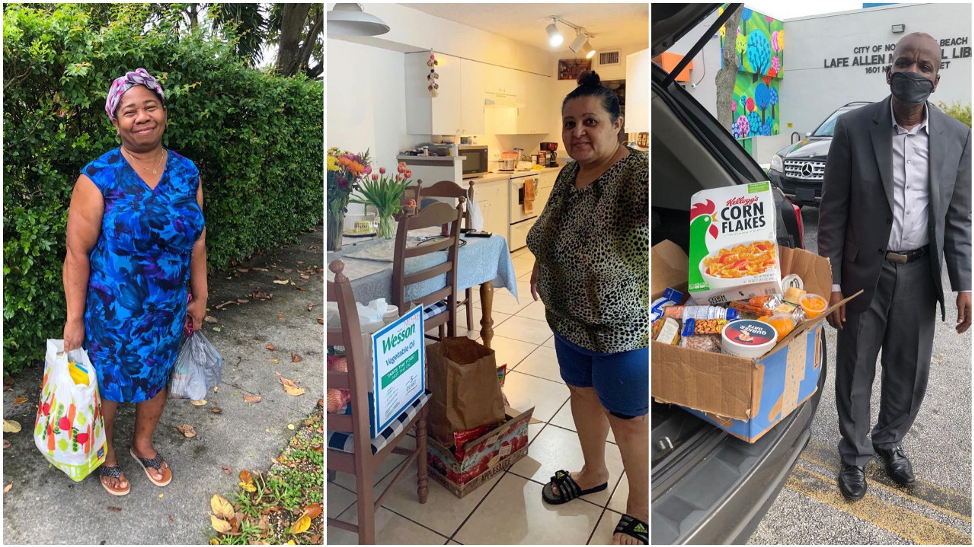 Weekly calls
Cognizant of the profound impact COVID-19 could wreak on this vulnerable population, the NeighborhoodHELP team took action. On March 1, 2020, a month before Florida Governor Ron DeSantis ordered a 30-day stay-at-home order, NeighborhoodHELP students, faculty and outreach staff began weekly calls to households to assess their social and health care needs.
"Even when I was in the hospital [with COVID], they called me on the phone to check on me," said Marie Pericles, a NeighborhoodHELP household member since 2013.
"We asked about everything from their physical and mental status to whether they could afford facemasks. And we used every opportunity to educate them on how to protect themselves from the virus," said Virama Oller, director of the NeighborhoodHELP Outreach Team.
"Prevention education is critical because minorities—Blacks and Hispanics—and those with socioeconomic disadvantage experience health disparities and social conditions that put them at higher risk for contracting the virus," said Dr. David Brown, chief of Family and Community Medicine.
NeighborhoodHELP is the signature program of the Herbert Wertheim College of Medicine. It is a service-learning program that immerses medical students in the community. Alongside nursing, social work and physician assistant students, they learn firsthand about the social determinants of health. Socioeconomic factors like poverty, education, employment and access to services can affect health and health outcomes. The program also offers health care services in the home and at mobile health centers. But, due to the pandemic, in-person services were temporarily paused. 
Addressing household needs during the pandemic
NeighborhoodHELP responded to COVID-19 holistically. The team distributed thousands of masks, flyers with prevention tips, delivered food to households with food insecurity and helped members apply for financial assistance. In addition, medical students led tutoring sessions for school-aged children.

When the pandemic curtailed household visits (except for homebound patients with special medical needs),  medical students and doctors launched virtual telehealth visits to stay in touch with patients. In addition, patients with chronic conditions like hypertension, diabetes and respiratory problems received medical devices to measure their blood pressure, blood sugar and blood oxygen levels at home.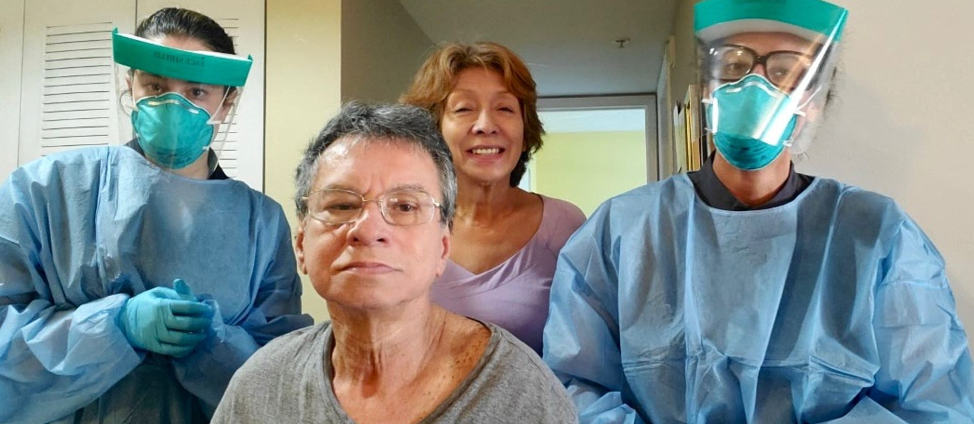 As vaccines became available, NeighborhoodHELP faced another challenge— combating vaccine apprehension. Students, faculty and staff participated in community forums to answer questions, allay fears and encourage vaccination. And in collaboration with the FIU Vaccination Site, they invited elderly NeighborhoodHELP patients to get vaccinated.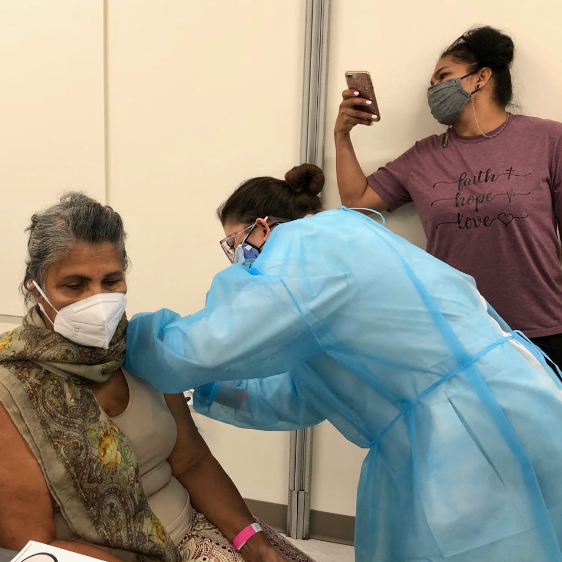 Maria Romero, 73, was one of the first to take advantage of the opportunity. She had been desperately looking to get vaccinated.
"She was on several waiting lists. So, when we got a call from NeighborhoodHELP, we were ecstatic," said her daughter, Yamil.
Lessons learned
Racial and ethnic minorities have been more susceptible to the virus for many reasons. They often work in essential high-risk jobs, live in smaller households with less room to socially isolated should a family member become infected, and have a higher rate of comorbidities—underlying conditions like high blood pressure and diabetes. Approximately 56 percent of NeighborhoodHELP members are Hispanic, 37 percent are non-Hispanic Black, and 2 percent are non-Hispanic White. More than two-thirds of these households live below the poverty level with an annual income of $10,000 or less.
Its decade-long, trusting and intimate relationship with members of Miami-Dade County's most vulnerable communities allowed the College of Medicine and NeighborhoodHELP to swiftly respond to the COVID-19 crisis. 
"We have been able to confirm that at least 73 of our approximately 2,000 NeighborhoodHELP members contracted the virus. Sadly, one of them died," said Dr. Robert Sackstein, dean of the Herbert Wertheim College of Medicine. "We truly believe that our interventions helped keep our household members healthy."
Next steps
Since its inception more than 10 years ago, NeighborhoodHELP has operated on the premise that addressing social determinants within a household will improve the health of household members. The next steps include comparing COVID-19-related outcomes between NeighborhoodHELP households and households in the same census blocks that are not enrolled in the program. The comparison will help determine if a social service navigation program such as NeighborhoodHELP made a difference in COVID-19 outcomes. And may help in future outbreaks.