The federal government, the nation's largest employer, is short on young talent.  
By 2025, one third of federal employees will be eligible to retire. Employees younger than 30 represent just 8.5 percent of the federal workforce compared to 23.2 percent of the U.S. workforce overall. Every federal agency has fewer employees under the age of 30 today than it did 10 years ago, according to the Biden administration. 
It's a labor dichotomy that FIU is positioned to help solve. As the President's administration gives orders to hire younger and more diverse workers, the university is rising up to meet the demand. 
"We believe that government should be representative of the demography of the country, and FIU's top talent is just what the country needs to diversify its thinking as it tackles global challenges," says Carlos A. Becerra '98 MPA '01, associate vice president of FIU Federal Relations and lead advocate for the university in Washington, D.C. 
Cybersecurity pros, nuclear energy specialists and high-quality communicators are among a wide variety of essential personnel being trained by Miami's public research university and guided to the federal workforce today. Thousands of Panthers already work for the federal government, Becerra says, and that number is poised to increase. 
The hiring trend is the result of greater investments in federal employment strategies by FIU units, combined with Panthers wanting to make a difference for their country. 
Alumnus James-Denton Wyllie, director of the Office of Communications at the Food and Drug Administration Center for Drug Evaluation and Research, says that working for the U.S. has a major upside that not all employers can offer.  
"I think the number one appeal of working for the government is the ability to work on things of consequence," Wyllie says.
"When you talk with other people in the communications field, and they talk about selling this candy bar, or representing a celebrity, you notice the difference compared to what you do in the federal government." 
Getting a foot in the door at the federal level is allowing alumni to pursue their ultimate career goals.  
Gabriella Wuyki Ph.D. '21 recently landed a job as a quarantine officer for the Centers for Disease Control and Prevention (CDC). The opportunity came from a chance conversation she overheard in the Stempel College with a CDC employee, whom she tracked down and stayed in touch with for potential job opportunities. From there, she eventually got connected to her job today. 
"The CDC is kind of like the golden standard for public health," says Wuyki of the organization that she has long wanted to work for. "That's what you want to aim for." 
Innovative FIU strategies paying dividends 
For students at FIU today, there are more pathways than ever to begin meaningful federal careers. 
FIU in Washington, D.C., is the program setting up many of these federal opportunities. Through its talent lab initiative that is financially supported by Student Government Association, FIU in DC flys in Panthers to their office in the nation's capital for a three-day trip to teach them the ropes of government, non-profits and advocacy groups. Guest speakers include alumni in government and faculty from the university.   
Some students even get to spend a full semester with FIU in DC as a Hamilton Scholar, which includes a paid internship and an Honors College course about Washington.   
Panthers intern in both chambers and parties of Congress. They are placed in key federal agencies like the White House Council on Environmental Quality and the U.S. Department of Commerce. And they go on to work at influential think tanks and nonprofits such as the Heritage Foundation, the CATO Institute and the Partnership for Public Service.  
Through these interactions, students are able to make their first federal connections.  
"My virtual fly-in was genuinely one of the most life-changing experiences that I've had at FIU," says senior English and public policy double-major Britney Broxton.  
"It made me think, 'Wow, I want to be in policy.'"  
Broxton interned at the Office of Personnel Management (OPM) this summer and worked directly in the government's efforts to recruit young people like her. During her internship, OPM rolled out a new rule that makes it easier for federal agencies to hire interns once they have completed their college degrees.  
"These employers are saying, 'Oh, what do the young people see that we don't see?'" Broxton says. "Instead of hearing us just through social media platforms, they want to hear from us directly by putting us in federal positions." 
The university's push in this area also happens at a time when the Biden administration is working to include historically underrepresented groups in government. FIU in DC is helping by training the university's already-diverse student body and setting up fly-ins focused on women in politics and policy and breaking generational barriers to black leadership.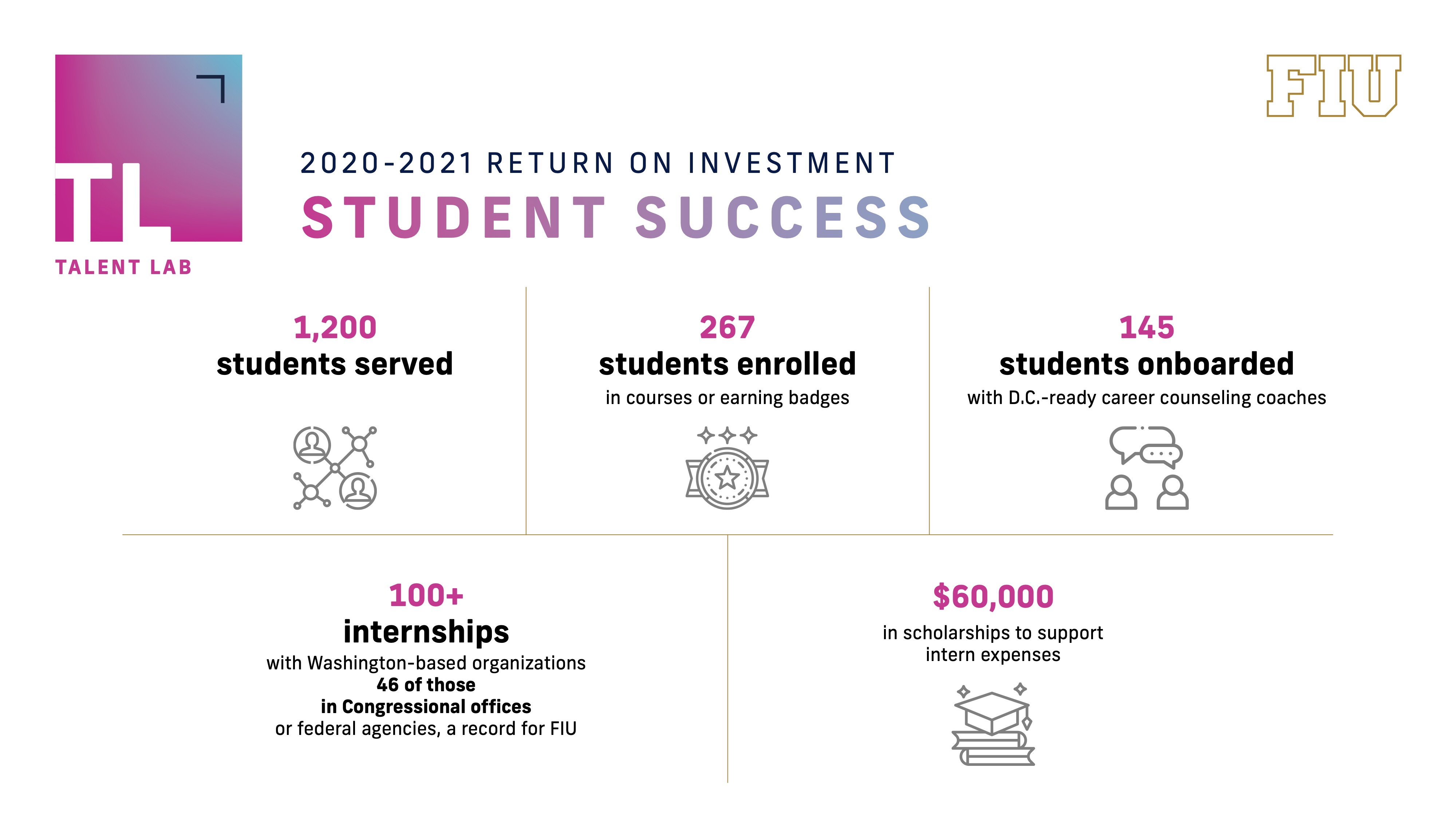 Remediating the past, safeguarding the future 
Another way that students are becoming good fits for the government workforce is by performing research of high national interest before they even apply for a federal job. 
At the Applied Research Center (ARC), faculty, staff and students are dedicated to solving problems important to the United States. Thanks to creativity on behalf of FIU researchers and federal grants with the Department of Energy (DoE), Department of Defense (DoD), National Science Foundation and other organizations, students conduct hands-on research that puts them at the cutting edge of their industries while opening the door to federal agency employment. 
At the foundation of ARC is a multi-million dollar research agreement and fellowship program with the Department of Energy to clean up radioactive waste at facilities around the country. Students there work on robotic technologies that operate in contaminated areas left over from the Cold War.  
Nearly 20 alumni from the program have gone on to be hired full-time by the DoE. 
"We had one student who was a mechanical engineering student who did two internships with the DoE. A manager at one of the departments there interviewed him right on the spot," says Professor Leonel Lagos, principal investigator of the FIU-DoE cooperative agreement. "As soon as he graduated FIU, he already had a job waiting,"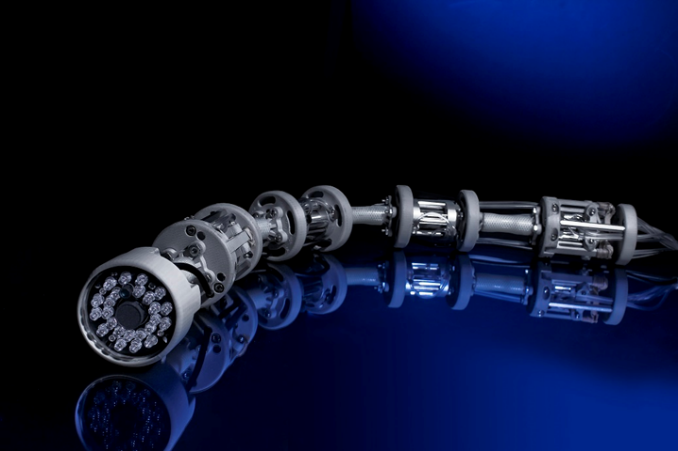 ARC also has a $6.4 million research agreement with the Department of Defense to develop a cybersecurity test technology for the DoD. Students studying artificial intelligence, machine learning, computer science and computer engineering collaborate to develop the product, which will soon be deployed in DoD facilities. 
These experiences make them attractive hires for top defense agencies, says ARC's principal scientist Himanshu Upadhyay. He adds that FIU's new students are pouring into this field, which is supported at FIU by a new track in artificial intelligence and big data at the department of electrical and computer engineering and related courses in the School of Computing and Information Sciences. 
"As soon as the machine learning course opens in the College of Engineering, it gets filled quickly," Upadhyay says. "There are a lot of job opportunities in the artificial intelligence and machine learning area. This is the basically the future. It is revolutionizing the world." 
Whether it's working on skills for the future, cleaning up the past or adding fresh voices to the present, FIU is playing an important role in training students who want to make a difference at jobs for the United States. Their contributions will be key as the U.S. looks to invigorate its approximately 10-million-person federal workforce with fresh skills, minds and attitudes.