People could learn a thing or 2 from spiny lobsters, like how to stop the spread of COVID-19
February 11, 2021 at 9:14am
---
If animals could talk, they could tell us how social distancing has long helped them stop the spread of highly contagious and deadly diseases.
FIU Institute of Environment marine scientist Mark Butler and University of Florida researcher Donald C. Behringer recently examined the parallels between social distancing in the wild and social distancing among people during the current pandemic. They found many animals who tend to live close together — including chimpanzees, bees, finches and even certain species of fish — have evolved to use social distancing strategies.
But there's one species, they say, that may be the ultimate social distancing champion.
"The COVID-19 pandemic has been a trial for all mankind. Each of us has responded to the crisis and the resultant social restrictions in different ways," Butler said. "For me, one such response was awakening at 3 a.m. one morning last March with an idea for an article. It came from some of the research my team has done on the behavioral immunity in Caribbean Spiny Lobster and their use of social distancing to avoid transmission of a deadly virus."
The researchers' published their findings this week in BioScience. Witnessing social distancing among animals in their natural habitats is difficult, if not impossible. Butler's three decades of research on the Caribbean Spiny Lobster, though, has given him a rare, first-hand glimpse into how their highly social behavior can shift dramatically when there's an increased risk of disease.
Caribbean spiny lobsters live together in large groups among coral reefs. They even stick together during their seasonal migrations, walking in a single file line on the seafloor.
There are costs to being social, though. These lobsters, especially younger juveniles, are very susceptible to the PaV1 virus. It's deadly in 90 percent of cases. Like COVID-19, the PaV1 virus is also highly contagious and capable of spreading across short distances.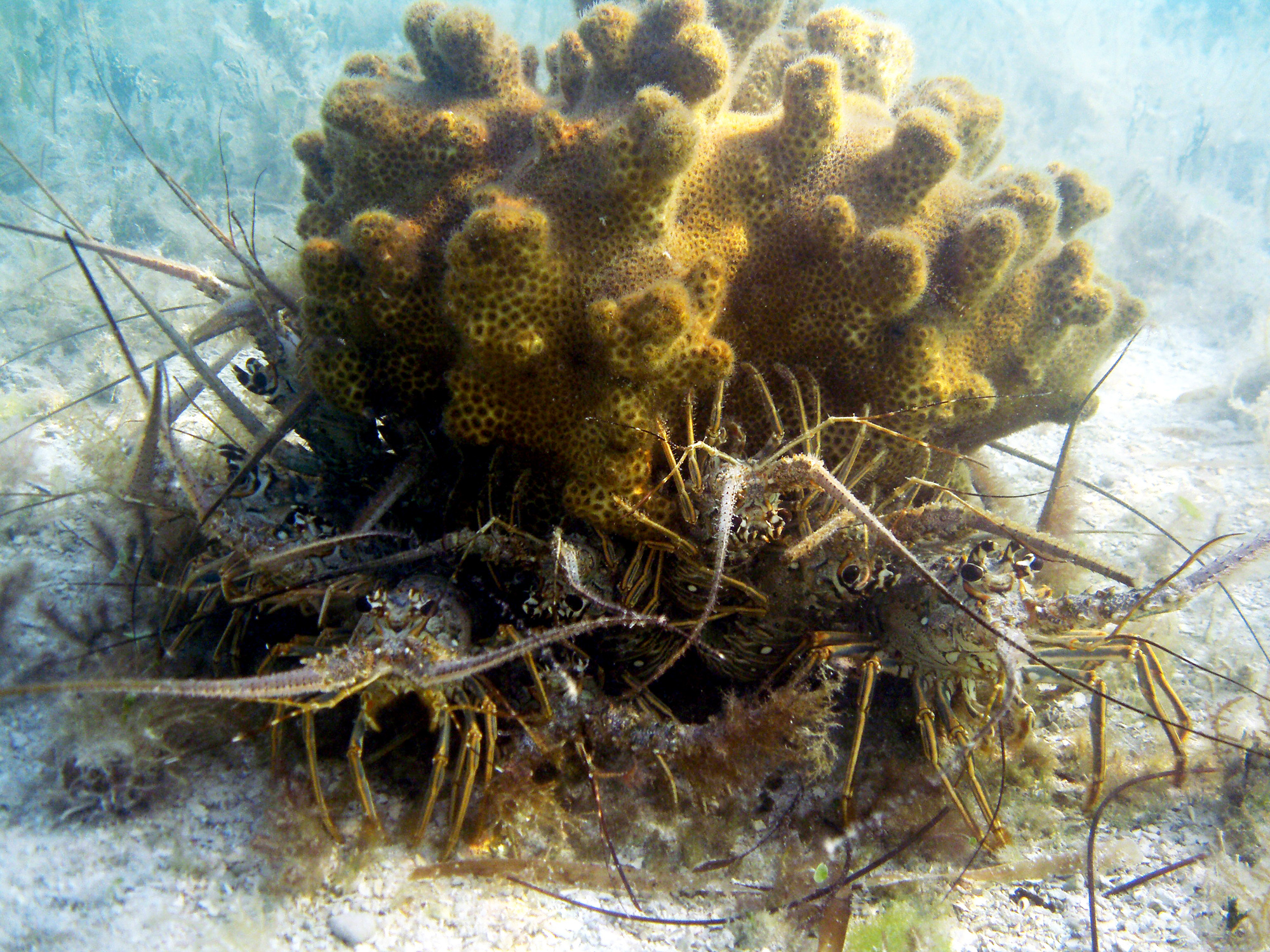 In 2007, there was a mass die-off of sponges in the Florida Keys — a primary gathering place for Caribbean spiny lobsters. With fewer places to live, larger groups of lobsters were forced to live even closer together. This should have increased the risk for rapid spread of the PaV1 virus. But it didn't.
Survival took priority over sociality. The lobsters picked up on chemical cues to detect sick lobsters and they distanced themselves— even if it meant it could be harder to find another place to live or increased the chance they'd be attacked by a predator.
In the last year, people across the world have learned what animals in the wild have long understood — a pandemic changes behavior because it is a matter of survival. Certain adaptations like social distancing can be highly effective to helping stop the spread of disease.
"The examples of social distancing in wild animals in the present article, although they are compelling, are likely a small fraction of those that actually exist in nature and reflect the limited investigations conducted thus far on this phenomenon in the wild," Butler said. "What lessons might we learn about the human experience with pandemics from an expanded view of diseases, their spread and their prevention in nature?"
Butler is an Eminent Scholar and the Walter and Rosalie Goldberg Professor of Tropical Ecology in the FIU Institute of Environment and Department of Biological Sciences. He joined FIU in 2020 after 31 years at Old Dominion University, where, among other accolades, he was a recipient of the Virginia Outstanding Faculty Award, the highest honor for faculty at Virginia's public and private colleges and universities.
For more than 30 years, the Florida Keys and Caribbean have served as the home base for his research and he has published more than 150 scientific articles on tropical marine ecology. He is continuing to explore how this latest work can become a large scale, viable solution for keeping corals healthy.