Dear members of the university community,
Pete Garcia announced today that he has stepped down as Executive Director of Sports and Entertainment/Athletics Director.
Mr. Garcia joined the Panther family in 2006. Under his direction, our student-athletes made great strides in academics, we improved our athletic facilities, and our teams competed in numerous league championships including swimming and diving, baseball, football, women's volleyball, and men's and women's soccer. Our Panthers football team also played in five bowl games and defeated the University of Miami in 2019.
Please join me in thanking Mr. Garcia for his 15 years of service and leadership. He will transition to the role of Senior Advisor to the President, with a focus on university revenue generation and fundraising.
The search for a new Athletics Director has commenced. Senior Associate Athletics Director Heath Glick will serve on an interim basis until the new Athletics Director is hired.
Sincerely,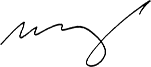 Mark B. Rosenberg
President