Professor of law Charles C. Jalloh and associate professor of nurse anesthesia Jorge Valdes have been named the winners of the 2021 Real Triumphs Faculty Award (RTFA). The President's Council will award each professor $15,000 in recognition of their research excellence, collaboration, student teaching and leadership.  
"Professors Jalloh and Valdes exemplify what it means to be outstanding faculty at our FIU. They both exhibit leadership and advocacy in their fields, are producing cutting edge scholarship and, most importantly, are exceptional teachers and mentors to the next generation of leaders in their professions," said FIU Provost and Executive Vice President Kenneth G. Furton. "It is my great privilege to be their colleague and to be able to publicly recognize them at this week's faculty convocation events."
The FIU awardees were decided by the Office of the President, Office of the Provost and members of the President's Council Real Triumphs Faculty Award Committee. The cash prizes will be distributed from an endowment funded by the President's Council.
"Being a Real Triumphs Faculty Award winner is a huge honor considering that only a small number of faculty at FIU can count themselves as recipients. To receive it at this stage of my career is incredible for me," said Jalloh, who serves on the U.N. International Law Commission – the pre-eminent legal expert body which has since 1947 played a critical role in the development of international law – the body of law and rules that govern and shape the relations between states.  
The other winner of the RFTA — also a young faculty member — is Jorge Valdes, a passionate educator and mentor for students learning to become certified registered nurse anesthetists.  
"It was a surreal moment when I found out I was selected. I look at the caliber of people who have won it in the past and I think, 'Oh my God, there are some amazing people who have won this award,'" Valdes said.  
Two professors were awarded this year based on a decision to postpone the 2020 award due to COVID-19. Teachers of all academic disciplines were welcome to apply.  
Here are some of the real triumphs that made the faculty members stand out.
Charles C. Jalloh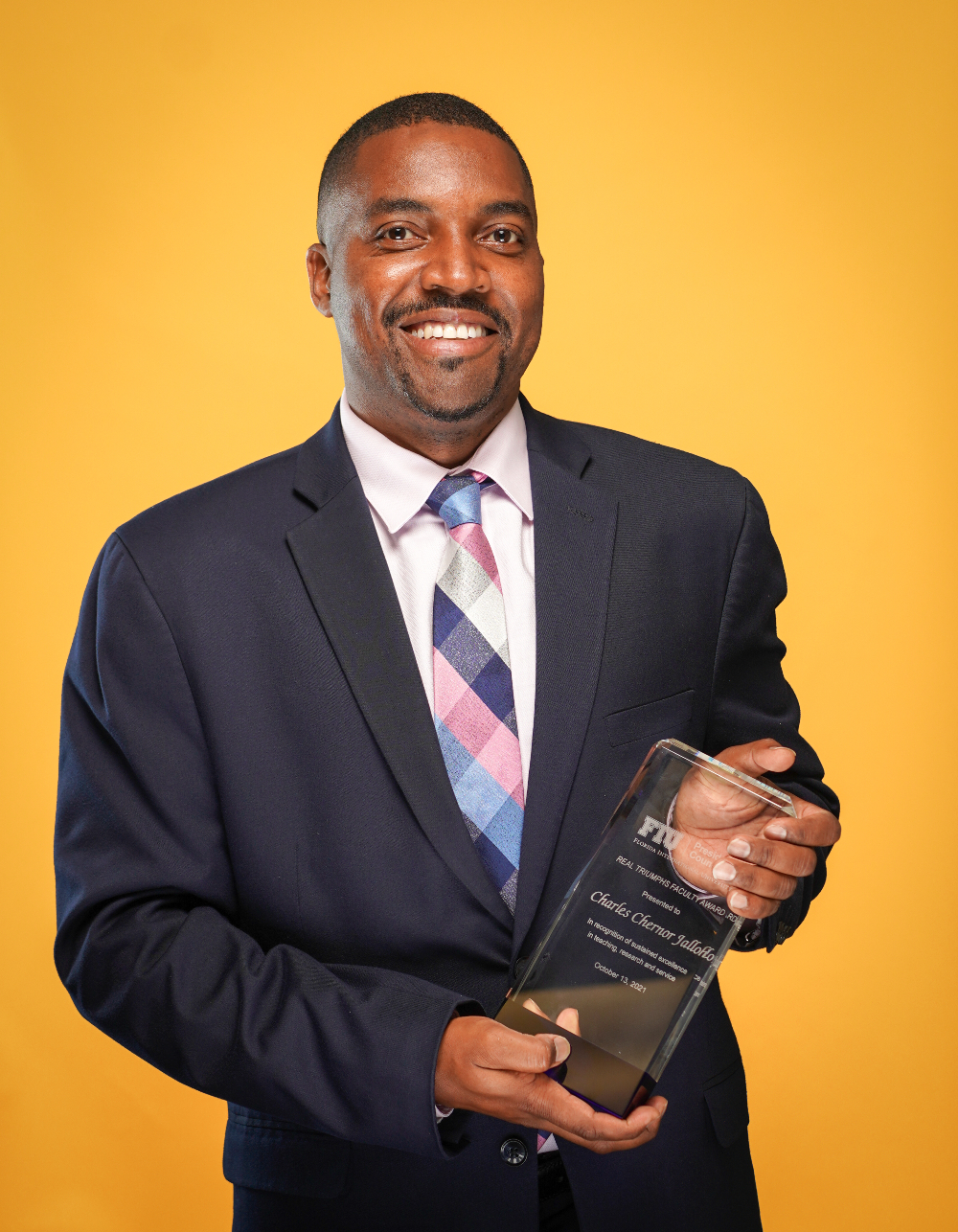 Jalloh has earned a reputation at the university as a conductor of excellent research, a leader in the FIU and legal community and a mentor to Panthers. A native of Sierra Leone, he currently holds one of the seats representing Africa on the U.N. International Law Commission (ILC), a globally elected body of 34 eminent legal scholars to study some of the most pressing legal issues facing states and the international community as a whole. The jurists work as independent experts and seek to find the weak areas of the law that need to be strengthened. They work to build consensus and to codify the rules that they then recommend to states as way of addressing some of the world's most serious issues.  
Topics he has worked on range from how best to hold people to account for crimes against humanity, to environmental concerns such as sea-level rise, to identifying the rules of customary international law and the immunity of state officials from the jurisdiction of foreign courts.  
"Both my research and the practical work that I do for the UN each summer brings home the idea of the 'I' in FIU," Jalloh says. "I get to be at the table with the leading international lawyers of our time. We work on texts that aim to assist states in coming up with common rules that, if taken forward, enable them to function in a more peaceful way instead of going to war with each other. The work is based on the fundamental belief that states, and for that matter all of humanity, have more to gain from each other through cooperation and collaboration than division and competition."  
Jalloh teaches international law to students both inside and outside the classroom. He has developed a fellowship program with support from the FIU Law dean to bring students to the headquarters of the ILC in Geneva, Switzerland. There, students spend time working with top lawyers from all over the globe and observe first-hand the rigorous technical work that the ILC's drafting committees are famous for.  
"For students who want to get into international law, there could not be a better opportunity," Jalloh said.  
Jalloh has practiced law at the domestic and international levels, having worked on genocide and crimes against humanity cases at the U.N. Tribunal for Rwanda. 
His latest book, The Legal Legacy of the Special Court for Sierra Leone (Cambridge, 2020), documents the impact of that international tribunal for the field of international criminal law which first took shape with the trial of Nazis at Nuremberg in 1946. The Sierra Leone tribunal was the first 'hybrid court' to be created by the U.N. and one of its member states to try those who committed atrocities in that country's 1990s 'blood diamonds' driven conflict. It is widely seen as a model accountability mechanism for other countries.
Jorge Valdes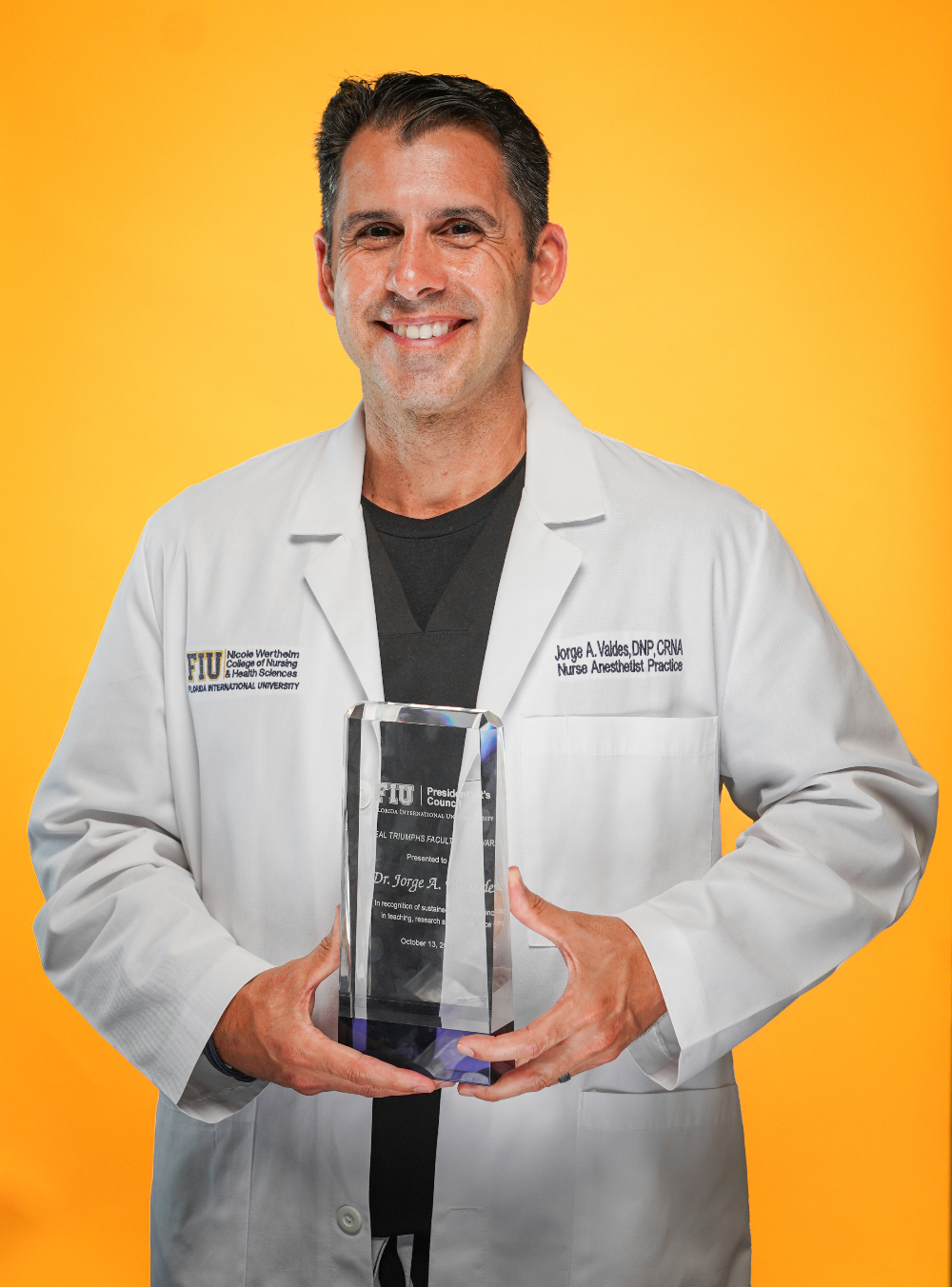 Interim chair of the department of nurse anesthetist practice, Valdes is an associate professor who champions student education as well as mentoring minorities. He believes in giving students the extra motivation they need as they enter the field of nursing anesthesia – a career where students need both stomach and heart to succeed, he says.  
"I'm very big about mentoring. In the nurse anesthesia department, we try to reassure students that the reason they are in this program is because we saw something in them. I always tell them how incredibly lucky they are to be in the program. Before their boards, I fill them with positivity, reassurance, words of affirmation and I send them emails wishing them good luck," Valdes said.  
Valdes is known for the interactive, instructive activities he sets up in class to teach students about nurse anesthesiology. For example, in his introductory class to pharmacology in nurse anesthesia, he utilizes props to show how drugs create their effect on the body. Students roleplay different drugs with signs, hats and chairs. By the end of the assignment, students learn about drug efficacy and the relationships that drug receptors and neurotransmitters have with neuromuscular drugs in a memorable, engaging way. 
"My primary goal is to teach content that will remain with my students for life. By using humor and enthusiasm, I help students enjoy the learning cycle which encourages students to remain alert and engaged. This allows students to take more responsibility in their learning," Valdes said.  
Valdes takes pride in FIU's role in increasing minority representation in health care. As a Cuban American who works in the field himself, he says that training the university's diverse student body in nursing anesthesia helps reduce health inequalities and inequities.  
"Minorities are more likely to seek health care when they see someone who looks like them. Spanish speaking patients, for example, will often not talk to someone who doesn't speak Spanish. Why? Because they feel humiliated. They are not as apt to tell their story and their history," Valdes said.  
Valdes served as chair of the diversity and inclusion committee for the American Association of Nurse Anesthetists from 2017-2020. He has published numerous articles on nursing anesthesia practices as well as decreasing health disparities. Valdes raises awareness for those who he feels may be overlooked in the industry, such as nurse anesthetists who want to practice independently and those who are recovering drug addicts and wish to re-enter the practice.  
"I think that if you want to be successful in anything, you have to be willing to walk the walk and talk the talk," Valdes said. "And I have done that by testifying and being a staunch advocate for my profession, and for my students who enter that profession, because I want to instill in them that same sense of duty that I have."