Student's superyacht design mixes sub-Saharan African cultural design with urban art
---
As South Floridians set sail on cruise ships, boats and yachts this summer, interior architecture professor Darci Pappano is asking students in her yacht design studio course to reimagine the look of these vessels to reflect a more diverse aesthetic.
Student Brianna Mckenzie felt that this was the perfect opportunity to advocate for black designers and artists like herself. According to the American Society of Interior Designers, less than 2 percent of the society's members are Black. 
"Issues regarding inequality and a lack of opportunities for Black designers are necessary to address," Mckenzie said.
Black designers are responsible for only 0.32 percent of furniture produced by leading global brands, according to research by Ethiopian American industrial designer Jomo Tariku. Mckenzie attributed this to a severe lack of representation of Black designers in the design world and in leadership positions in general.
For the FIU project, students in Pappano's design studio "redesigned" the Sanlorenzo Yacht SD126, a modern Italian tri-deck superyacht. They picked a hypothetical dream client to work with and based their design on this client's need.
Mckenzie's dream client was Kerby Jean-Raymond—creator of Pyer Moss, a fashion brand that combines storytelling, activism, debate, theatre and social commentary to challenge social narratives.
"Jean-Raymond is a fashion designer that reflects a lot of his identity in his work having been born in Brooklyn, New York, but coming from a Haitian background," Mckenzie said. "Choosing him as my client meant I could combine two different styles that share a similar heritage and history but are expressed in different ways."
In her yacht design, Mckenzie combined sub-Saharan African cultural design with urban art, using only Black artists, designers and collaborators.
One of the design collectives she chose for her project was Africa by Design—a platform widely known for its promotion of designers from sub-Saharan Africa.
Mckenzie said it was important for her to include these designers because it highlights the fact that sub-Saharan cultural design has the ability to be modern and contemporary—two characteristics most commonly associated with designs emerging from Western Europe.
"Little attention is brought to sub-Saharan Africa's evolving modernity in interior design. 'African' design has transcended beyond just animal prints, nature motifs and tribal patterns. As the world modernizes, so does design and they are some really cool things emerging from Nigeria, Ghana, Ethiopia, South Africa, etc."
According to Mckenzie, sub-Saharan designers also operate more sustainably using natural and local materials that relate to the cultural vernacular.
Mckenzie also included an array of artists and collaborators that express their culture and personal experiences within their art – much like her client, Jean-Raymond. For example, the yacht's living space features Boraati end tables from Jomo Tariku's collection. The end tables were inspired by headrest designs found in Ethiopia that protect hair while sleeping. Other designs she chose ranged from whimsical to abstract expressionism and included a mix of mid-century pieces with Moroccan artistry.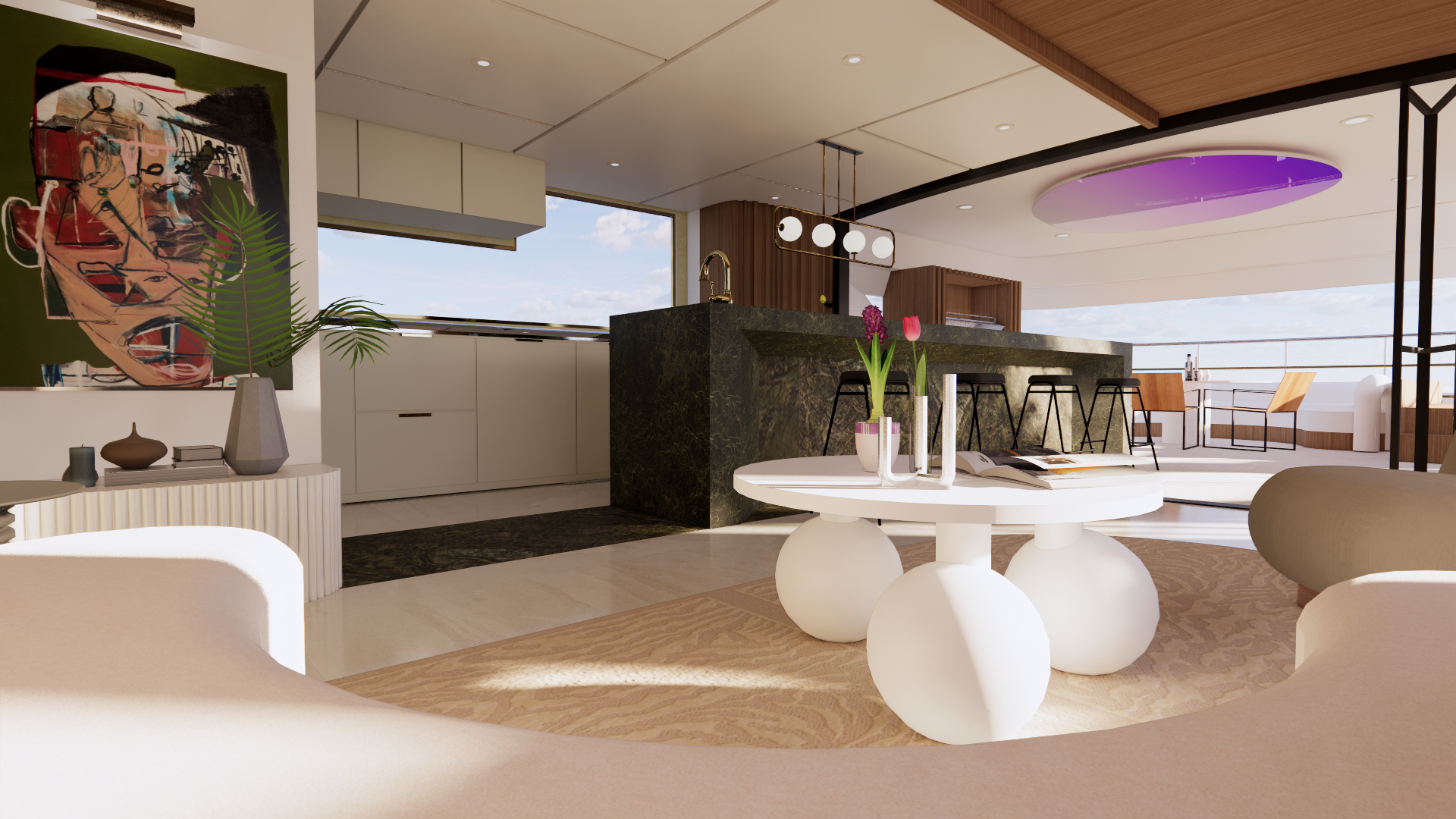 For Mckenzie, Professor Pappano's studio project gave her the freedom as a student to not only amplify Black voices but also shine a light on the lack of diversity in the industry.
"It's important to me that I do what I can to uplift designers and artists like me. I think more professors should expose students to designers, artists and architects from different backgrounds to give them a different perspective."