FIU Bistro is serving up three-course meals for just $5 at Biscayne Bay Campus
Students gain hands-on experience in FIU Hospitality's advanced culinary production course
October 7, 2021 at 12:00pm
---
 By Olivia Catasus 
The fall season calls for a new menu selection at FIU's only student-run Bistro. 
Will you pair your cranberry spice mocktail with a flavorful Vietnamese chicken banh mi or the seared jumbo lump crab cakes? A difficult decision indeed, but not as challenging as deciding what's for dessert — warm cinnamon Granny Smith apple pie or key lime semifreddo?  
If your mouth is watering at this point, you're in luck because FIU Bistro— part of the Chaplin School of Hospitality & Tourism Management located at Biscayne Bay Campus in North Miami — is open for business.
The student-run restaurant began lunch and dinner service in 2018. When the pandemic started in the spring of 2020, lunch and dinner were put on hold. Now, both meals are back by reservation only on select Wednesdays this semester. The three-course meals are just $5 per person.  
The talented students behind the meals are part of the Advanced Food Production class taught by Professor John Noble Masi and co-instructor Cristina Moguel. Students learn firsthand what it takes to work in and run their own restaurant. 
The Chaplin School is known for experiential learning. FIU students are the only student volunteers who are able to work on the Food Network & Cooking Channel South Beach Wine & Food Festival presented by Capital One. 
"We have a significant focus on objective learning through our SOBEWFF® here at the Chaplin School," Masi says. "Advanced Food Production is the only class in our curriculum that gives students a similar interaction with paying guests," he adds.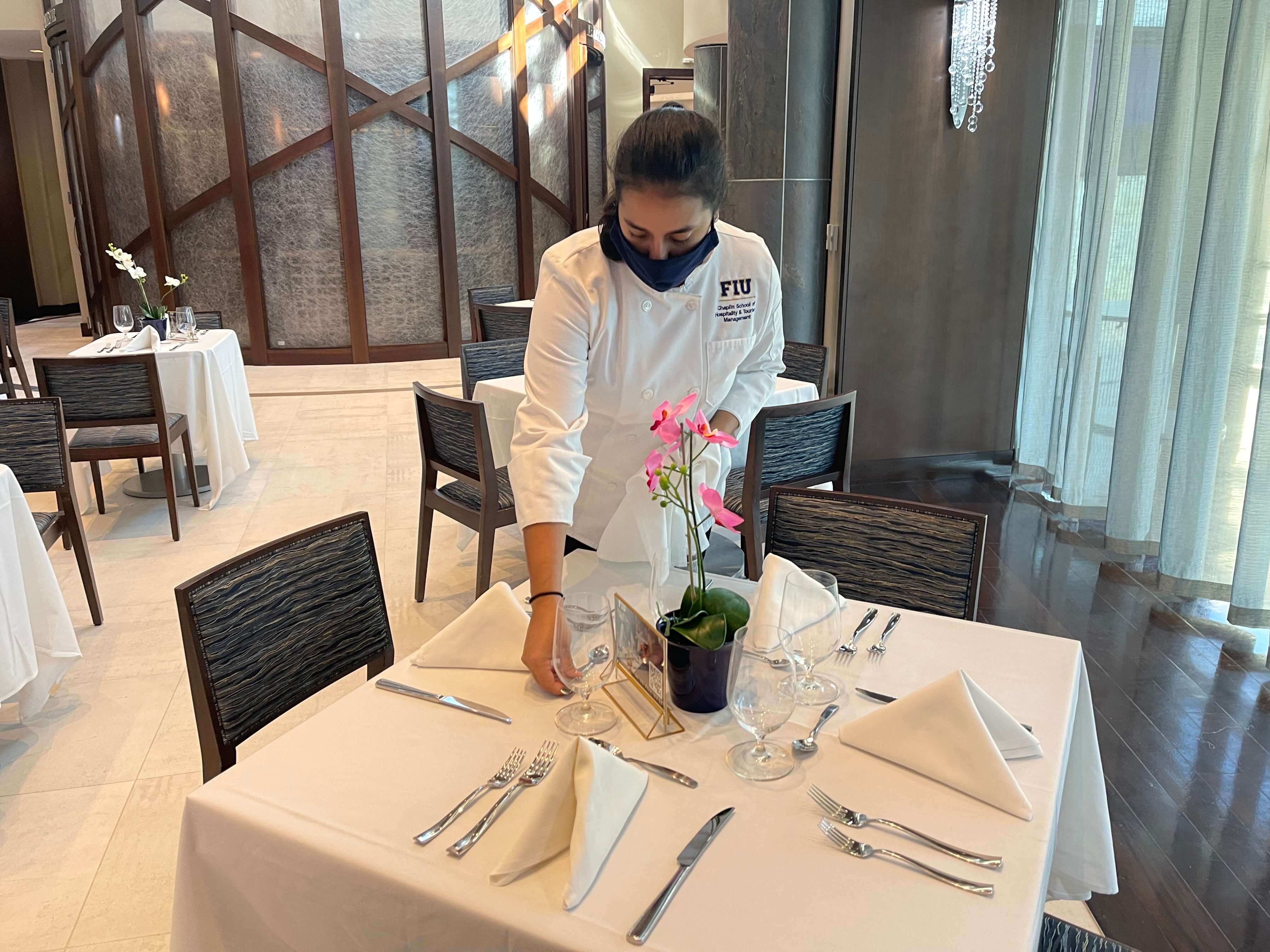 Masi oversees the student chefs in the kitchen, otherwise known as the "back of house" while co-instructor Cristina Moguel operates the dining room or "front of house," managing student servers, hosts and bartenders. After a uniform check, it's time to gas up the grills and start welcoming guests.  
Moguel says her favorite part about managing the front-of-house lunch and dinner services is watching the experiential learning unfold.
"I like to tell students they are not here to be bartenders or be servers, they're here to develop their teamwork skills and learn how to work effectively in different roles of the hospitality field," she explains.  
Students rotate between working the dining room and kitchen during the semester, gaining experience in not only preparing different dishes such as appetizers, main courses and desserts but also serving the guests and acting as restaurant managers. They utilize Tabit Technologies, a cloud-based Point of Sale (POS) mobile ordering system that streamlines a restaurant's order taking, kitchen productivity and guest payment processes.  
"This class puts in perspective what you have to do in the front and back of house of a restaurant," said Maria Alonso, a senior graduating this fall with a bachelor's in hospitality management with a focus in event management. "I think it's really important for a hospitality student to have this experience even if they are not planning to work in restaurants or food and beverage."
At $5 a person, the FIU Bistro's three-course meals are a must-try. The restaurant is open to all FIU students, faculty and staff and to the community. You can book your reservation for lunch or dinner by visiting https://go.fiu.edu/fiubistro. 
A pro tip from one of the students: "Drink refills are free, so make sure you try out all of the different mocktail options!"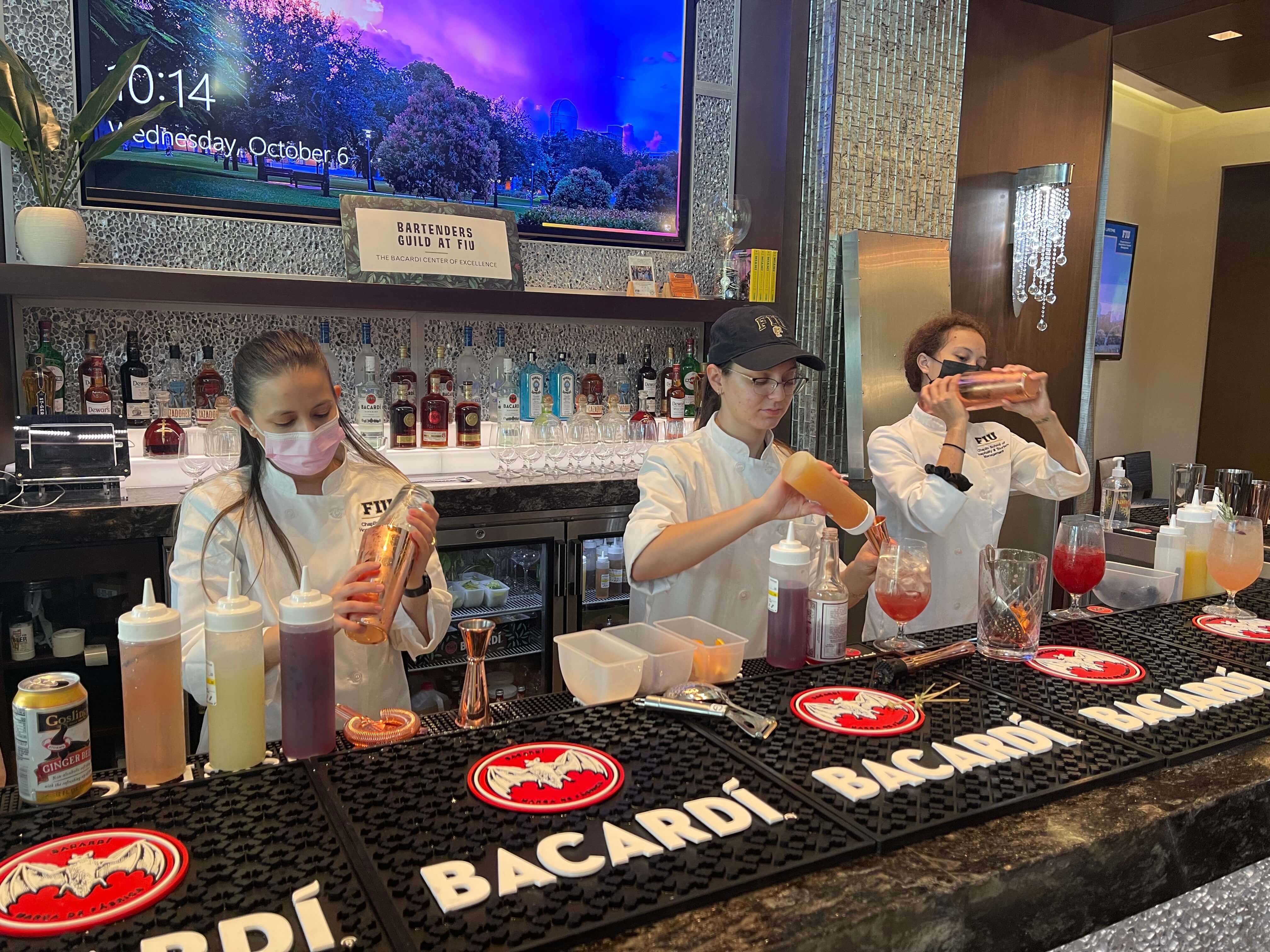 Jacky Ribera, Sophie Hough and Connivett Patterson prepare mocktails for lunch service.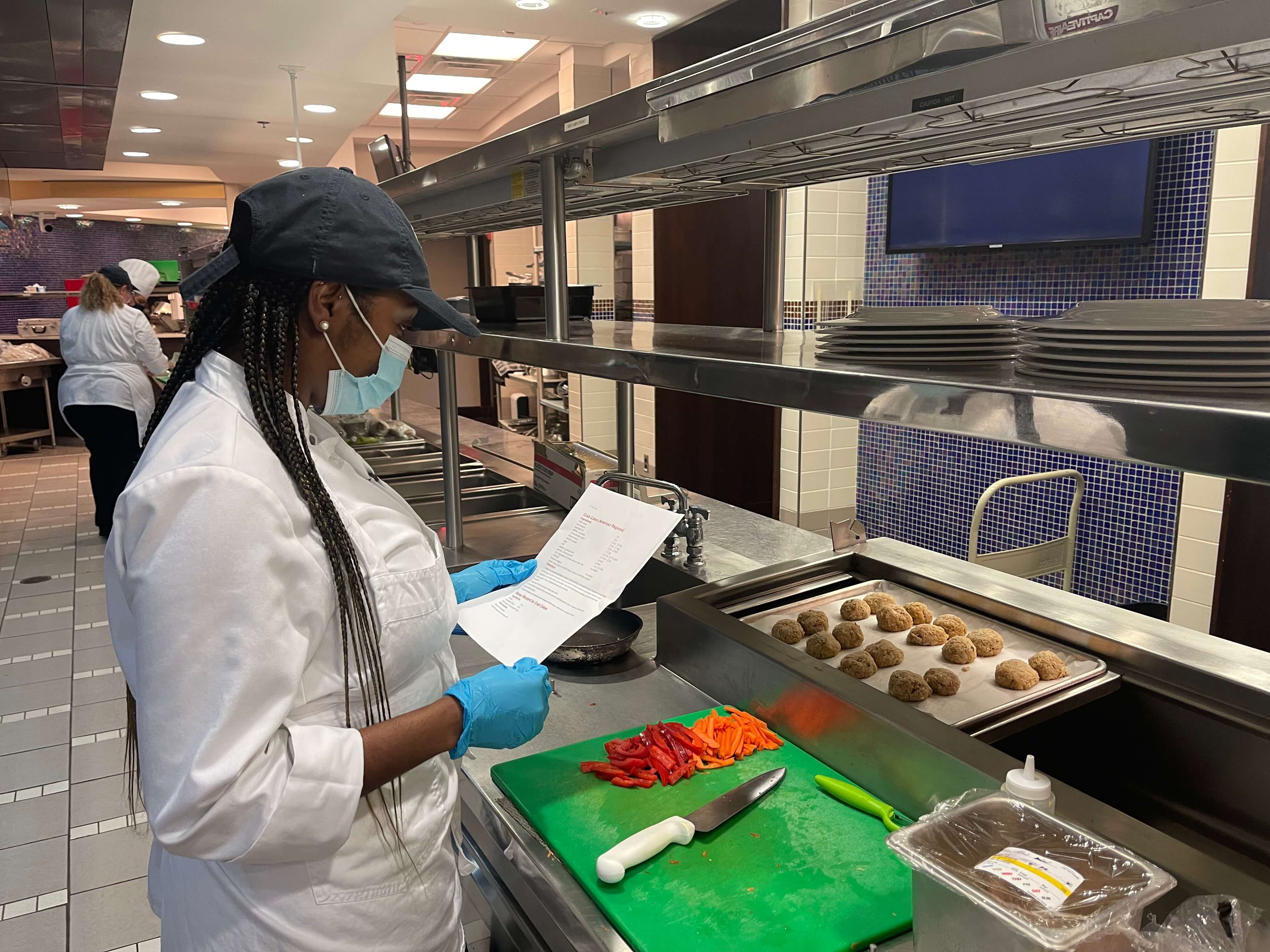 Student Marie Lamour reviews the Jumbo Lump Crab Cake recipe.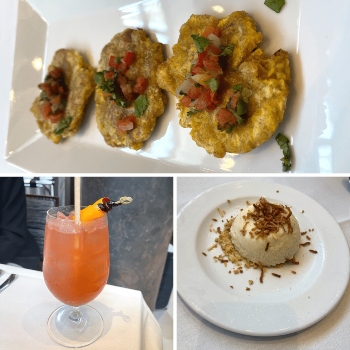 Top: Tostones with pico de gallo, bottom left: Cranberry spice mocktail, bottom right: Key lime Semifreddo.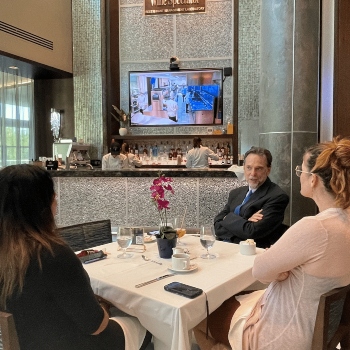 Guests in the dining area are able to watch students cook on a display screen.